November 8, 2011
by Alexandria Strader
Global Collaboration Grid puts students in touch with lands far from the U.S.
First-year students connect with RIT's Croatia campus via video conferencing technology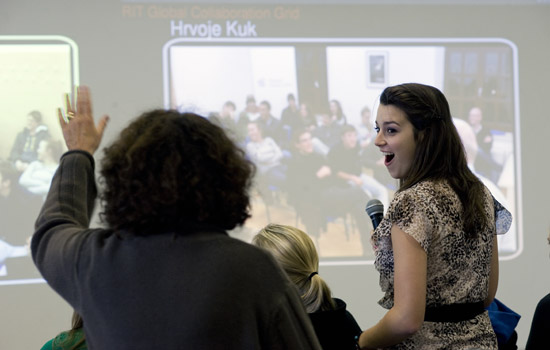 Whether freshman students are enrolled in classes at RIT's main campus in Henrietta or at one of its international campuses in Croatia, many of the same questions arise about student housing and activities for students to take part in outside of the classroom.
First-year ASL interpreting students enrolled in Maureen Barry's Interpreting Discovery class had the opportunity to virtually connect face-to-face with students enrolled at RIT's American College of Management and Technology in Zagreb, Oct. 25.
The students spoke about the similarities and differences among the schools and their various cultural backgrounds. Professors facilitated conversations on each end, giving brief introductions and overviews of the campuses. Most students enrolled at the ACMT campus are from Croatia. But a handful of students hail from South Africa, Thailand, Canada and parts of the United States.
"This is such a great opportunity for our students. Not only does it help broaden their perspectives but it also shows them that in a sense all students are the same regardless of culture and ethnicity," says Barry, student support specialist, RIT Academic Support Center. "It gives them the chance to see the world beyond the United States."
These interactions are made possible through RIT's Global Collaboration Grid. This video conferencing technology is developed by RIT students with the intent of creating a globally connected virtual community to showcase the university's talents and its various partners through innovative technologies.
This interactive collaboration infrastructure can be used in several different applications including telemedicine, global education, music and theater, research collaborations and business meetings.
In order for this virtual community to be possible, it is critical that high-quality video and audio streams be used. It must also be open sourced, allowing for changes to the software and technology to be made quickly when necessary, and it must be scalable to accommodate a large number of sites.
RIT currently has access to 20 nodes or locations for viewing and conferencing including RIT's Saunders College of Business atrium, the Center for Student Innovation and the Biomedical Photographic Communications Laboratory; Gallaudet University and Gallaudet University Research Institute in Washington, D.C.; and the American College of Management and Technology in Dubrovnik and Zagreb, Croatia.
Gurcharan Khanna, director of the Innovation Collaboration Lab, says, "I hope this technology can be used to make everyone feel like they are at RIT. One day soon, students and faculty will walk up to a node in real-time and initiate a conversation with someone on the other end of the node, making the technology behind the interaction seemingly disappear."
For more information about the technology used in the Global Collaboration Grid, contact Gurcharan Khanna at gskpop@rit.edu or go to the RIT Research Computing website.