Pandemic inspires student to create interactive narrative game about isolation
'The Peresmeshnik' game is published and available to play for free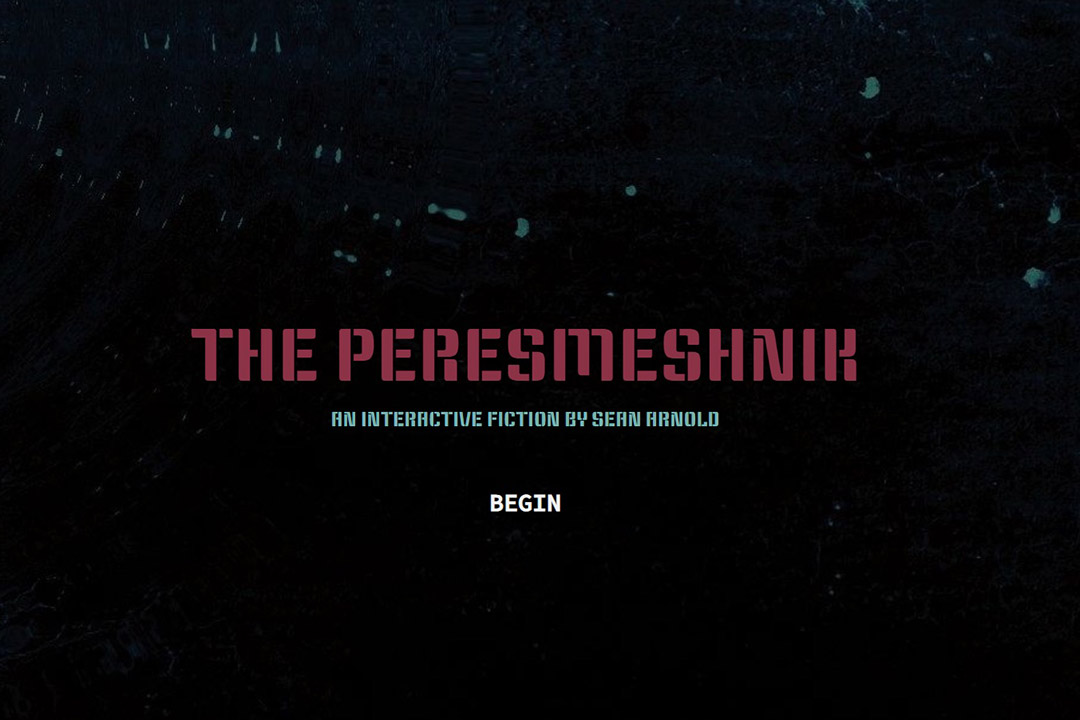 In a new game created by a RIT student, players must navigate paranoia and loneliness in order to make it off an isolated ship alive.
Sean Arnold '20 (game design and development) was inspired by his experiences during the COVID-19 pandemic to create an interactive narrative game called The Peresmeshnik. He developed the game as part of a Spring 2020 Foundations of Interactive Narrative course at RIT and has published and released the game for free via Itch.io and Steam.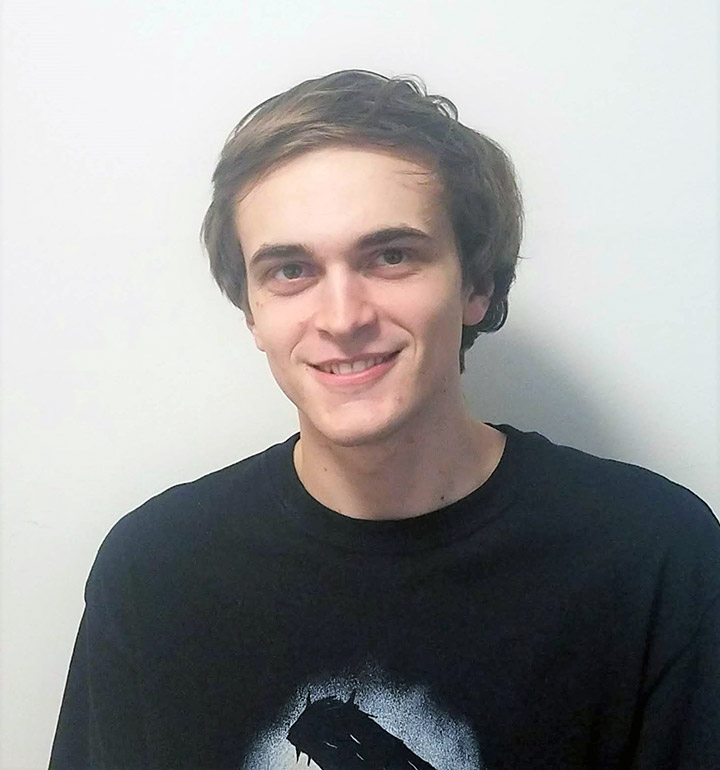 In the horror game, players are traveling the desolate Arctic Ocean aboard a Soviet frigate named the Peresmeshnik (which means mockingbird in Russian). The crew lives in isolation — they only have each other to interact with — and is about to discover that the sea hides a terrifying secret.
As part of the RIT course, students learned how to craft and produce an interactive narrative — a digital experience where players influence the storyline. Arnold began creating his project before the pandemic began in New York state.
"I was inspired by classic monster horror and I decided to create a monster story of my own," said Arnold. "I started to think about impostor syndrome and that was when I decided that the monster should represent my protagonist's fear of being replaced."
As Arnold was developing the game in March, New York officials began recommending that people stay at home due to the coronavirus.
"I thought about taking a flight back home, but ultimately decided against it because I didn't want to risk accidentally carrying the virus and infecting my family," said Arnold, who is from Costa Mesa, Calif. "Before the coronavirus, the option to fly back and visit them was always available, but that option was no longer available, so it felt a bit different this time."
Staying alone in Rochester was difficult for Arnold, but it inspired him to further explore the concept of isolation in his game. The game's monster causes the player to become paranoid. Players can keep this paranoia in check by reaching out to others, or they can isolate themselves and let it consume them.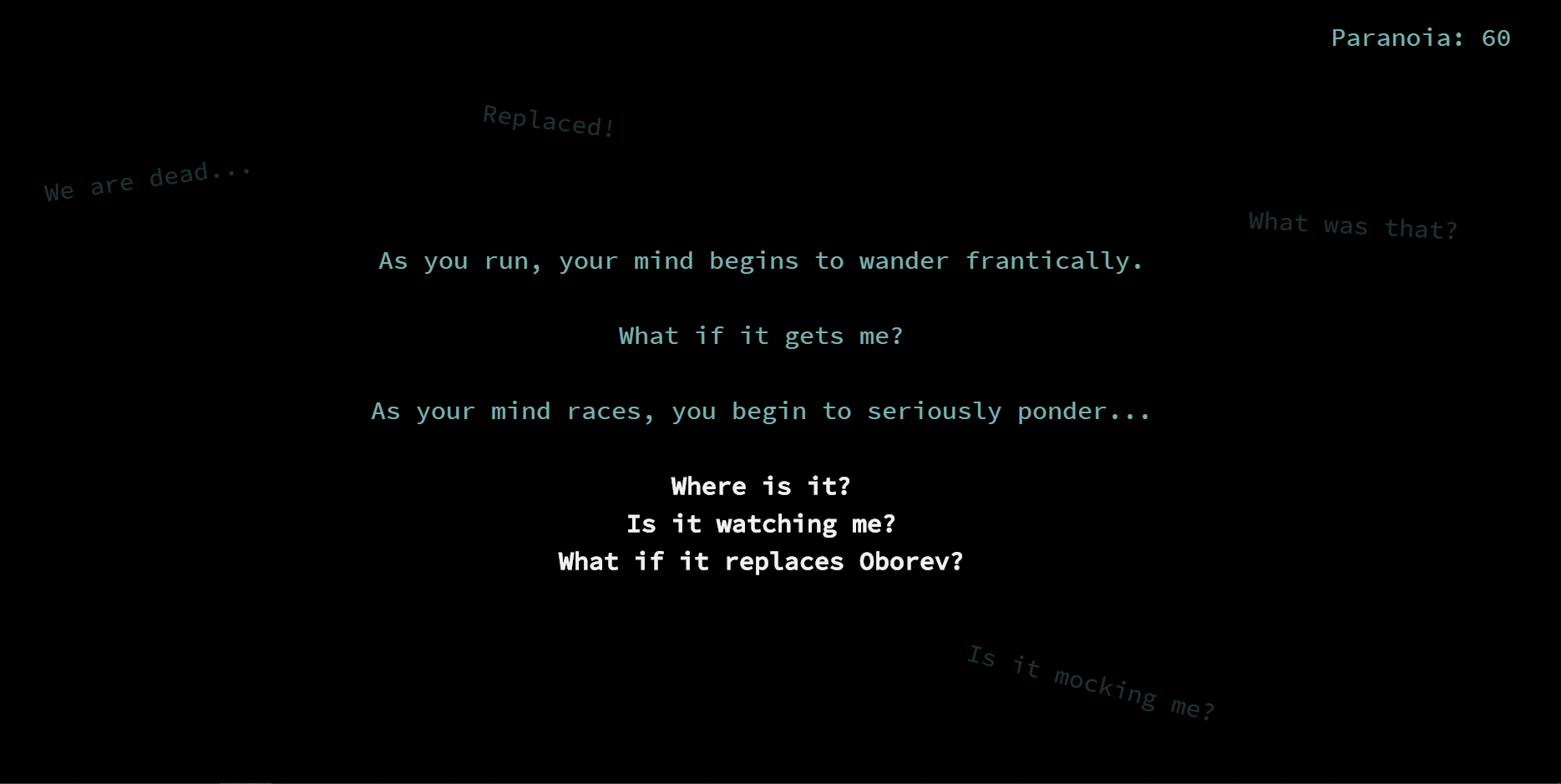 The Peresmeshnik
"As the player isolates themselves, random text that represents the player's thoughts begins to appear in the background and become more erratic," Arnold said. "I wanted to show how maintaining a support network of friends and family helps keep us grounded. I wanted to show that we are better when we put our trust in others and work together."
In March, Assistant Professor Owen Gottlieb, who taught the interactive narrative course, began working with his students remotely using Zoom. He encouraged students to consider their situation as fuel and inspiration for their narratives. 
"As the second half of the term developed, I encouraged students to consider how their stories could wrestle with what they and the world are dealing with during the pandemic," said Gottlieb, who teaches in the School of Interactive Games and Media (IGM). "Sean's final project is well-crafted, compelling, engrossing, clever and exciting. Not only did he complete an outstanding semester project, but it is a true marker of his passion for the work that he published the game as well — all in the space of a semester, during a pandemic."
The Peresmeshnik takes about 10 minutes to play once, but there are multiple endings. To create the interactive story using Twine, Arnold said that each path had to be meticulously planned out.
"The player has to feel like they are not being led towards a conclusion that the developer wants and are instead taking action to affect the story," said Arnold. "The majority of the work went into planning out the branching paths and making sure that every path has a satisfying conclusion. I approached it by creating a story arc for each path with an inciting incident, rising action, crisis, climax, falling action and resolution."
The Foundations of Interactive Narrative course at RIT allows students to explore and learn from great storytelling in video games and other media. In Gottlieb's version of the course this year, students analyzed many games, including Florence and What Remains of Edith Finch, in addition to Tennessee Williams' classic drama A Streetcar Named Desire. Gottlieb said that learning how to understand story structure to tell a well-crafted tale helps RIT graduates stand out in the games industry and beyond.
"Narrative story structuring is a deceptively intricate and challenging skill set," Gottlieb said. "It has applications ranging from pitching a video game or business, to being able to better communicate key concepts, to 'spinning compelling yarns,' just as Sean has done with The Peresmeshnik."
In addition to developing the story, Arnold designed the sound and visual effects, programmed it and created the music using Ableton Live.
To play the game for free, go to The Peresmeshnik website on the indie game platform Itch.io or on Steam.