RIT brings together 'smart city' experts for workshop
International Workshop on Urban Data Science focuses on technology to help midsized cities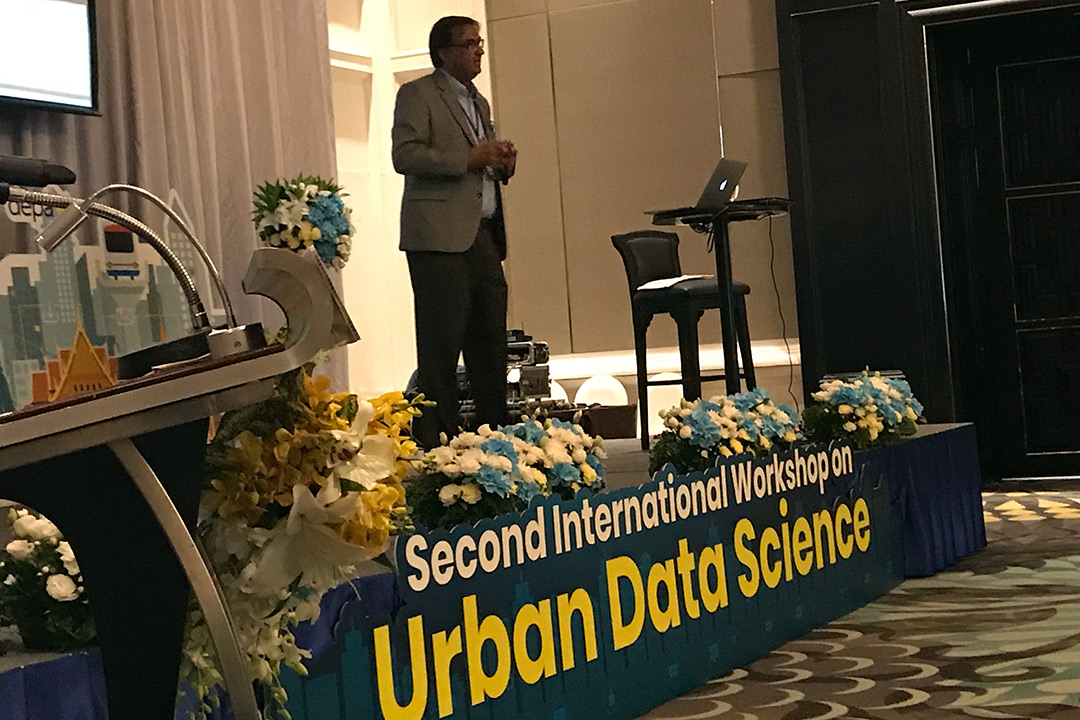 Rochester Institute of Technology is making sure that mega cities aren't the only ones using "smart" technology.  
As part of RIT's Urban Data Science initiative, 100 researchers and practitioners from around the world came together to discuss the future of smart cities at the International Workshop on Urban Data Science in Bangkok. The second annual workshop, held in July, focused on how the next phase of data science can help cities in developing countries and midsized cities, including Rochester, N.Y.
"Large cities around the world are using computing technologies to make operations more efficient and improve the lives of their citizens," said Naveen Sharma, chair of RIT's Department of Software Engineering. "But midsized cities have been largely left out of this 'smart city' trend, so we are finding solutions that help these important urban spaces."
Urban data science is essentially a tool that city planners can use to make informed decisions. Data collected through Internet of Things (IoT) technology, artificial intelligence, machine learning and social media can be used to improve traffic flow, monitor crime activity, track water consumption, promote public health and more.
 RIT created the Urban Data Science initiative and workshop in 2017 to bring together a multidisciplinary group from academia, industry and city administration who are exploring these issues. The first workshop, held at RIT, allowed experts in data science, social sciences, cloud and distributed computing, urban sustainability, public policy and software engineering to present new findings, discuss current and future urban challenges, exchange ideas and discuss potential collaborative opportunities.
The second workshop, held in Bangkok, allowed an even larger international group to attend. Experts came from IBM, Verizon, Rutgers University, Penn State, Louisiana Tech University Indian Institute of Technology Madras and the Indian and Thai governments.
"Whether you are in Malaysia or Rochester, some of these problems are actually very similar," said Sharma, who leads the initiative. "There was a lot of buzz and excitement about using data to solve these problems."
Keynote speakers at the workshop included Avik Sarkar, head of data analytics at National Institution for Transforming India (NITI) Aayog; Lim Hock Beng, program director of the Intelligent System Center at Nanyang Technological University in Singapore; and Dennis Ong, distinguished architect and managing principal at Verizon Technical.
"I was able to meet executives from the largest Thai corporations and banks with the aspirations to propel Thailand into an advanced digital economy," said Ong. "At the same time, I was able to hear the extensive smart city solutions that have been developed in Malaysia, Singapore, India and the U.S., with the intention to benefit their citizens."
The workshop emphasized how urban data science can improve mid-size cities, such as Rochester, which have significantly fewer resources and whose problems may be fundamentally different compared to those of megacities. Sharma also pointed out that there are a lot more midsized cities than cities like Singapore.
For RIT, research in urban data science will allow students and faculty to build technology that has a real impact on the lives of citizens. Sharma is currently working with an RIT Ph.D. student to create technology that recommends vacant lots for conversion into a community garden or public space. The tool uses traffic, crime and other data to determine which lots might affect the greatest change.
RIT student researchers are also working to lower barriers to access this technology, making it easier for city leaders and city youth to get engaged with urban data science. Ph.D. students are creating a citizen-centric user interface that allows anyone to build custom apps that use data science. The Urban Data Science initiative is interdisciplinary, working with Ann Howard, a professor in RIT's College of Liberal Arts, and other faculty and students from the B. Thomas Golisano College of Computing and Information Sciences.