RIT researchers explore augmented reality concepts in real estate and property management
Commercial real estate services company JLL funds new AR research group at RIT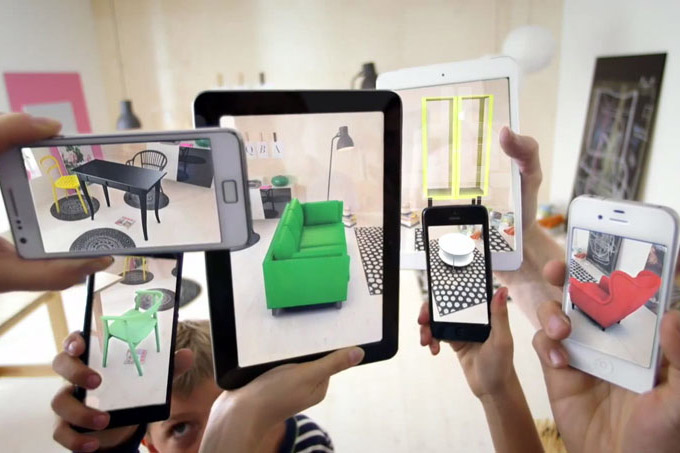 Computing researchers at Rochester Institute of Technology are teaming up with Fortune 500 company JLL to explore augmented reality within the commercial real estate and property management space.
Commercial real estate services company JLL is funding research to establish the JLL New Media Research Group at RIT. The JLL funding will provide support to a computing and information sciences Ph.D. student conducting research in the area.
Augmented reality (AR) is a technology that allows users to enhance their view of the real world with computer-generated information. The IKEA mobile app is a popular example of AR technology that can be accessed using a smartphone.
"The overlaying of physical environments with digital information has led to what we refer to as 'hybrid space,'" said Konstantinos Papangelis, assistant professor of interactive games and media who will lead the JLL New Media Research Group at RIT. "To this point, there hasn't been any academic research into hybrid space as it relates to real estate, so I'm very thankful and excited about this opportunity."
The JLL New Media Research Group aims to better understand the role that AR can play in the real and perceived value of physical spaces. The group will also look at AR content and its role in adding brand value and driving key marketing metrics, in the context of the real estate industry.
The group is hoping to explore who owns the digital space around a physical space and how AR can drive traffic to businesses.
"We're excited to partner with RIT and launch this new group and the JLL Research Support Fund to provide opportunity and financial support for a Ph.D. researcher interested in this realm of study," said Mark Zettl, president of JLL's Property Management Group and an RIT hotel and resort management alumnus. "We're also looking forward to utilizing RIT's extensive research about augmented reality in hybrid environments to deepen our understanding about the technology and continue elevating our services in property management and commercial real estate."
JLL sees the research as a way to better serve its clients, employees, and communities. By further researching AR, JLL will be able to educate and protect landlords and building owners. The company also hopes to better understand the technology's integral role in brand, key marketing metrics, and where physical environments and digital information intersect.
"Exploring the commercial use of digital reality technologies, such as AR/VR, is imperative in helping building owners and landlords understand how to protect, enhance, and monetize their real estate investment in a blended environment," said Hailey Harrington, JLL Property Management's Director of Strategy and Innovation. "By better understanding these technologies, we'll be able to advise our clients with the knowledge and expertise for implementation into their spaces."
The $175,000 funded research from JLL will support the group and student researcher for up to five years. For more information about the JLL New Media Research Group at RIT, contact Papangelis.
Topics