RIT wins Northeast regional collegiate cyber defense competition
Student team moves up to the national cybersecurity championship in April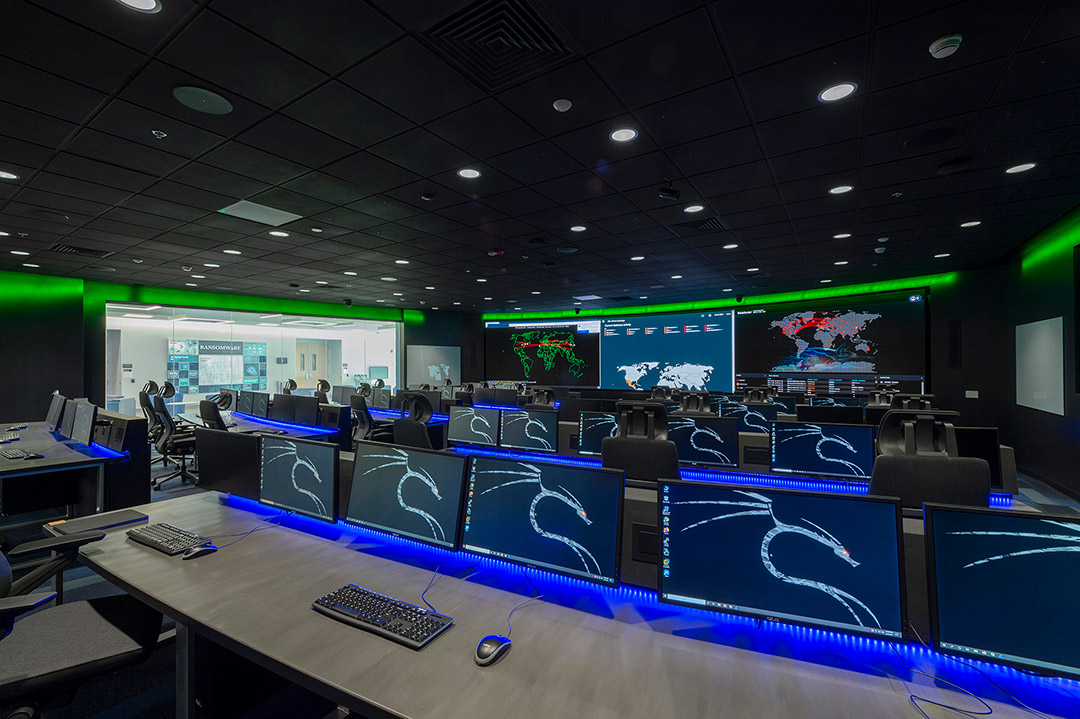 A team of Rochester Institute of Technology cybersecurity students is moving on to the National Collegiate Cyber Defense Competition (NCCDC), after taking first place at the regional competition March 19–21.
The annual event is part of the nation's largest college-level cyber defense competition. The extracurricular activity helps students build and hone the skills needed for a job in the cybersecurity industry—an industry that currently has a severe shortage of qualified professionals.
The win means that RIT receives an automatic bid to the 2021 national competition, which will be held April 23–25 in a virtual format.
Ten college teams competed in the Northeast regional event (NECCDC), which was hosted remotely by RIT's Global Cybersecurity Institute this year. University of New Haven placed second and University of Maine placed third.
Phillip Babey, captain of the RIT team, said that while the competition was tough, it was a fun and great experience.
"Each person on our team played a key role, as we were definitely stretched thin with many machines, assignments, and red team attacks," said Babey. "We are now on to nationals, where it's a whole different ballgame with many new featured technologies and systems that we'll have to practice to become experts on."
The cyber defense competition gives student teams the opportunity to assume responsibility for the information technology operations of a simulated organization, allowing them to apply cyber defense skills in a real-world scenario.
For the competition, a group of industry professionals from government and companies—called the red team—is assigned to break into computer networks to exploit information from a mock organization. Teams of students are "hired" by the organization to prevent that information theft from occurring.
The theme this year was "mobility." Teams had to defend computer networks, while focusing on the fact that many of their "clients" may be working from home or anywhere in the world.
"I think our focus on injects and incident response reports earned us most of our points, as well as our practice focusing on competition featured technologies, such as Microsoft Azure, led to our eventual success," said Babey. "Learning how to deal with remote machines that we didn't necessarily have direct access to was a great experience, making us careful with firewalls to stop us from locking ourselves out."
The RIT student team is made up of computing security majors Babey, a third year student from Newark Valley, N.Y.; Omar Aljaloud, a third-year student from Saudi Arabia; Jack Audino, a first-year student from Mendham, N.J.; Ayane Naito, a second-year student from Brooklyn, N.Y.; Craig Gebo, a third-year student from Rochester, N.Y.; Robert Gray, a third-year student from Canandaigua, N.Y.; Daniel Szafran, a fourth-year student from Colrain, Mass.; Jacob Cedar, a second-year student from Brooklyn, N.Y.; Jason Howe, a second-year student from Boston, Mass.; Kayla Hodgson, a second-year student from Woodbridge, Va.; Enzo DeStephano, a third-year student from Webster, N.Y.; and Brayden Werner, a second-year student from Colombia, Md.
The RIT team is coached by Bill Stackpole, professor in RIT's Department of Computing Security.
"I applaud all the teams for all the hard work put into preparing and competing," said Stackpole. "We all got an opportunity to add new tools to our toolboxes. The inclusion of Microsoft Azure was a great way to get the teams to think about the variety of cloud-hosting platforms available and to expose them to some of the tools available to help secure those platforms."
Several at-large awards were also given to this year's NECCDC teams, including:
Firefighter Award – Northeastern University
Best Use of Budget – University at Buffalo, SUNY
Disasterpiece Network – University of New Hampshire
Participants in the 2021 Northeast regional competition included RIT; University of Massachusetts Amherst; University of Maine; Northeastern University; University of New Haven; University of New Hampshire; Champlain College; University at Albany, SUNY; Pace University; and University at Buffalo, SUNY.
The competition infrastructure was created and hosted at RIT's Global Cybersecurity Institute (GCI), a new three-story facility on campus devoted to cybersecurity training, research, and education.
New this year, RIT's School of Interactive Games and Media and Golisano College of Computing and Information Sciences collaborated with GCI to cast and stream part of the competition from the Cyber Range through the RITGCI Twitch Channel. Students created the technologies, animations, and graphics to help make cybersecurity competitions more accessible to general audiences.
RIT's cyber defense team is a perennial contender at the regional and national competitions. The Tigers won their region last year and placed third at nationals in 2019.
Nine more regional winners will be determined before the National Collegiate Cyber Defense Competition in April.
Topics