Printing
Student Printing
Printing from GCCIS Windows Lab
Log into a GCCIS lab computer using your RIT credentials
From the desktop, you will see the login screen for Papercut
Enter your RIT username and password
Click sign in to add printers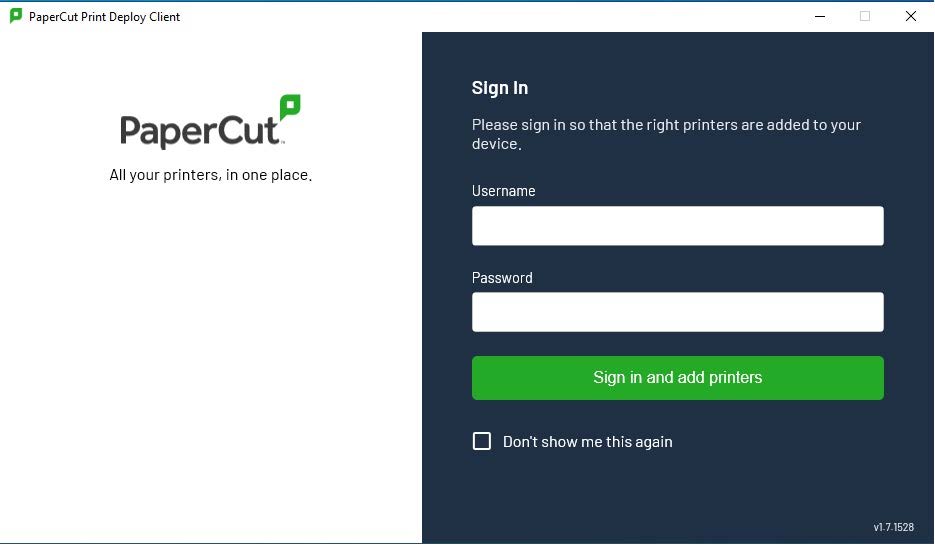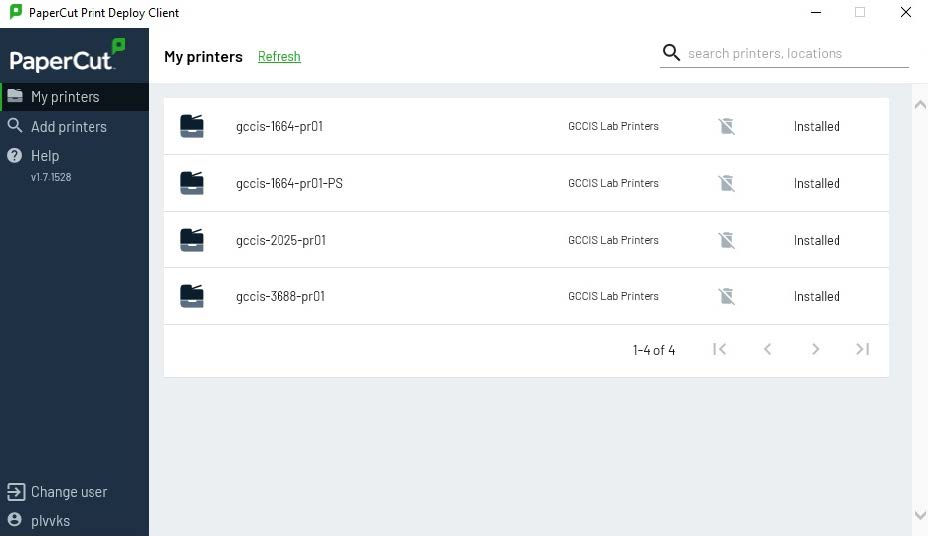 Upon logging into PaperCut, you will see a list of available printers (picture above)
Once you have logged in and the printers have installed you can close the above window
To print your document, open your document in the application of your choice
From the application menu, select File then Print
From the printer list select one of the printers and print
Printers are located in building 70 – Rooms 1664, 2025 and 3688. Only SE students will be able to access the printer in room 1664 so choose your printer appropriately.
To access these rooms, use your RIT ID to swipe in
Warning: anything you print will be viewable by all. Please do not print confidential information.
Remember to close the door when you leave the room and only take your documents.
PaperCut Web Print Instructions
Open web browser and visit: https://gccis-printers.main.ad.rit.edu
Log in with your RIT credentials
Click on Web Print
Click Submit a Job
Select the printer you want to print to
Click on Print Options and Account Selection
Enter quantity of copies to make
Then upload file (supported file types: PDF, bmp, dib, gif, jfif, jif, jpeg, jpg, png, tif, tiff)
Click on Upload & Complete
PaperCut Mobility Print - Window Instructions
Exact instructions vary depending on operating systems
Download and run the appropriate installer for your operating system (this should be automatically detected)
Choose installer language and accept EULA
Choose printers to install
Login with MAIN\[your RIT username], e.g. MAIN\abc1234 and your RIT password
Wait for the printers to be installed, then print to them as you normally would
You will only be able to print while on the RIT network.
NOTE: The printer controls offer a color option, but the printers only support black and white.
PaperCut Quota
You can view your quota balance by logging into:
https://gccis-printers.main.ad.rit.edu/user or by using the PaperCut app on a windows lab machine.
PaperCut measures print quotas in terms of dollars and cents, but you are not being charged for printing and you will not receive a reimbursement for unused prints
Campus Printing Services
Printing, copying, and scanning services are available to all students and faculty through the RIT Library.
These services can be purchased through the use of Tiger Bucks. More information on campus printing services can be found here.
Faculty and Staff Printing
More information is available specific to RIT faculty and staff.
Learn more