Kate Gleason College of Engineering appoints two new department heads
RIT Alumni Brian Landi and Katie McConky will lead chemical and industrial engineering programs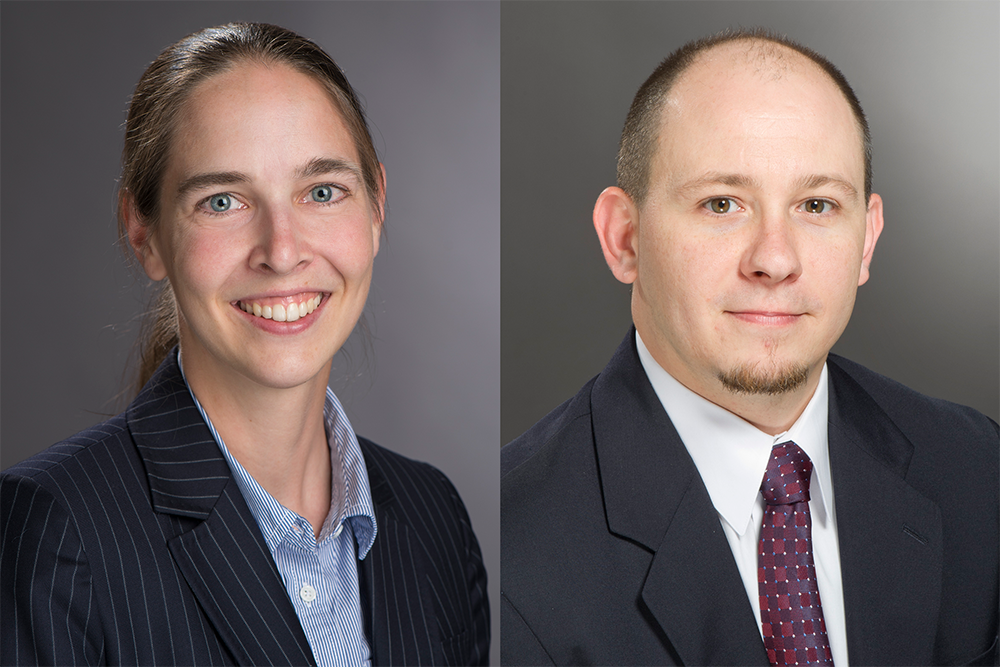 Changes in RIT's Kate Gleason College of Engineering leadership team began this fall as two of its alumni were appointed department heads.
Brian Landi and Katie McConky have been named department heads of the chemical engineering and industrial and systems engineering programs in the college. Both bring extensive teaching, research, and company experience to the academic leadership positions in the engineering college.
"I am thrilled that Brian and Katie are joining the leadership team. They are some of our most accomplished faculty, and they both have a deep commitment to RIT's growth as a student-centered research university," said Doreen Edwards, dean of the Kate Gleason College.
Landi '01, '02, '06 (chemistry, microsystems engineering) has been one of the university's top researchers in the advancement of novel systems and materials for lithium-ion batteries. He leads the Carbon Conductors & Advanced Battery Group and his research has been sponsored by corporate partners and government agencies. The nano wire technologies he has demonstrated are improving conductivity and strength in devices such as transistors, batteries, and sensors.
McConky '05, '07 (industrial engineering) served as a research scientist with CUBRC, Inc., a Buffalo-based technology company, prior to coming to RIT in 2014. She applies deep learning and data analytics to problems as varied as military situational analysis, energy efficiency and improving he process to match kidney donors, work she is collaborating on with partners at SUNY Buffalo.
Landi began his new role with the chemical engineering department following Steven Weinstein, who held the position since the program was established at RIT in 2008. Weinstein, will remain at RIT, teach classes in the chemical engineering program and continue research in mathematical physics in the Barlow-Weinstein Group with peers in RIT's College of Science.
McConky succeeds Iris Rivero, who came to RIT in 2018. Rivero will also continue teaching in the ISE program and expand her research in the areas of biomanufacturing and 3D printing. Her work has been awarded grant funding from agencies such as the National Science Foundation and National Institutes of Health. In 2021, Rivero was honored as an Institute of Industrial and System Engineers Fellow, for academic and professional contributions to industrial and systems engineering among several recognitions and awards received.
2023 also marks a significant milestone for the chemical engineering program as it celebrates the 10-year anniversary of its first graduating class and the approval of one two master's degrees—one in chemical engineering, and the other in biomedical engineering. The new degree programs will formally launch in 2024.
Topics