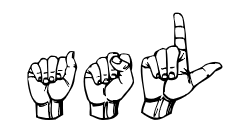 57 people have added this exhibit
Print Your Name in American Sign Language!
Exhibit Code: CLK-0135
Zone: RIT Central
Location: George H. Clark Gymnasium (CLK/003) - Clark Gym
Time: All Day
Appropriate for all ages? Yes
Description:
Learn to fingerspell your name using American Sign Language and take home a souvenir print of your finger-spelled name. This is a popular family oriented event where everyone can interact with another finger-speller and have their name printed using the ASL font.
Exhibitors:
Karen Beiter, Elissa Olsen
You may also like