Dungeons & Dragons Fall Workshops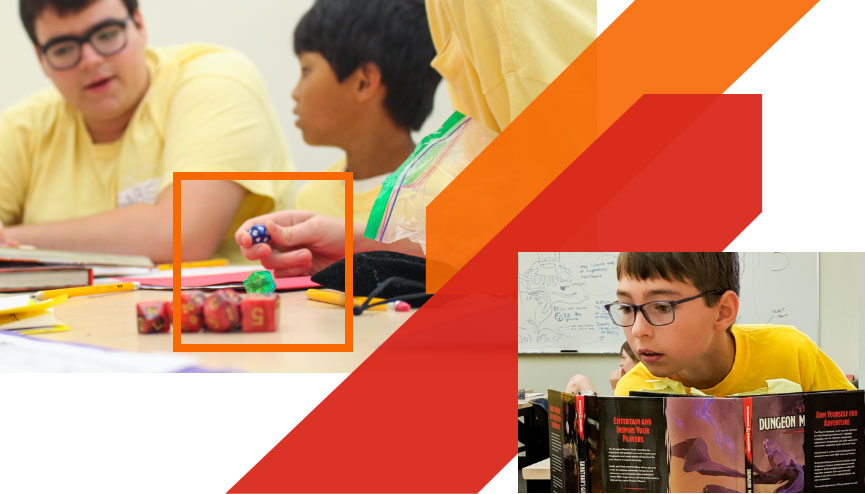 K-12 University Center is excited to announce...
Dungeons and Dragons Virtual Fall Workshops!
Dungeons and Dragons Virtual Fall workshop registration is now closed! Please check back for winter workshops soon! Thank you!
Where can you learn team-building, storytelling, probability, research, improvisation, critical analysis and be challenged to flex your creativity? Around the table in the world of Dungeons & Dragons!
Taught by RIT students, (some of these students have been teaching D&D with us for over four years!) Dungeons and Dragons is K-12's most successful and popular workshop! Check out this news article published on our Camp Tiger D&D workshop last summer here!
Students will be taught how to play (if they don't already know) and lead this wildly popular and complex tabletop roleplaying game, virtually! Each decision made requires consultation of charts and mathematical estimation to determine the success of the dice roll. More than a math game, students must work together to unravel the game master's puzzles. The possibilities are infinite as students figure out how to work with (and around) the rules, and gain confidence as they take on the role of a wizard, paladin, warrior or a rogue.
CLOSED - Session 1: Mondays & Wednesdays, October 12th - November 11th, 4-6pm (10 gameplay sessions)
CLOSED - Session 2: Tuesdays & Thursdays, October 13th - November 12th, 4-6pm (10 gameplay sessions)
Cost of a session is $150.
*We have worked hard to make our workshops as cost effective as we possibly can. With that, this is the rate for each student and there will be no discounts or scholarships given. The price above reflects this.
Each workshop runs from 4pm - 6pm with breaks as needed.
Campers will need access to reliable internet, a computer/laptop and a webcam to participate.
Please contact Olivia Manske at orvk12@rit.edu with any questions or concerns.