Science and Technology Entry Program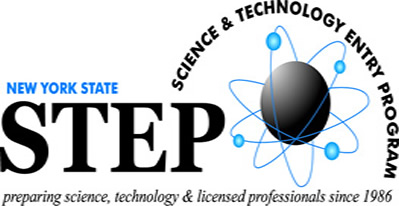 RIT K-12 administers the RIT Science and Technology Entry Program in collaboration with schools in the Rush Henrietta, Greece Central, and Rochester City School districts, and Vertus and Rochester Prep High Schools. Funded by the New York State Education Department (NYSED), RIT STEP serves more than 300 middle and high school youth each year. 
 Program Overview
The purpose of STEP is to increase the number of historically underrepresented and economically disadvantaged students prepared to enter college, and improve their participation rate in mathematics, science, technology, health-related fields, and the licensed professions. Program services include: academic enrichment, tutoring, standardized test preparation, college and career readiness experiences, hands-on research opportunities, job and college shadow opportunities, science fairs, FIRST robotics, summer programs, mentoring, counseling, and more. 
 More Information
For more information on RIT STEP, please contact Director, Ashley Simmons, at aask12@rit.edu. 
Link to NYSED information on STEP throughout the state. 
Link to Association of Program Administrators of CSTEP and STEP (APACS) for information on program impact and other resources. 
Link to the RIT Collegiate Science and Technology Entry Program (CSTEP).