Attending conferences part of learning how AEOP can fit into individual STEM journeys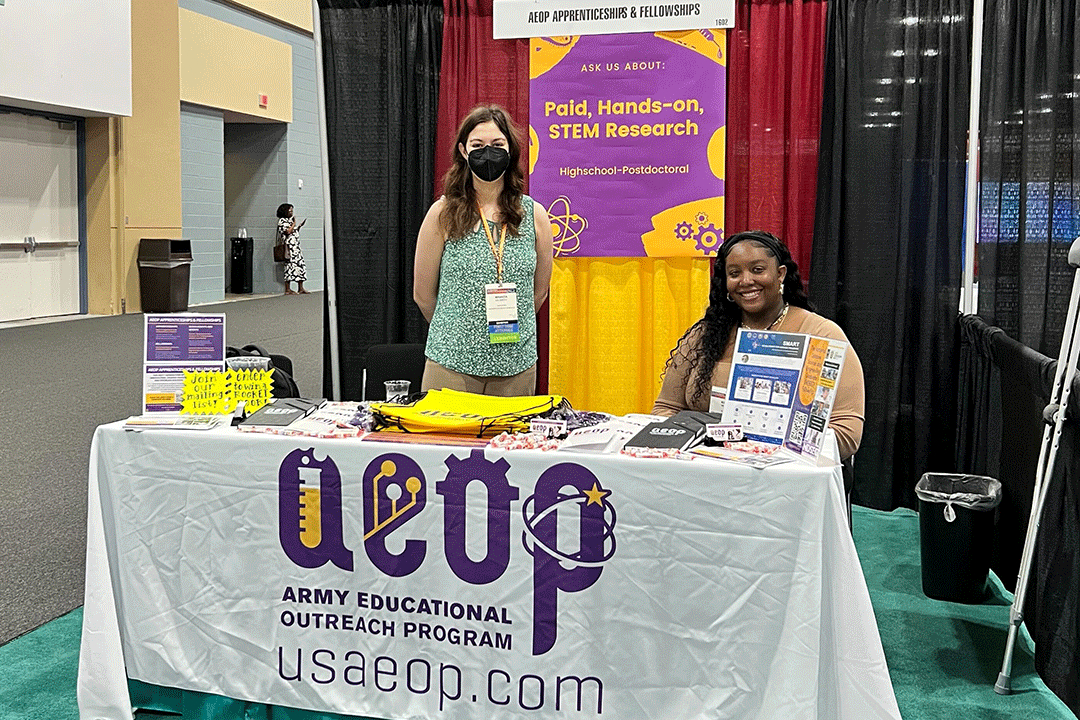 For staff of the Army Educational Outreach Program's apprenticeships and fellowships, attending conferences isn't just about recruiting individuals into the program. It's about being immersed in various communities to see how the program can support already-incredible STEM innovators and those aspiring to make a difference with the work they're passionate about.
In the 2022-23 school year, the team has attended at least four conferences in locations as far as Puerto Rico and California, and hopes to add several more to the list including those for the National Society of Black Engineers, Society for Women Engineers and the Grace Hopper Celebration.
"Our students aren't just a number; we don't just talk about the future STEM workforce," said Donna Burnette, director for AEOP's apprenticeships and fellowships. "It's getting participants into these fantastic opportunities that won't just change their life, but also change the lives of others."
AEOP is a U.S. Army-funded initiative that offers high school through postdoctoral individuals with opportunities to be involved in real-world STEM experiences alongside renowned scientists and engineers at labs throughout the country. Goals include providing participants with the chance to be interactive in the work they love, and connect civilians to members of the armed forces on projects that have the power to effect change through innovation and research.
The apprenticeships and fellowships branch of AEOP is housed though the K-12 University Center at Rochester Institute of Technology, with a staff of seven – including three fulltime support employees in Assistant Director Heather Storti, and outreach specialists Kierra McInnis and Miranda Salsbery. Burnette is also the executive director of the K-12 center.
"I think it is really cool to meet people from other backgrounds, hear their STEM stories and see how AEOP can fit in their journey," Storti said.
In October, she attended the SACNAS NDISTEM Conference in Puerto Rico with McInnis and Salsbery that allowed them to network with others involved in the largest multidisciplinary and multicultural STEM diversity event in the country. The mission, according to Storti, was to equip, empower and energize participants for their academic and professional paths in STEM. STEM stands for science, technology, engineering and math.
And with her vast knowledge about conferences, Storti suggests others to make the most of the events by meeting new people, and making connections through detailed information, effective communication and having a little fun at the same time.
In November, McInnis, along with communication and marketing manager Brit Milazzo, traveled to Anaheim, California for the Annual Biomedical Research Conference for Minoritized Scientists, also known as ABRCMS, which attracted more than 3,000 educators and students, and featured nearly 1,000 exhibitors.
To learn more about conferences AEOP representatives attended in the fall, visit these links:
Topics