Jones-Waters nominated for Women of Excellence award
Annual award sponsored by the Rochester Business Journal, and features 50 area women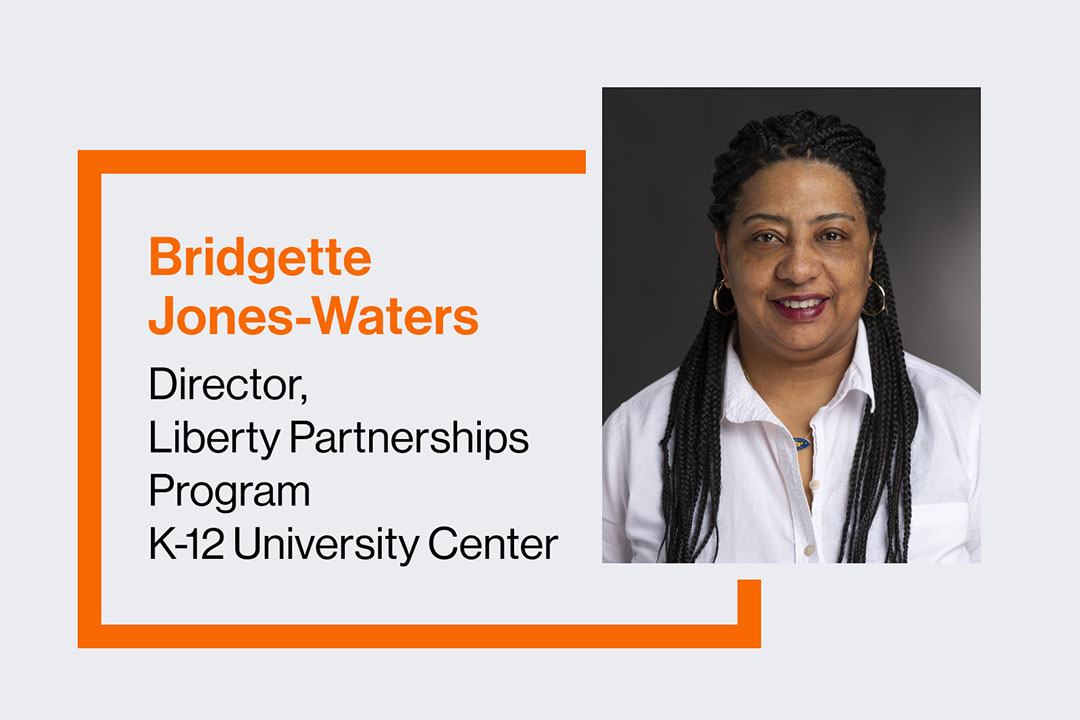 Bridgette Jones-Waters has a laugh and smile that's contagious. Even among the most stressful times, the longtime director of the Liberty Partnerships Program finds the positive in it. That's one of the reasons why she's among 50 women from the Rochester area nominated for a Women of Excellence award through the Rochester Business Journal, in addition to spending her life serving others with a passion for her work, serving the community and spreading positivity to those around her.
"I was in the middle of doing a report when I got an email saying I was nominated for this award, and was like, 'I don't have time for this!' she said with a bolstering laugh. "I kept getting reminders and eventually was like, "OK, this is cool!" But it caught me off guard because (I) live (my) life doing work, and serving the kids and community (I) love, and don't expect to be recognized for it. It's just what I do, but I'm honored – I really am. I don't do anything for recognition; I do it because I love it. I love being out in the community, I love working with children. That's what I do and who I am."
According to RBJ, Women of Excellence honors "high-achieving women for their tremendous career accomplishments," and are selected based on professional experience, community involvement, leadership and sustained commitment to mentoring.
Jones-Waters was named director of LPP about nine years ago after first working with Gaining Early Awareness and Readiness for Undergraduate Programs (GEAR UP), and the Science and Technology Entry Program (STEP) – federal and state-funded programs administered by the K-12 University Center at Rochester Institute of Technology, where she has worked since 2009.
As director, Jones-Waters is tasked with leading the LPP team in day-to-day operations. However, while not necessarily in her job description, she said she still finds time to be embedded within the schools the program serves to work with students, help in recruitment and connect with other school leaders.
"Working with students – they know who cares for them and who is genuine, and they know me and the staff is there to support them from day one," she said. "We set expectations and an environment of respect they have to follow, but they're loved, and they know we're here for them whether it's at 1 o'clock in the morning or the middle of the day."
LPP is a state-funded program founded under the umbrella of the New York State Education Department, with a location at RIT's K-12 center. It was first created in 1988 as a dropout prevention service, and evolved to provide a variety of academic and personal supports to eligible students. The local program currently serves students from Greece Olympia Junior and Senior High School, and University Preparatory Charter School for Young Men in Rochester, with a goal to increase its services to other schools eligible for the program based on state requirements.
"How we look at LPP here is that it's a global family because the student population we serve is so diverse – from kids who grew up here to refugees new to the area," Jones-Waters said. "I love that, and so we brand ourselves as a global family of services."
Jones-Waters has an undergraduate degree in business with a minor in accounting, where she studied at SUNY Brockport and Excelsior University; and a master's degree from Medaille College in organizational leadership.
When not working, you can find Jones-Waters in the Rochester area – calling it a passion to be a bigger part of the community she loves. She sits on several boards including the Rochester Regional Coalition Against Human Trafficking, state advisory board for LPP, is the president of the local chapter of Sigma Gamma Rho and more.
Topics