K-12 University Center staff connects with student veteran group to support holiday event honoring fallen service members
Through Wreaths Across America, more than 650 wreaths were placed on graves of veterans at Webster Union Cemetery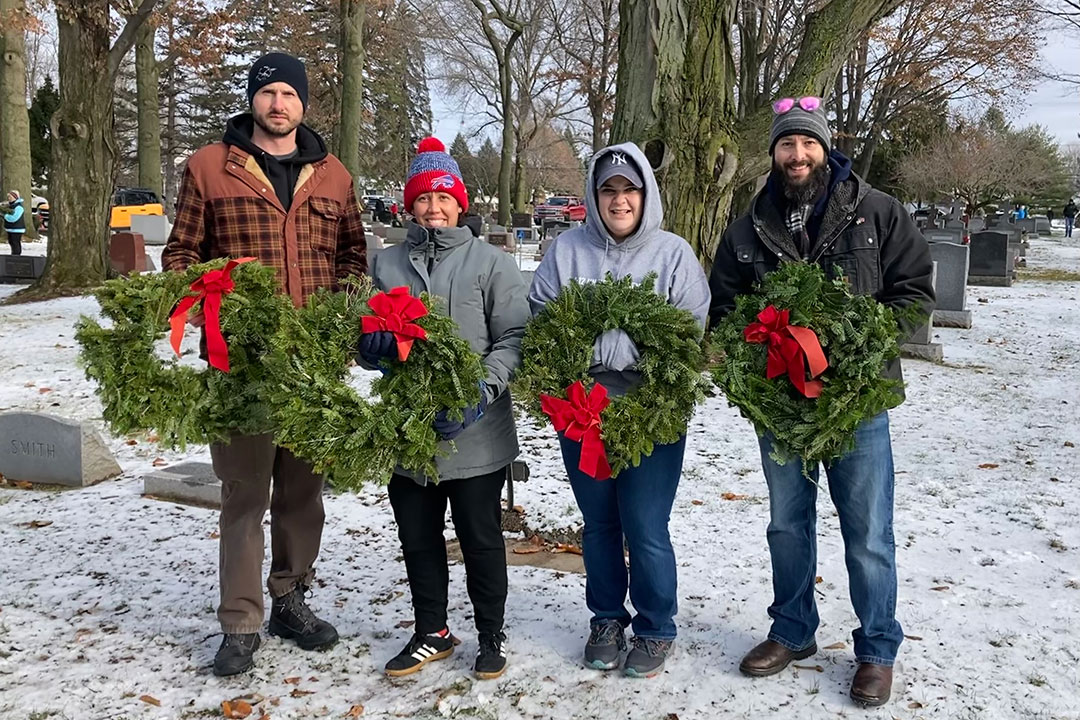 It was a somber, yet appreciative, afternoon at Webster Union Cemetery as hundreds of people gathered for Wreaths Across America – a national campaign created to lay wreaths at the grave sites of fallen service members and veterans, which the Town of Webster-based cemetery participated in. This year, National Wreath Across America Day was Dec. 17.
At least 650 wreaths were placed by the graves, which staff from the K-12 University Center at Rochester Institute of Technology partook in, along with members of RIT's Veterans Club.
Vice President Tom Faga, a veteran of the U.S. Marine Corps and RIT engineering student, said the group is working to support community service events around the county, and is in the works to create relationships with organizations on and off campus. Brit Milazzo, who works for the K-12 center and who is also a member of the U.S. Navy reserves, provides staff support to the club, which meets every Friday afternoon in the veterans lounge of the Office of Veteran Student Success at Global Village Plaza. She and colleague Heather Storti, assistant director of the Army Educational Outreach Program's apprenticeships and fellowships (administered by the K-12 center), joined the club's efforts on Saturday afternoon.
"I really enjoy getting to combine some of my favorite things at RIT – the K-12 center, and supporting student veterans and RIT military-connected families," she said. "Today was a day to not only show appreciation, but a good reminder of why we have those freedoms, and it was a really beautiful ceremony to witness."
The event included a ceremonial presentation by members of Navy Reserve Center – Rochester, a bagpiper, a speech by a Gold Star mother and an address by a Purple Heart recipient. The event was even covered by the local news.
The Veteran's Club was created to connect veterans and military-affiliated students at RIT with resources. Holding weekly club meetings, the group aims to plan community-involvement activities and volunteer opportunities, and advocates for student veterans on campus.
Topics