Local Liberty Partnerships Program known as a 'global family'
The state-funded program is administered by RIT's K-12 University Center, and serves hundreds of Monroe County youth with academic and personal supports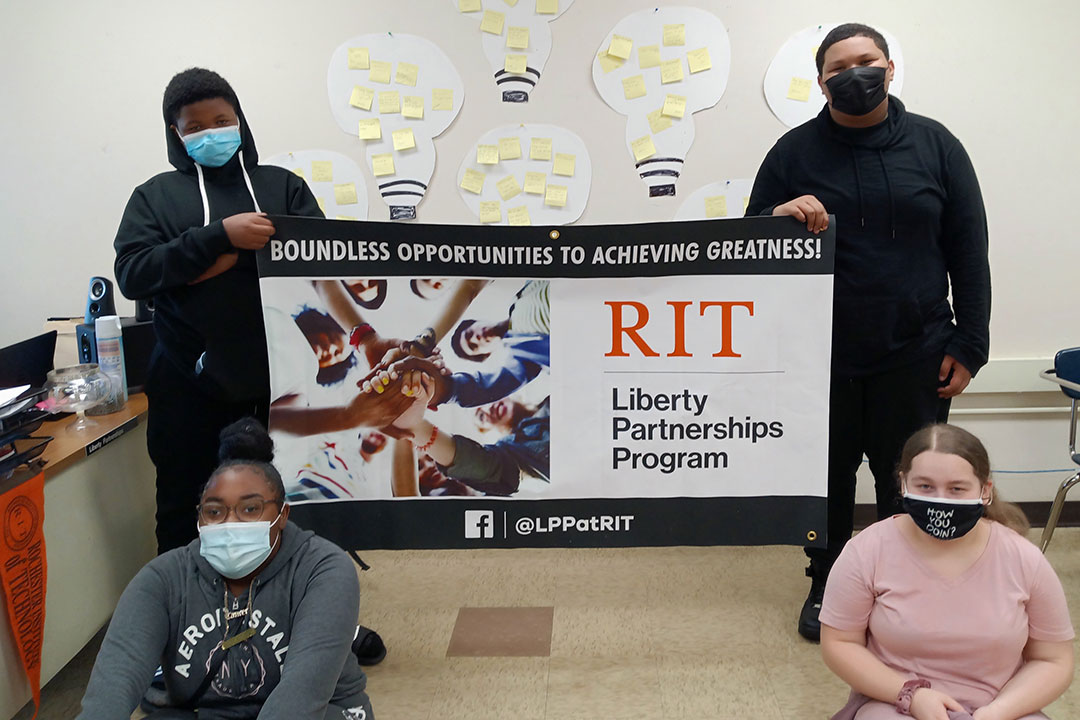 Liberty Partnerships Program, housed at RIT's K-12 University Center, is known among its community as a global family. After all, it serves students from across Monroe County who are local to the area and some who have settled in the region from countries around the world. It's a message the program adopted about eight years ago when a former student put into perspective the diversity of those involved in LPP, which includes students of various academic and personal challenges and successes; and from different communities, educational backgrounds, financial statuses, identities, races, religions and more.
"How we look at LPP here is that it's a global family because the student population we serve is so diverse – from kids who grew up here to refugees new to the area," LPP Director Bridgette Jones-Waters said. "One of our students about eight years ago said, 'Wow, this is a global family; just look at everyone.' I love that, and so we brand ourselves as a global family of services."
LPP is a state-funded program founded under the umbrella of the New York State Education Department, with a location at RIT's K-12 center. It was first created in 1988 as a dropout prevention service, and evolved to provide academic and personal supports to eligible students. The local program currently serves students from Greece Olympia Junior and Senior High School, and University Preparatory Charter School for Young Men in Rochester, with a goal to increase its assistance to other schools eligible for the program based on state requirements.
At Rochester Institute of Technology, the program is administered by a team of three within the K-12 center – and growing to include at least one more outreach specialist. That includes Jones-Waters, Assistant Director Tammy Scriven and senior outreach specialist Regina Maye, who are embedded within the schools to serve students on-site, work with staff and provide mediation, which therefore creates trust and rapport among those they work with.
"Working with students – they know who cares for them and who is genuine … the staff is there to support them from day one," Jones-Waters said. "We set expectations and an environment of respect they have to follow, but they're loved and they know we're here for them whether it's at 1 o'clock in the morning or the middle of the day."
The state's report card system helps determines eligibility for schools to provide LPP services. That's based on academic needs, in addition to the percentage of students on the free and reduced meal program. For individual students, they must apply to the program and identify within any of the 13 risk factors determined by the state.
"The beauty of this program is that there is no financial eligibility, so we can service so many students," Jones-Waters said. "When it was founded 35 years ago, it first started as a dropout prevention program, which, at the time, was not so much focused on academics. It's since grown to the point that we don't even refer to it anymore as a dropout program, because we work within so many other sides of it."
Services provided include cultural enrichment, family support, life skills, social and emotional learning, and more. Extracurricular activities are also offered such as Distinguished Gentlemen's Hoops and Hope, and Sisters Operating in Excellence for young women that is exclusive to the local LPP. There is even various workshops, a book club, leadership camps and activities for families to participate in.
"The best part for me is when these young adults actually graduate high school, and I get to watch the trajectory of their young adulthood, and how they're moving and growing, and keeping in touch to be a part of their trajectory after they're out of the program," Jones-Water said. "I still know kids who started when they were in seventh grade and now are in college or graduated from college."
For the LPP team, that includes being a part of military send-offs, celebrating accomplishments with families, going to weddings, meeting their children and more.
Before the pandemic, LPP at RIT assisted more than 400 students on any given year, but currently that number is closer to 300 as COVID-19 put a damper on outreach. With the number growing since, Jones-Waters said, "so is the program" – while it aims to get back into more area schools and hire more support staff.
Topics