RIT student to pursue career with DOD through AEOP apprenticeship opportunity, SMART scholarship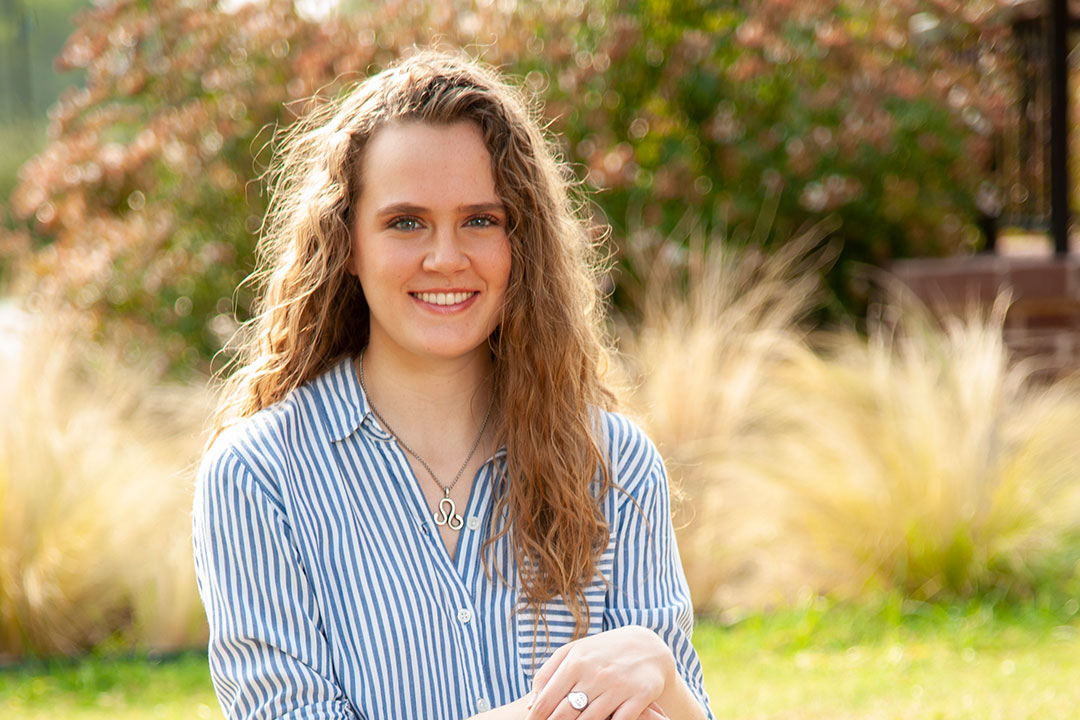 Rochester Institute of Technology second-year mechanical engineering student Julia O'Gorman was in high school when her journey started with the Army Educational Outreach Program. Her apprenticeship experience happened during the COVID-19 pandemic, which meant nearly everything went virtual, but used it to capitalize on opportunities that may not have been afforded to her otherwise – thanks to program leadership from RIT's K-12 University Center who believed in providing those experiences despite the obstacles.
Something as simple as keeping on her video during webinar series was the solidifying reason O'Gorman ended up with those chances that included recommendations from AEOP's apprenticeship and fellowship administrators to be a near peer mentor, and that also went toward securing the SMART scholarship. Through the endowment, it not only pays for her education, but guarantees a job after graduation with the Department of Defense and provides additional knowledge that helps her be a better confidant for others.
"I'd tell anyone to just go for it and be engaging during the process because it can open up doors for you," O'Gorman said. "The reason why the program is there is to create a STEM-literate society. Whether or not you want to get into a STEM profession, it helps you make decisions that are informed and can affect those around you."
STEM stands for science, technology, engineering and math.
Administered by RIT's K-12 center on behalf of the U.S. Army, AEOP Apprenticeships and Fellowships provide paid, interactive STEM opportunities to high school through postdoctoral individuals with real-world, hands-on innovation and research at Army-sponsored facilities across the country, working alongside some of the world's best scientists and engineers. There is no commitment to join the military, but provides experiences for civilians in DOD-type settings whose work is equally as important to serving the mission of the military as its uniformed service members.
Apprenticeships are meant for high school and undergraduate students, while fellowships are provided for graduate and postdoctoral individuals. Participants are also exposed to other DOD-provided opportunities like scholarships and career advancement. SMART and NDSEG not only provide funding for education, but allows students to work at government facilities, bases, installations and other centers providing direct support and work for projects that benefit the country and effect change. In many cases, those experiences lead to a fulltime job.
According to AEOP, SMART – or Science, Mathematics and Research for Transformation scholarship-for-service program – creates a "highly skilled DOD STEM workforce that competes with the dynamic trends in technology and innovation to protect national security." For every year of degree-funding provided through the scholarship, students commit to working for a year with the DOD as a civilian employee. NDSEG, or National Defense Science and Engineering Graduate program, allows students to attend a U.S. institution of their choice to pursue a doctoral degree in supported STEM disciplines.
This school year, O'Gorman was awarded the SMART scholarship and heads into her first internship this summer at Robins Air Force Base in Georgia, where she will subsequently also continue to work after graduation as a mechanical engineer with the base's civil engineering unit.
"I'm not sure if I'd be as prepared without all the experiences leading up to it," she said about how AEOP apprenticeships prepared her for the future. "It really gets you ready for the real world. It's on a much smaller scale, but you're provided with all the resources needed to be successful in the program and in your future. Those summer experiences get you hands-on training for your job with both physical work and other skills like how to interact with others."
O'Gorman's journey with AEOP as an apprentice started during her junior year in high school where she grew up in Dallas. Aspiring to be part of a summer internship, she felt like an AEOP apprenticeship was the best route for her with facilities in Texas that were close enough to commute to.
When the COVID-19 pandemic unexpectedly occurred, RIT's K-12 University Center – that administers AEOP's apprenticeships and fellowships – provided participants with a certified webinar series that exposed them to various career fields and majors in STEM. It also highlighted life as a scientist from how to write lab reports to the structure of how it works and how STEM concepts learned in academia could relate to the real world.
O'Gorman said it was also the reason she heard about the SMART scholarship – and RIT – and was nominated to be a near peer mentor to provide guidance to 14 students going through AEOP apprenticeships and fellowships.
"When the pandemic was happening, it shut down so much, but I was instead given a buffet of webinars and other opportunities," she said. "It speaks volumes about the program that they were able to make things happen instead of just canceling, and was also a huge reason why I learned about so many different opportunities. Once I had the chance to be on the other side of it, I just hoped that I would have been the same kind of mentor that mine were for me."
Now, the transition out of the AEOP apprenticeship and into new requirements for the SMART scholarship is one O'Gorman said is smooth because of past experiences. She will be starting her internship at Robins AFB in the summer, which will last through 2026 when she occupies a service fulfillment on base with a position in a career that complements her major.
"I think it's a good fit and kind of comes full circle," she said with a laugh. "AEOP has a piece in all my experiences because that's how I learned about the scholarship and mentoring, and RIT that was the perfect fit for me as a student. And now I have this opportunity to benefit from and be a benefit for a place I really believe in."
Topics