RIT student uses experience with AEOP to pursue career with the Department of Defense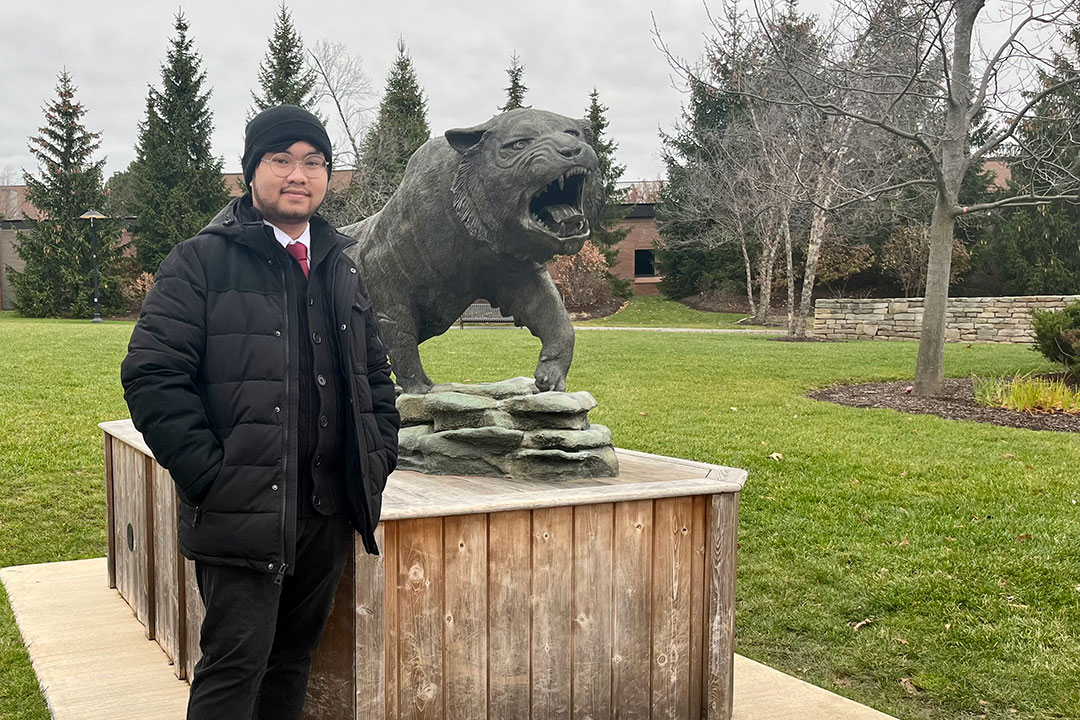 Through a series of opportunities as an apprentice with the Army Educational Outreach Program, Colin Vo, a third-year computer engineering student at Rochester Institute of Technology, is able to live out a dream he's had since childhood. It has allowed him to gain experience as a civilian working for the Department of Defense in a job that complements his field of study and provides a guaranteed full-time position after graduation.
"It's always been a dream of mine," Vo said. "It was always inspiring to see people in uniform and see their work, and see how their mission and goals align with mine. It makes me feel good that I have the chance to do it as a civilian."
Growing up in Lake Hopatcong, New Jersey, his parents were employed by the DOD, which gave him a unique perspective into various career fields with the armed forces, but without donning the uniform.
Last school year, he heard about an opportunity with AEOP that allows high school through postdoctoral individuals the chance to work in Army-sponsored facilities alongside world renowned sciences and engineers to engage in work they're most passionate about in science, technology, engineering and math, and with the chance to benefit the country through projects they're involved in.
AEOP's apprenticeships and fellowships branch is housed through the K-12 University Center at RIT with a staff of seven, including three full-time employees committed to providing information and outreach to participants from across the country.
By the spring, Vo was accepted into the program to work as an embedded systems engineer with Picatinny Arsenal, near his hometown. In doing so, it exposed him to the SMART scholarship, which is now funding his education and giving him the hands-on learning he needs to be successful in the real world. It also comes with a guaranteed full-time job opportunity after college graduation.
"You finally get to apply things that you learned in school to a real project, but also learn more than what school teaches you," he said. "Everything I learned was rewarding, but I think the most rewarding thing was the connections I made because I now have a future at Picatinny Arsenal."
Picatinny Arsenal is the largest designer and manufacturer of armament for the Department of Defense – from small caliber weapons to large artillery.
In the summer of 2022, Vo worked on optics and fire control systems as an embedded systems engineer, working with microcontrollers that command a larger system. An embedded system is a combination of computer hardware and software that allows control, or aids in the control, of a larger system. These systems can be mechanical, electrical or computer systems run by the embedded controller. As explained by Vo, "the embedded system can sometimes control the overarching system the warfighter is using, making the process seem seamless, but the system is also designed to take direct input from the warfighter through a peripheral device."
"Embedded systems is a pretty large part of computer engineering, and since that is my desired career path, AEOP has helped me get my foot in the door," he said. "AEOP has allowed me to meet many peers and mentors at Picatinny Arsenal, and has allowed me to get a feel and understanding of the work done there."
As an apprentice, Vo first worked with programming that he said he also uses nearly every day at school, and which helped provide a foundation to the work he is still doing with Picatinny Arsenal – and RIT courses – through the SMART scholarship.
SMART – Science, Mathematics and Research for Transformation – is a DOD-funded STEM program that provides students with the tools they need to pursue higher education and begin a career with the government. According to its website, "With a full scholarship, students pursuing STEM degrees will be able to focus on complex research to further the DOD's mission and create a lasting impact." Summer internships are performed at DOD facilities, and experiences prepare scholars for full-time employment that gets them accustomed to working with the department. For every year of degree-funding provided through the scholarship, students commit to working for a year with the DOD as a civilian employee.
"This experience let me meet people that I will be working with for the next chapter of my life," Vo said. "Through this program I met my mentors and peers that I will get to know more with my SMART scholarship. It also allowed me to get a feel of what real work at Picatinny Arsenal would be like, which I've committed to working at for the next four or five years."
Vo is in the third year of a five-year program at RIT, but is able to graduate in four years. He said being involved in AEOP helped him to shave off a year from his education. As he works with Picatinny Arsenal each summer, it fit a one-year mandatory co-op he was required to complete through his degree program.
And for those apprentices and fellows new to AEOP, Vo suggests taking advantage of all the opportunities and resources it offers, including connecting with a mentor.
"Don't be afraid to ask questions or ask for help," he said. "Your mentors are there to help you learn and grow. Ask your mentor if you can shadow them or if there's any challenges that will increase your skills in a subject. My mentor would give me problem-solving challenges to practice my programming skills, and then when it was time to apply them to a project, I was ready."
AEOP apprenticeships are meant for high school and undergraduate students, while fellowships are opportunities provided for graduate to postdoctoral individuals.
Topics