RIT students use talents to support K-12 center while gaining experience in real-world work setting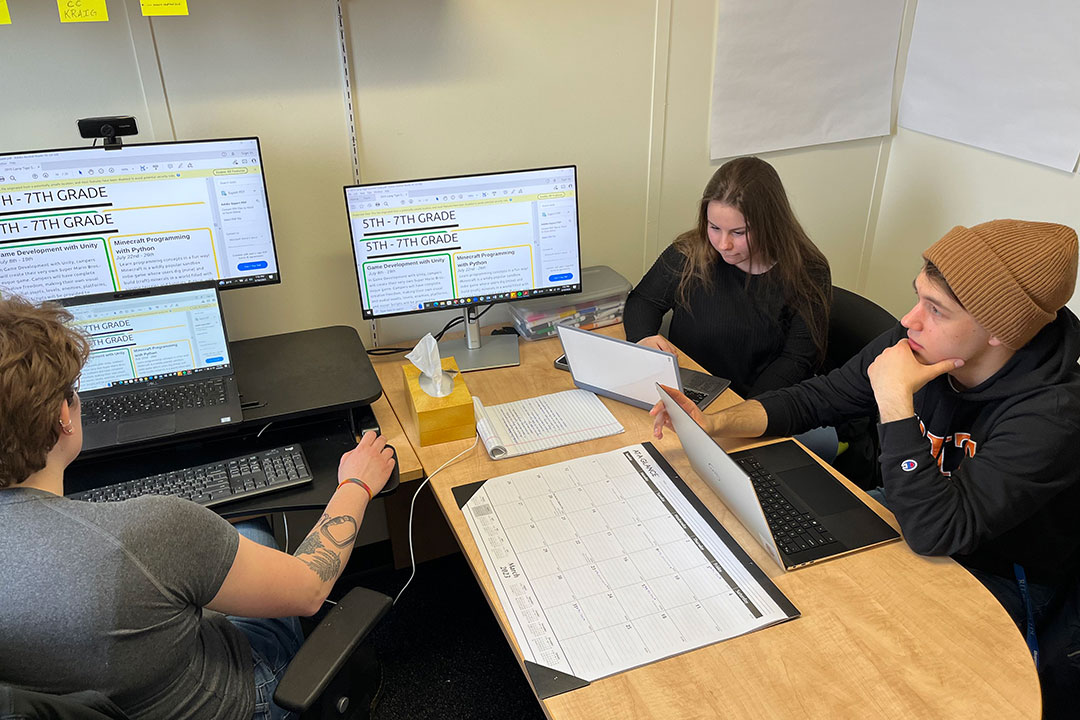 A design job that Rochester Institute of Technology student Bella Bi landed at RIT's K-12 University Center is her first time in a professional work setting in the United States. Bi, of Wuhan, China, is a second-year graduate student of visual communication design with a focus on UI/UX (user interface/user experience), and came to the university this school year to pursue her studies and gain experience in various levels of design work in and out of class.
She's among a group of RIT student workers hired each year to help support the K-12 center with various duties. It's a way to utilize student talents, while giving them the professional experience needed to be successful in the real world.
"They are exposed to career pathways within both our organization and individual programs that they may have not previously been exposed to," said Jess Small, K-12's director of finance and operations. "RIT students are advocates on this campus that can provide a really unique perspective to younger students looking to attend RIT in the future. Working in K-12 allows RIT students to gain real-world experience that they may not be receiving within the classroom."
She added that RIT student workers support all aspects of K-12 programs. That includes:
While responsibilities vary for student workers, Bi is tasked with filling graphic design demands, in addition to the production of different creative projects such as online graphics, flyers, posters and more that fit the needs of the K-12 center, while also following RIT branding guidelines.
"I saw this job on RIT's Career Connect at the end of last semester, and it felt like the job was a perfect fit for my major," she said. "After finishing last semester, I had a full academic year of classes and thought I should put into practice what I had learned. Plus, as an international student, I hadn't worked in the U.S. before, so when I saw this job opportunity available, I applied. I get to experience a different work culture than in my country and meet great people to work with."
According to Small, K-12 hires 15-20 RIT student workers for part-time support during the year. On-campus departments also provide flexibility that students may not receive when they are employed off campus – allowing more awareness of academic needs and potential constraints, and providing flexibility around the RIT academic calendar.
Topics