Building Your Network Begins Here
Building Your Network Begins Here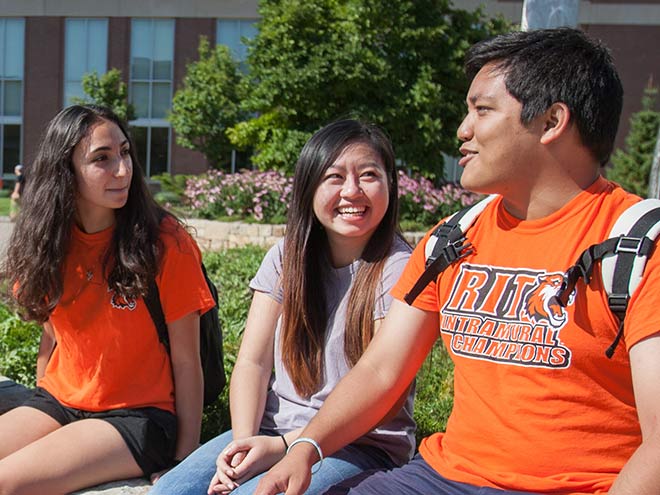 As a community of learners in the College of Liberal Arts, we revel in dialogue, debate, teamwork, finding answers, and solving problems. Whether you're exploring restorative justice practices, testing human perception in virtual reality, or studying political structures in familiar works of literature, you'll be doing it alongside other students who seek the thrill of discovery and the satisfaction of understanding. It's the perfect place to start building your professional network, an invaluable resource you'll grow throughout your career, made up of the people you meet and the connections you make along the way.
Peer Navigators are select third- and fourth-year students in each degree program who work with students in their major in a variety of ways, such as discussing tricky concepts from class, highlighting resources available on campus, talking about professors' different teaching styles, or just hanging out and having a cup of coffee together at Java Wally's. They also host events throughout the year, like our Welcome Back Bash in the fall, Study Snack Pack during midterms, and Cram Sessions at the end of each semester when finals roll around. These events are a great opportunity to have some fun and connect with students from different majors across the College of Liberal Arts. (Also: free food!)  
Your professors are another important part of your network. Exceptional teachers and researchers, they're leaders in their fields of study but never too busy for a chat. They're the first ones to geek out with you when you discover an answer you've been seeking or latch on to a new idea. They'll challenge you with new ways of looking at a problem and celebrate with you when you accomplish a personal goal. The faculty in the College of Liberal Arts are important advisers, providing career guidance and experiential learning opportunities, as well as often becoming lifelong mentors and friends.
At RIT, we believe that feeling you get when you're on to something amazing is best when it's shared by those around you, too.