May 2, 2023
by Kim Walters
CLA Alumni Award Recipients Make an Impact in their Professions and their Communities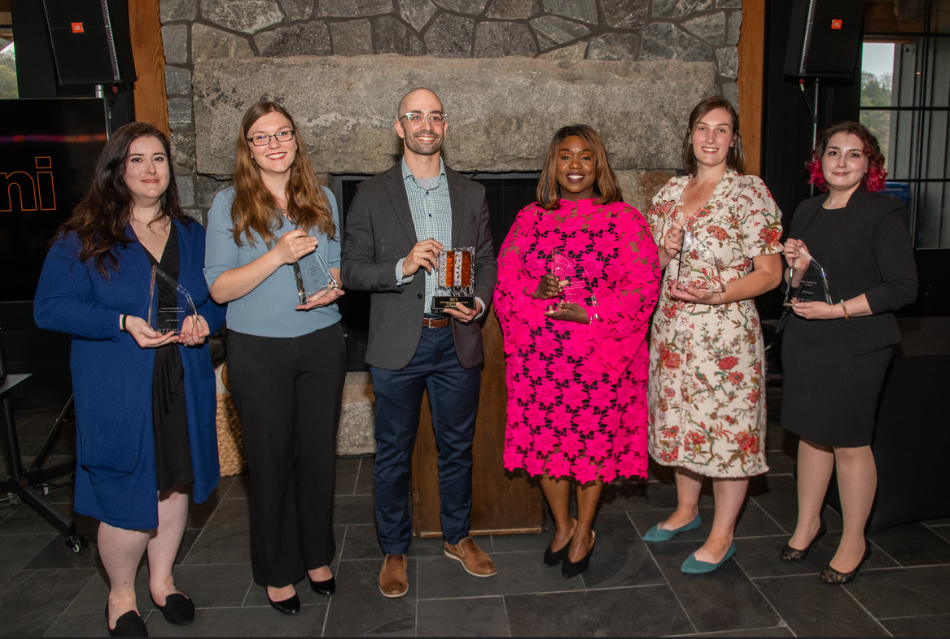 Luiz Freitas '07 was named this year's CLA Distinguished Alumni Award recipient and Rising Star Awards were presented to Brianna Alverson '16; Albert Blankley '09, '13 MS; Cheleen Burke '14; Dailyn Clark '18; Krystle Jones-Ellis '09, '15 MS; Jathan Sadowski '12; Melissa Sagen '15; and Shakira Smith '18, '19 MS.
The Distinguished Alumni Award is presented annually to alumni who have performed at the highest levels of their profession or who have contributed to the advancement and leadership of civic, philanthropic, or service organizations. Rising Star Awards are presented to alums who graduated within the last decade and have distinguished themselves professionally and in their commitment to progress.
"The College of Liberal Arts is a community in which people care passionately about advancing the common good, advocating for those whose voices need amplification, and innovating for equity and social justice," said Interim Dean Kelly Norris Martin. "Our awardees' impact is felt in disciplines that include legal representation, community health care, psychological science, film preservation, emerging technology research, community organization impact, national intelligence, and mobile data technology. We are so proud of their accomplishments." 

Luiz Freitas '07 (economics) is vice president of experience personalization at Fidelity Investments. Prior to this role, he held analytics and leadership positions at Google, Amazon, and Digitas. He has remained involved with RIT, speaking at events for accepted students in the Boston area and mentoring students.
Brianna Alverson '16 (international and global studies and political science double major) graduated from RIT and then focused her training to become an intelligence analyst, earning an MS in applied intelligence at Mercyhurst College. She now works at Johns Hopkins Applied Physics Laboratory, where she applies her analytic and intelligence expertise to national security problems.
Albert Blankley '09 (biology), '13 MS (science, technology and public policy) represents Monroe County, NY, 24th Legislative District, and serves as the chief operating officer of Common Ground Health, a non-profit health planning organization that brings together data and community voices to drive changes in health and well-being for the people of the Finger Lakes region. He also teaches public policy at RIT as an adjunct professor and serves as the co-chair of the Rochester Monroe Anti-Poverty Initiative's Data and Evaluation Workgroup. 
Cheleen Burke '14 (international and global studies) is a junior manager for the Global Customer Support team at Bagelcode, a mobile games company in Seoul, South Korea. Originally from Rhode Island, she moved to South Korea in the summer of 2014 after graduating from RIT. After working at various English academies in both Busan and Seoul for five years, in late 2019, she joined Bagelcode in mid-2020. 
Dailyn Clark '18 (psychology) is currently a Ph.D. student in the Cognition and Language Laboratory at the University at Albany, where her research focuses on adaptive memory, emotion word processing, and bilingualism. She has co-presented research work at both the Psychonomics and Midwestern Psychological Association conferences this past year.  
Krystle Jones-Ellis '09 (advertising and public relations), '15 MS (communication), owner of Ellis K Consulting, strategizes with organizations such as the University of Rochester Medical Center, USA Today, Rochester Police Department, Willow Domestic Violence Center, and the Women's Foundation of Genesee Valley to advance through leadership development, policy remastering, and culture change. She aids in transformational change by examining hiring practices, stakeholder engagement, policies and procedures, conflict resolution protocols, and daily operations. Committed to the Rochester community, Ellis sits on multiple boards and committees, all advocating for women's rights, equal access to healthcare for children, and the international right to have clean water. She has been featured in nationwide publications like the Chronicle of Philanthropy and USA Today. 
Jathan Sadowski, Ph.D., '12 (philosophy) is a senior research fellow in the Department of Human-Centered Computing at Monash University in Melbourne, Australia. He is the author of the book "Too Smart: How Digital Capitalism is Extracting Data, Controlling Our Lives, and Taking Over the World" (The MIT Press, 2020). His second book, "The Mechanic and the Luddite," is under contract with University of California Press. He currently holds a DECRA fellowship from the Australian Research Council for a project on the political economy and social impacts of insurance technology.
Melissa Sagen '15 (museum studies) has spent the last seven years at National Geographic headquarters in Washington, D.C., caring for their film and media archive. She recently transitioned to a new role and now manages digital collections workflows, including quality control of files, use of content management and digital asset management systems, and creating metadata for digital object records. 
Shakira Smith '18, '19 MS (criminal justice) earned both a bachelor's and a master's degree in criminal justice at RIT and a Juris Doctorate from University at Buffalo School of Law in 2022.  During law school, Smith founded the First-Generation Law Students Association and was the first Diversity, Equity, and Inclusion Editor of the Buffalo Law Review; a faculty research scholar; a peer advocate, student ambassador, and admitted student mentor; and a member of the Black Law Students Association. She interned for the United States Attorney's Office and the United States Court of Appeals for the Third Circuit, the second highest court in the U.S., and in October of 2022, she passed the New York State bar exam—on her first try—with a score high enough to practice in any UBE jurisdiction. Smith works in New York City, where she practices corporate and commercial real estate at Fried, Frank, Harris, Shriver & Jacobson, a big law firm nationally known for its prestigious real estate practice group.
Topics