Deaf children's learning during museum experiences is focus of research study
Partnership between RIT's National Technical Institute for the Deaf and The Strong National Museum of Play will study how motor exploration impacts learning in deaf children and children who use American Sign Language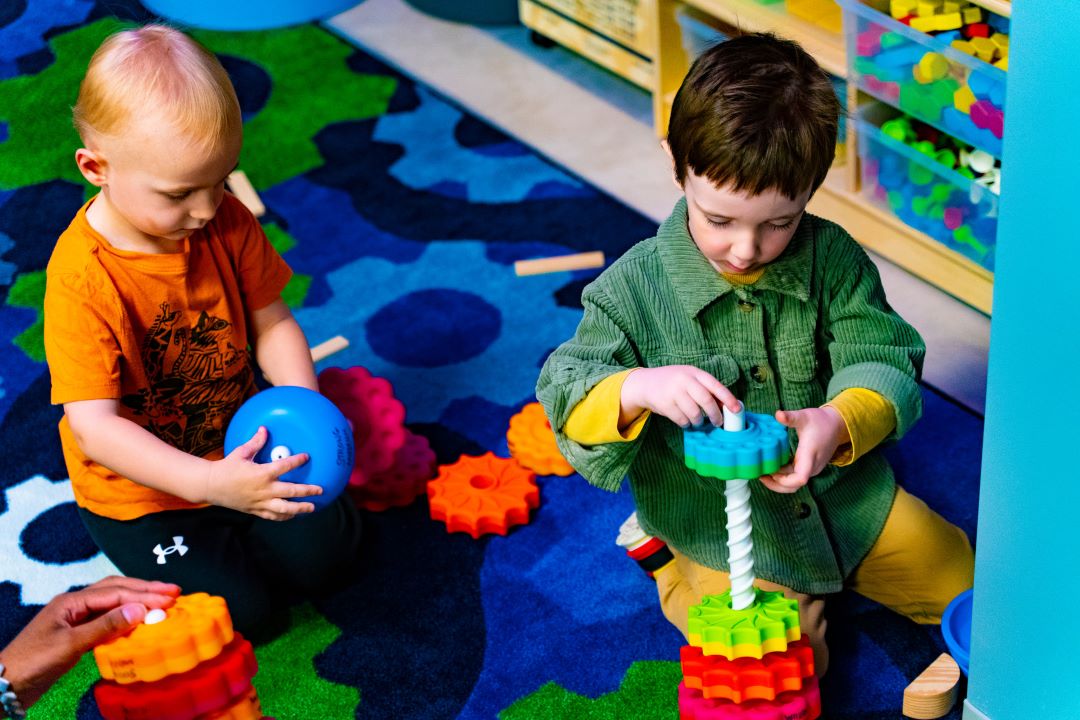 New research exploring how deaf and hearing preschool-aged children learn through interactive play with their parents is the focus of a partnership between Rochester Institute of Technology's National Technical Institute for the Deaf and The Strong National Museum of Play.
The study will be led by principal investigator Rain Bosworth, an associate professor at RIT/NTID and director of NTID's Perception, Language and Attention in Youth (PLAY) Lab, and co-investigator Allison Fitch, assistant professor of psychology in RIT's College of Liberal Arts.
Made possible by awards from the National Institute on Deafness and Other Communication Disorders at the National Institutes of Health and the James S. McDonnell Foundation, the research will provide a greater understanding of how deaf and hearing children learn, how they meet the demands of human communication, and how preschoolers build knowledge and vocabulary by touching and handling objects in a museum setting.
"Children naturally explore to satisfy curiosity about new objects," said Bosworth. "This behavior, which we call exploratory play, becomes increasingly sophisticated with age and is crucial for building motor, cognitive, and language development."
Bosworth explained that starting in infancy, children learn about their worlds by manipulating objects, feeling textures, and visually examining features. As they mature, their exploratory behaviors become more complex, multisensory, and integrated with social behaviors and communication. The research project aims to understand how deafness and sign language exposure impact early exploratory behaviors. She says this is important because a large number of children in the United States born with hearing loss may not be getting full language input if they can't hear the language spoken at home or in school. This could impede natural exploratory behaviors.
"Deaf children are at risk for delayed cognitive development if they aren't getting the appropriate support," she said. "We believe that parents of deaf children have a lot of good intuition about what is best for their children, and we can learn from them."
Fitch emphasized the importance of performing the research in a museum setting.
"Studies of play and parent guidance have typically been done in the laboratory or in home settings, where variables are harder to control," said Fitch. "Museums are designed to attract heterogeneous groups and to spark curiosity with interactive, hands-on experiences. Museums are also spaces designed to facilitate collaborative and shared informal learning experiences with parents or peers, especially for fostering interest in science."
Data will be collected at The Strong, in Rochester, N.Y., one of the largest children's museums devoted to play, and whose mission is to encourage learning, creativity, and discovery through play.
"At The Strong, our mission is centered around providing high-quality and inclusive playful experiences to every child," said Tyana Velazquez-Smith, assistant vice president for education at The Strong. "By collaborating with NTID on this project, we gain invaluable insights into supporting the joy and imagination of children who are deaf and/or hard of hearing through accessible and immersive play. We recognize that play is a fundamental human right for all children, and we're grateful for the opportunity to partner with NTID in our shared commitment to ensuring accessibility in play."
The goal is to test 140 children, 3 to 6 years old, who either have typical hearing levels or have severe-to-profound deafness. The study will also recruit parents who use American Sign Language, spoken English, or both to communicate with their children.
Topics