"I and You:" First Performances in RIT and NTID Joint Theatrical Season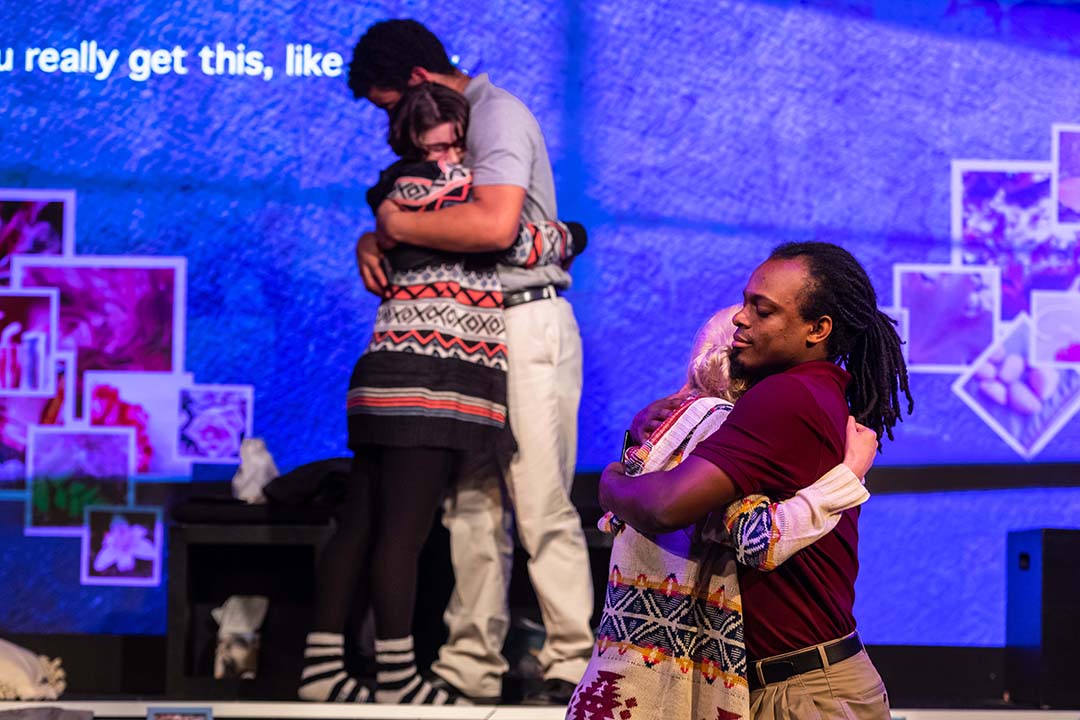 This October, the whole RIT and NTID community was treated to the first performances in the University's joint theatrical season—performances that showcase a unique blend of Deaf and hearing actors on one stage.  The season's first production, "I and You," ran from October 25-27 in NTID's 1510 Lab Theatre, and included students from degree programs across the university.
For this collaborative production, director Andy Head, Assistant Professor in the Department of Performing Arts and Visual Culture, decided to double-cast the characters with one Deaf actor and one hearing actor in each role. To accomplish this staging concept, the scenery was constructed to allow for two actors performing on the stage floor and two actors performing on a raised platform behind them. Together, the four performed "a synchronized dance" of mirrored movement and line delivery—while still embracing the individuality of each actor. Through just seven weeks of rehearsals, the cast and crew worked tirelessly to bring this unique performance to life.
"I and You" tells the story of Caroline and Anthony, two high schoolers who are thrown together for a poetry project in their American Literature class. Never having met before, they have to unpack a lot of feelings regarding their situation: Caroline has a failing liver and doesn't regularly go to school, while Anthony waited to show up until the night before the project due date. Yet, as they work, a closeness develops between them.
The outstanding performance was entered into the regional Kennedy Center American College Theatre Festival (KCACTF). Students were recognized for the Irene Ryan Acting Scholarship, as well as certificates of merit in stage management, properties, and lighting. The submission also offers a possible invitation to perform "I and You" at the Regional Festival in January in College Park, MD.  If selected, it would be an immeasurable opportunity for the entire "I and You" team, the College of Liberal Arts' Theater Arts Program and NTID's Department of Performing Arts. Keep your fingers crossed!
Topics