February 1, 2023
by Luke Auburn
International programs enhance education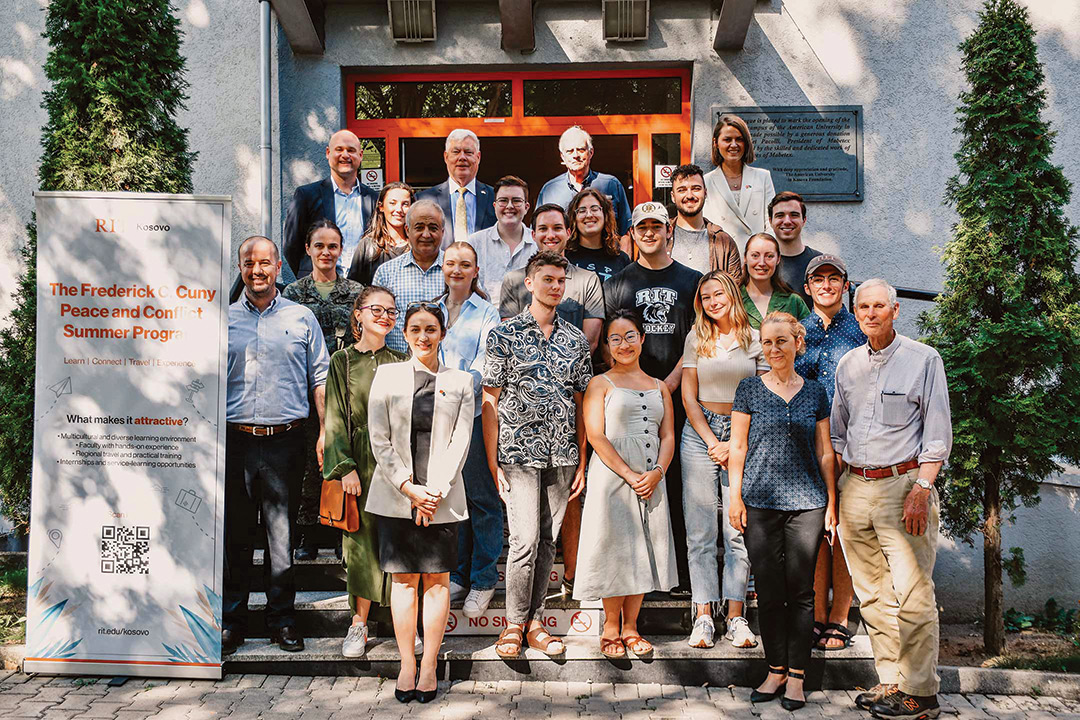 Programs with RIT's international campuses are helping to make well-rounded students.
Six new scholarships being piloted this year will allow students from RIT's main campus to travel to RIT Kosovo to explore the origin and resolution of armed conflict, reconstruction, and institution building at the end of wars.
The Frederick C. Cuny Peace and Conflict Summer Program opens with a one-week study tour to Albania, Montenegro, Croatia, and Bosnia and Herzegovina, where students meet officials and activists and visit historic and recreational areas in the Balkans. Upon return to Pristina, students work in Kosovo's living laboratory of history in the heart of the Balkans.
"The Peace and Conflict Summer Program is a powerful and unique opportunity for students to learn about the peace process directly from diplomats and practitioners who were on the ground during the Kosovo crisis, while visiting relevant sites and touring some of the most beautiful countries in Eastern Europe," said Lauren Hall, chair of the Department of Political Science. "We're incredibly lucky to have this relationship with RIT Kosovo, and we're thrilled that, through these scholarships, we can continue to deepen this partnership."
The program is one of more than 600 study abroad programs in 60 different countries that RIT students can participate in. Students can directly enroll in one of RIT's global campuses or participate in faculty-led programs, exchanges, affiliate programs facilitated by partner universities, or engage in international research opportunities.
Although study abroad experiences ground to a halt during the outbreak of the coronavirus pandemic, students are once again heading overseas in large numbers to gain one-of-a-kind experiences beyond the classroom.
In the 2021-2022 academic year, 383 students participated in study abroad experiences. In 2018-2019, the last academic year before the pandemic, 464 students studied abroad, and RIT's Office of International Education and Global Programs expects that number will be matched or exceeded by the end of the 2022-2023 academic year.
This story is part of the 2023 President's Annual Report. Read more stories from the report.
Topics