Live theater returns to RIT with 'Angels in America: Millennium Approaches'
This weekend's shows also provide greater accessibility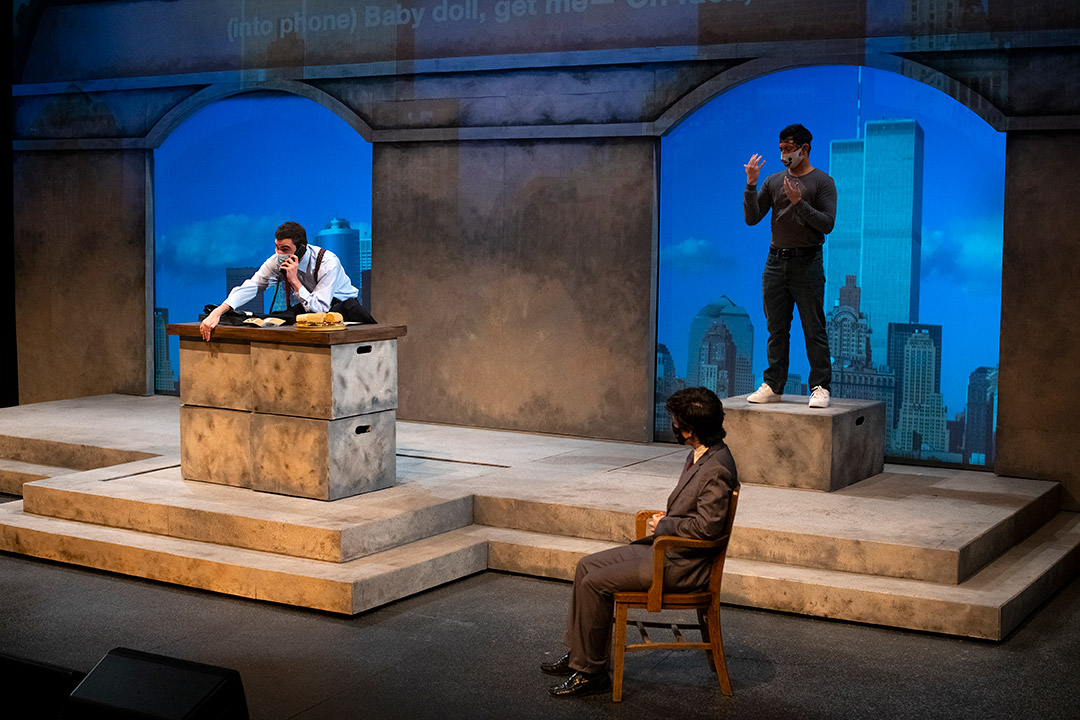 A. Sue Weisler
Productions at Rochester Institute of Technology and its National Technical Institute for the Deaf have been accessible for decades to deaf and hard-of-hearing audience members.
But this weekend's production of Angels in America: Millennium Approaches in Lyndon Baines Johnson Hall will provide even more accessibility for blind and low-vision audience members.
Tactile replicas of the set design and five costumes, and well as Braille and large-print program books and Braille informational panels, will be available in the lobby prior to the shows so patrons can touch and feel the textures, shapes, and sizes of the items. A special on-stage tour will be provided prior to the Saturday matinee.
The set model is being 3D printed by Kurt Stoskopf, director of NTID's 3D graphics technology program, and costume pieces are being provided by costume designer Amanda Doherty.
"We want to ensure our productions are as accessible as possible so that all members of the community are able to enjoy them," said Jill Bradbury, chair of the Performing Arts Department for RIT's NTID, which is offering the production with RIT's College of Liberal Arts.
More than 50 students are involved in the production, either on stage or behind the scenes with set design, costumes, lighting, and sound.
"This is a dual-language production, meaning everything will be spoken in English and signed," said Andy Head, who is producing the play. "We have a mixed cast of 24 deaf, hard-of-hearing, and hearing actors. There will be captions projected onstage throughout the performance as well."
This is the first major production with live audience members at RIT's Robert F. Panara Theatre since the pandemic began. Safety precautions remain: audience members must show proof of full COVID-19 vaccination(s), masks must be worn while indoors, and the theater, which will only be filled to 50 percent capacity, will be cleaned after each performance.
In 1993, Angels in America, written by playwright Tony Kushner, won the Tony Award for Best Play and a Pulitzer Prize for Drama. Set in 1985, it features a Valium-addicted Mormon, her closeted lawyer husband, and two men ripped apart by an AIDS diagnosis.
"The play is a pretty ambitious choice for a college production, especially for a school with no theater major," Head said. "The size and scope and content are challenging in many ways."
Due to strong language, sexual content, and physical violence, the play is not intended for those under 17 years of age. "However, this is widely regarded as one of the best plays ever written by an American playwright, so we felt it offered a unique opportunity for our students to engage with theater," Head said. "It was really a cultural phenomenon when it opened on Broadway."
Performances, which include two 10-minute intermissions, are 7:30 p.m. Friday and Saturday, and 2 p.m. Saturday and Sunday in the Robert F. Panara Theatre in Lyndon Baines Johnson Hall.
Tickets are $5 for students; $10 for RIT faculty, staff, and alumni; and $12 for others. Tickets may be ordered online, by phone at 585-475-4121, or at the door two hours prior to show times.
For those unable to attend, recorded, captioned performances will be streamed online at a later date.
Topics