RIT contest spawns next generation of wordsmiths
'Wordistry' game inspires high schoolers to be creative with the English language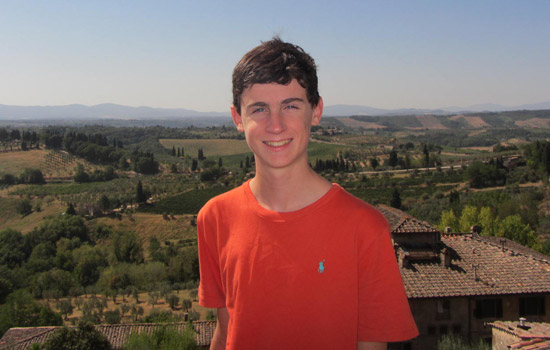 Kevin Harper may have a future in etymology.
The Fairport High School junior recently took home a new iPad as the winner of "Wordistry," a word-creation contest sponsored by Rochester Institute of Technology's Department of Communication.
According to Harper, his award-winning word—techista—means "a person that must always have the latest and greatest technology, and usually feels the need to show off all of their new technology and its new features; how it is much more superior than the predecessor."
Students from Rochester-area high schools submitted words they invented with corresponding definitions. Participants posted their entries onto RIT's "Wordistry" Facebook page, encouraging friends to "like" their submissions. Faculty from RIT's Department of Communication selected three finalists.
"I've been interested in language since the seventh grade when I enrolled in a Spanish class," Harper says. He hopes to study computer science in college and has "always tried to stay current on all aspects of technology."
Hinda Mandell, assistant professor of communication at RIT, says faculty members invented the contest to encourage creative investigation into the English language, and she hopes the contest will become an annual event.
Other finalists were Julia Scott of Fairport High School, who invented the word "rhombular," which has the "properties of being tubular, slightly out of square and completely awesome," and Desiree Kenyon of Perry High School, who created the word "endowerate," or "one who feels they are owed to be in control of reality, or God like."
For information about the contest, contact Mandell at hbmgpt@rit.edu; David Neumann, professor of communication, at dsngsl@rit.edu; or Mike Johansson, communication lecturer, at mojgpt@rit.edu.
Topics