Upcoming lecture explores how social and political factors impact scientific and medical innovation
Natali Valdez will present the 2023 Fram Signature Lecture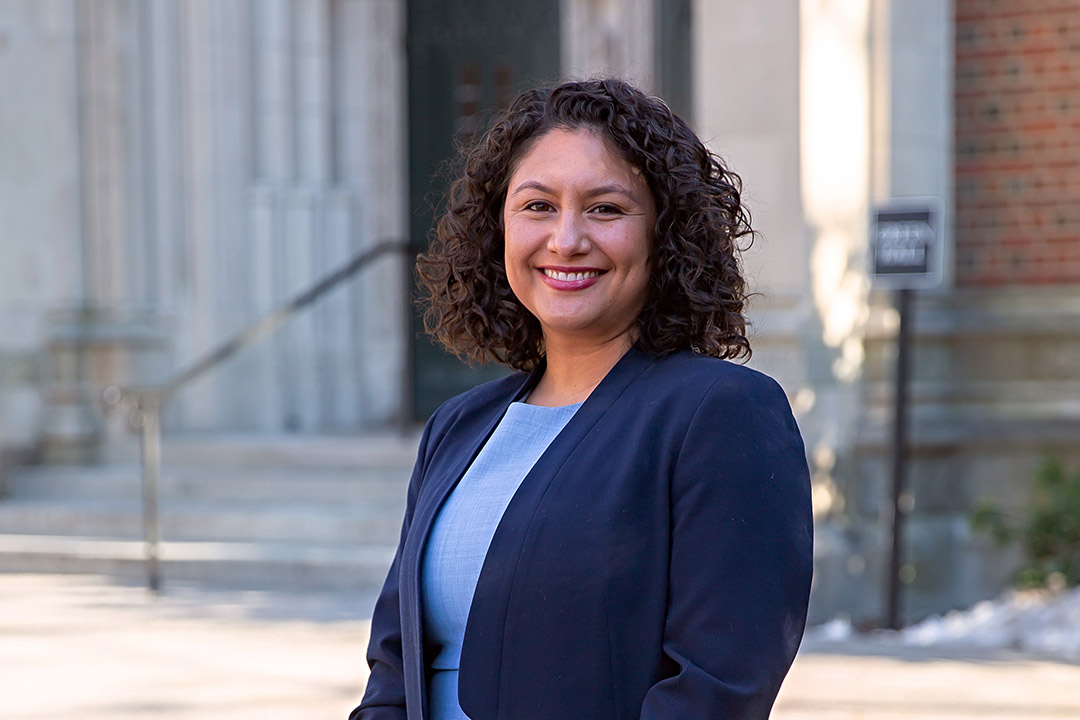 Epigenetic science, or the study of gene-environment interaction, has been heralded as one of the most promising new fields of scientific inquiry and has substantially changed understandings of inheritance in human reproduction. However, Natali Valdez, a medical anthropologist and science and technology scholar, has found that certain social and political factors surrounding maternal medical policy has thwarted scientific and medical innovations in this field.
Valdez, assistant professor at Purdue University and Presidential Fellow at Yale University, will visit RIT to share her research as the featured speaker for the 2023 Eugene H. Fram Signature Lecture in Critical Thinking. Her presentation, "Thinking Critically about Scientific Innovations and Medical Policy," will be held from 3:30 to 4:45 p.m. on Thursday, Oct. 5, in RIT's Ingle Auditorium, located in the Student Alumni Union. The event, collaboratively co-sponsored and presented by the College of Liberal Arts and the Eugene H. Fram Chair in Applied Critical Thinking, is free and open to the public. There will be a light reception after the lecture.
During her presentation, Valdez will discuss the relationship between emergent science and maternal health policy, drawing on her critical qualitative research and her recent book, Weighing the Future: Race, Science and Pregnancy Trials in the Postgenomic Era. She will prompt audiences to think critically about how scientific, political, and social factors can impact both maternal health policies and the experiences of women and their children. Valdez will also share reflections on her ethnographic examination of contemporary pregnancy trials and maternal health recommendations on obesity and diabetes, which show that current maternal health policies and interventions are similar to approaches employed in the 1950s.
A response by Kristoffer Whitney, associate professor in the College of Liberal Arts Department of Science, Technology, and Society, will open the question-and-answer session of the lecture.
Jennifer Schneider, the Eugene H. Fram Chair of Applied Critical Thinking in Academic Affairs and a professor in the Department of Civil Engineering Technology, Environmental Management and Safety, believes that the application of critical thinking is the connecting thread between knowing, doing, and creating. Additionally, she believes that effective and critical thinkers are needed if we are to adapt to rapidly evolving technological, aesthetic, and social environments.
"I think it's very important for all of us, students included, to understand how these interdisciplinary connections really influence how thought is manifested in our world," said Schneider. "We have to make sure that our thinking is broad, supportive, equitable, and ethical, as well as innovative. True innovation is going to encompass all of those things. Otherwise, we leave very important parts of the conversation behind."
Corinna Schlombs, associate professor in RIT's College of Liberal Arts and director of the CLA McKenzie Salon Series, explains that scientific innovation does not exist in a vacuum and that researchers cannot truly understand a problem without considering the larger social contexts and implications. She hopes those who attend the lecture will leave with an increased understanding about the value of critical, interdisciplinary thinking.
"Critical thinking is an absolutely crucial skill. To help our students become experts in their fields, we must make sure they develop this ability," said Schlombs, who helped coordinate the event. "We want to reach students who will go on to invent new technologies and ensure they can understand the social context in which their inventions and innovations will be used in a sophisticated and critical way."
The annual Eugene H. Fram Signature Lecture in Critical Thinking is part of the campus-wide Applied Critical Thinking initiative, which integrates critical thinking improvement in classes and community life and promotes it through events. The Eugene H. Fram Chair was founded a decade ago through a donation from an RIT alumnus who wished to recognize the impact of Eugene H. Fram, who taught at RIT for 51 years and was a chair in Saunders College of Business.
Topics