Meet Mikayla Fors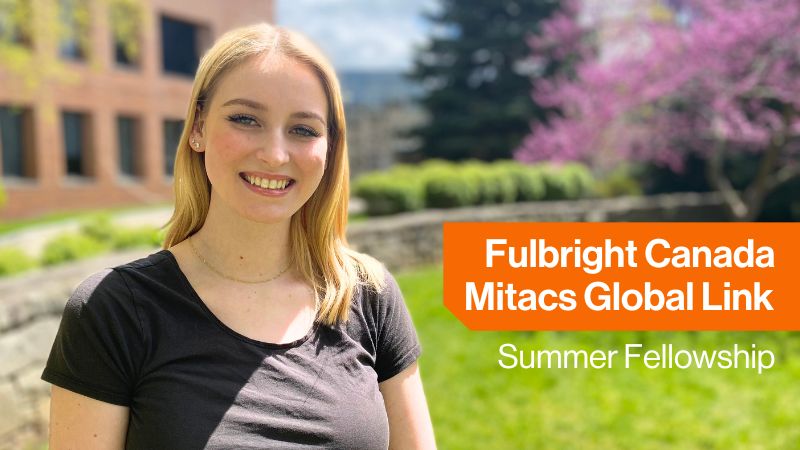 Having earned a prestigious Fulbright Canada Mitacs Global Link fellowship, this summer Fors will contribute to research at University of British Columbia-Vancouver on projects such as ROAR Cananda (Reducing Overdose and Relapse: Concurrent Attention to Neuropsychiatric Ailments and Drug Addiction); Craving Associations to Relevant Electroencephalography Signals (CARES); the Sexual Abuse and Sleep and Rest/Activity Rhythms project (SASRAR); the Sleep and Circadian Rhythms Project; Hybrid Response Inhibition; and Addiction and Bipolar Disorder. 
What are you looking forward to about the Fulbright Canada - Mitacs Globalink Research Internship?
"[This] is my first experience doing research with a patient population. I am conducting data collection with the patients who are residing in an inpatient rehab center for treatment for concurrent severe mental illness and substance use disorders," said Fors. "The research experience I have gained in Dr. Houston's lab and the course work I have completed in my degree has prepared me to succeed in this role, and I am incredibly grateful to be able to pursue an opportunity that is directly in line with my career goals."
How has RIT prepared you for this? 
"In my second year at RIT, I did a NSF Research Experience for Undergraduates (REU) at the University of Houston, where I helped a team analyze mobile electroencephalography data from a performance. I really enjoyed working with EEG data, and this knowledge translated to the research I do on campus with Dr. Rebecca Houston. Dr. Houston's lab uses EEGs to assess questions related to impulsivity and aggression in alcohol users. 
While working in Dr. Houston's lab, I have fostered a growing interest in substance abuse research. I have also developed a fondness of working directly with participants during the research process. These experiences have allowed me to better understand what I am passionate about and what gives my education purpose moving forward toward the completion of my degree."
Why did you choose to major in psychology? 
"When I first came to RIT, I was enrolled in the biomedical engineering BS program. I had chosen an immersion of psychology with a minor in applied cognitive neuroscience. I found myself more interested in my immersion and minor courses than my core classes, and so I did some re-evaluation of what I wanted for my career and how I could get there. I changed my major to psychology BS, with tracks in clinical psychology and biopsychology. Through these changes, I was able to tailor my studies to better suit my interests that became more apparent once I started studying here." 
How has RIT helped you go after your goals? 
"RIT NTID has given me a tremendous amount of academic support that allows me to be as involved in my studies as possible as a hard of hearing student. Before coming to RIT, I didn't have access to any access services, like the captioning and interpreting services that I get here. These services have made learning in the classroom much more accessible. In addition to these services, the support I've had from other NTID students has been so welcoming and encouraging. Through the help of my peers, I have enriched my sign language skills and developed more of my deaf identity since coming to RIT. Additionally, Dr. Houston and my fellow lab members have been wonderful with involving me in various lab activities. I have developed a lot personally and professionally with my classmates in the lab, and their support in my education and personal development has meant a lot to me."
What's next for you after graduation? 
"Following my completion of my psychology degree at RIT, I plan on attending an accelerated nursing degree program so I can obtain an RN license. My end goal is to work in either an inpatient psychiatric unit or inpatient rehab center as a psychiatric nurse, caring for individuals with mental illness and substance use disorders. Obtaining a liberal arts degree before pursuing a nursing degree allows me to better understand the various psychopathologies and treatment approaches in a more patient-centered approach. Although I ultimately want to end up working in health care, my liberal arts foundation has given me a well-rounded view of psychiatric illness and how to care for individuals in innovative ways."

The Fulbright Canada Mitacs Global Link fellowship program provides exceptional undergraduate students from universities in the United States with the opportunity to be part of a 10 to 12-week research internship under the supervision of Canadian university faculty members in various academic disciplines, from science, engineering, and mathematics to the humanities and social sciences. Learn more about international fellowships through RIT Global »
---