Spotlight's On: The Pop-Up Performance Spot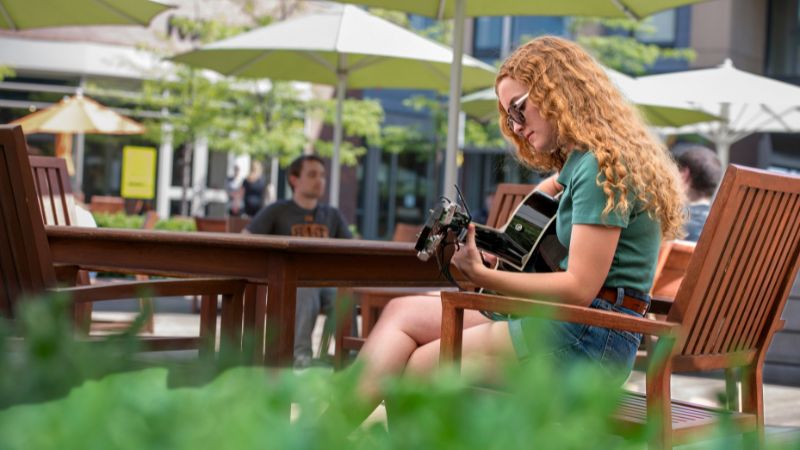 Sometimes, you just have to let it out. Sing that song that's been going through your head. Dance out the way you're feeling inside. Slam a poem. Act out a scene. Beat a drum, blast some brass, or strum a guitar. The very act of performing can be a release and a reward. 
That's the spirit behind a new feature planned for the SHED — the Pop-Up Performance Spot, a highly trafficked, designated spot in the atrium entrance of the building for impromptu student performances of all kinds.
"It's like busking, those street performances that we encounter in subways, in cities, and all over the world," explains Erica Haskell, inaugural director of the College of Liberal Arts, School of Performing Arts. "It's a way of stripping away the hierarchy, complexity, and formality of 'performance' to create an accessible space for spontaneous performance and expression whenever the inspiration hits you." 
Typically, buskers set out a hat to collect donations during their performances, but RIT's Pop-Up Spot performers will glean intangible benefits that can help them improve their craft and build confidence. "It's a chance for a performer to get immediate feedback, which can be valuable. And, it's also a way to showcase just how talented our students are and to bring people together — in the moment — around a shared love of music, dance, and live performance," said Haskell.
With thousands of students participating in performing arts each year and RIT's range of related immersions or minors in areas such as American arts, dance, English, film studies, music and technology, music performance, theater arts, and theatre design and stagecraft, the Pop-Up Performance Spot is expected to be a popular campus destination. Plans are underway to clearly, graphically designate the location in the SHED atrium, and once final and ready for use, a campus wide announcement will be shared by the College of Liberal Arts. 
The spot is slated to be open in time for Brick City weekend, during which School of Performing Arts Advisory Board Member and RIT alum Bob Kalka '89 (computer science), who is also an active guitarist and vice president of IBM's Security Business Unit, may get a chance to be one of the first to perform on the spot.
"It will be open to everyone," said Haskell. "That's part of its beauty. It's like a democratization of performance. Everyone in the RIT community regardless of their major will have the opportunity to claim a spotlight if they're so inspired." 
More information about the School of Performing academic offerings >