October 14, 2022
by Rich Kiley
Conference brings 'reman' industry thought leaders from around the world to Rochester
RIT co-hosts two-day event in partnership with Remanufacturing Industries Council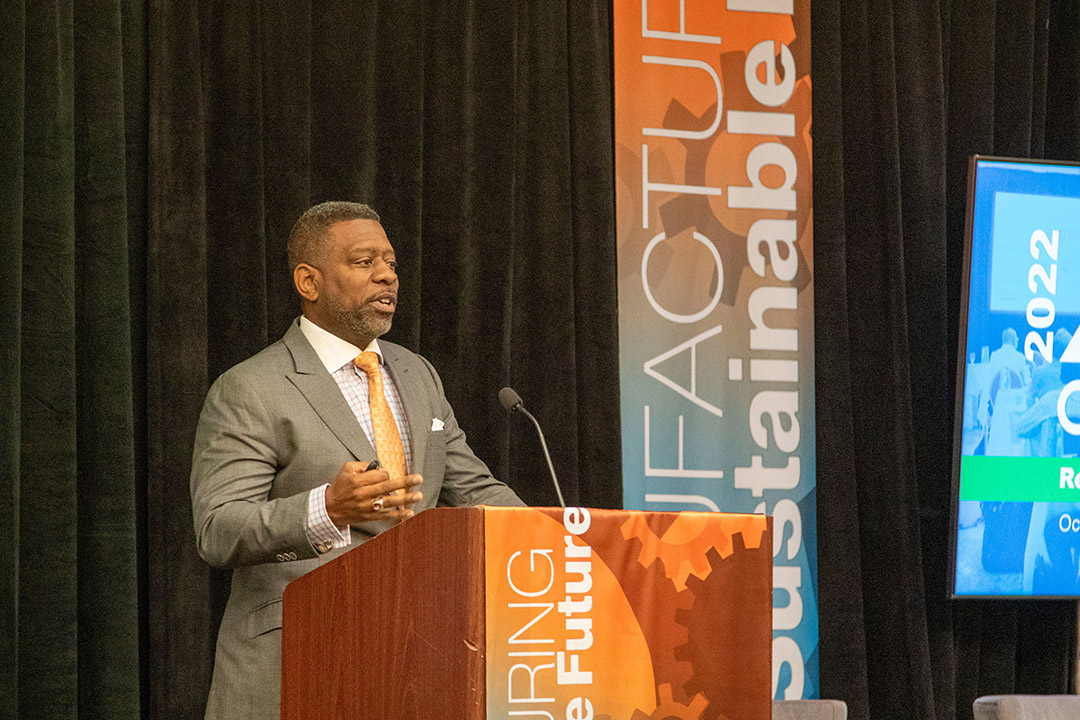 Thought leaders and executives from around the world gathered in Rochester earlier this week for the fifth RIC-RIT World Remanufacturing Conference, which highlighted how "reman" is contributing toward a more sustainable future in the United States and beyond.
RIT co-hosted the event in partnership with the Remanufacturing Industries Council (RIC), an alliance of businesses and academic institutions that works across a wide variety of industry sectors to support the entire remanufacturing industry through a combination of collaboration, education, advocacy, and research.
"This is the premier event anywhere in the world on remanufacturing," said Nabil Nasr, associate provost, director of RIT's Golisano Institute for Sustainability (GIS), and CEO of the REMADE Institute, speaking to attendees from across the United States, North America, and Europe. "We're excited to bring the industry's foremost thought leaders and decision makers to Rochester and provide a platform to learn, inform, and share the latest information on advances in the 'reman' industry."
"It might be a little while before remanufacturing is trending on Twitter and TikTok, but that day probably will come," said RIT President David Munson in his welcoming remarks.
"At RIT it's been part of our common vocabulary for about 30 years," Munson added, referencing the launch of the Center for Remanufacturing and Resource Recovery (C3R) under Nasr's leadership in 1991. "Since then, RIT has been dedicated to advancing technologies and processes that can unlock 'reman's' potential as a sustainability lever for industry."
With resources like the Remanufacturing Test Bed at GIS, Munson observed, the university has become a multidisciplinary hub where industry, researchers, and policymakers have all worked together.
Remanufacturing—a century-old industrial system for restoring used or worn products to a like-new or better condition—is being increasingly recognized by companies as a necessary step toward a sustainable, circular economy and an efficient method for capturing a significant percentage of the materials and the labor, energy, and manufacturing processes embodied in original products.
Brian Edwards, senior vice president of Caterpillar's remanufacturing division—known as CAT REMAN—said the Irving, Texas-headquartered company has been using remanufacturing to drive sustainability through multiple lifecycles of its vast array of product lines for decades.
"We're helping our customers build a more sustainable world through remanufacturing," he said.
Edwards discussed his vast experience managing remanufacturing in a keynote speech on Wednesday. "Our dealer partners, through extensive use of Cat Reman products, are able to rebuild entire machines to like-new condition at an average of 25 to 50 percent of the cost of a new machine for our customers," Edwards said.
The Caterpillar executive also observed that the company's remanufacturing prowess will be beneficial during the energy transition.
"The energy transition represents an opportunity for Caterpillar," he said. "We're going to embrace it by designing and developing products that we can provide multiple lives for in the same way we have for so many years. We're excited to see where remanufacturing is going to go."
Sushan Demirjian, the acting assistant U.S. Trade Representative (USTR) for small business, market access, and industrial competitiveness, discussed how trade agreements are amplifying remanufacturing's role in driving sustainable growth.
"We recognize remanufacturing is an important part of the manufacturing sector," said Demirjian, citing remanufacturing's reduction of resources such as metals, using less energy, and allowing critical rare earth materials to be recycled while also helping with supply chain challenges.
On the global front, Nasr cited his ongoing work with the United Nations Environment Programme's (UNEP) International Resource Panel as yet another demonstration of how remanufacturing is serving as a "pathway" to a circular economy.
The circular economy refers to an industrial economy that is restorative by intention and eliminates waste through thoughtful design. RIT is a member of the Ellen MacArthur Foundation's Circular Economy 100 (CE100), a global platform bringing together leading companies, emerging innovators, and regions to accelerate the transition to a circular economy.
In her keynote speech Thursday, Verena Radulovic shared how the business council of the Center for Climate and Energy Solutions—a coalition of more than 40 Fortune 500 companies she leads as vice president of business engagement—thinks remanufacturing can help industry commit to climate action.
Radulovic spoke about the need to lobby and advocate for remanufacturing among policymakers, and that the recent Inflation Reduction Act has created immense opportunities to advance the circular economy with its record-setting investment by the federal government related to sustainable materials management. 
She added that much work still is needed to educate and make the government aware of circular economy principles and remanufacturing. "Take a step back and ask, 'Are people aware?' Awareness is important."
Among the conference's interactive panel discussions on a wide variety of topics, Mike Thurston, technical director and research faculty, moderated a discussion on emerging circular economy technologies, including projects involving electric vehicle (EV) batteries that are being remanufactured and repurposed for a wide range of applications.
Topics