September 23, 2022
by Rich Kiley
RIT sustainability professor's research part of $5.5 million Rockefeller Foundation grant
Project invests in satellite data and AI to accelerate development and climate resilience in Africa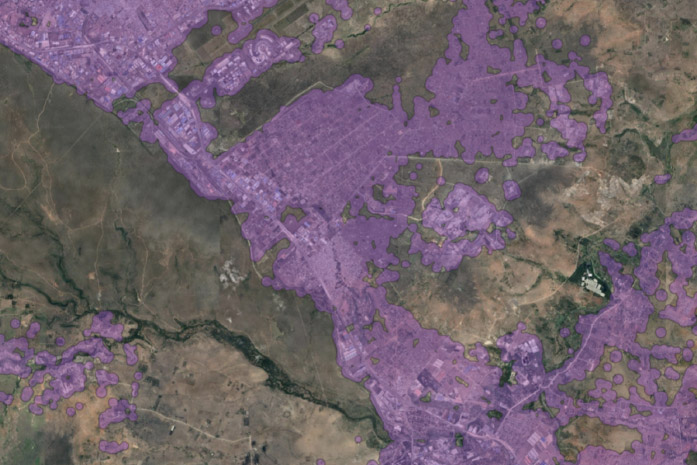 A Golisano Institute for Sustainability (GIS) researcher's expertise will play a key role in a project made possible by a $5.5 million grant from The Rockefeller Foundation to accelerate development and promote climate resilient infrastructure investment across sub-Saharan Africa.
Nathan Williams, an assistant professor in sustainability whose research focuses on African energy systems, is part of a multi-university collaborative team that will leverage satellite data and machine learning technologies from e-GUIDE and Atlas AI.
Launched in 2018 by The Rockefeller Foundation alongside Rochester Institute of Technology, University of Massachusetts (UMass) Amherst, Columbia University, and Carnegie Mellon University, e-GUIDE (Electricity Growth and Use in Developing Economies Initiative) is an effort to apply data science to electricity demand prediction in energy-poor emerging economies.
This three-year effort will produce unprecedented insight into the well-being of communities through a digital platform, which builds upon new research and publicly available data sets covering the connection between agriculture, energy, and transportation sector development conditions.
Initially covering Kenya, Nigeria, Rwanda, and Uganda, the platform will provide policymakers with extensive cross-sectoral insight into where new infrastructure development can help mitigate community vulnerabilities and promote economic opportunities, ultimately assisting efforts to prioritize and sequence investments more effectively in key sectors.
RIT received $382,189 to fund Williams' work on the project, which also will be supported by the work of several sustainability Ph.D. students at GIS.
"There is no silver bullet to addressing rural development challenges. A set of conditions needs to be in place that allows communities and economies to thrive," Williams said. "Leveraging data and remote sensing, we want to understand what—as it relates to infrastructure access—has allowed some communities to thrive while others have not.
"Understanding these successful development pathways has important implications for cross-sectoral infrastructure planning and investment."
The grant enables Williams and his team "to combine satellite data and machine learning technologies to conduct vital research will promote economic development and thereby enhance human welfare in several African nations," added Amit Batabyal, Distinguished Professor and the Arthur J. Gosnell Professor of Economics in RIT's College of Liberal Arts who was named interim head of the sustainability department at GIS in August.
E-GUIDE, which has successfully harnessed AI to predict electricity consumption in Africa and measure productive use of energy in Africa's agriculture sector, is joined in the effort by Atlas AI, a public benefit technology startup based in Silicon Valley.
Established in 2018 by The Rockefeller Foundation and a team of Stanford University professors, Atlas AI uses data from a range of planetary sensors along with deep learning AI technologies to monitor changes to global economic and societal wellbeing.
"While data science has been used to improve individual development projects, we haven't yet unlocked its potential to improve development at a systems level—which is critical, because efforts to drive change in energy, agriculture, and transportation must be integrated in order to make opportunity universal and sustainable," said Zia Khan, senior vice president of Innovation at The Rockefeller Foundation. "We are excited about the potential of this collaboration to give policymakers, investors, and operators more dynamic situational awareness of local conditions and help them improve those conditions for the people they serve."
According to experts, urgent action is needed to address economic development and promote climate resilient infrastructure investment across sub-Saharan Africa.
Even though the share of Africa's carbon emissions represents less than 3 percent of global emissions, it is expected to bear the brunt of the economic impact of climate change, according to the African Development Bank.
According to the World Bank, current efforts to build resilience to climate change into Africa's food systems are effective, but fall short when it comes to tackling the problem at scale.
Hundreds of millions of people lack access to safe, reliable electricity in sub-Saharan Africa, hindering many governments' development and climate resilience goals.
There is a lack of widespread data about Africa's transportation infrastructure, constraining investment in resilient solutions in a sector that is responsible for around a quarter of all global emissions.
Williams' research focuses on African energy systems, with a particular interest in the use of renewable and decentralized energy technologies to expand access to electricity. His work has applied various methods including techno-economic modeling, risk analysis, and machine learning. More broadly, his research has focused on how infrastructure systems in the Global South can be planned in an integrated and sustainable manner to support social and economic development in underserved communities.
Before coming to RIT, Williams was an assistant research professor at Carnegie Mellon University and an instructor at the Carnegie Mellon University Africa campus in Kigali, Rwanda. He also spent several years developing large-scale renewable energy projects in South Africa. His interest in energy and development was sparked while serving as a Peace Corps volunteer in an unelectrified rural community in Burkina Faso in West Africa.
About The Rockefeller Foundation
The Rockefeller Foundation is a pioneering philanthropy built on collaborative partnerships at the frontiers of science, technology, and innovation to enable individuals, families, and communities to flourish. The foundation works to promote the well-being of humanity and make opportunity universal. Its focus is on scaling renewable energy for all, stimulating economic mobility, and ensuring equitable access to healthy and nutritious food.  For information, go to The Rockefeller Foundation website or follow on Twitter @RockefellerFdn.
Topics