3D Printing
Students, faculty and staff in the College of Art and Design have access to 3D printing and digital fabrication resources and facilities that support innovative coursework and research.
Fab Lab

The College of Art and Design's Fab Lab is an on-campus model fabrication center that utilizes various professional 3D printers, laser cutters, CNC routing devices and other technology to support curricular and research needs of students, faculty and staff across the university. They can submit projects that take advantage of any of the Fab Lab's unique services. With the right files, the RIT community can 3D print, CNC, laser engrave or laster/waterjet/plasma cut designs without missing a class.
Offering more than standard 3D printing, the facility houses equipment and technology that facilitates the use of various materials and processes. A waterjet cutter and laser engraver are examples of machines that allow Fab Lab staff to process a wide variety of plastics and other materials. Additionally, a CNC plotter helps facilitate computer-generated art projects.
"There are always new machines coming into the lab," said Dan Gabber, manager of the Fab Lab.
The Fab Lab is home to:
6 Ultimaker S5 FDM Printers
3 Form 2 SLA Printers
2 form 3 SLA Printers
1 Mark Two FDM Printer with Continuous Fiber Reinforcement
1 AxiDraw CNC Plotter
1 Wazer Waterjet Cutter
1 Fusion Pro Laser Engraver
1 Universal Laser Systems Laser Engraver
1 ShopBot CNC Mill
1 Torchmate Plasma Cutter
3D Ceramic Printing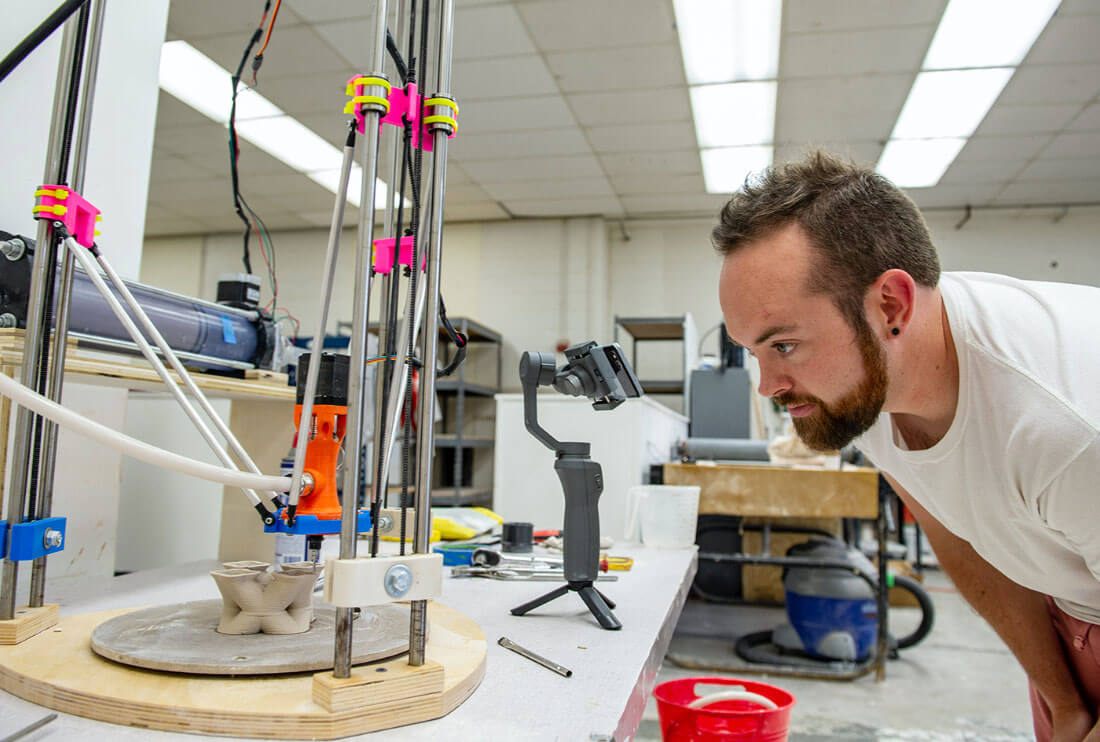 RIT is a place where technology and fine art can unite and flourish together. In the summer of 2019, RIT's Ceramics program hosted a studio intensive workshop for professional artists exploring, among many other processes, 3D ceramic printing. The workshop was run by RIT assistant professor Peter Pincus and SUNY New Paltz associate professor Bryan Czibesz, whose work features relationships between technology, material and object making. Using 3D ceramic printers in RIT's ceramics studio, course attendees engaged the technology and investigated its many possibilities.
Makerbot Collaboration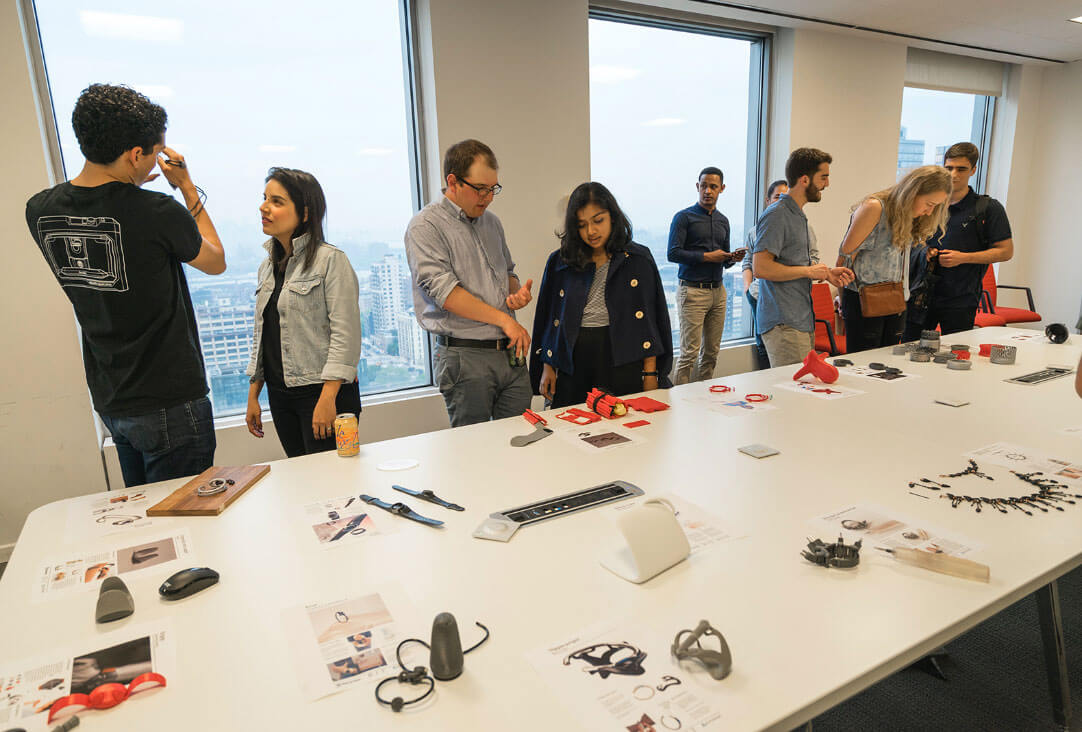 An Industrial Design MFA class partnered with a pair of global leaders in their respective industries to investigate 3D printing as an iterative process. Representatives from MakerBot, a desktop 3D printing company, and Autodesk, the software giant, visited with graduate students multiple times throughout the semester to provide feedback. 
For the class, MakerBot donated four 3D printers for students to frequently access in creating prototypes of products that promote wrist interaction. The goal of the course — co-taught by Professor Alex Lobos and Associate Professor Stan Rickel — was to understand how computer-aided design (CAD) and 3D printing can be used to quickly fabricate design concepts so they can be tested and refined. 
Shannon Connell, from St. Louis, Mo., designed Spark, a more human, relatable alternative to dating websites and apps. It is a wearable wrist device that alerts users of a match within visual range based on pre-selected filters, with directional haptic feedback guiding users to make eye contact and respond.
"I was super thankful that MakerBot and Autodesk were working with us because I probably printed 50-plus iterations of the ring and at least 20 iterations of the body in order to find a good mix of how things will merge together," Connell said. "Simply going from the modeling software to printing it out, I kept finding this struggle. I ended up bringing clay over to some of my prints, remodeling it, bringing that back into the software, printing that out and then finally arriving at my final form."
The students' products were exhibited at MakerBot's Brooklyn headquarters as part of an event during NYCxDESIGN, New York City's annual celebration of design.
Faculty Spotlights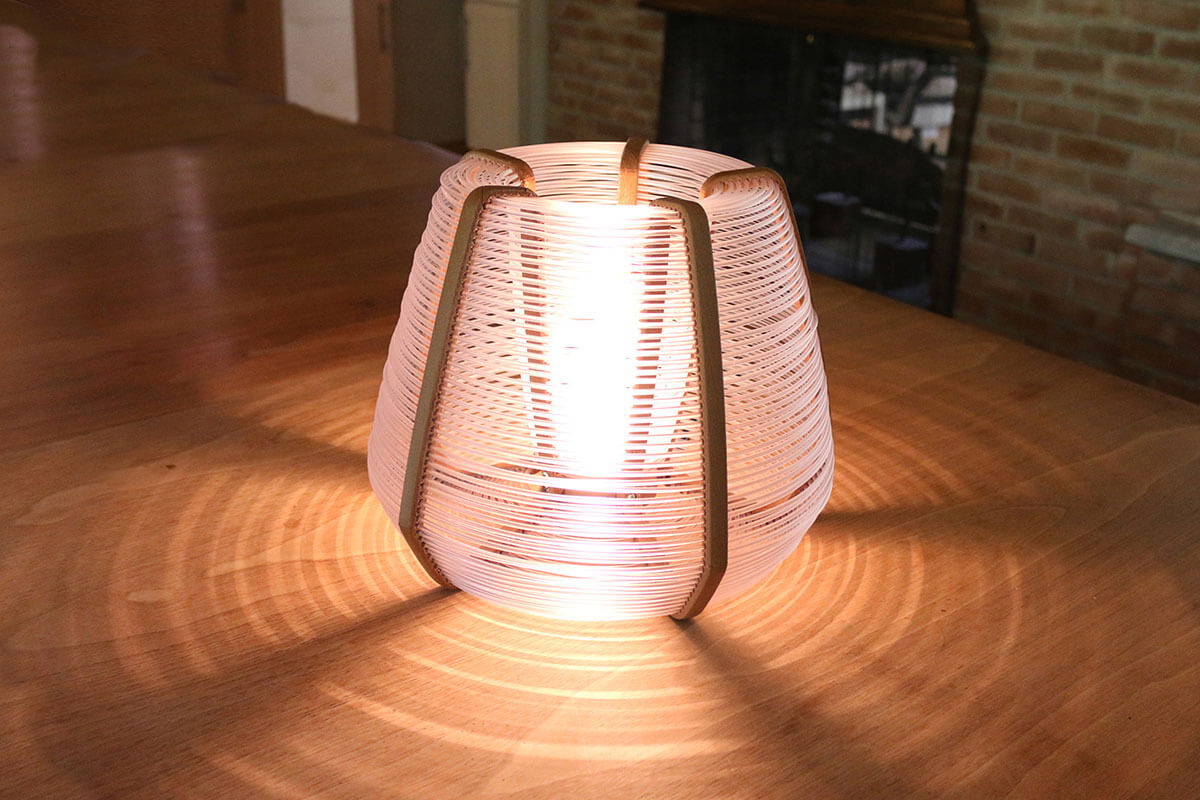 Alex Lobos, Professor, School of Design
Lobos, graduate director of the Industrial Design MFA program, designed the Spiral Lamp early in the COVID-19 pandemic, fueled by the concept of 3D printing a fully functional lamp at home. In fall 2020, the 3D-printed design was selected for the seventh Ibero-American Design Biennial, a premier showcase of design work from 23 Spanish- and Portugese-speaking countries.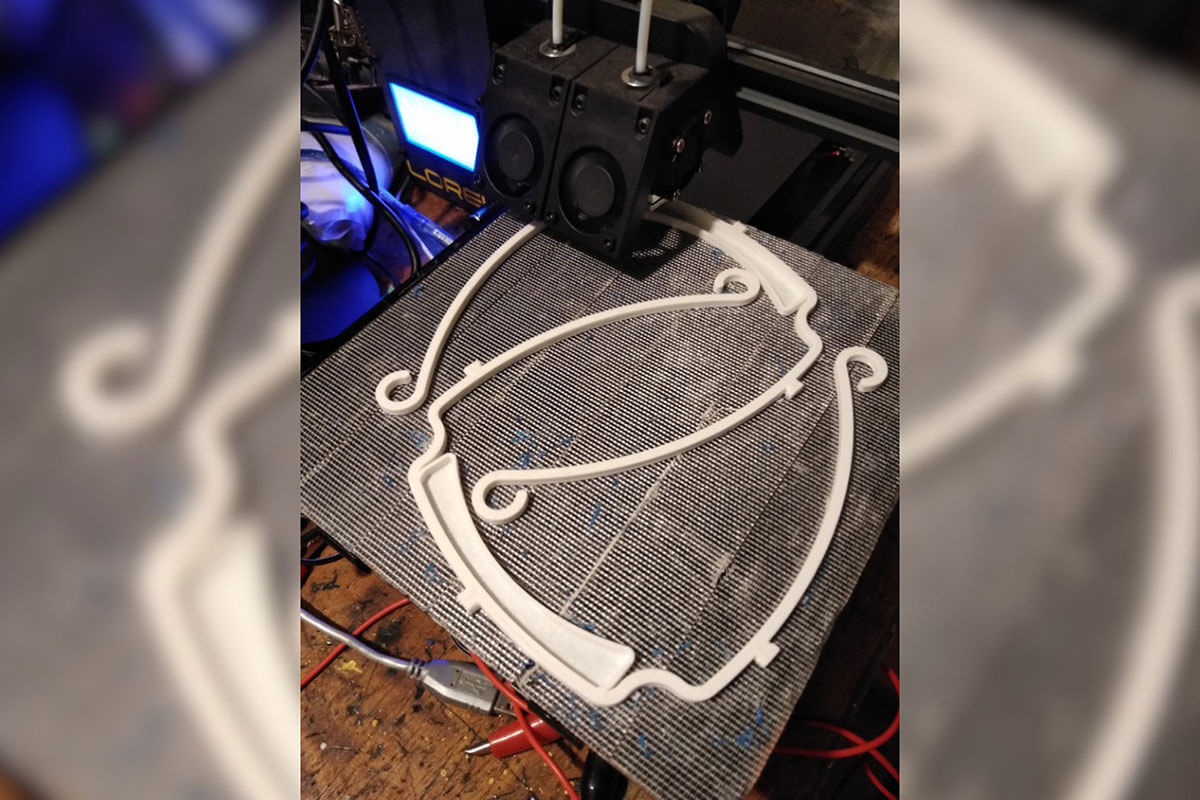 Mark Reisch, Assistant Professor, School of Film and Animation
Reisch employed his 3D printing expertise in the battle against the coronavirus. Early on in the pandemic, he 3D-printed protective face shields for healthcare providers across the country. He used a 3D printer to make plastic headbands with pegs that affix to punched holes in transparency sheets cut down to cover a face. Reisch then collaborated with a local medical professional to ship the face shields to cities where healthcare settings were in desperate need of them.