Josh Meltzer
Associate Professor
School of Photographic Arts and Sciences
College of Art and Design
---
Josh Meltzer
Associate Professor
School of Photographic Arts and Sciences
College of Art and Design
---
Education
BA, Carleton College; MA, University of Miami
---
Areas of Expertise
Photojournalism
Photography
Select Scholarship
Shows/Exhibits/Installations
Meltzer, Josh, et al. Beyond Addiction, Reframing Recovery. 6 Apr. 2019. Arnold and Sheila Aronson Galleries, Parsons School of Design, New York City. Exhibit.
Meltzer, Josh, et al. Beyond Addiction, Reframing Recovery. 6 Apr. 2019. Arnold and Sheila Aronson Galleries, Parsons School of Design, New York City. Exhibit.
Meltzer, Josh. BETH MACY AND JOSH MELTZER: PORTRAITS FROM THE FRONTLINE OF THE OPIOID EPIDEMIC. By Beth Macy. 4 Aug. 2018. Taubman Museum, Roanoke, VA. Exhibit.
Meltzer, Josh. Assistant Professor. By Tamar Carroll and Josh Harris Meltzer. 14 Jan. 2017. Digital Web, Bronx Documentary Center, New York City. Exhibit.
Book Chapter
Macy, Beth and Josh Meltzer. "Center Plate of Portraits." Dopesick: Dealers, Doctors, and the Drug Company that Addicted America. Ed. Vanessa Mobley. New York, NY: Little Brown and Company - Hachette Book Group, 2018. Center Plate after 184. Print.
Invited Article/Publication
Meltzer, Josh and Anne Bailey. "The Darker Side of Thailand's Sex Industry." Public Radio International (PRI) - The World. (2015). Web.
Meltzer, Josh. "The Refugees of Roanoke." The New York Times. (2015). Web.
Meltzer, Josh. "Come Out and Play Unified." Special Olympics. (2015). Web.
Currently Teaching
IDEA-375
Web Fundamentals For Artists
3 Credits
This course will enable students to develop a strong foundation in elements of web production including learning basic mark-up and programming languages commonly used in web development, including HTML, CSS and basic Javascript, UI/UX design, typography and content editing for various platforms including mobile. Students will work collaboratively across visual art fields and digital humanities to develop effective and innovative ways to display and present content in digital environments. Students will learn usability testing, how to prepare images and video for online environments as well as understanding the importance of storytelling on mobile devices.
PHAR-101
Photographic Arts I
4 Credits
This course will provide an immersive introduction to the field of the photographic arts. It will emphasize both craft and visual problem solving. The course will explore: seeing and appreciating the quality of light, image capture, photographic vision, historical and contemporary genres of photography, best practices and workflow as well as an introduction to the critique forum and its practices.
PHAR-102
Photographic Arts II
4 Credits
This course will reinforce and build upon the skills learned in the first semester of Photographic Arts I. It will emphasize aesthetics, craft, visual problem solving and critical thinking skills - the foundations of the Photographic Arts curriculum. In this semester, the studio will be introduced as a space that can be used to create and control light. This course's curriculum will continue to emphasize both craft and visual problem solving required in high-level photographic imaging.
PHAR-203
Elements of Photojournalism
3 Credits
This course will serve as an introduction to visual story telling as it relates to professional photojournalism. It will provide relevant practice in basic technical, compositional, and interpersonal skills necessary in all aspects of modern photography. Students will be exposed to photojournalism - documentary, editorial, narrative, and editing - as well as explorations of current career possibilities. Lectures, critiques, demonstrations, and assignments will provide participants the opportunity to explore the still, audio, and multimedia strategies used for storytelling. In this course students are expected to meet real-world project deadlines and participate in class discussions and critiques.
PHAR-599
Photography Independent Study
1 - 3 Credits
Photography Independent Study will provide students with the ability to study in a specialized area with an individual faculty member. Students, with the assistance of a faculty adviser, will propose a course of study. Photography Independent Study students must obtain permission of an instructor and complete the Independent Study Permission Form to enroll.
PHPJ-315
Non-Fiction Multimedia
3 Credits
This course will teach students how to tell stories in the digital world. Students will learn the skills necessary to gather and edit audio and how to combine audio, images, and text for compelling online storytelling. In addition to basic technical skills, the course will explore contemporary concepts for effective multimedia storytelling.
PHPJ-350
PJ Topics:
3 Credits
Photography (and photographic education) is in a perpetual state of flux due to constant changes in practices and technology. Topics in photojournalism will provide students with the opportunity to explore this shifting terrain of photography and imaging using contemporary problems. The content taught in this course will change frequently and the course may be repeated for credit, however each particular topic may have limits on repeatability.
PHPJ-401
Photojournalism Capstone 1
3 Credits
This is the first of a two-course capstone sequence for students in photojournalism. Students will create an independent senior capstone project proposal that also demands the student research. Students will have the support and guidance of a faculty member. The students will research and plan for the production of a visual media presentation, a book/hardcopy portfolio or a collaborative editing portfolio and a written statement and conclusion. Course will include weekly group presentations on various topics to include time management, research, planning, photographic and photojournalistic subjects.
PHPJ-455
Advanced Non-fiction Multimedia
3 Credits
This course will provide students with advanced multimedia techniques and introduces photographers to storytelling and reporting using still cameras with video and sound capture features. Students will research and produce multimedia work in class.
PHPJ-466
DC Photojournalism Trip
3 Credits
This course provides photography students the unique opportunity to participate in a one-week intensive workshop that travels to Washington, D.C., the center of the photojournalism business outside of New York City. The purpose of the trip is to provide a broad view of documentary and editorial photography in the industry and give students an idea of the wide variety of potential job markets that exist for documentary/editorial work. Students will meet with a variety of photographers, photo editors, and designers, including RIT alumni, while visiting print and online publications (magazines and newspapers), governmental agencies, photo agencies, photography studios, galleries, and museums. **Fee: A special course fee will be assessed**
In the News
May 4, 2023

Photojournalism senior blends passions for storytelling and the outdoors

Marielle Scott, a fourth-year photojournalism student, has a multimedia portfolio that tells stories about rock climbing, the Adirondacks hiking scene, rodeos, Boy Scouts, beekeeping, and much more.

April 12, 2023

Photo, science classes merge for climate change talk by Pulitzer-winning photojournalist

Salwan Georges of The Washington Post visited the RIT campus for a pair of lectures, including one that detailed his work photographing climate change for a project that received a Pulitzer Prize.

December 6, 2022

After coast-to-coast career move, alumna works on prominent documentaries

Dominique Hessert Owens '17 (photojournalism) spearheaded the visual effects efforts for Good Night Oppy, a true story about an amazing journey by two Mars rovers that is receiving Oscar buzz.
Featured Work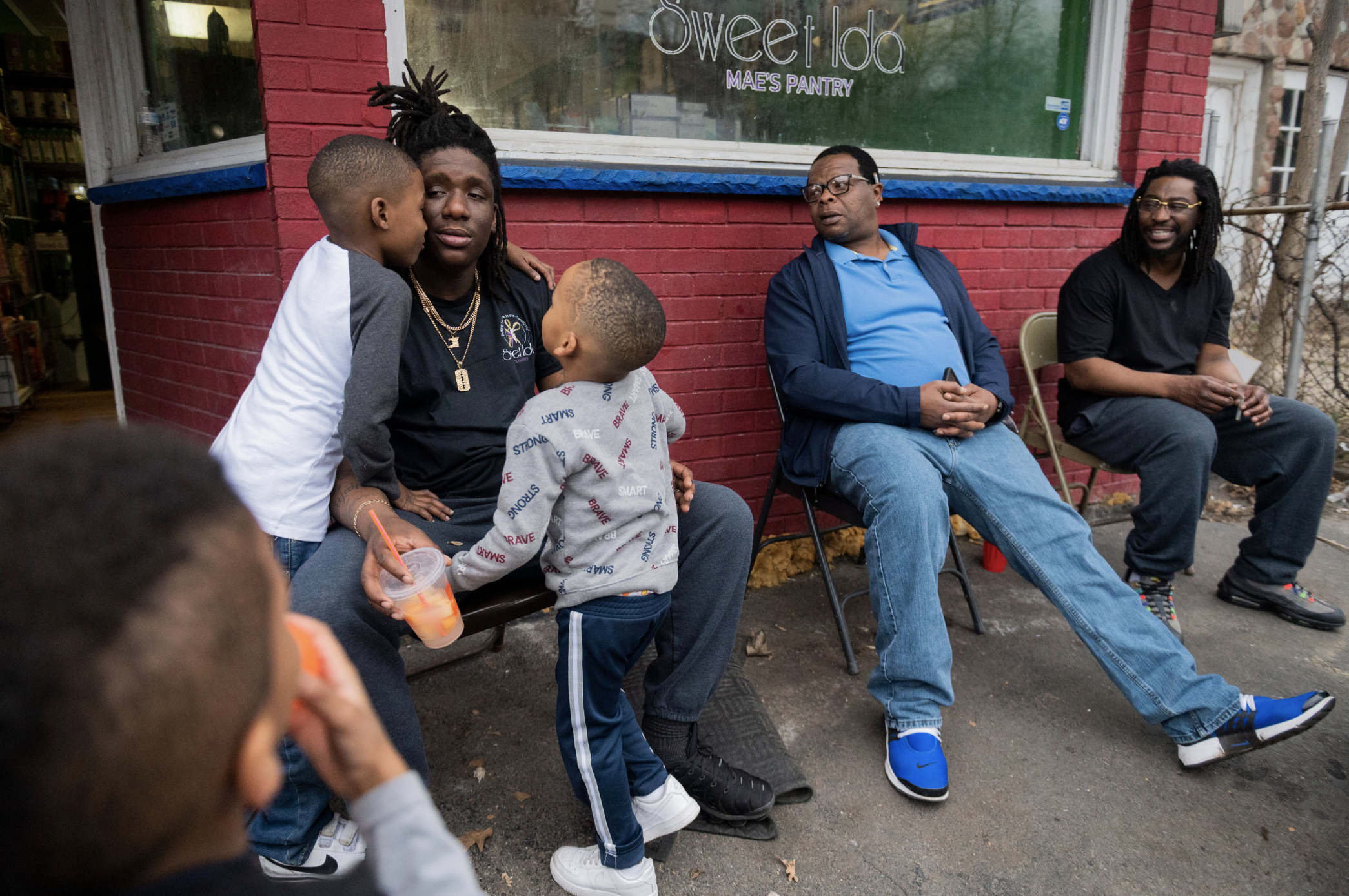 Presence
Vincent Alban
A legal gun owner, barber, and activist are a few of the hats that Devon Reynolds wears as a community figure in the Maplewood neighborhood of Rochester, N.Y. but most importantly, he is a father to...
View More

about Presence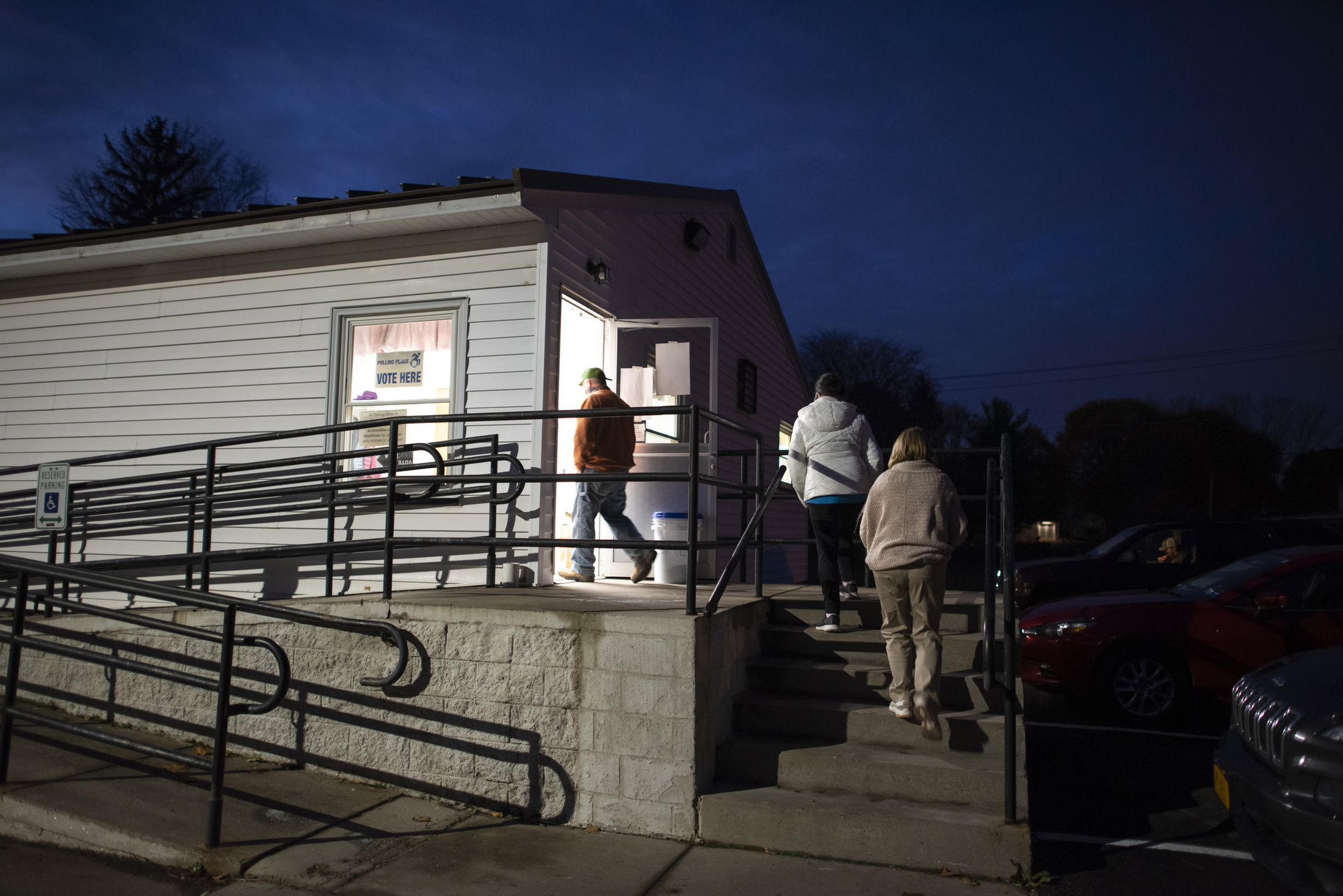 Election Day Photo Essay
Vincent Alban, Avery Howe, Julia Coburn, Maya Giron, Monique Gosselin
Students in the Advanced Multimedia Class PHPJ455 produced a class photo essay during the tail end of the 2020 presidential election cycle.
View More

about Election Day Photo Essay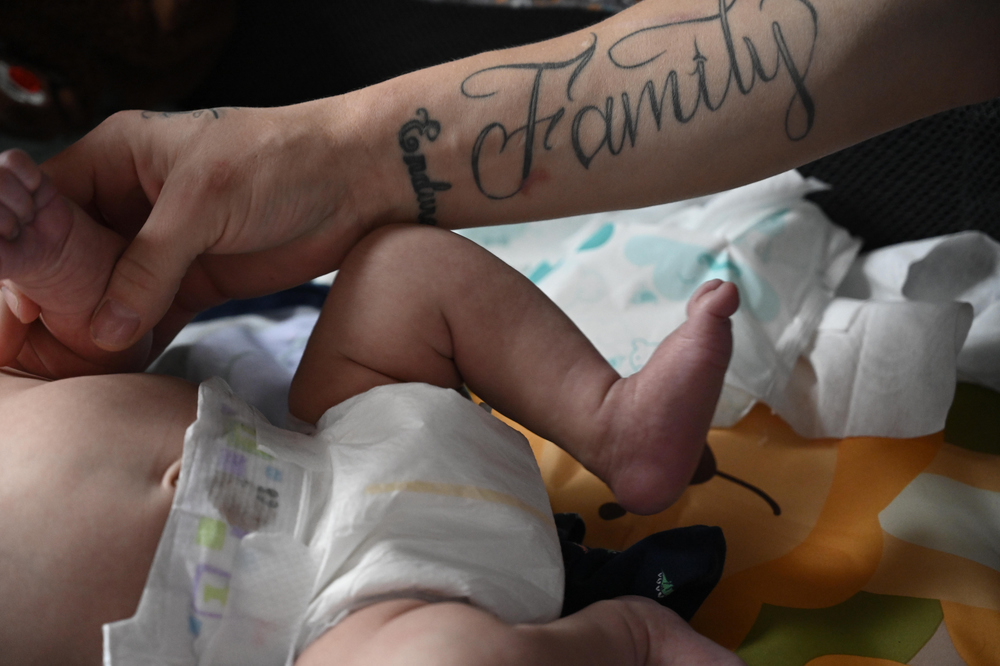 Taste of Life
Cheyenne Boone
Katherine is a single mother of five children and has been living in recovery for three years. She became addicted to heroin at a young age and spent many years of her adult life battling addiction....
View More

about Taste of Life