Alumnus aids community in business, coronavirus fight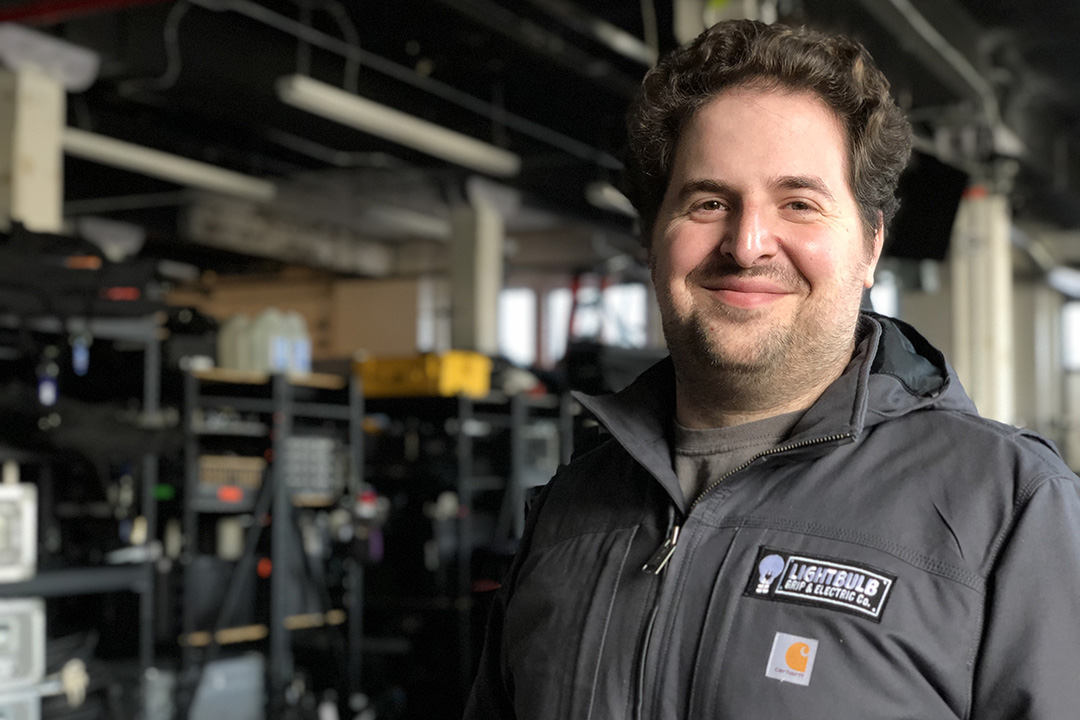 It's all about community for Adam Richlin '09 (Production option, Film and Animation BFA). 
With fostering camaraderie among filmmakers and cultivating meaningful relationships at the core of his values, he has built a lighting equipment rental house in Brooklyn, N.Y.
Since 2016, he and David Finn have owned Lightbulb Grip and Electric Company. Mainly servicing customers working on small- and medium-sized projects from films to music videos to commercials, the company has experienced growth in a hurry. Neatly packed in a 3,500-square-foot-space are LED lighting systems, dollies, lamps, stands and much more — which all adds up to more than 31,000 available items and 2,000 rentals a year, Richlin said.
"We support the small community," Richlin said. "I find those customers more interesting and those projects to be more culture-driven."
To no surprise, at a time of great need during the coronavirus pandemic, Richlin is answering the call. He partnered with the Feed the Freelancers fundraiser to distribute fresh groceries to freelancers affected by COVID-19. 
He is supporting the effort through donations and using Lightbulb Grip and Electric as the initiative's flagship packing site and food pantry. On Feed the Freelancer's GoFundMe page, organizer Isabella Olaguera also credits Richlin with employing his business acumen to streamline logistics and make the operation more successful. 
It's no wonder the good-natured Richlin has customers who rented from him as film students continuing to do so as professionals. That level of loyalty works both ways, too.
Beyond the discounted rates Richlin offers RIT alumni and for female-led projects, he opens up his space once a month for free classes/meetups for NYC filmmakers. Richlin launched the "Late Nights at Lightbulb" networking series for professionals to share knowledge at lectures led by himself or guests. 
Richlin's decision to host the discussions was, in part, inspired by RIT. Recalling the value of the visiting artist talks he attended there — coupled with the excitement that came from hosting an RIT School of Film and Animation alumni panel for visiting students in 2017 — the monthly classes took hold.
"My perspective on starting these lectures was, 'If I have one friend who knows how to do this task, they can share their skills,'" Richlin said. 
Richlin's business idea evolved from a simple desire to produce quality.  
After RIT, he spent years as a camera assistant, gaffer (a head lighting technician) and sent films he worked on as a cinematographer to the Tribeca and Cannes film festivals. But, at times, slim budgets on jobs were curbing him from optimizing his abilities. 
So, he took action. 
One lamp, sandbag and light stand at a time, be built a repository of his own lighting and grip equipment. 
"I would end up with a lot of skill and then a $100 lighting budget, which should have been $2,000 or $3,000," he said. "(With my own hardware), I can make a better project and therefore my resume grows faster. It was a worthwhile investment to me."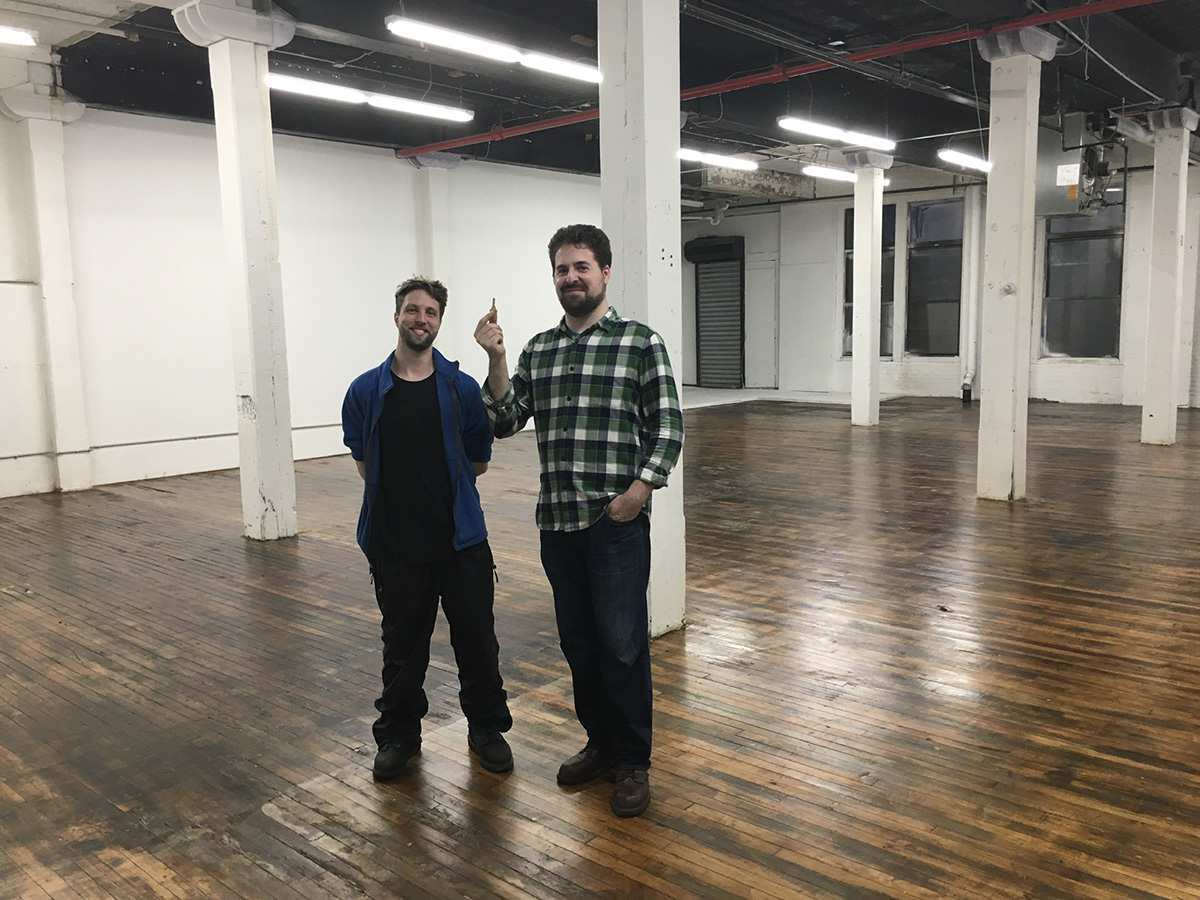 It paid off. 
Richlin began renting pieces of his hardware collection to friends. Eventually, the high demand and mounting inventory of gear prompted the start of Lightbulb Grip and Electric. 
Whether it was learning the art of filmmaking, faculty inviting him to be a production assistant on shoots or using the film gear in the School of Film and Animation's well-stocked equipment cage, Richlin felt prepared for everything after RIT. It's a place that made him "creative and adaptive to resources." 
"It's impossible to have a true perspective of what it means to be working professionally while you're still in school, but I think RIT gets you as close as possible," said Richlin, who still works on projects as a gaffer. "... I love RIT's culture in how driven the students are. That's important when you're sitting in a room where you're the 50th filmmaker and 49 other people are saying, 'We're all going to be professional filmmakers.' It's now my job to keep up."
Being RIT Student Government's Senator for the College of Imaging Arts and Sciences (now College of Art and Design) for a year also gave Richlin insight for the future. He learned to balance expectations and manage the unique needs of different programs and students.
"I figured out how to bring an informed discussion to the table and now that translates to my real world when I'm working on set with wardrobe and special effects departments and hair and makeup and things that I don't know about," Richlin said. "Now I can come in and see how (different departments) are seeing their side of a project."
Entrepreneurship may be in Richlin's blood — he heeds advice from his business-owning mother, father, aunts and uncles — but he also draws on his RIT experience to inform decisions. 
For instance, following the School of Film and Animation equipment cage's digital checkout procedure as a template, Richlin's business is paperless. Rental agreements are emailed while a barcoded system increases the efficiency of equipment checkout and inventory management.
Richlin said he encourages other rental houses to implement similar models "to make it easier for everyone." After all, for Richlin, it's all about community.  
"I'm not aiming to send a 10-ton truck for a major feature film and make $1 million in one shot," Richlin said. "I'm aiming to do a lot of smaller rentals and support a lot of little films and make the same amount of money across a wider clientele."
Topics