Art as activism: MFA candidate paints powerful messages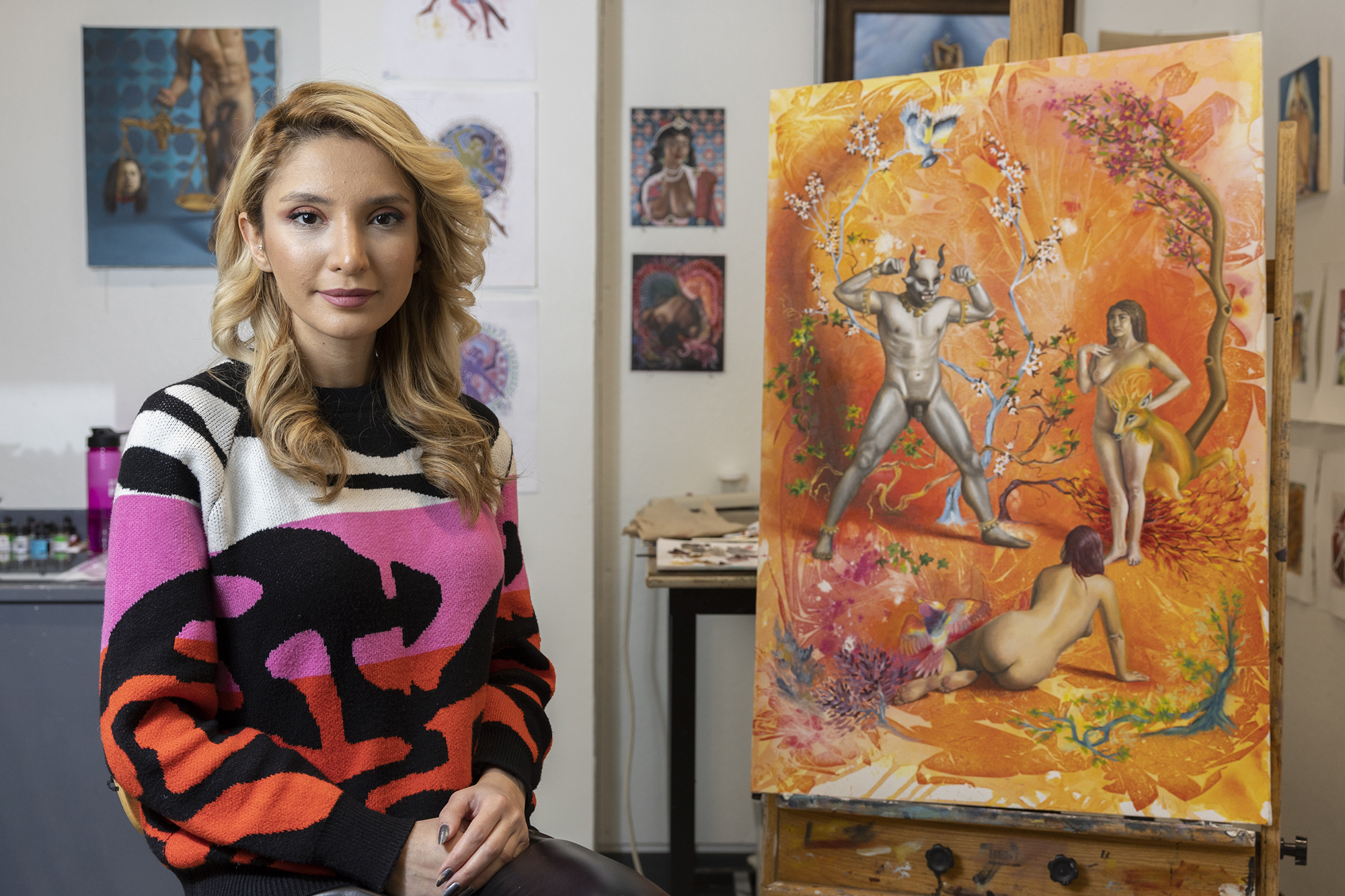 Nava Barenji '23 MFA (fine arts studio) uses her canvas as a form of activism. 
Each painting is imbued with meaning, aiming to raise awareness about women's rights and social issues in her native Iran and other countries. 
"I feel responsible as an artist to be the voice of women," Barenji said. "It's important for an artist to show their work freely because it's all about emotions. So when you're able to show your emotions in your art — RIT gave me that huge opportunity."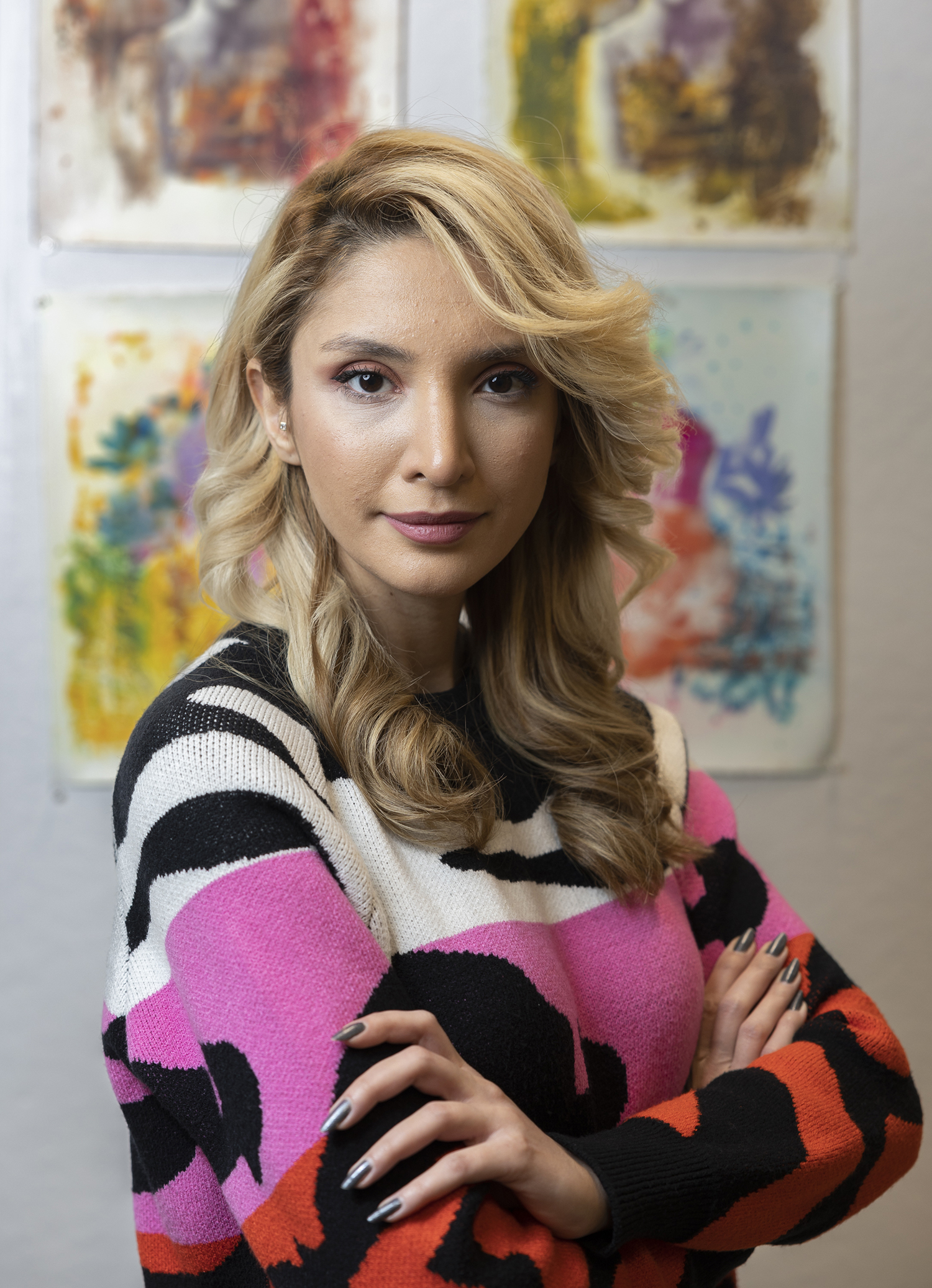 Quinn Freidenburg '24
Barenji received a bachelor's degree in graphic design in Tehran, Iran, before working in the industry. However, she felt her feelings could be better conveyed through the use of nudity in paintings.
With nude art banned in Iran, Barenji traveled to the U.S. and enrolled at RIT to realize her artistic vision. 
"My experience at RIT to have the academic learning of how to build a real painting, especially in bringing my ideas to a visual, was extraordinary," Barenji said. "I learned to be encouraged and free to show my work, and not be afraid of doing it."
Barenji's work often features bold, beautiful colors with "bitter content" that centers on personal experiences and social and political obstacles faced by women in Iran and around the world. 
"Current things that are happening in Iran really changed my work," Barenji said. "They made my thoughts grow and extend."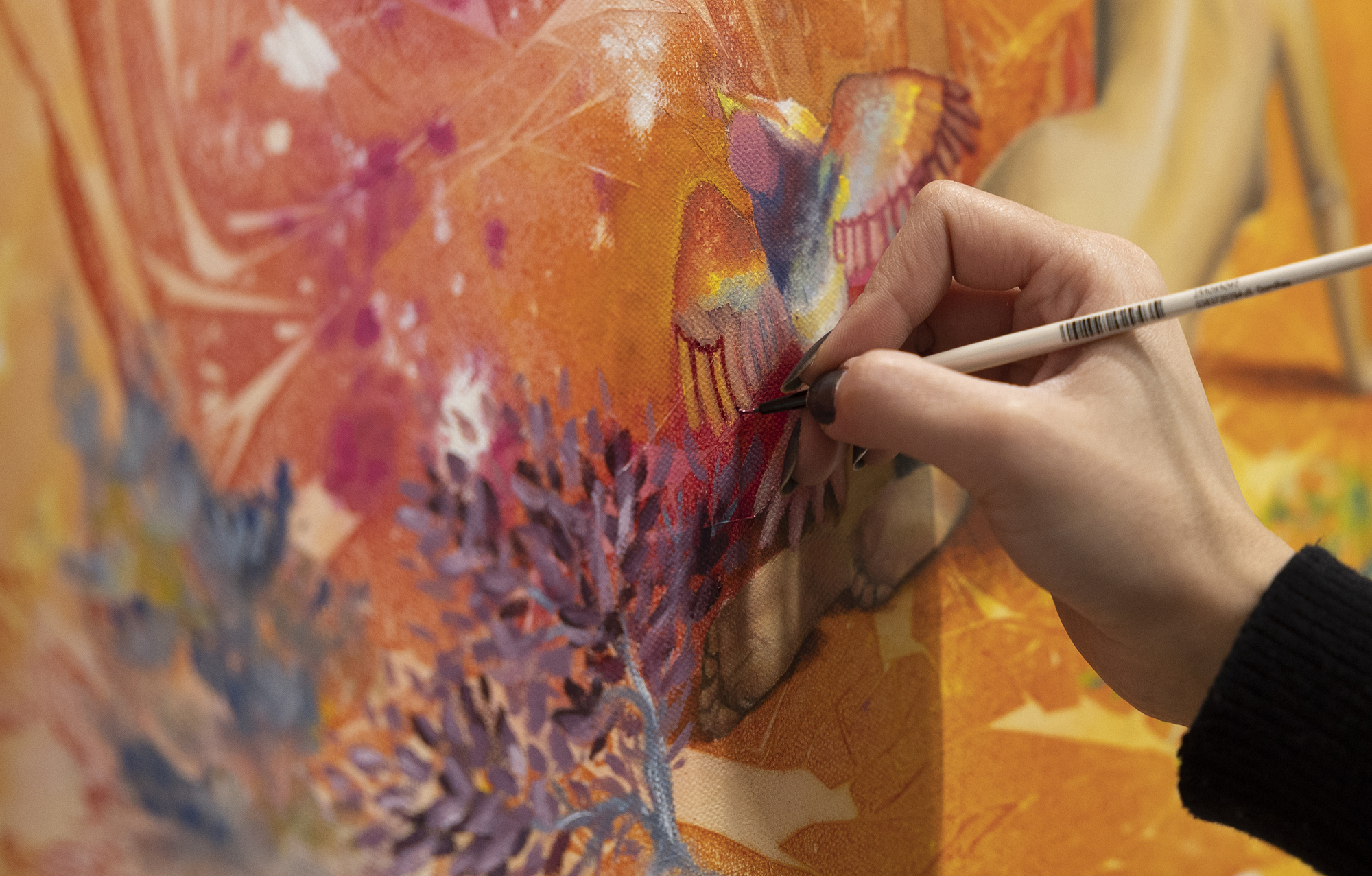 Quinn Freidenburg '24
This academic year, she was challenged by unrest in her home country. 
In September 2022, protests in Iran erupted in response to Mahsa Amini dying while in police custody. Amini was arrested for not abiding by Iran's hijab laws. Barenji reacted the best way she knew how.
"It wasn't possible for me to be there, so I had to choose the best ability I have to fight back, and that was my paintings," she said. 
Barenji said prior to RIT, her paintings were abstract. But, working alongside faculty in the program, she developed a proficiency in making oil paintings with sophisticated figures and portraits. Her thesis work is featured in a group Schools of Art and American Crafts exhibition at RIT City Art Space April 28-May 13 (a reception is set for 6-9 p.m. Friday, April 28).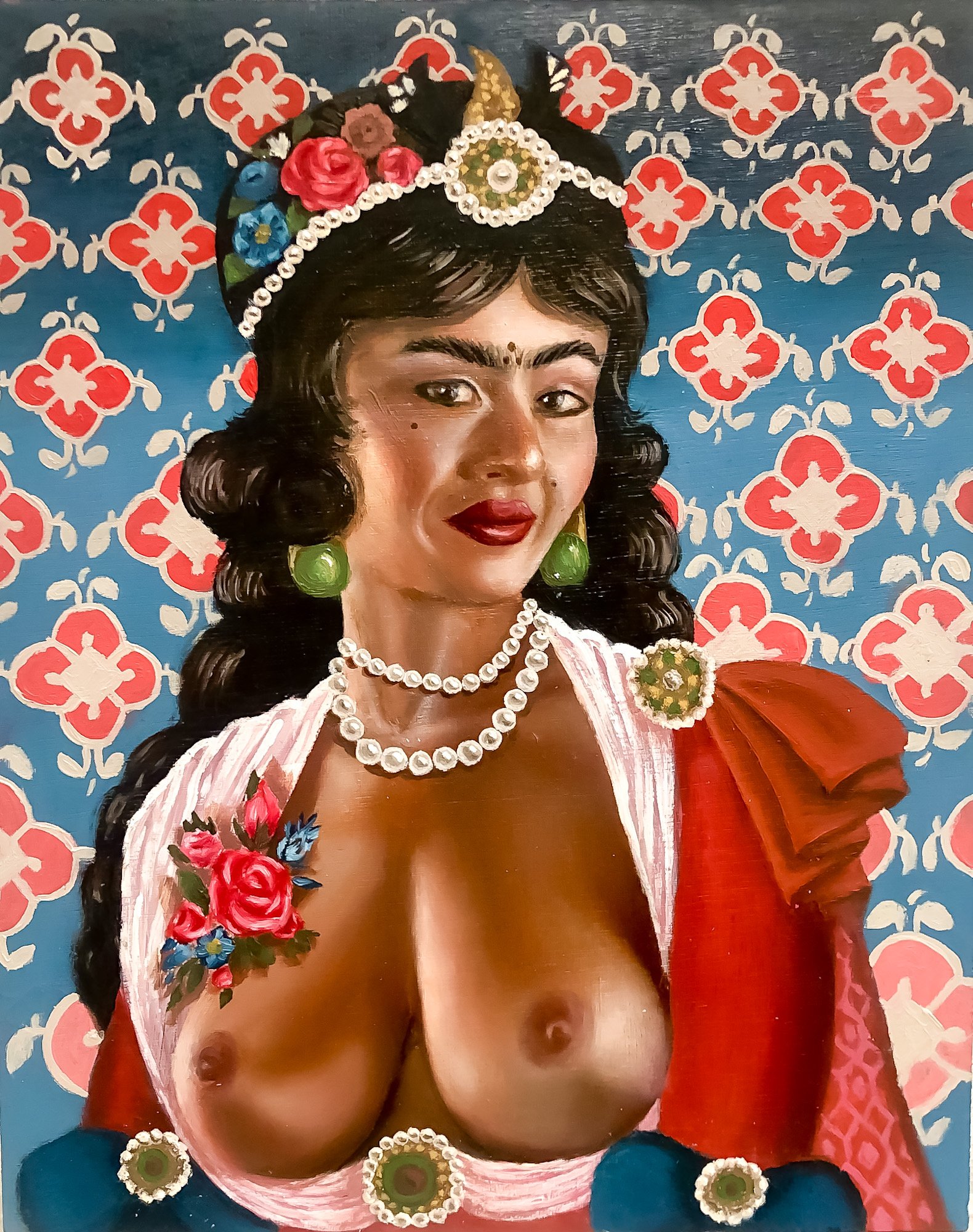 Nava Barenji
"The professors gave me so much information," Barenji said. "They taught me how to incorporate different elements I wanted to show in my work and how to create a professional painting.
"Although I'm far from home and all my family isn't with me, I can say that the RIT community became my family," Barenji added. "I couldn't find such support anywhere else."
Barenji explored other disciplines readily accessible in the College of Art and Design, taking printmaking, sculpture and glassblowing classes.
Printmaking, particularly, has taken hold in her creative practice — Barenji regularly translates drawings into screen prints. 
Like her paintings, Barenji's prints are colorful and full of references to her Asian culture. They usually have marbled backgrounds similar to those found in Persian miniature, a small-scale form of painting popular in Iran.
Barenji got a taste of teaching while at RIT, working as a graduate assistant for classes taught by School of Art Senior Lecturer Emily Glass, Senior Lecturer Amy McLaren, and Associate Professor Clifford Wun. Teaching is now potentially in her career forecast.
"I want to share my own experience with other students to encourage people like myself not to be afraid to create what they want," Barenji said.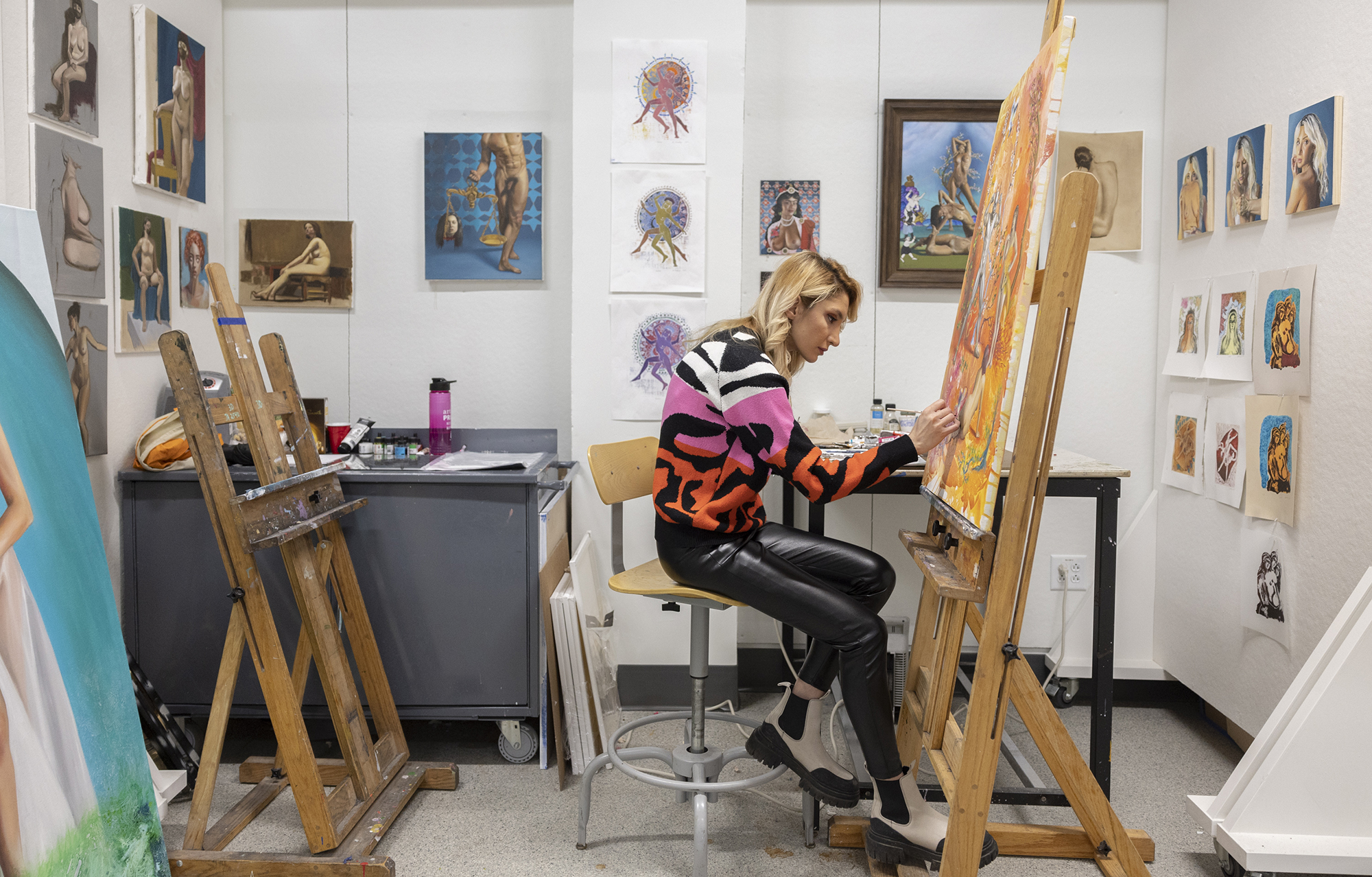 Quinn Freidenburg '24
Video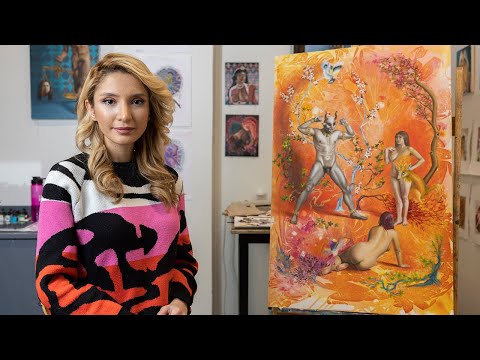 Topics