Professor driving multidisciplinary research with real-time technology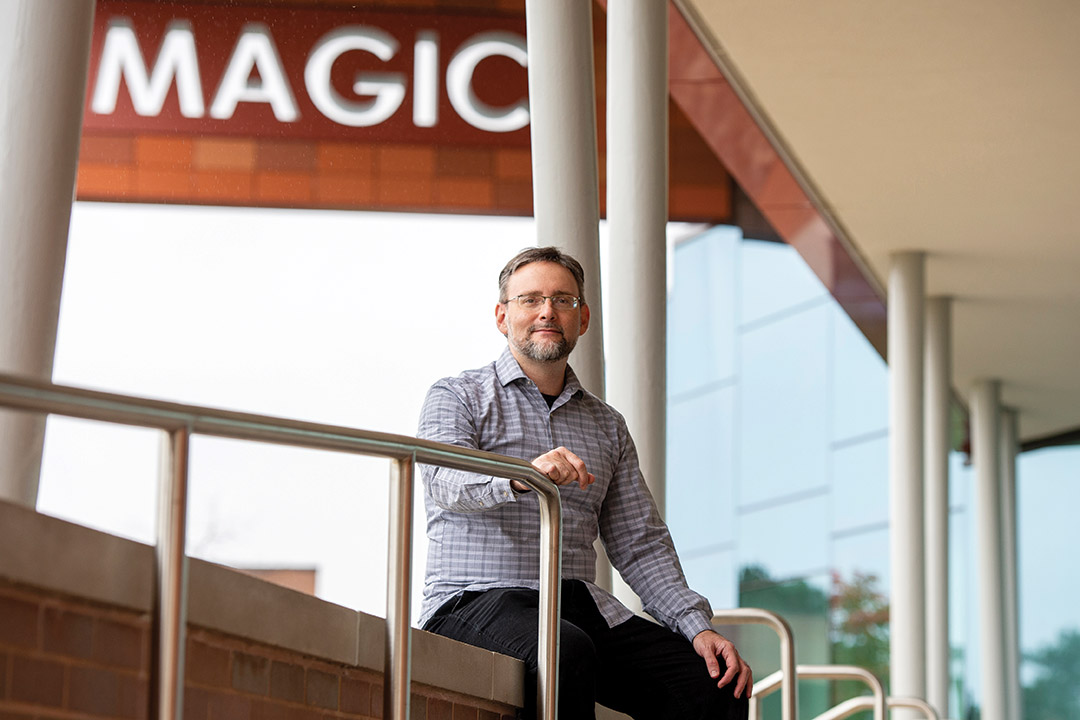 Life has been a bit of a whirlwind for Shaun Foster '02 (MFA) since securing a MegaGrant from Epic Games, the creators behind Unreal Engine and popular video games such as Fortnite.
The undergraduate program director of 3D digital design in RIT's College of Art and Design is leveraging the $160,000 from Epic Games to explore and develop dynamic virtual content that is opening the eyes of many to the software's myriad possibilities.
As part of the grant funding, Foster launched a new course called Cinematography and Pre-visualization during the spring 2020 semester.
The 3D digital design students learned to combine new virtual production elements with existing film and game-language conventions.
In all, the game engine's advanced technologies, real-time graphics, and interactive tools are fueling a "multi-field convergence," said Foster, an associate professor in the School of Design.
"There's a huge amount of buzz and desire to learn Unreal, which has only been accelerated by Unreal Engine 5's huge leaps in technology when it comes out early next year," said Foster, noting more than 14 million views of the North Carolina company's announcement plans on YouTube.
Foster's multidisciplinary approach and early adoption of Epic Games' Unreal Engine is expanding the software's possibilities in numerous areas across RIT. Working with multidisciplinary teams of students, he is developing a greater understanding of Unreal Engine and its advanced workflows and ability to provide real-time feedback.
His work is allowing the versatile software to be leveraged as an integral tool for interactive visualization, next-generation filmmaking, and training in many fields—including medical, interior and industrial design, virtual production, urban planning, geographic information systems, and human- computer interaction.
Foster also is furthering the synergy between the 3D digital design program and the MAGIC Center to integrate his research inside and beyond RIT's College of Art and Design.
Last summer, a grant he co-wrote with David Long, MAGIC Center's director, for the development of a multi-departmental Virtual Production Curriculum (using Unreal) was funded by Epic Games for $275,000.
Virtual production blends filmmaking, computational photography, and real-time game engine rendering to produce in-camera visual effects similar to those seen in the groundbreaking work on Disney's The Mandalorian.
Soon, students at RIT will be learning and researching these state-of-the-art techniques at MAGIC.
That grant along with his participation in an Epic Educators Twitch Livestream in mid-August resulted in an invitation to a panel on virtual production at the international SIGGRAPH conference only weeks later.
Last fall, Foster also began offering classes to professionals interested in learning how to use Unreal Engine to create interactive 3D. The online classes were part of RIT's Unreal Engine Foundations Professional Certificate program on edX.
"It's not only higher education looking at the course; an industry trainer from a large film studio contacted me to let me know they were taking it as well," Foster said. "I'm also meeting with other contacts who have received Epic MegaGrants, which has made for wonderful opportunities, not only for me but for our students as well."
Topics