Student creates ceramic work at the intersection of technology, the arts, and design
Mikey Gambino's art reflects his double major in industrial design and ceramics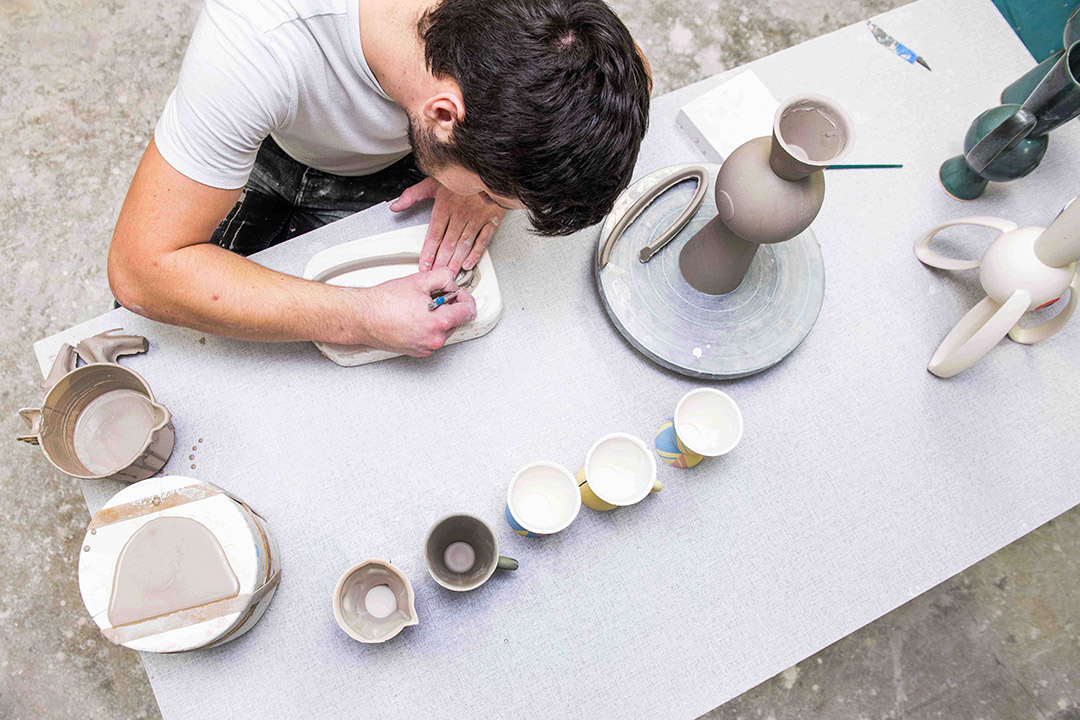 Mikey Gambino is combining cutting-edge technology with the ancient art of ceramics. Gambino is a fifth-year student from Mount Prospect, Ill., double majoring in industrial design and the ceramics option of studio arts. He applies the technology and the consumer-focused mindset of industrial design to enhance his artistic work in ceramics. 
"People have forever been using the tools that are accessible to them, and that influences what they make and what they do and how they think. I'm no different here," Gambino said. 
He is focusing on integrating 3D printing into making molds to achieve the forms he envisions and expedite the traditionally lengthy mold-making process. He explained that the traditional process requires many steps in order to make one smooth, usable plaster mold. But, he is experimenting with a way to speed up this process by 3D-printing a master mold that can be used to make many more plaster molds that are each immediately usable. 
3D-printed molds also help Gambino create the specific shapes he wants in his work. "I've got a big thing with geometry," he said. "I strive to get that kind of geometry in my wheel throwing work, but it's not as precise." In addition to 3D printing, Gambino has used a laser cutter to make tools with extremely precise shapes. He uses these tools to create the exact and clean geometric forms he desires. 
With these geometric forms, Gambino strives to make functional, utilitarian pieces. "I want to make it practical and beautiful because there's no reason it can't, really. And I want my work to serve a purpose. I want people to interact with it."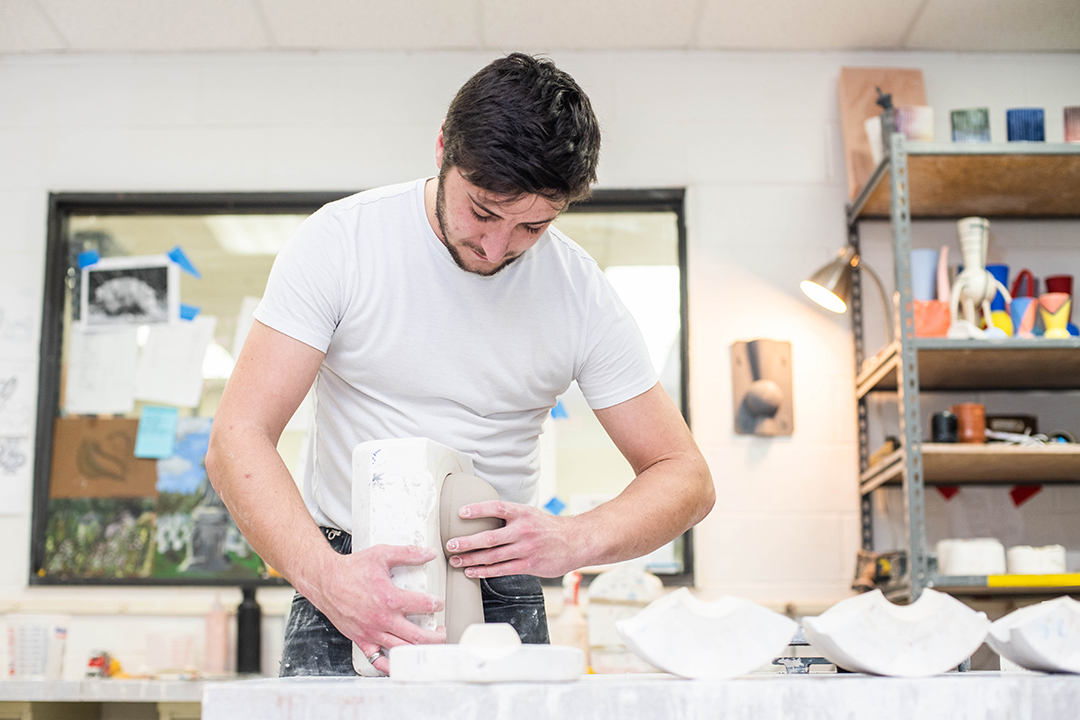 Gabrielle Plucknette-DeVito
When he first started at RIT, Gambino majored only in industrial design. But, ceramics had been a longtime passion of his. His father had been a ceramics hobbyist for much of his life, and when Gambino became interested in art himself in high school, he and his father took the opportunity to make a small ceramics shop in their basement to foster their mutual love for the craft. 
As he entered college, Gambino veered toward industrial design as a field that might be more practical while still allowing him to be artistic. This did not satisfy him, though. "I realized if I didn't study ceramics at a college level, I would regret it forever," he said.
Gambino is in his last year at RIT and is working on his capstone projects. He doesn't have firm plans after graduation, but he does know that he wants to continue using his skills in technology, the arts, and design. "In the last few years, I've come to realize that ceramics is the passion. It's something I can see myself doing for the rest of my life."
See more about Mikey Gambino in the short film "Throw Your Own Way," by Heather Shields, a second-year new media design student.