Student film honored at festival featuring industry's best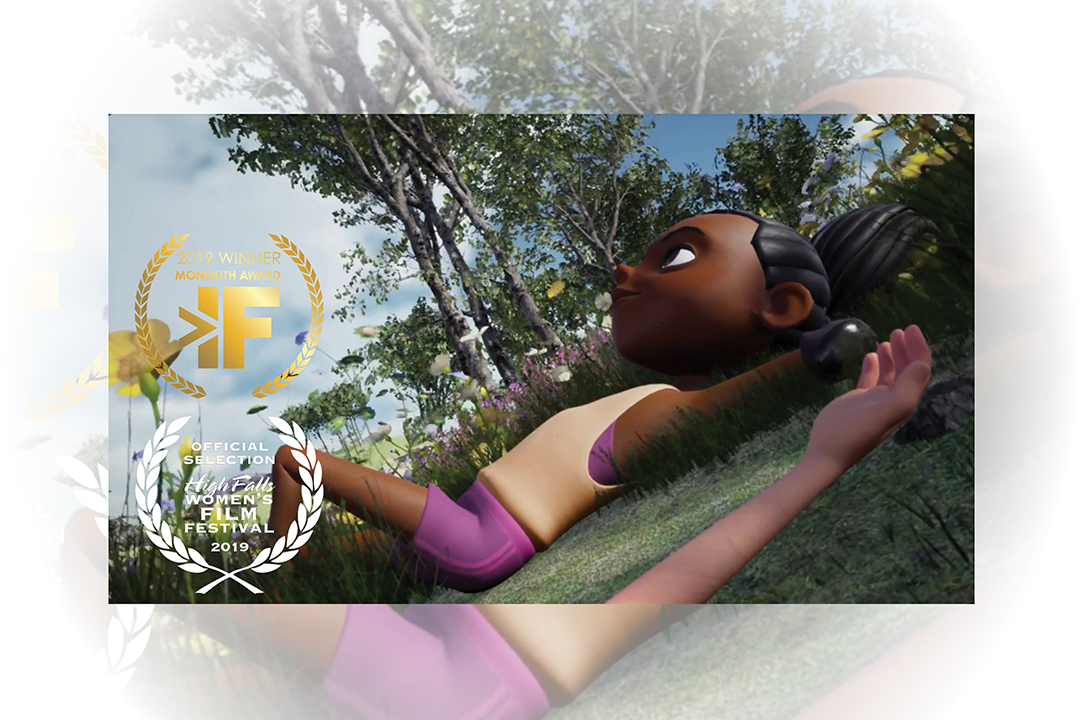 A pair of RIT Animation students were recognized at a festival awards ceremony honoring the industry's best in technology and storytelling. 
Maggie Dybas and Allison Larkin won the Infinity Festival's Monolith Award for Best Game Engine Narrative for their animated film, "Tumble." The Infinity Festival, held annually in Los Angeles, celebrates the latest innovations that combine technology and art. The event's Monolith Awards recognize outstanding achievement in the field, as decided by a panel of professionals. 
Dybas and Larkin, both fourth-year students, captured their award amidst competition from industry professionals. Adobe, DreamWorks Animation, Epic Games and National Geographic were among the other category winners. 
The students' film, "Tumble," best exemplified the use of game engines for film production. Dybas and Larkin said their work received praise for its use of Epic Games' Unreal Engine software's real-time rendering for the animation render process. The film was also screened at the Infinity Festival. 
"When Maggie and I received the news that 'Tumble' was selected for a Monolith Award at Infinity Festival, we were honestly in shock for a little bit," Larkin said. "We are so honored to have our film recognized on such a high level, next to so many big names in both the game and film industry. To be able to call ourselves award-winning filmmakers is like a dream come true.
"We definitely learned a lot making 'Tumble,' and we plan to explore real-time rendering even more in the future."
The animated film follows the adventure of two girls, Beth and Jackie, as they come across a symbolic hill in a field, as seen through the eyes of Beth.
"While Jackie doesn't hesitate to roll down the hill, the main character, Beth, is held back by her fear of the possible dangers below," Dybas and Larkin said. "With some help and bravery, she is able to take the leap, or tumble, of faith she needs. 'Tumble' is a film about the uncertainties of life and the push that one must take in order to experience the fun that can be found in it."
After each making their first solo films at RIT, Dybas and Larkin teamed up to explore other methods of producing 3D films. They remembered the past work of James Hyun '17, Animation option (Film and Animation), who, they said, used Unreal Engine to create his thesis film. That memory from their first year at RIT inspired the pair to pursue the challenge of employing a game engine for filmmaking. 
"We were both very new to Unreal, so there were moments of trial and error over the course of production," Larkin said. "We're a persistent bunch, so it wasn't anything we couldn't handle."
"Tumble" was also shown during the 2019 High Falls Women's Film Festival, where RIT's School of Film and Animation has held screenings of student work since 2001.