Students benefit from interdisciplinary work during Emerging Creatives Student Summit
Four RIT students brainstormed solutions to move society toward a more sustainable future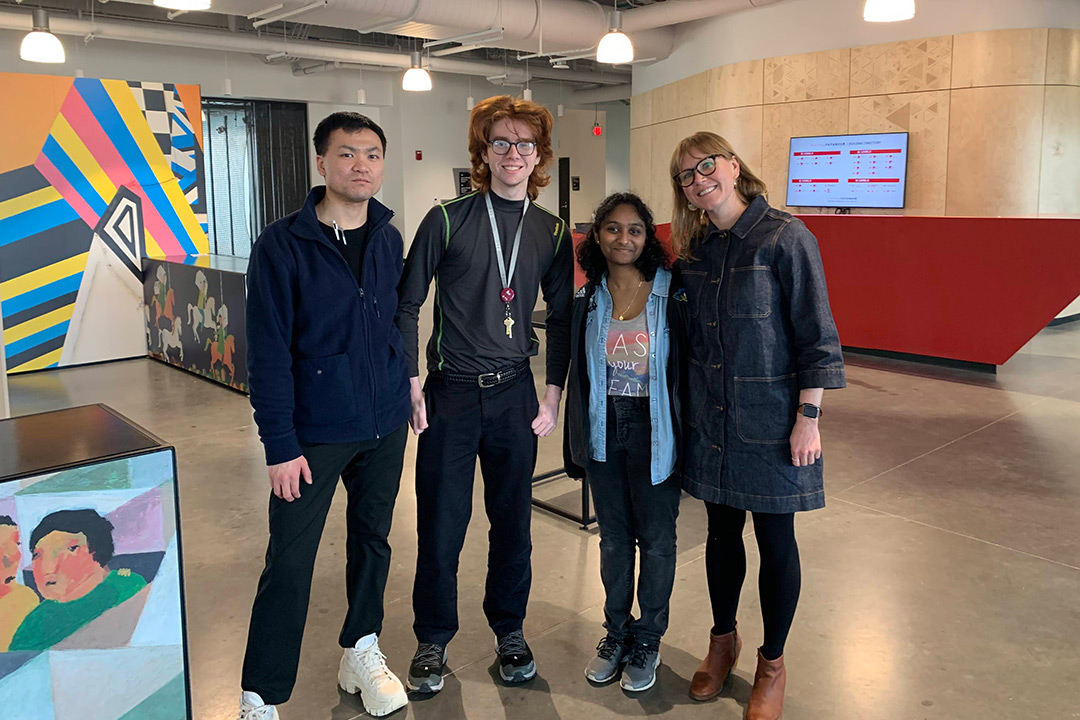 Students across the country came together last weekend to explore the question 'what do we want our future to look like?' during the Alliance for the Arts in Research Universities (a2ru) Emerging Creatives Student Summit. Four RIT students traveled to the University of Cincinnati to participate in the summit, hosted March 2-5 at the university's new Digital Futures Building.
The theme of the summit was "The Future: By Design." Students worked in teams to brainstorm solutions that can help move society toward a more sustainable, equitable future where people of all backgrounds can thrive. The topic of the summit was particularly attractive for Ariella Knight, a second-year industrial design MFA student from Blacksburg, Va.
"In the last year I've started exploring how scenario building and speculative foresight can be used in collaboration with the design process, which involves asking ourselves, 'are we building a world that we actually want to live in when we think about the future?,'" said Knight. "The topic of the conference really focused on that question, so it felt like a good match for me right away."
The a2ru summit always encourages interdisciplinary teamwork with a goal of building bridges between students and faculty at different universities. Every year, they invite students from all majors, disciplines, and backgrounds to participate in this particular summit.
This year, students were tasked to create and present a new tool or product that would, in theory, help achieve the equitable future each team envisioned. Shriya Wani, a third-year 3D digital design student from Mechanicsburg, Pa., said the three-day experience was intense, but that the intensity strengthened the connections she forged with students from other universities.
"While you typically have that initial feeling of awkwardness when you meet a new group of people, everybody at the conference was open to conversations and really friendly. The experience highlighted all of our similarities, which led to really fruitful collaborations between us despite the fact that we're all doing and studying different things," said Wani.
According to John Haley, a second-year game design and development student from Biloxi, Miss., the opportunity to meet and create with people from a variety of disciplines was the most exciting element of the experience.
"When it comes to working between disciplines, the true value is the different mindsets that can be shared. These mindsets aren't something you can teach in a classroom, in my opinion. They're developed from actively working and living in your field, which makes collaboration a vital part of any project," said Haley.
Akira Takeuchi, a computing and information sciences Ph.D. student from Japan, found that the interdisciplinary teamwork at the summit helped expand his perspective on both his field of study and his work as a musician.
"When we choose what we're going to wear in the morning, we use a mirror to see how it looks. The people I met at the conference were like different types of mirrors; they were reflecting myself and my thoughts back at me, but their different perspectives brought forward new observations and ideas," said Takeuchi. "By looking at myself through these different mirrors, I could find new aspects of myself and my music that I hadn't thought of before." 
All four students were selected and nominated to participate in the summit by RIT faculty, including Susan Lakin, professor and director of Frameless Labs; Alex Lobos, graduate program director of industrial design; Melissa Dawson, co-undergraduate program director of industrial design; and Shaun Foster, undergraduate program director of 3D digital design.
RIT is set to host the a2ru Emerging Creatives Student Summit in 2024. For more information about the conference, or to learn how to get involved, go to the a2ru website or email Lakin at srlpph@rit.edu.
Topics