Students receive portfolio reviews from top designers
Reviewers, including 21 alumni, were from Adobe, Ogilvy and other companies and agencies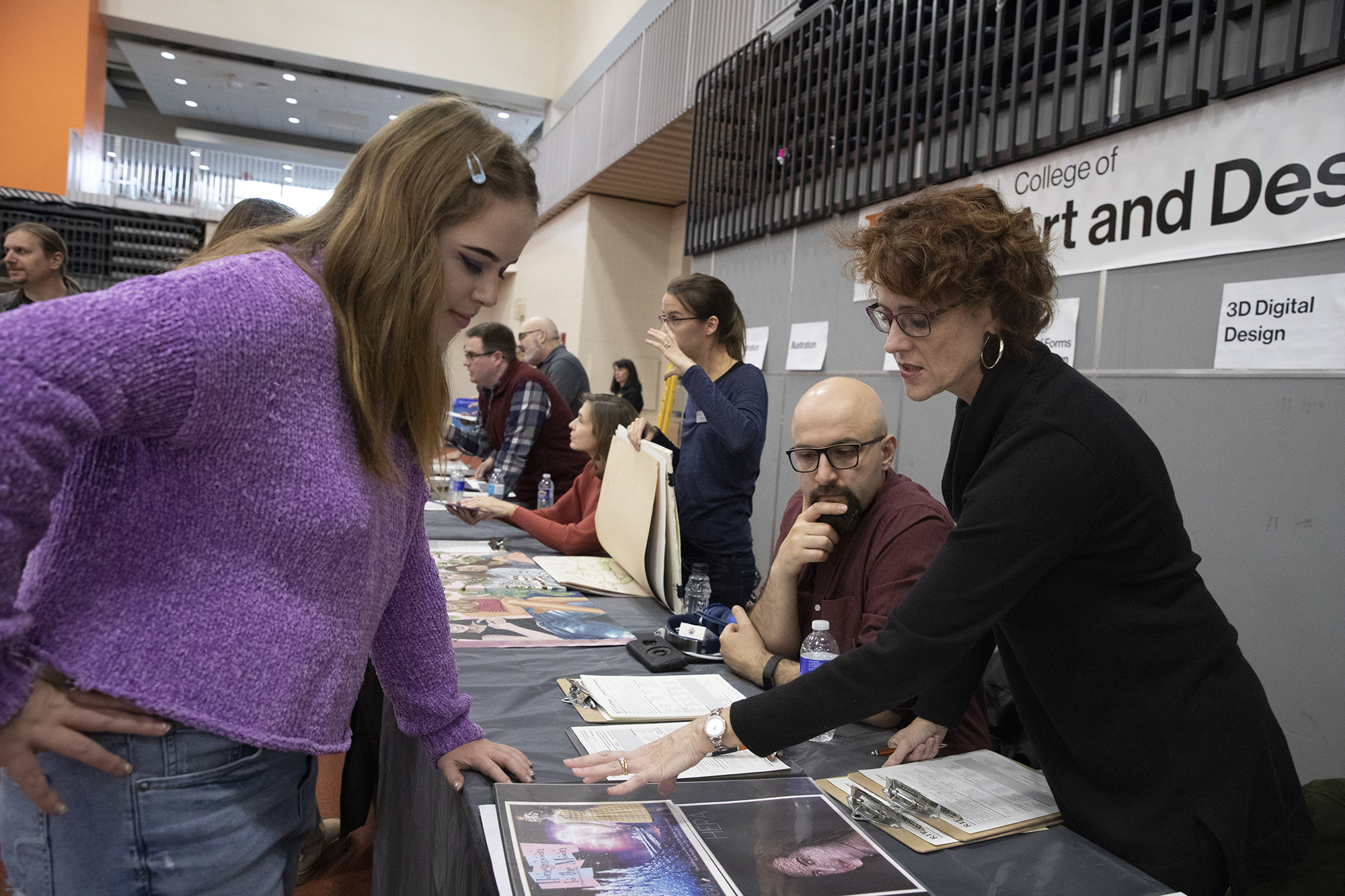 During this holiday season, Assistant Professor Keli DiRisio is gifting students in RIT's Graphic Design program opportunities to connect with industry professionals. 
DiRisio organized four days of online portfolio reviews with top designers from more than 35 companies and agencies, including Adobe, Buzzfeed, ChaseDesign and Ogilvy. RIT students had the chance to meet one-on-one with designers working in their preferred design discipline, from UX/UI and motion to packaging and product design and beyond.
"The students take away so much great information,"DiRisio said. "They are given feedback on their work, portfolios and delivery. They are hearing from those working in the fields they are interested in. And they appreciate the opportunity to talk about their work in this informal setting. They are nervous before the reviews, but after they all say how relaxed it was and how great the experience was. Plus they are making connections that they can tap into in their careers."
Students participated in more than 150 sessions with 32 reviewers, 21 of whom are RIT College of Art and Design alumni. 
This is DiRisio's third consecutive year offering the program, with the timing aligning with the conclusion of her Professional Practices class. In the course, students learn portfolio development and interviewing skills and are then able to exercise them in a professional setting. 
"We've had a whole semester for them to learn about the process of job searching," DiRisio said. "They have worked on their personal mark, resume, cover letters, portfolios, job searches, interviewing techniques, negotiating that first job offer, in addition to learning about accessibility, contracts, ethics and copyright laws."
The review sessions were also viewed as a warmup for Creative Industry Day, an annual event organized by RIT's Office of Career Services and Cooperative Education that attracts dozens of companies for portfolio reviews, recruiting and networking.
"For so many alumni – and non-alumni — to do this is amazing," DiRisio said. "They love seeing the creative work that is being done and the enthusiasm the students show. Many commented how they are so impressed with the types of projects the students have, from typography to interactive work."
The alumni reviewers were: Shannon Baird, Jason Capello, William Colgrove, Jay Fleckenstein, Ray Fox, Nathan Gamson, Kara Gjersvig, Remy Glock, Joanna Hackett, Joe Hodapp, Laura Hoerner, Leah Kotas, Peter Lazarski, Abbey Jo Leyendecker, Clare Mahr, Lauren Mays, Casey Perez, Vini Romualdo, Phil Szrama (also a lecturer of 3D Digital Design), Rachel Tiano and Annie Wong.