Winner announced in 2022 Imagine RIT poster contest
Sarah Neff, who thought 'out of the box,' will receive $500 in Tiger Bucks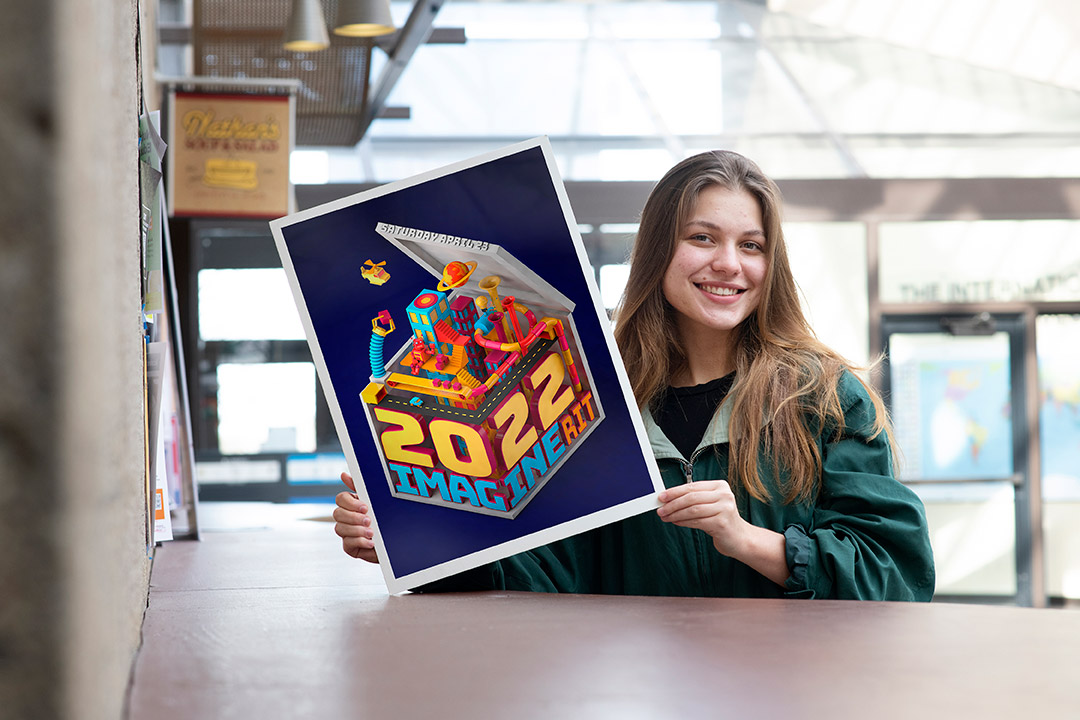 An image of a 3D, futuristic, jack-in-the-box is the winning entry in this year's Imagine RIT: Creativity and Innovation Festival poster contest.
The artist, Sarah Neff, a second-year new media design major from Waterbury, Vt., wins $500 in Tiger Bucks. More than 50 entries were submitted.
Visitors can receive a free copy of her poster during the festival on April 23, while supplies last.
"My original idea was thinking outside the box, so I wanted to fill the box as much as possible," she said. "I started thinking of random fun little things associated with technology and creativity like the robot, the mechanical arm, the helicopter, and the celebratory confetti."
She said the design took her three or four weeks to complete.
Even though her friends told her they liked her design, Neff was surprised when she learned she won the poster contest because there were many impressive submissions.
"A classmate of mine made a poster of a 3D robot. It was insane," Neff said. "I could never do that."
Neff will have some family members coming to town to enjoy Imagine RIT with her. This year will be the first in-person Imagine RIT festival since 2019 due to the COVID pandemic.
"I'm looking forward to it. I don't know what to expect," she said.