School for American Crafts

School for
American Crafts
Overview
The School for American Crafts is dedicated to developing one-of-a-kind art using both traditional skills and modern technology. Students master their material of choice, whether its clay, wood, glass, or metals. They have access to world-class facilities including a glass hot shop; woodworking studio; flameworking and glass studios; and buffing, casting, and welding rooms. Under the tutelage of award-winning faculty and active artists, students immerse themselves in studio-intensive courses that inspire both process and conceptualization.
80
Around 80 metals and jewelry design alumni have created pieces modeled on the runway at the annual Fashion Week of Rochester.
50
Luxury jewelry maker Tiffany & Co. has employed more than 50 metals and jewelry design alumni.
12
Each year, more than a dozen visiting artists are welcomed for demos and lectures.
---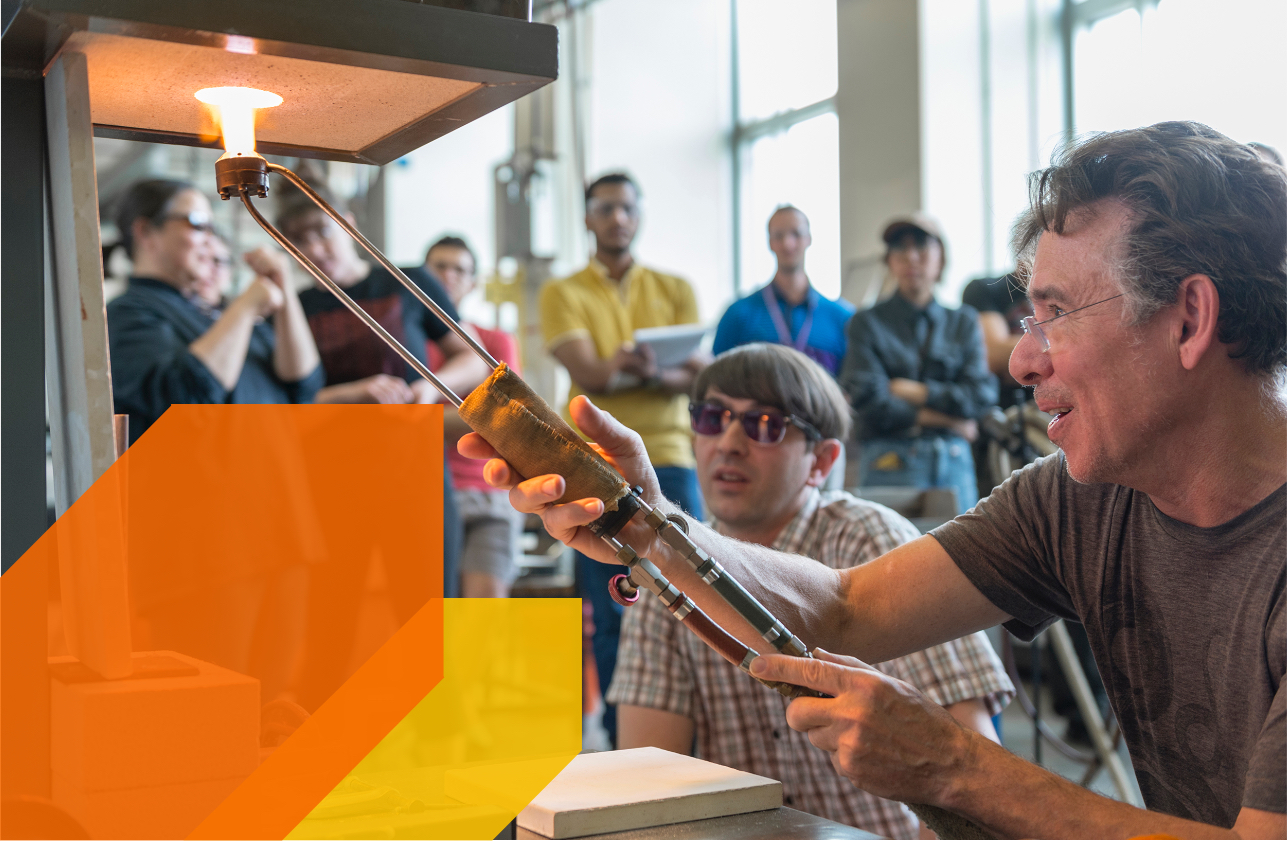 ---
Visiting Artist Lecture Series
Each year, RIT's glass program hosts eminent artists, designers, thinkers, and educators from around the world as part of its Visiting Artist Lecture Series. Through workshops, lectures, and discussions the series contributes to the artistic and personal growth of students.
Learn more
---
Featured Work
'To Be Decayed I'
Rinoi Imada
"Glassblowing is the one of essential parts of my art practice. It is labor intensive, and I need to have good communications with people who help me. However, I have a trauma to create works&nbsp...
View More

about 'To Be Decayed I'
Minimalism of Form and Material
Drew Slickmeyer
The "LUZ Stool" by Furniture Design MFA student Drew Slickmeyer is an exercise in minimalism of form, material and production processes while still acknowledging, and even...
View More

about Minimalism of Form and Material
Featured Profiles
Innovative 3D Printing Materials
Dan Gabber
Dan Gabber is constantly researching and tinkering with the latest technology to ensure students an optimal experience when using the Fab Lab to execute projects.
View More

about Innovative 3D Printing Materials
Artist Interview: Madeline Rile Smith '20
RIT City Art Space's Artist Short Sesh features conversations with artists in the College of Art and Design about their work. The artist interview series, started by Gallery Director John Aäsp,...
View More

about Artist Interview: Madeline Rile Smith '20
Public Sculpture
Juan Carlos Caballero-Perez, professor of Metals and Jewelry Design, created a near-12-foot sculpture for the Village of Fairport, N.Y.'s Kennelly Park, outside the public library. It was the...
View More

about Public Sculpture
Undergraduate Programs
The school offers an Associate in Occupational Studies in furniture design. The program is a highly-focused, two-year course of study in which students learn how to use basic hand tools and begin to explore the technical and visual potential of wood.
An intensive course of study combining foundations in art and design with two years of study in woodworking and furniture design. For individuals not seeking the BFA or MFA degree, the associate degree will provide you with many of the fundamentals to begin a career in woodworking and furniture design.
Learn More

about Furniture Design AOS
Graduate Programs
The school offers MFA degrees in ceramics, furniture design, glass, and metals and jewelry design. All graduate students have individual studio spaces and access to state-of-the-art facilities to hone technique and design pieces that showcase their personal expression in their medium. A thesis project is the culminating experience for all graduate students. It's produced independently by the student under the advisement of faculty members chosen to serve on that student's thesis committee. The thesis involves design research and study, a creative project, and written and illustrated documentation.
Student Resources
For internal College of Art and Design resources such as academic information, forms, FAQs and more, visit inside.cad.rit.edu. For information about academic advising, visit here.