2015 Metaproject 05, Kikkerland + Bed Bath and Beyond
January 5, 2015
Senior Industrial Design Students
Faculty: Josh Owen
In an attempt to solve the issues associated with storage at home or in the college living space, Kikkerland and Bed Bath & Beyond had challenged students from RIT and two other universities to design organization solutions in categories including closet, desk, shelving, over the door, under the bed, and jewelry. Throughout the extent of the design process, students were required to follow a set of guidelines. The products needed to appeal to the Bed Bath & Beyond and Kikkerland Design customer base, which required site visits and consumer research. In addition the designs needed to offer value for money and be feasible as commercial design products.

Kikkerland and Bed Bath & Beyond selected Production, Academic, People's Choice, and Honorable Mention winners. Production and Academic were selected by Kikkerland and Bed Bath & Beyond, while the People's Choice was selected by public online voting venue.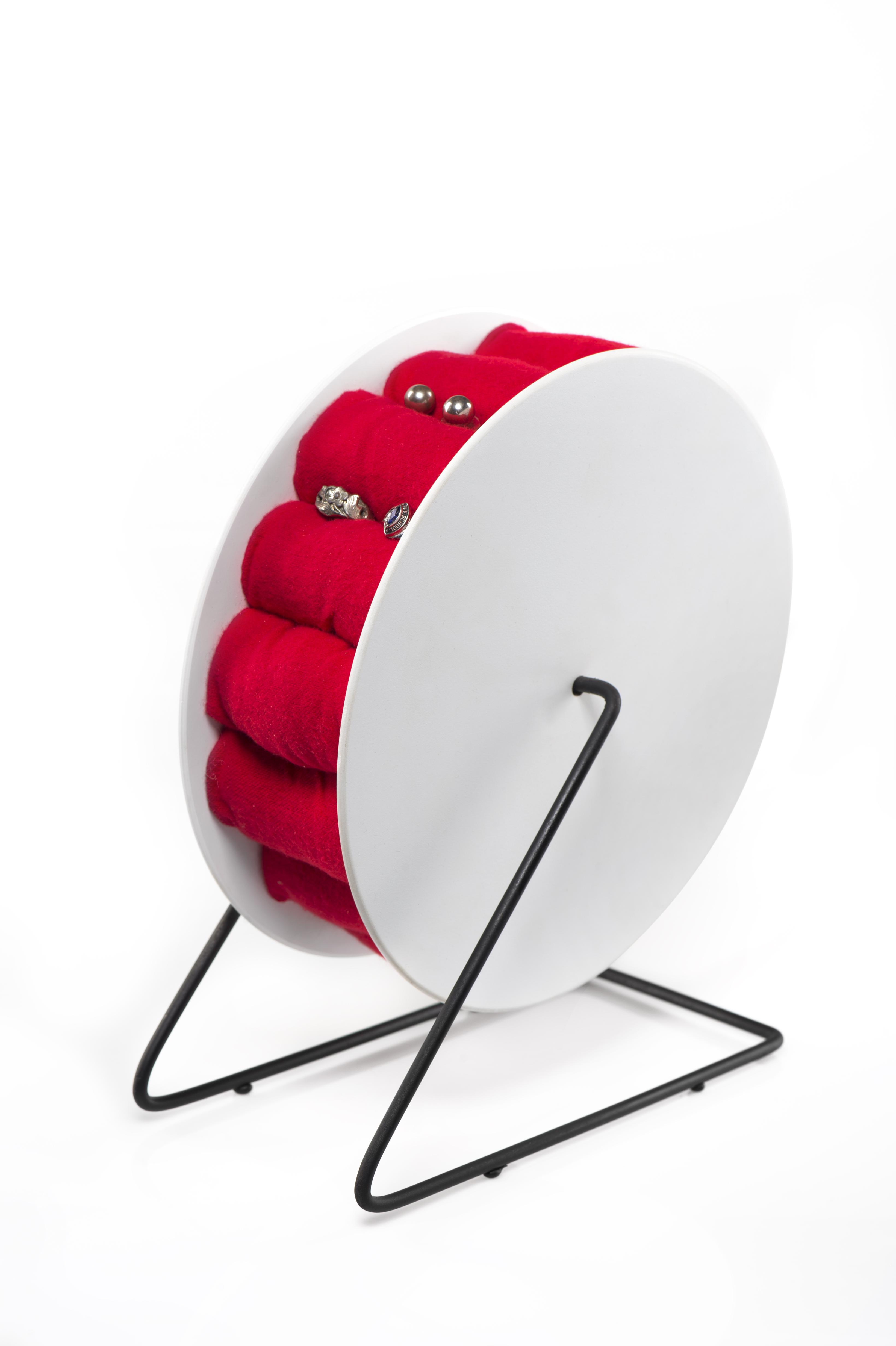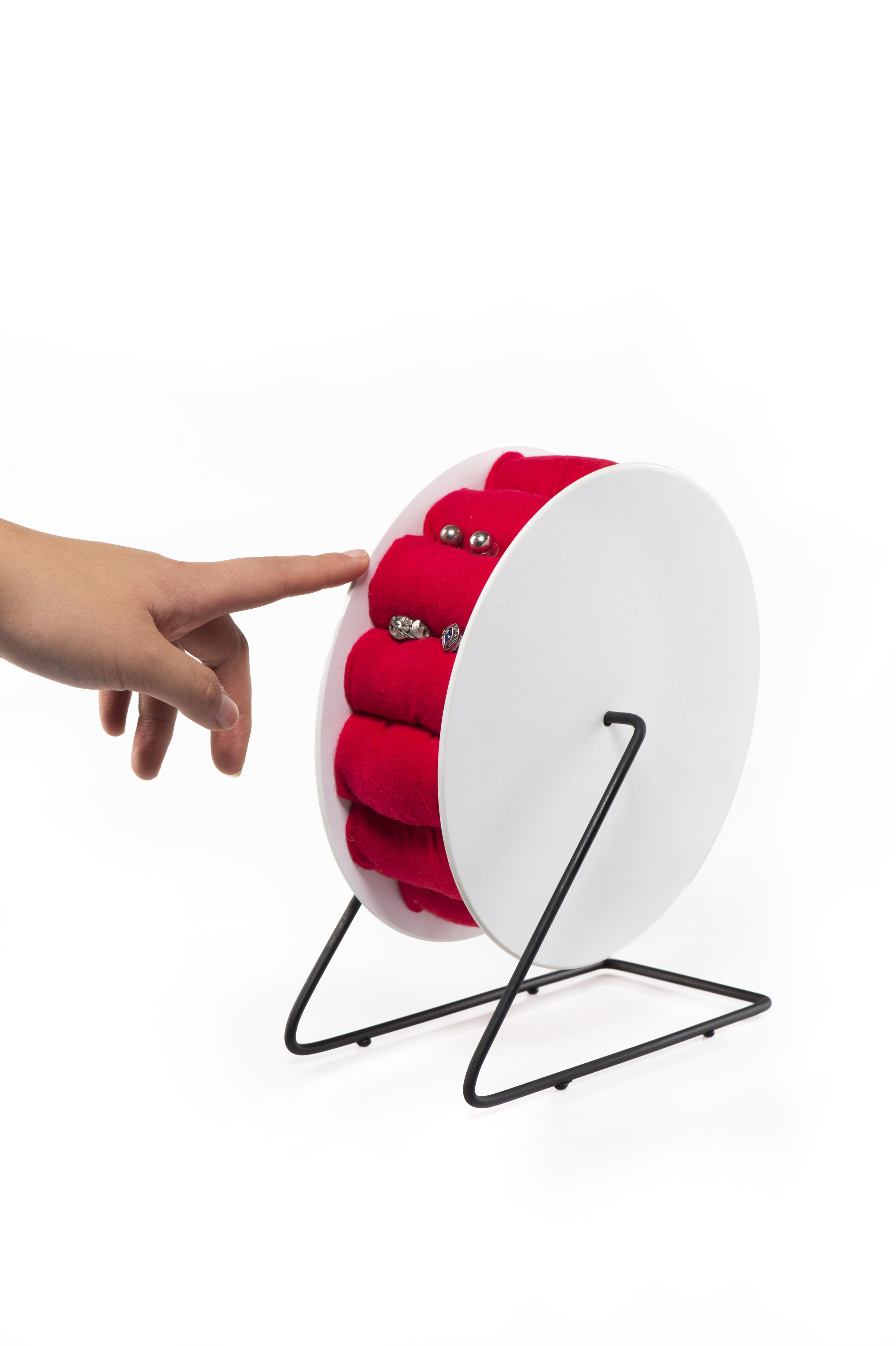 Linda Deng

The Wheel



Storage Category: Jewelry



The Wheel is a playful earring organizer that is kinetic and allows for easy access storage for earring studs. Its rotational movement adds a sense of spontaneity to the daily morning routine.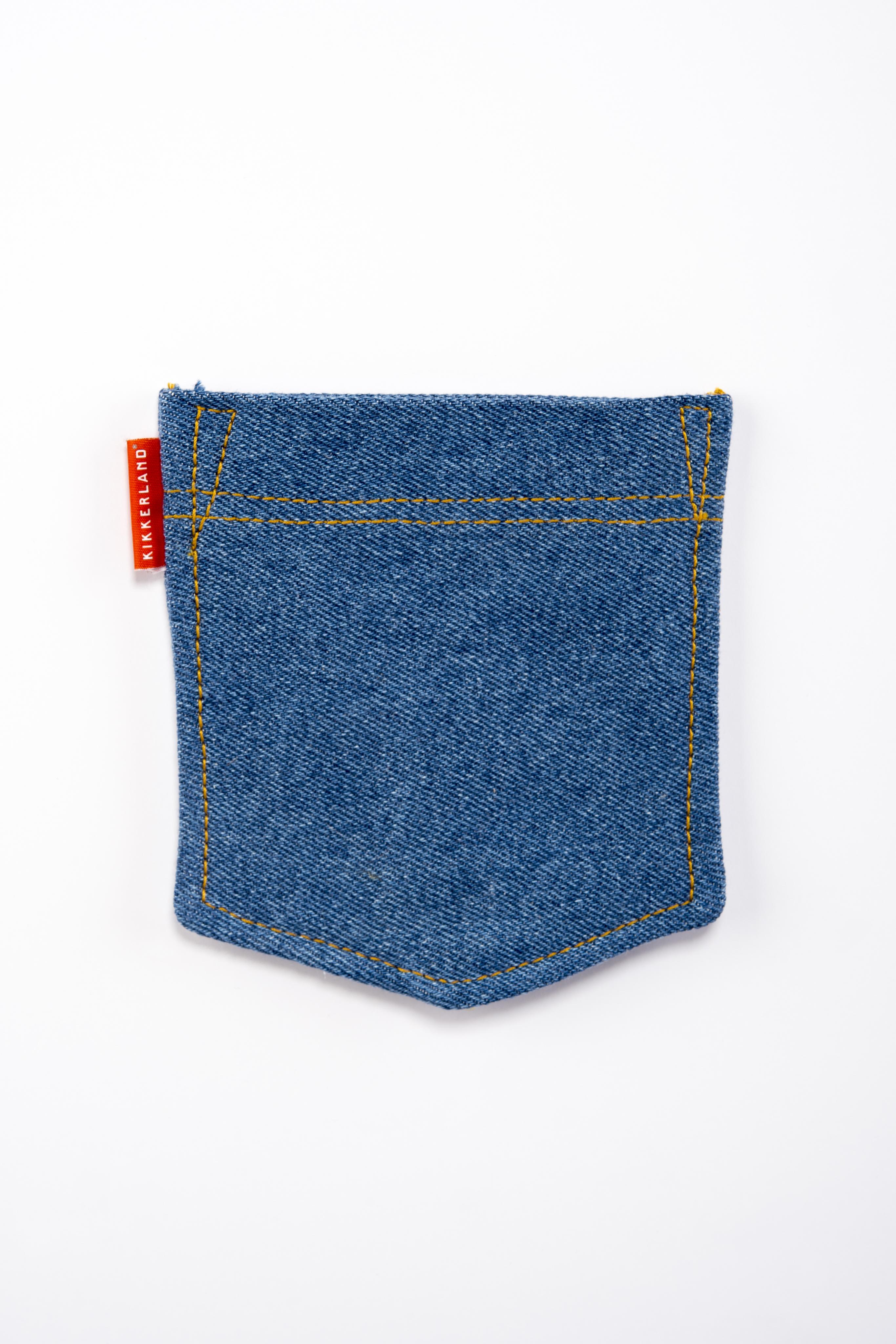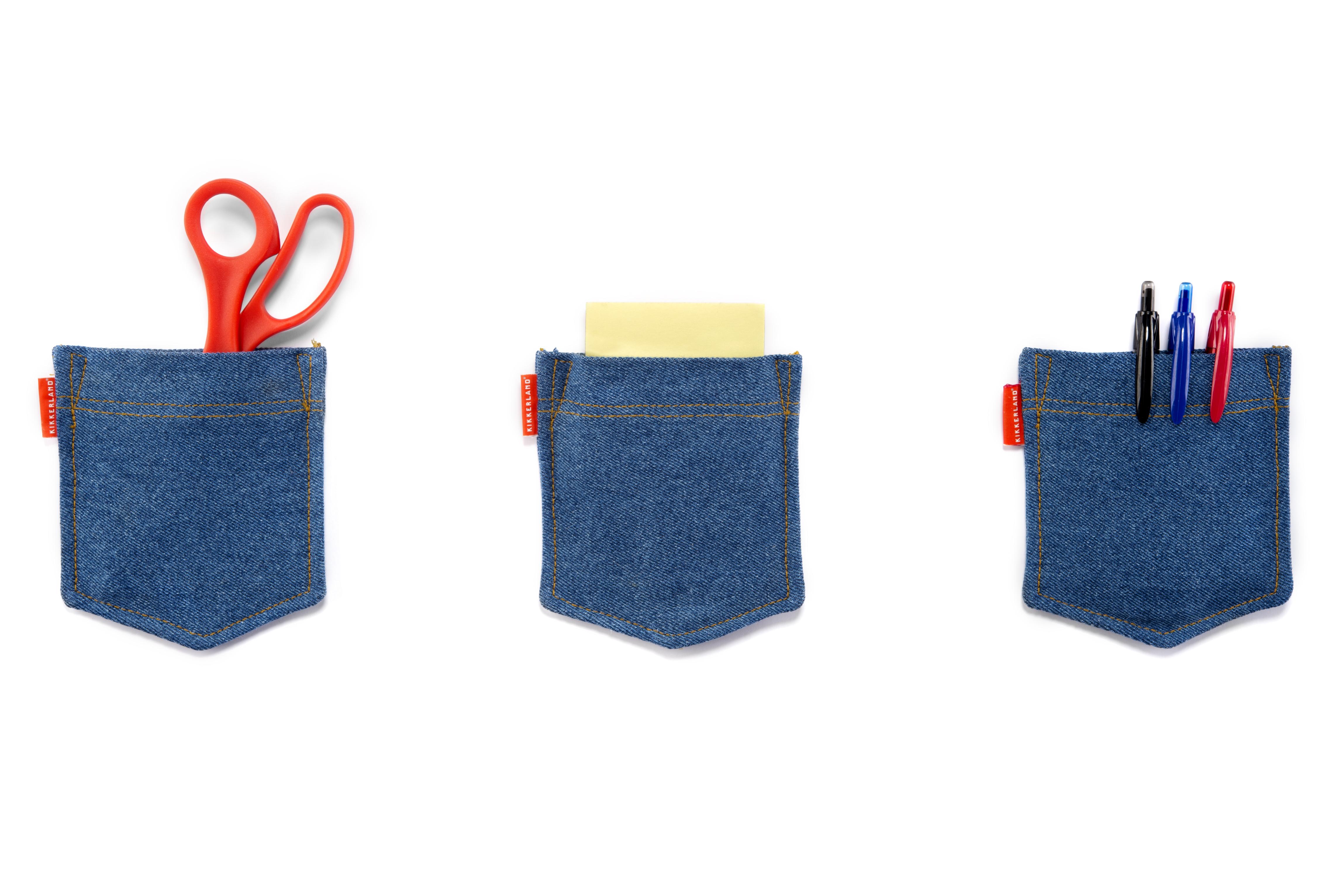 Audrey Kirk

Wall Pockets



Storage Category: Desk



Wall Pockets are denim pockets that stick onto the wall to cleverly hold small items from reading glasses to keys, pens to post-its. They work well in multiples to decoratively hold items over the desk or on the door.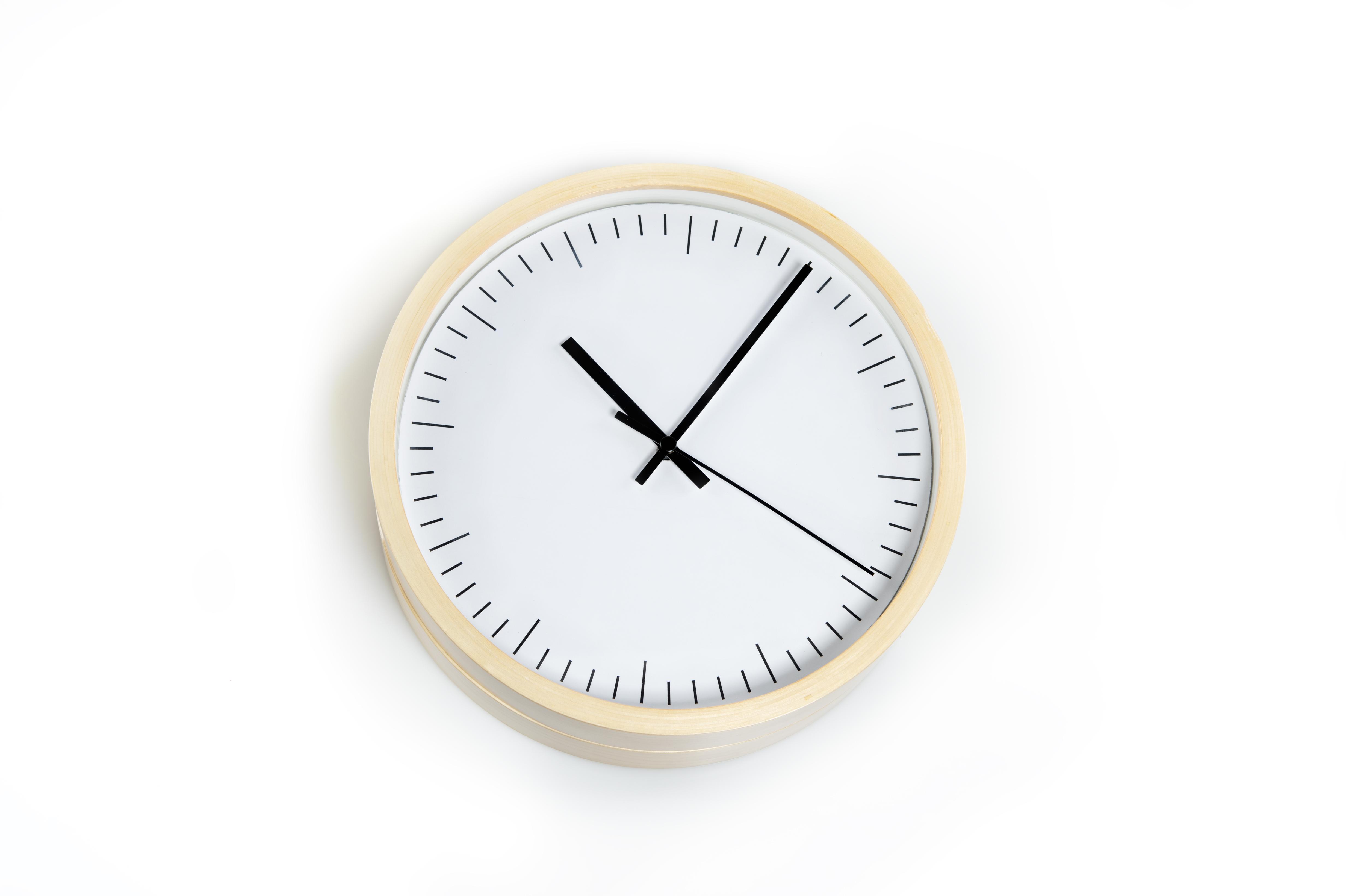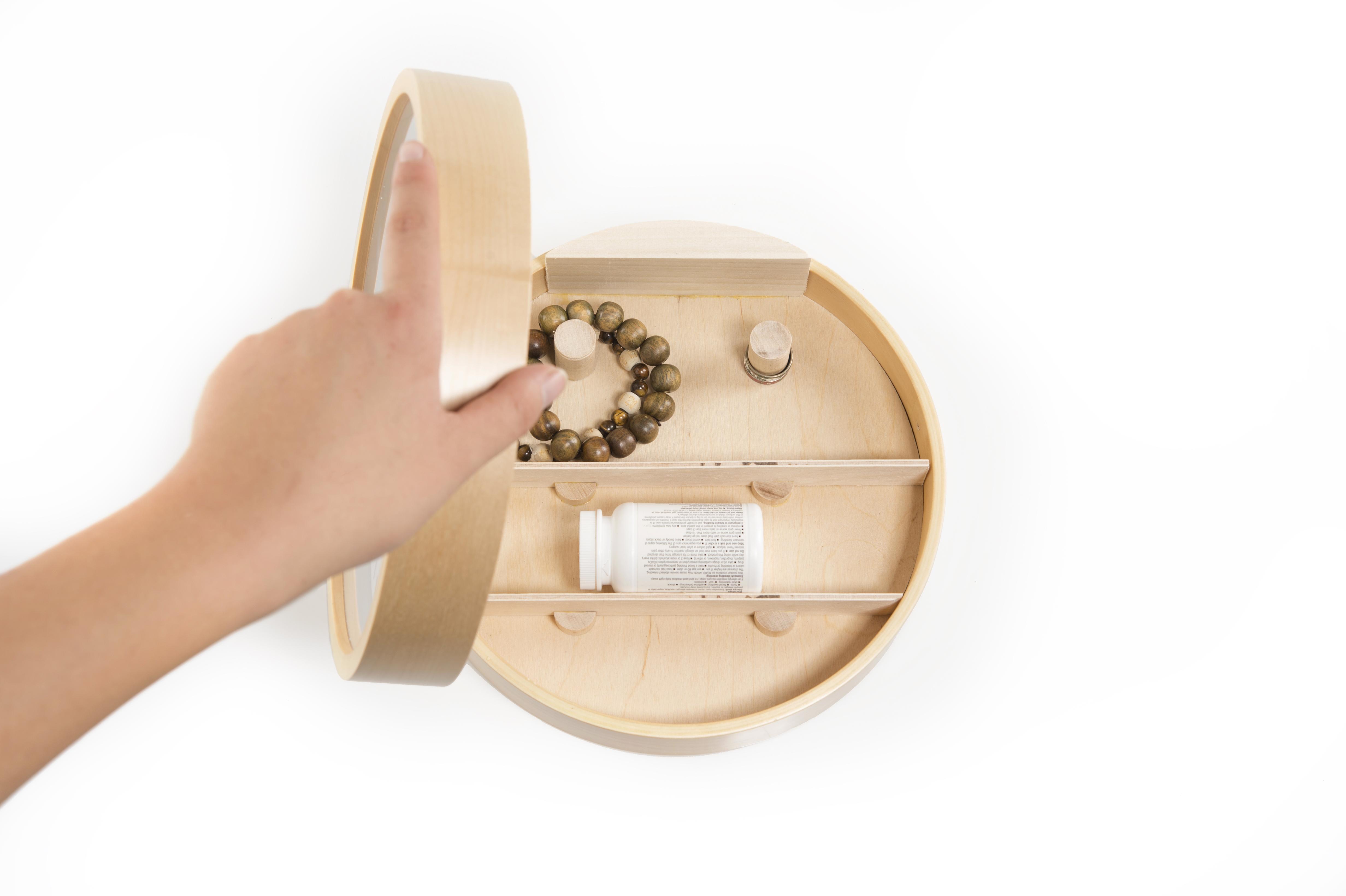 Linda Deng

Clock Cabinet



Storage Category: Shelving



The Clock Cabinet is a graceful and discrete storage cabinet that utilizes the necessity of a time telling device in every home. It can be placed in the bathroom or bedroom to hold rings, medication, pearls, or any other valuables.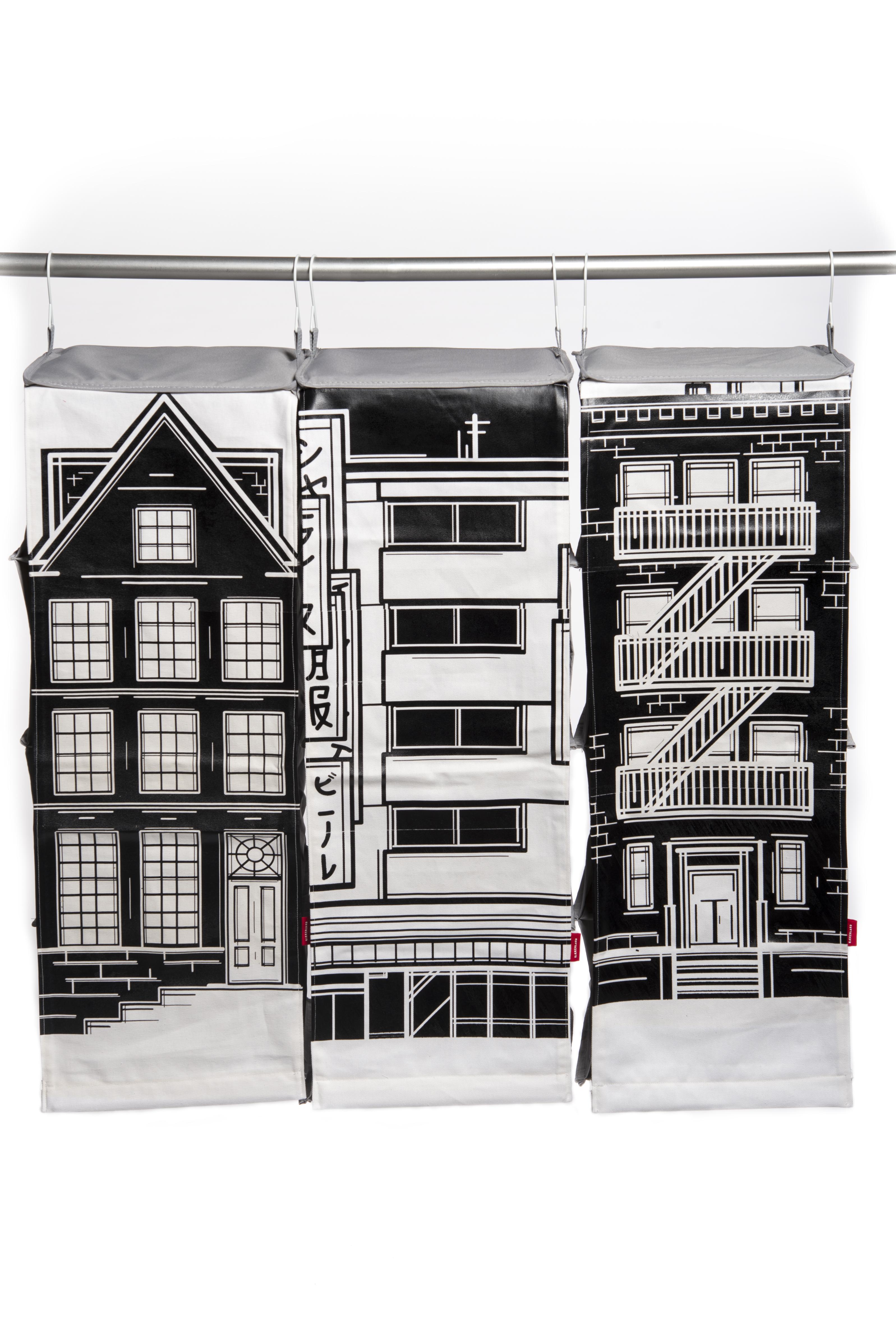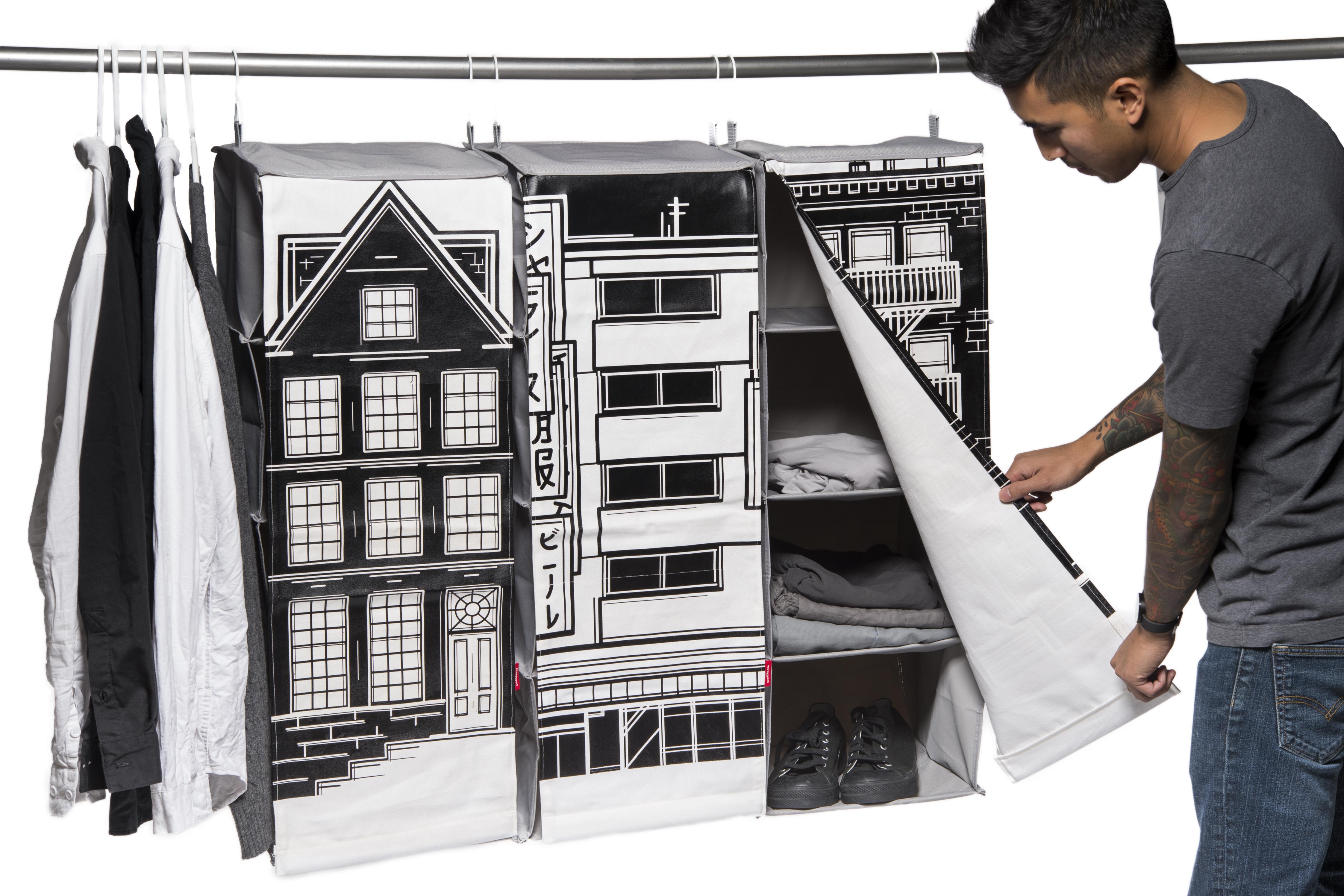 Brian Keyes

Hanging Facades



Storage Category: Closet



This series of hanging closet organizers allows for private, raised storage in the dorm room. Multiples side by side will create a city block in the closet for whatever you might need it to hold: clothes, shoes, food, kitchenware, books, and anything else you might want out of sight.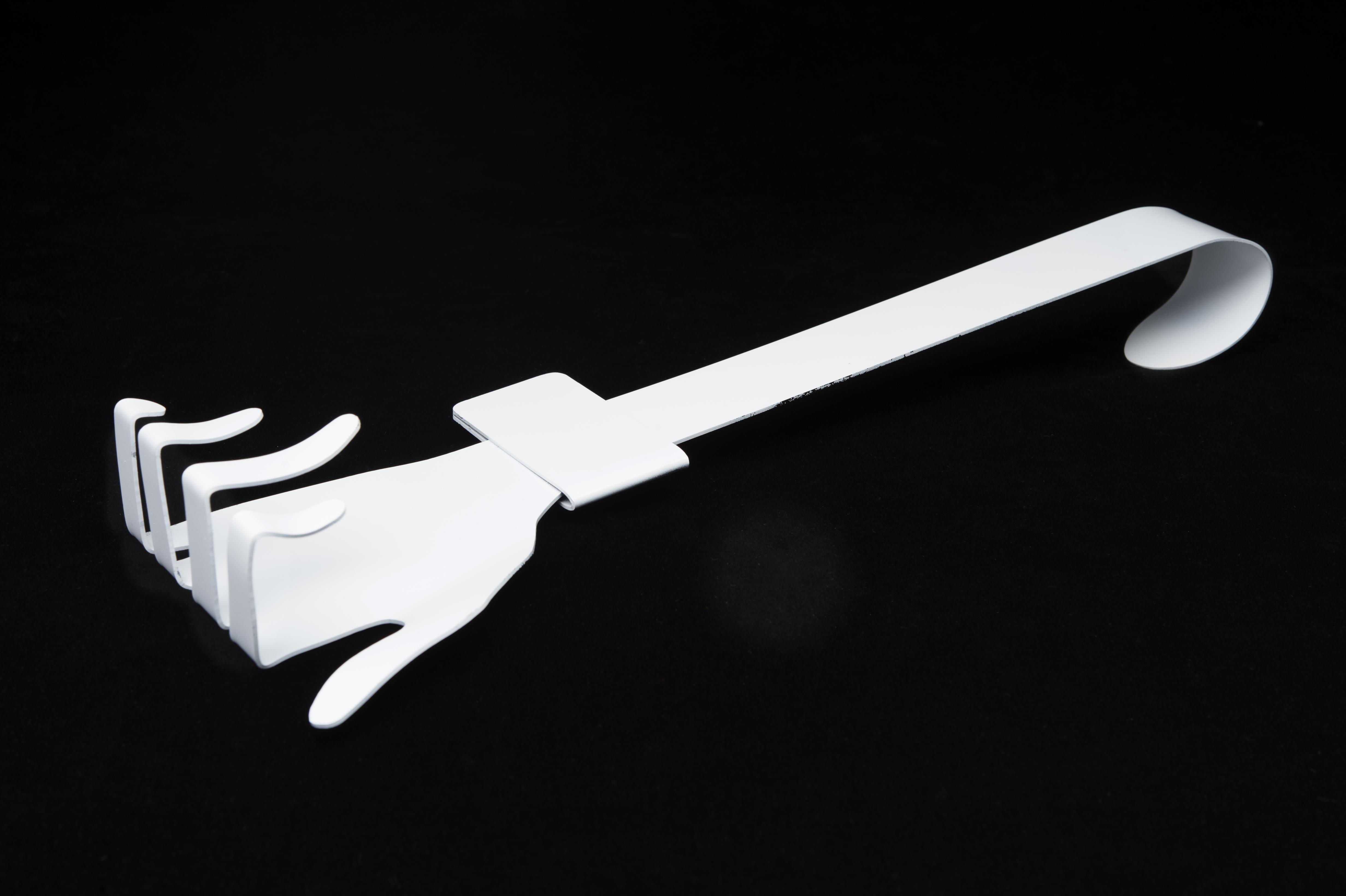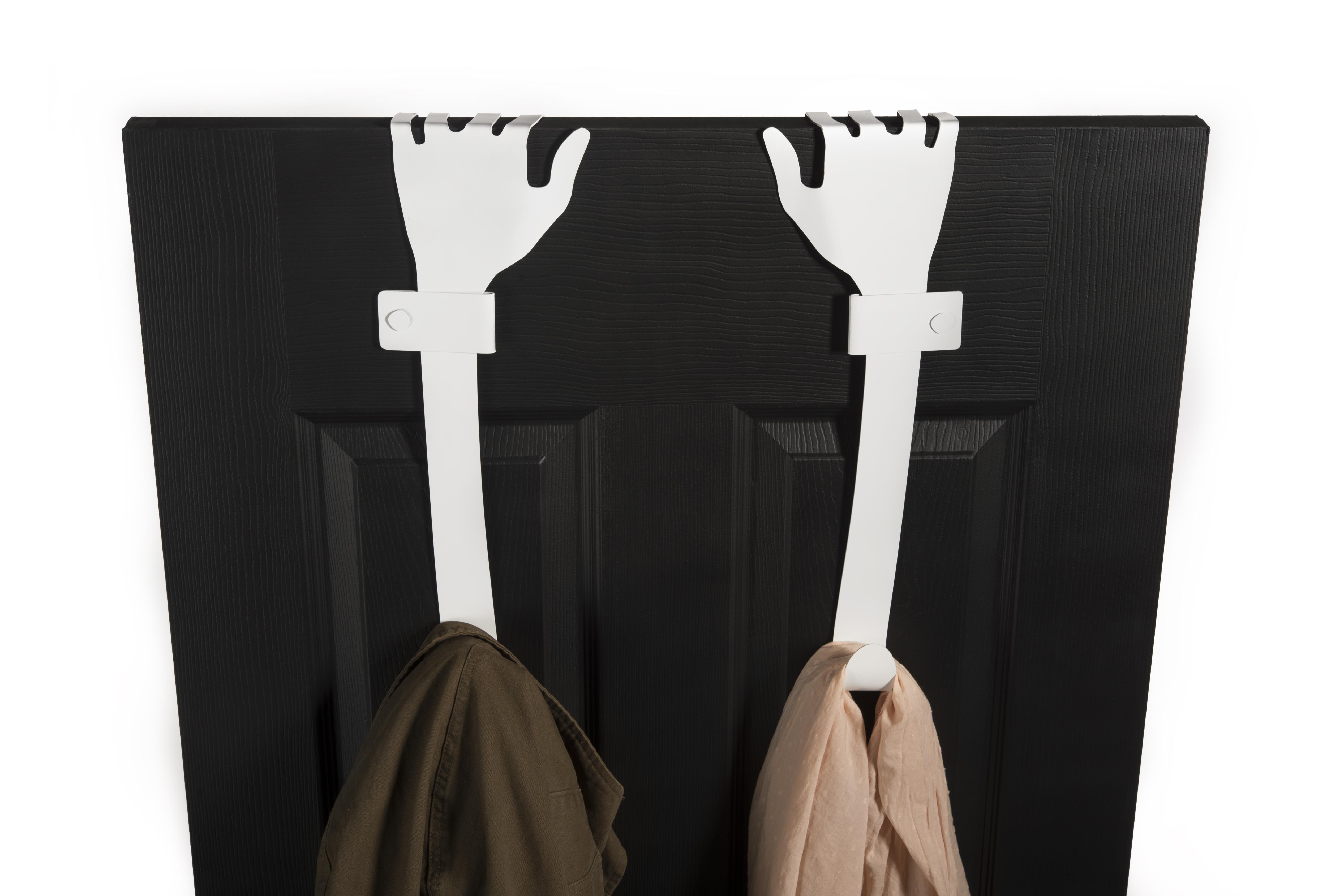 Veronica Brown

Helping Hands



Storage Category: Over the Door



These hands are a spring steel storage solution. Their bent thumbs allow them to grip over a variety of doors, furniture, and more. Space in dorms is extraordinarily valuable, so the goal of this product was to increase storage without decreasing floor space. It takes advantage of the leftover space on either side of over the door mirrors or the edges of a lofted bed frame, giving students a way to utilize every extra surface of their room.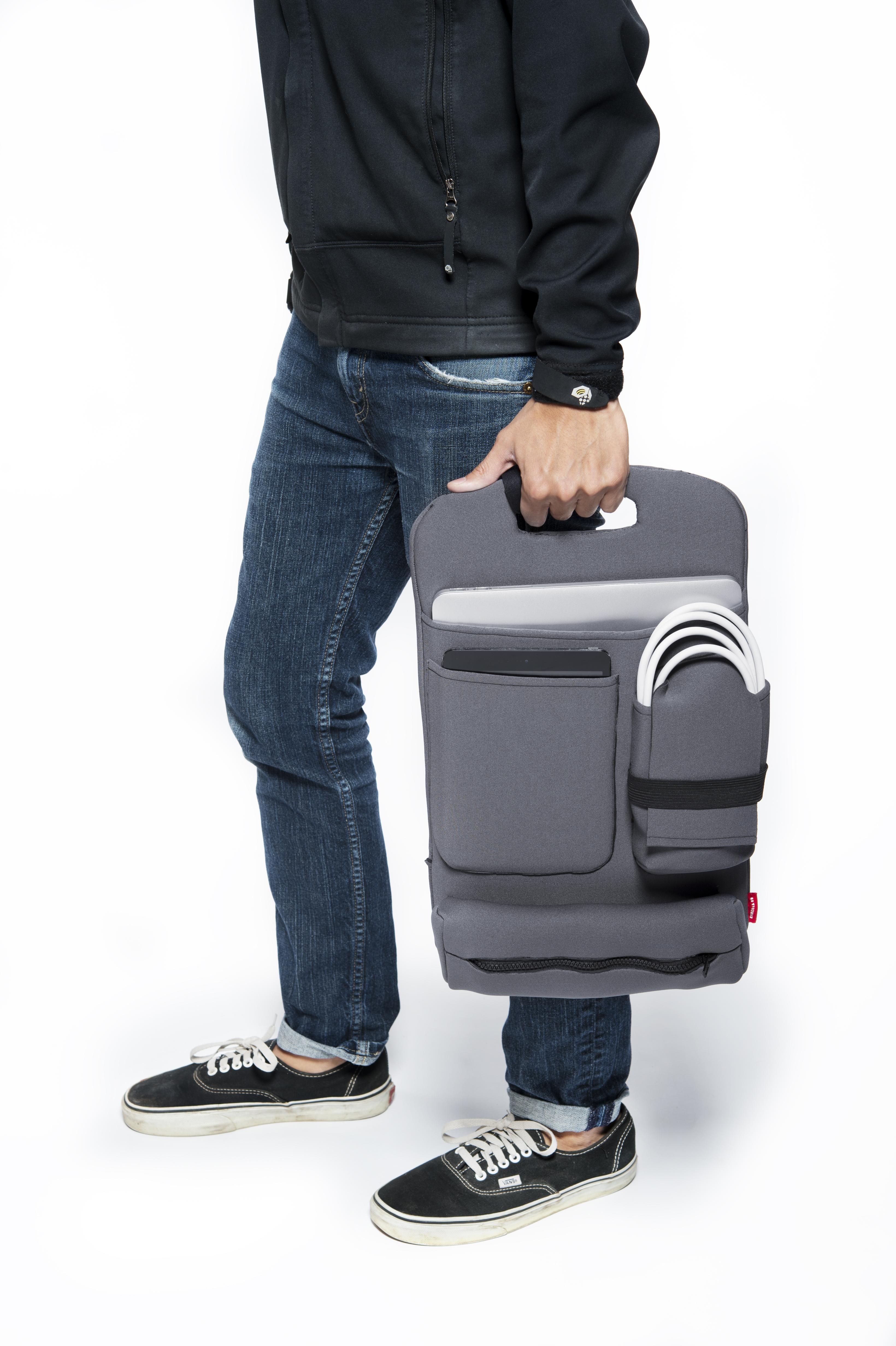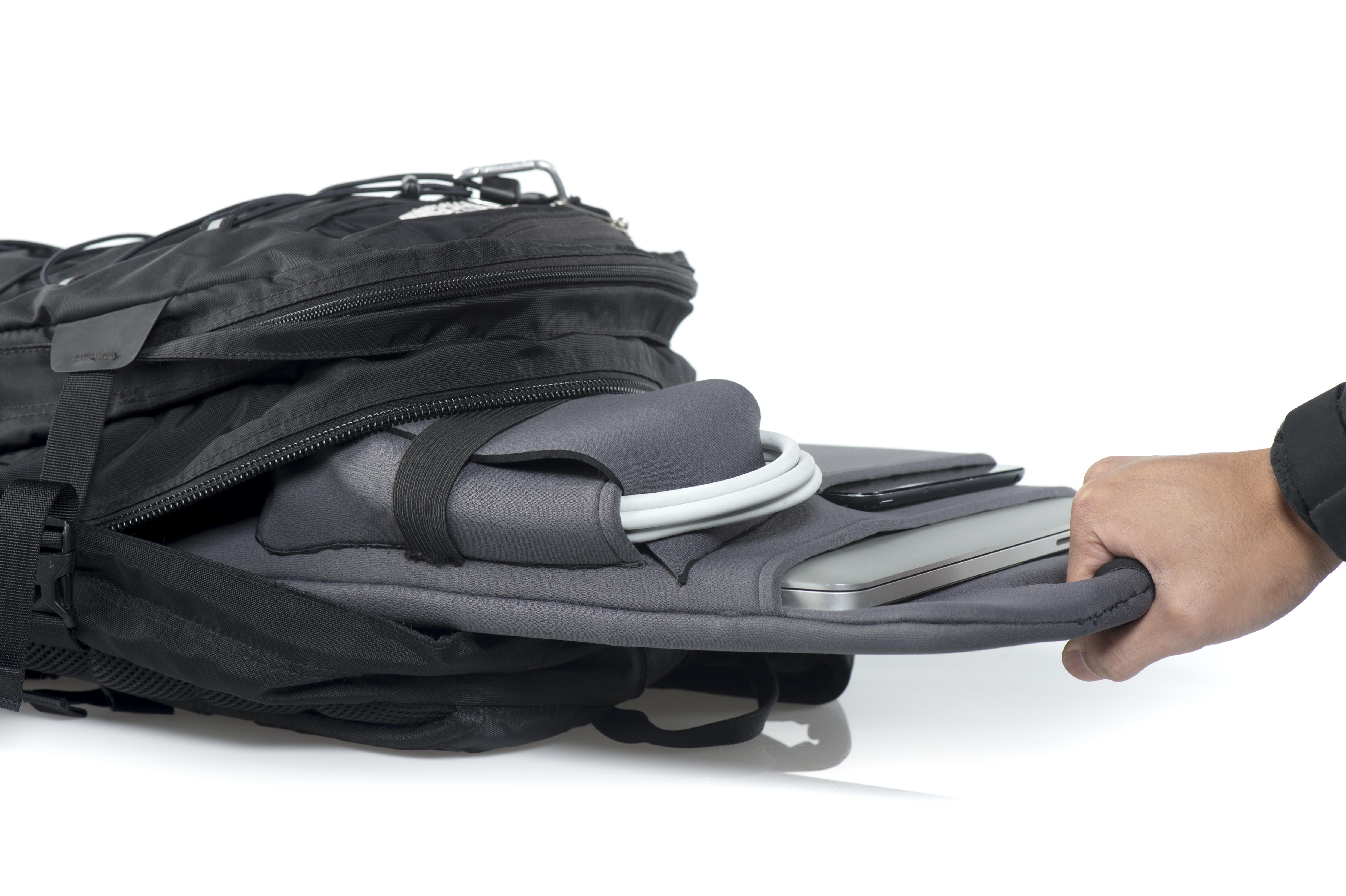 Adam Capron

Backpack Pallet



Storage Category: Desk



The Backpack Pallet is a versatile, "Grab-and-Go" organizer to make transitioning between multiple workspaces easier. It has a thin profile to fit inside a backpack, or it can be carried separately. It serves as a great way to organize work essentials like laptops, tablets, and chargers and can have great applications for backpacks without incorporated organizers.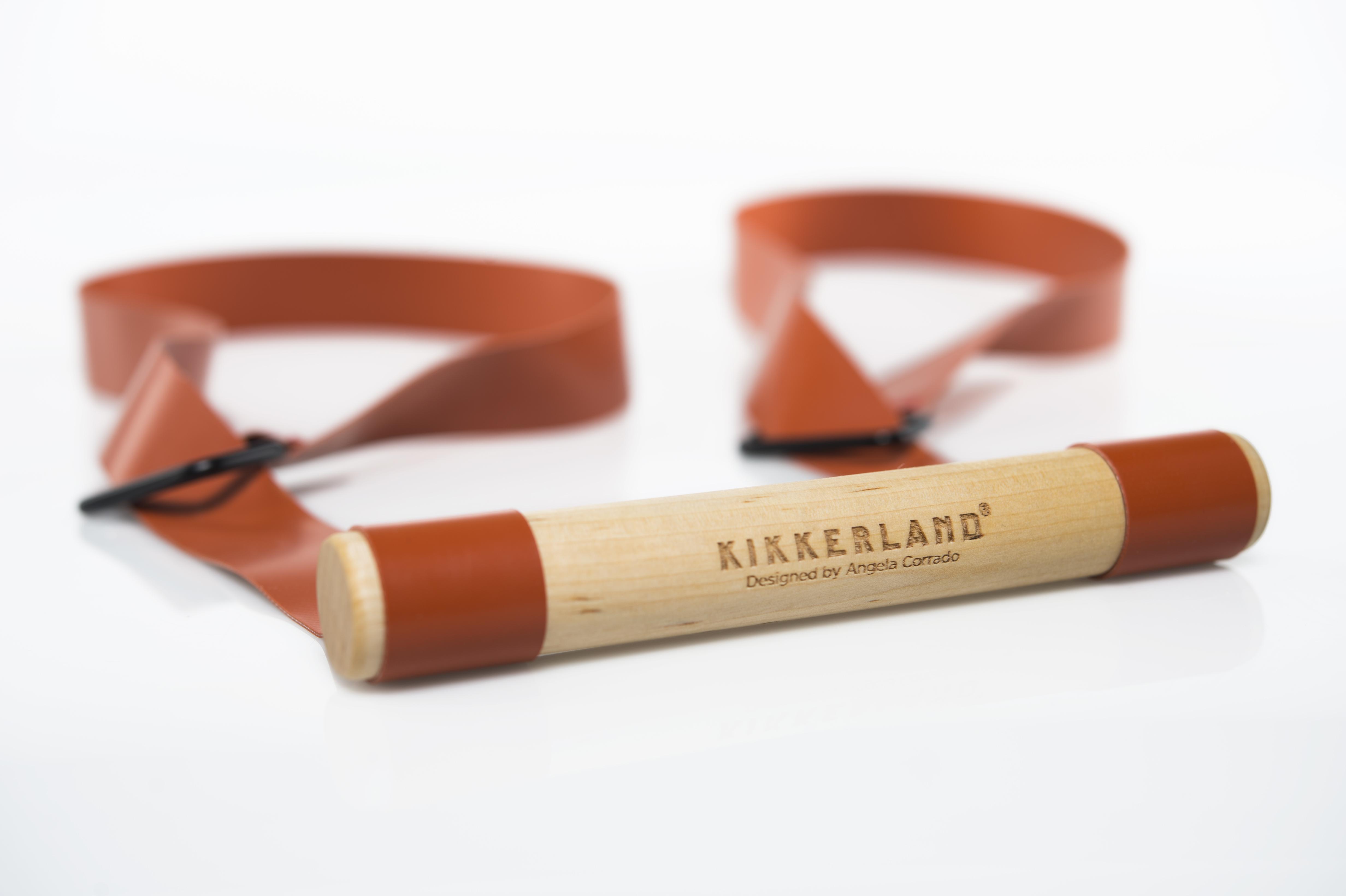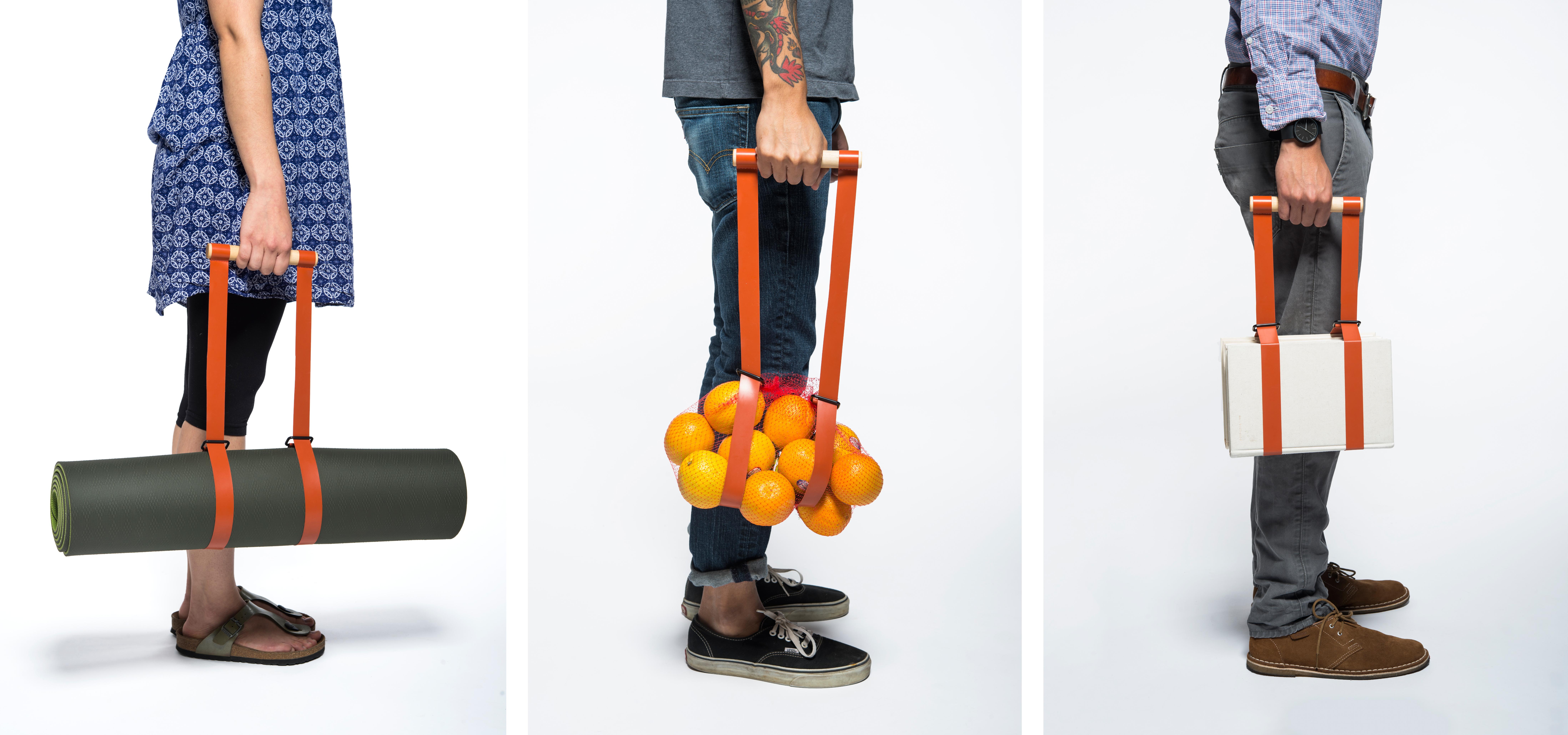 Angela Corrado

Book Binder



Storage Category: Desk



The Book Binder is a simple, elegant way to bind objects together while providing them with a handle for ease of transport. The straps can wrap around a multitude of objects; possibilities include books, papers, or clothes.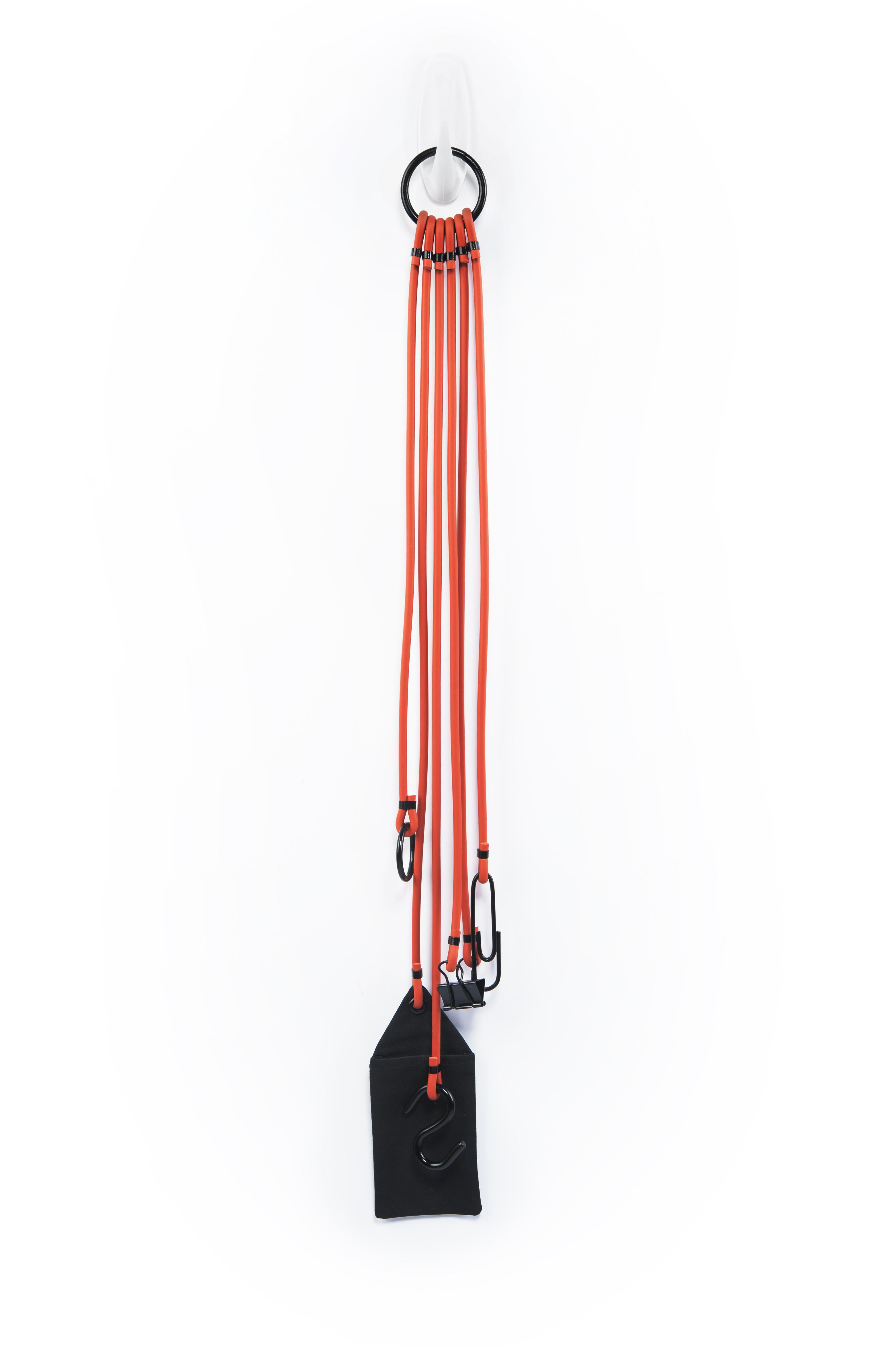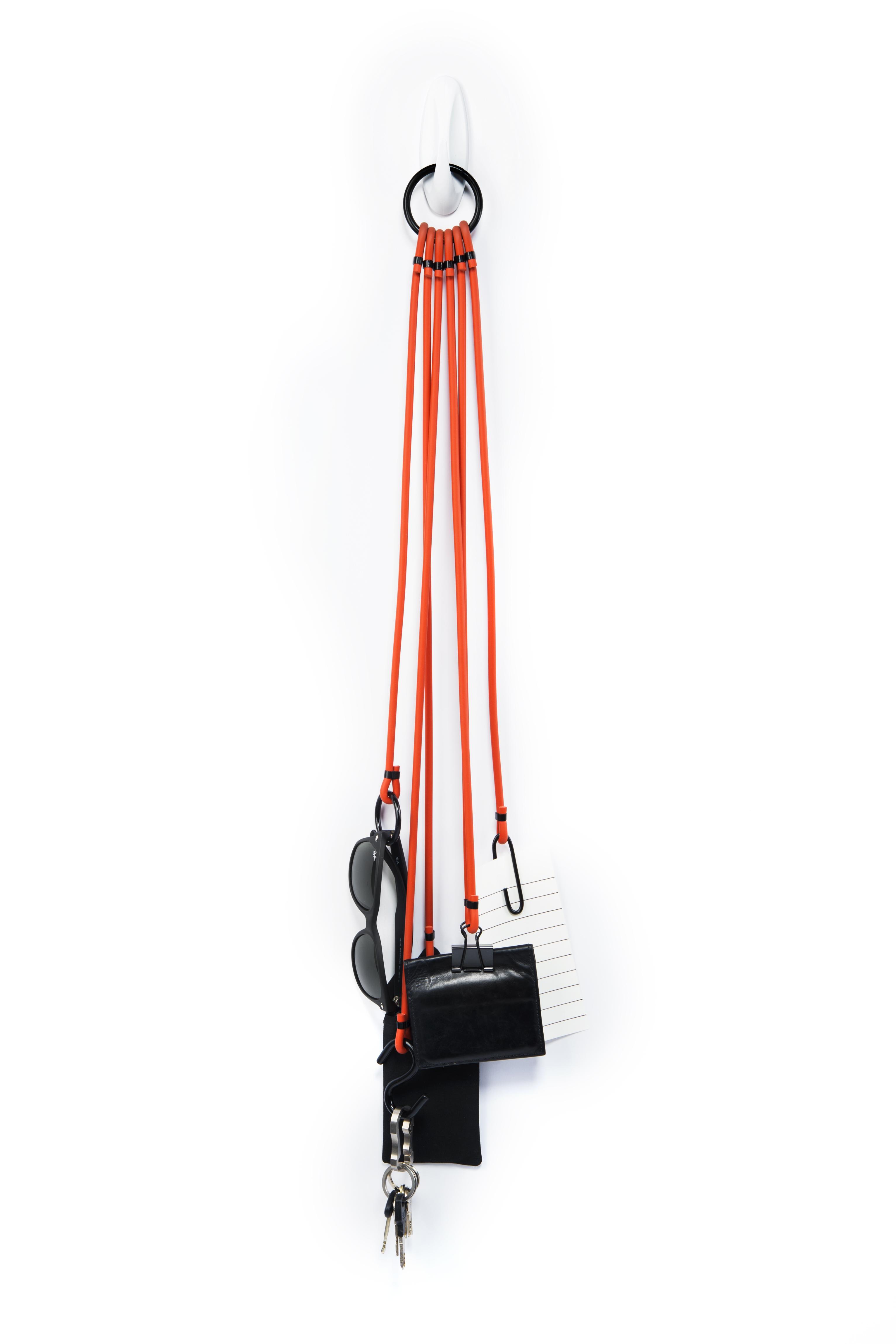 David Donath

The Hanging Butler



Storage Category: Over the Door



The Hanging Butler system holds all the things you don't want to forget when leaving your apartment (wallet, keys, sunglasses, etc). This can be hung anywhere enabling you to place it somewhere convenient, like next to the door.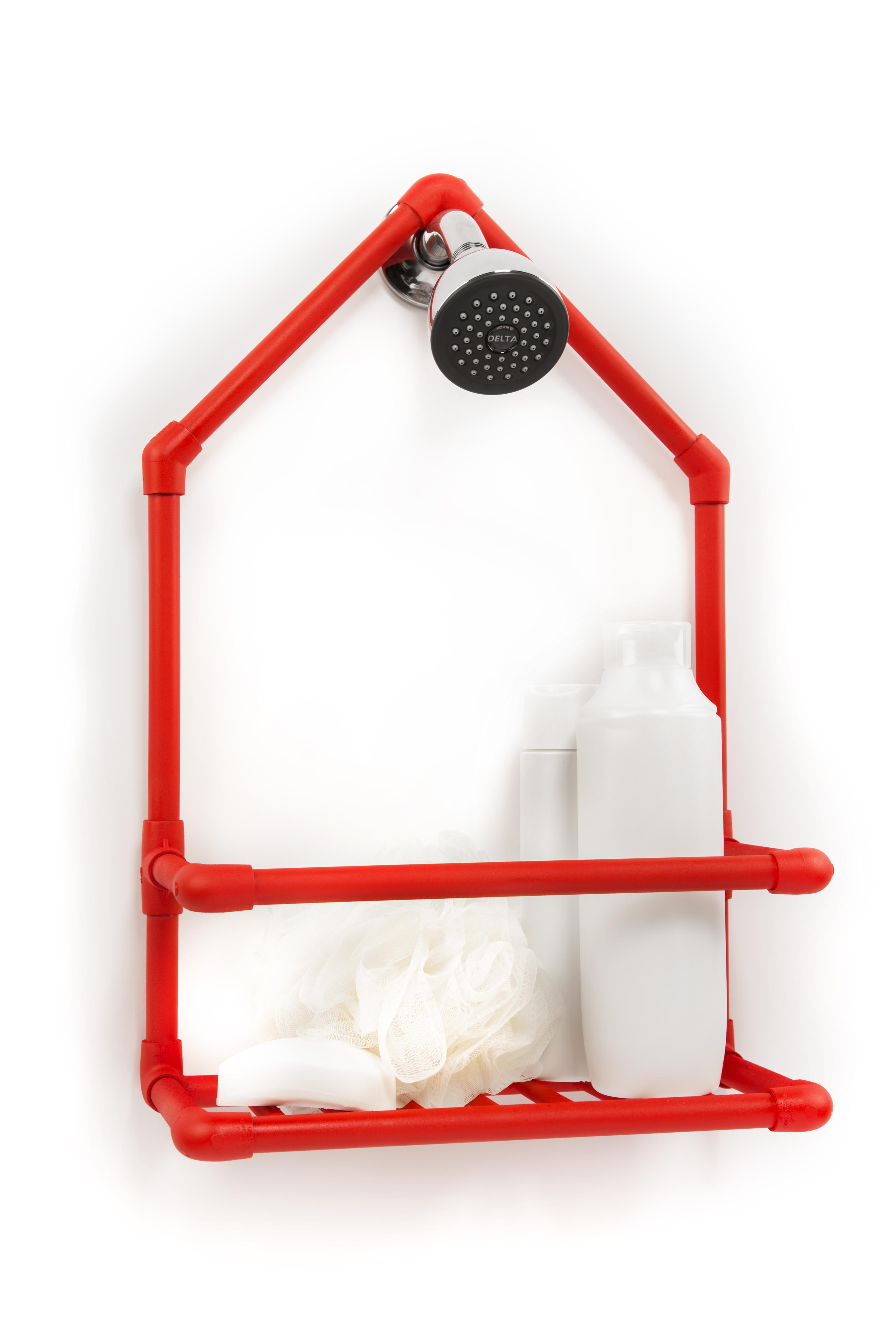 Alex Dupont

Pipe



Storage Category: Desk



Adding a touch of industrial style to your bathroom, Pipe is a hanging shower caddy with the appearance of the plumbing running through your walls. It organizes all of your personal hygiene products and easily slides over your shower head. Unlike similar metal accessories on the market, Pipe is lightweight and would resist corrosion.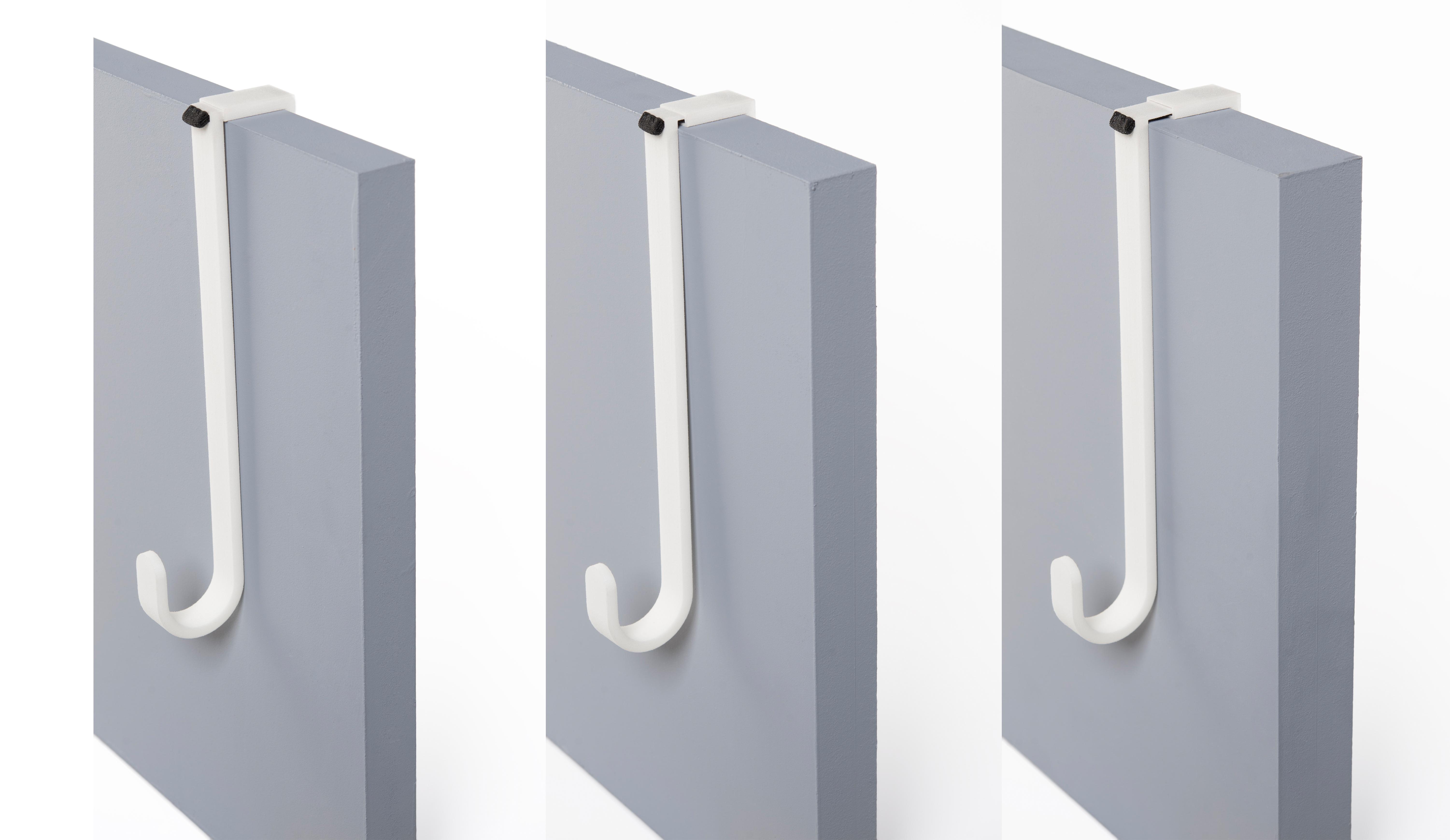 Ryan Gregory

Stretch-Clip



Storage Category: Over the Door



All doors are not created equal. The Stretch-Clip over-the-door-hook accommodates most door thickness. It has a flat bungee cord within that allows the clip to stretch-to-fit on virtually any door. The body is longer so that people who are of short stature would be able to put the product on the door without any help.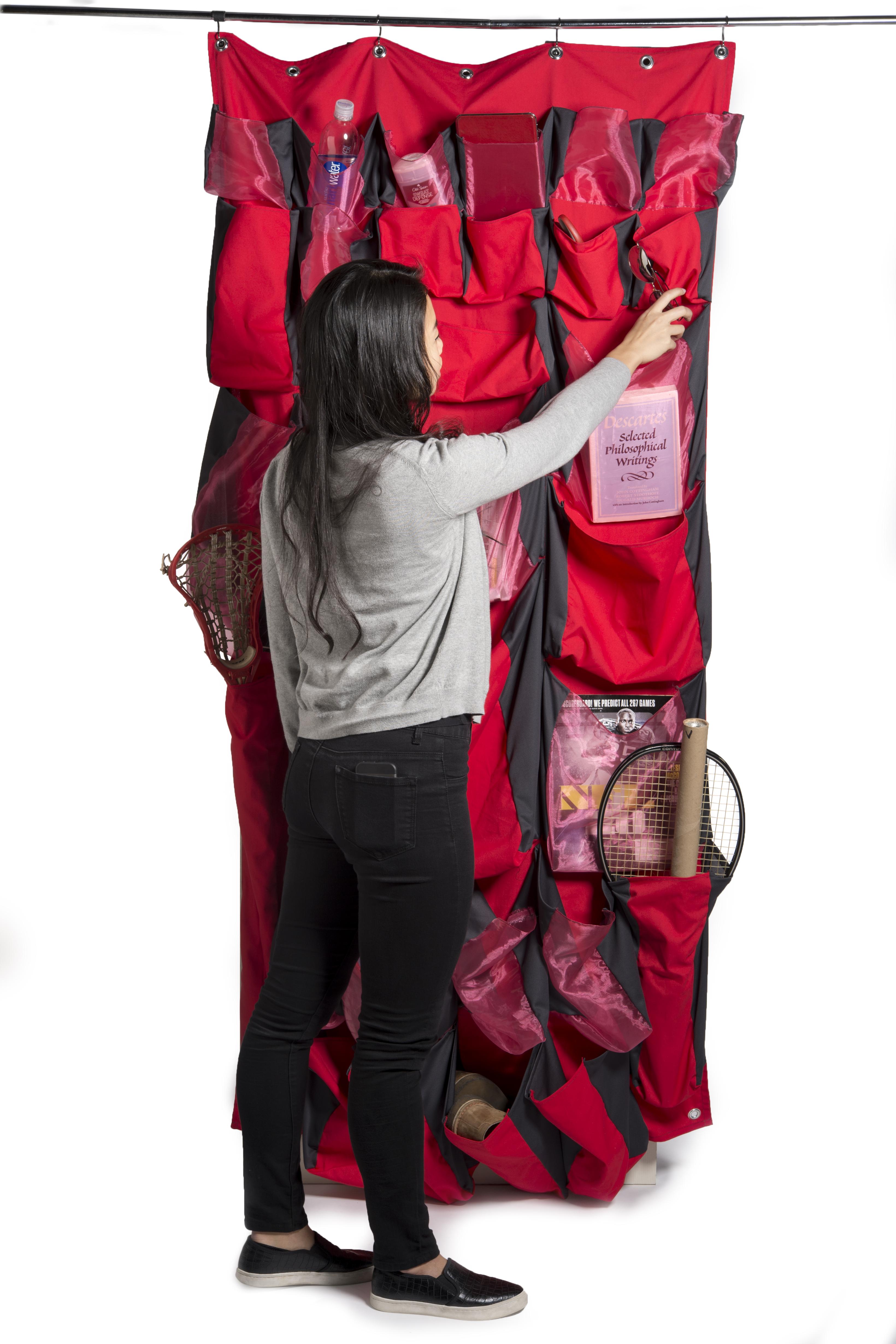 John Lillibridge

Curtain Cabinet



Storage Category: Closet



The Curtain Cabinet replaces most any curtain found in the living space. It contains pockets to hold items ranging in size from phones and keys to magazines and hockey sticks. The size and depth of the pockets follows the function of each pocket, some big, some small, wide, deep, shallow, etc. Materials like translucent or stretchable fabrics enhance the adaptability of certain pockets so that no matter what kind of stuff you need to store, the curtain has a place for it.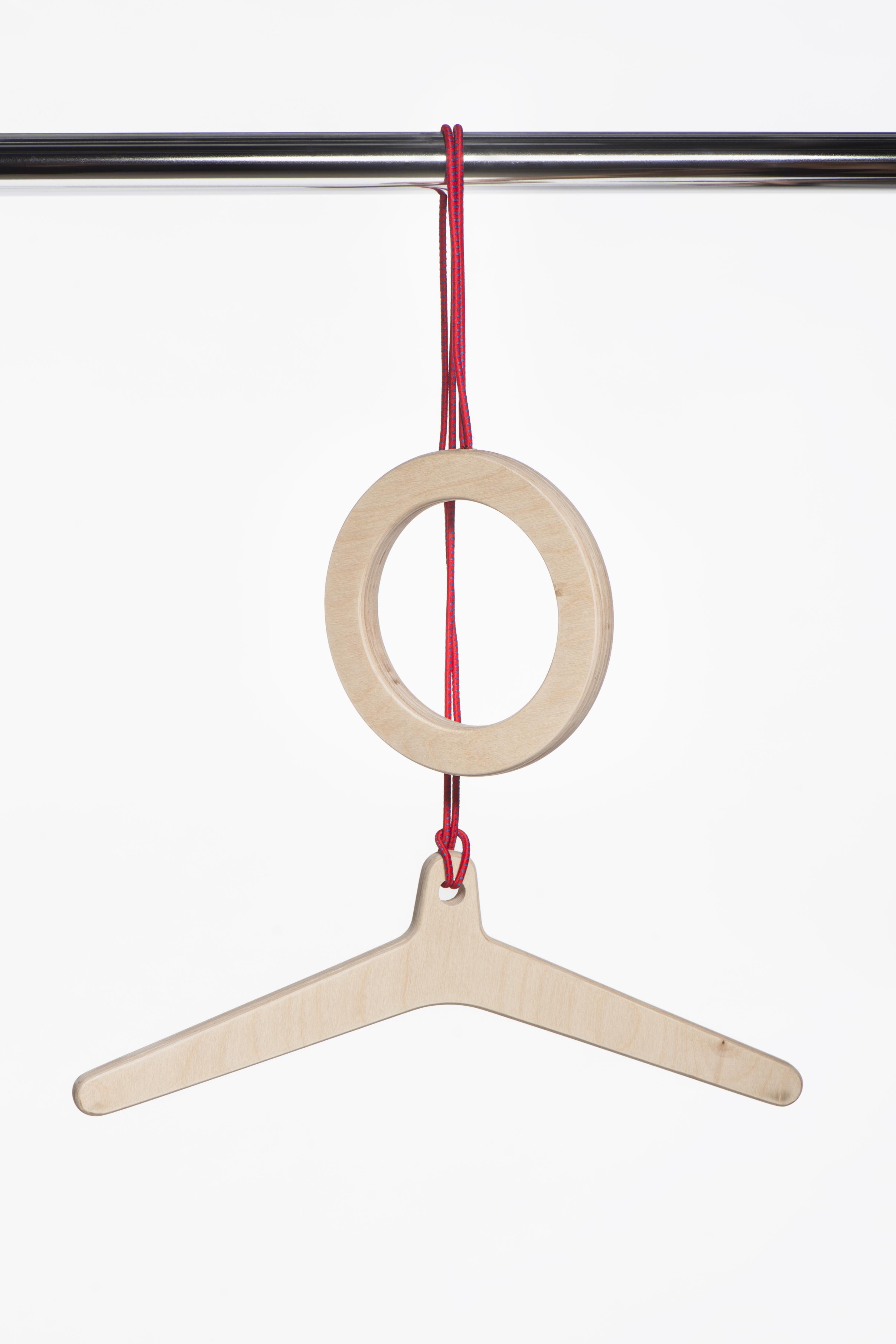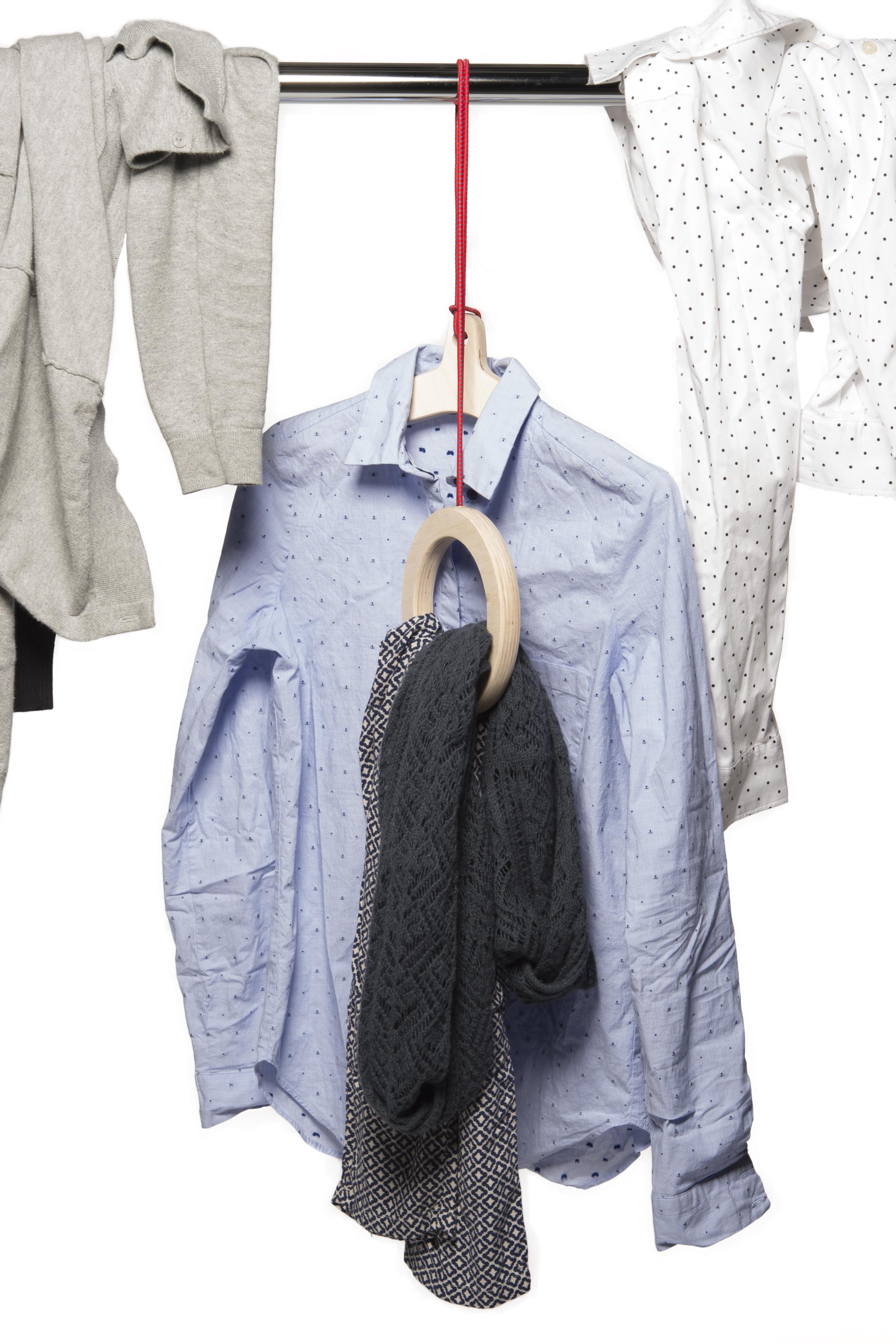 Jane Lim

Hoop and Hang



Storage Category: Closet



As simple as it sounds, toss any piece of clothing over the hoop and then hang. The "Hoop and Hang" is inspired by the nostalgic fun of putting outfits together. The flexible structure and unique proportions of this hanger allows garments to be easily hooped around and hold multiple pieces of clothing together as an outfit.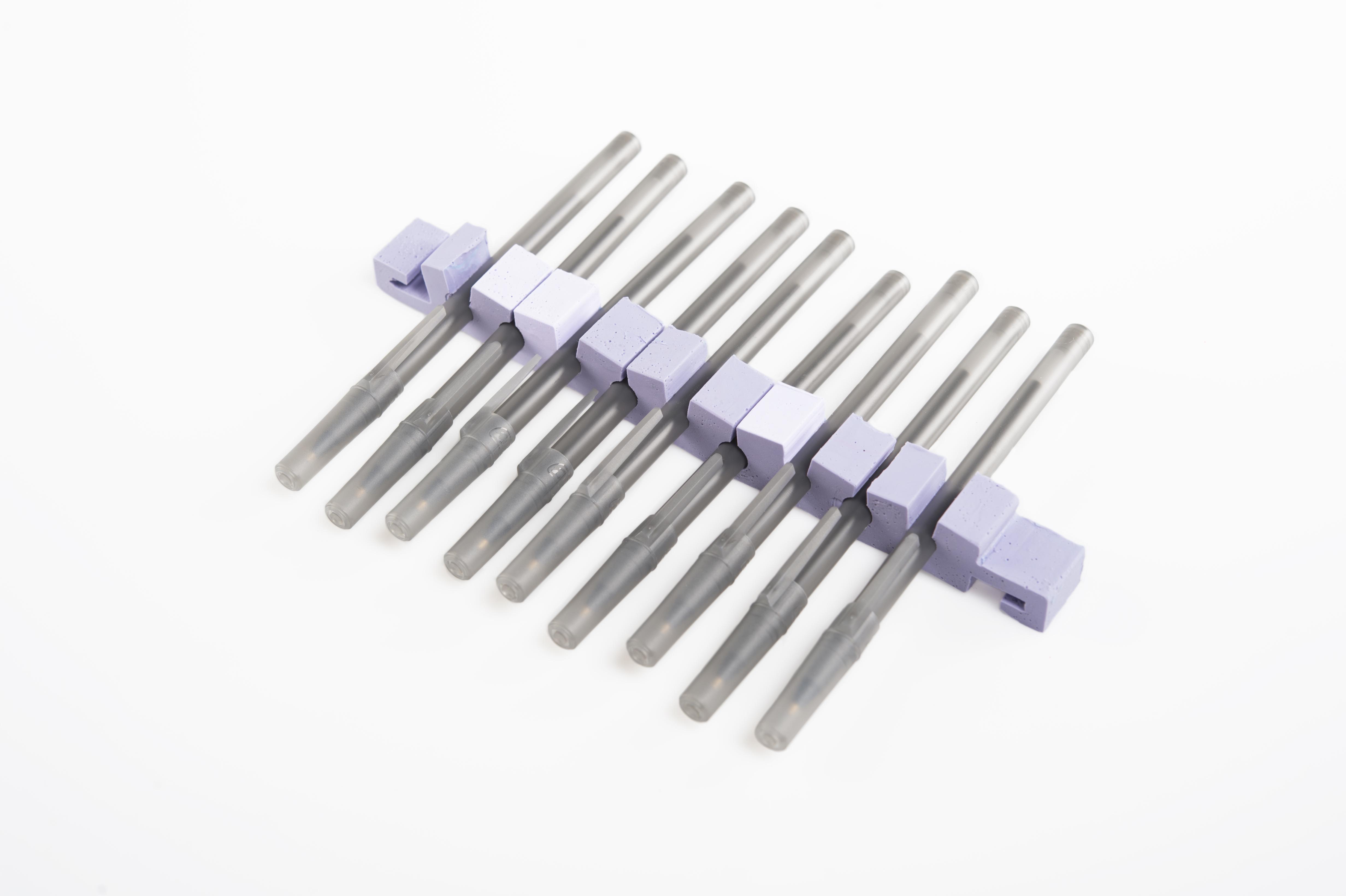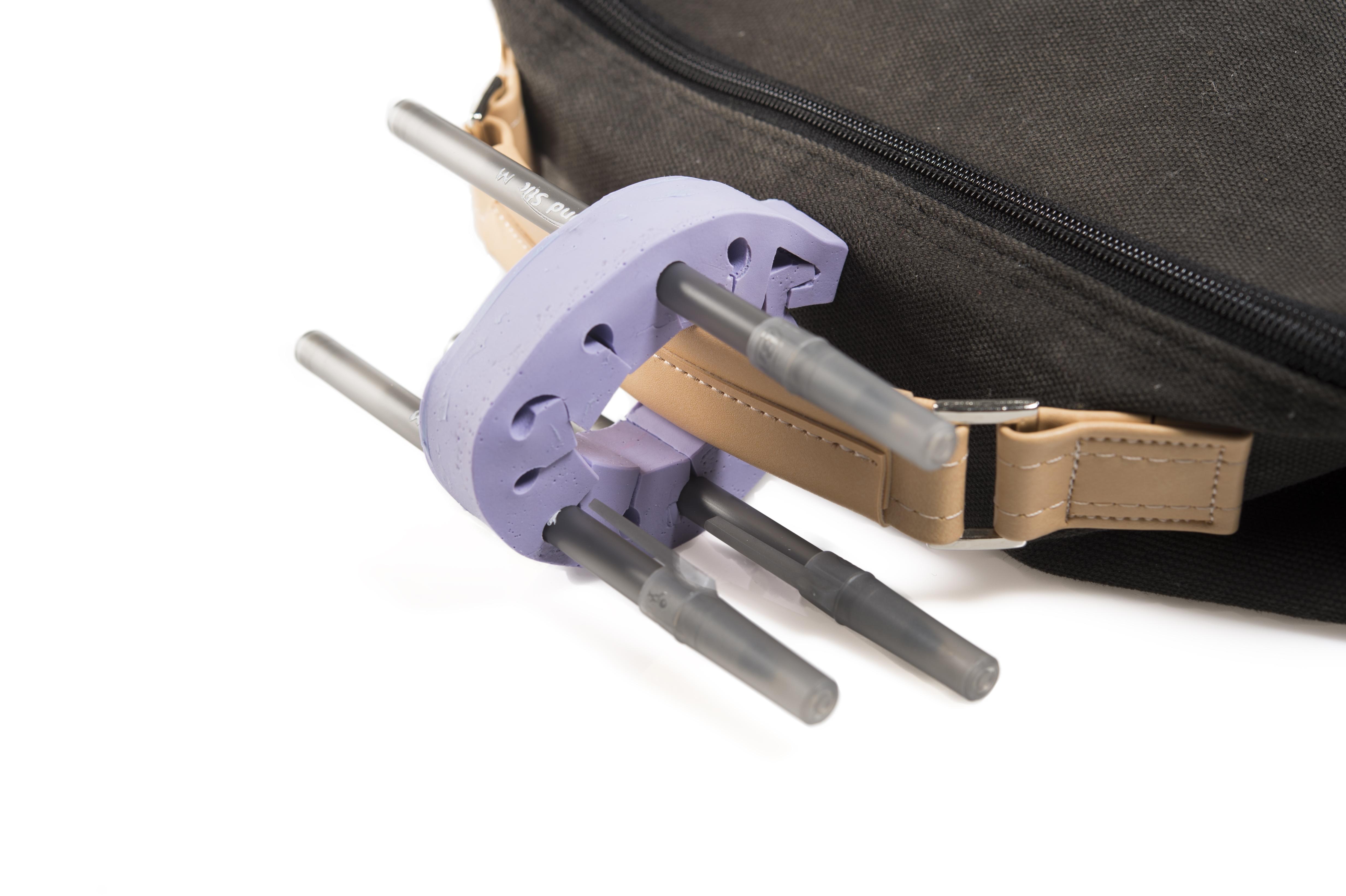 Hannah Mokoski

Caterpillar Pen Holder



Storage Category: Desk



The Caterpillar Pen Holder is a new and better way to store your pens. Your pen case now displays and keeps your pens visible and easy to get to. It is made out of a flexible material so that the pens are gripped and will not fall out until you want them to. The hooks on the ends allow for the product to curl in on itself to be transported then unravel when you reach your destinations.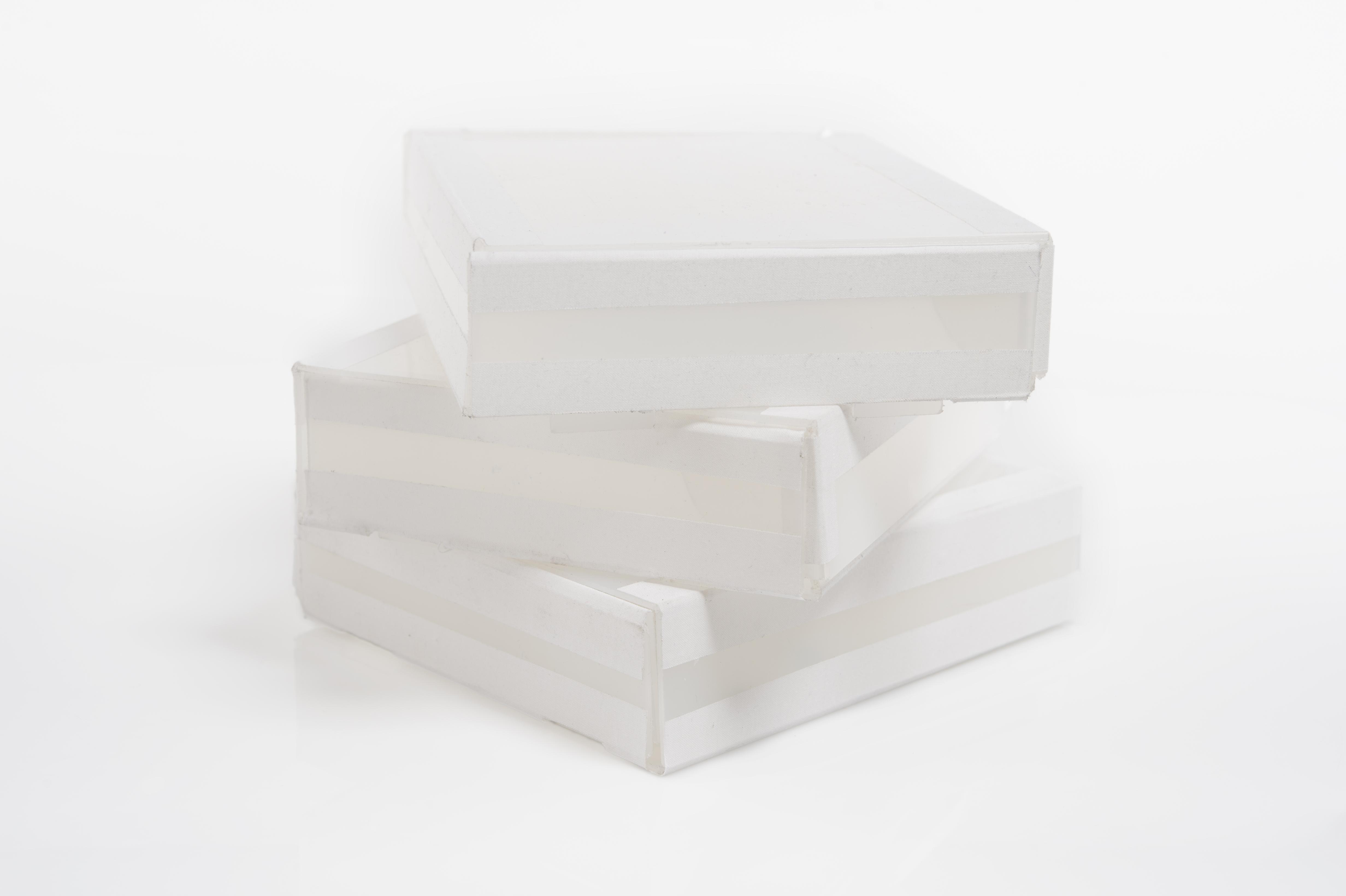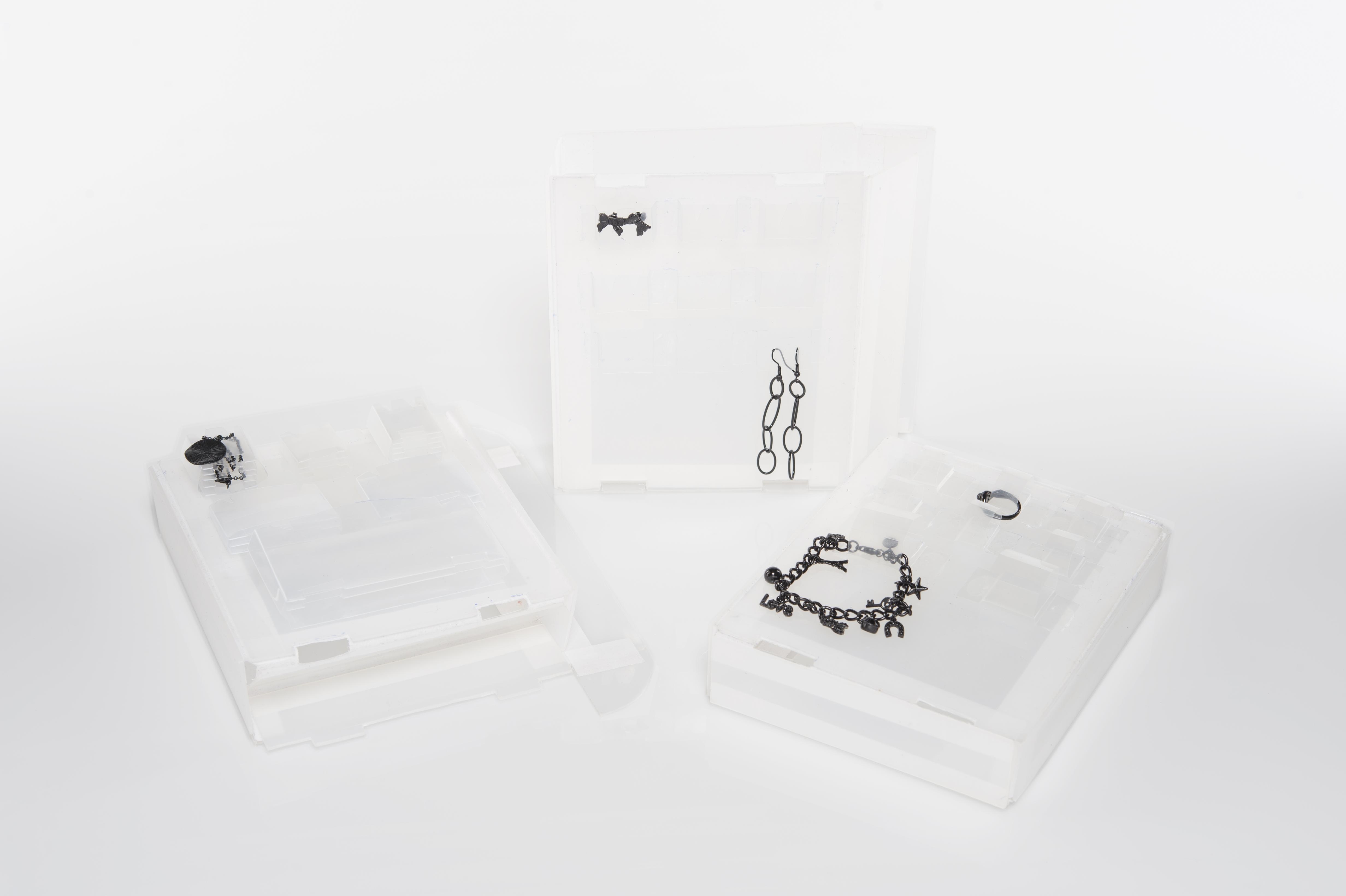 Hannah Mokoski

Origami Jewelry Box



Storage Category: Jewelry



The Origami Jewelry Box is a beautiful and efficient alternative to a large structure for jewelry storage. These pieces allow storage of individual pieces or groups of jewelry in small package like structures. The structures are made out of polypropylene so although it looks delicate, it is durable. These storage pieces take up very little space making them ideal for anyone living in a small space or for traveling with jewelry.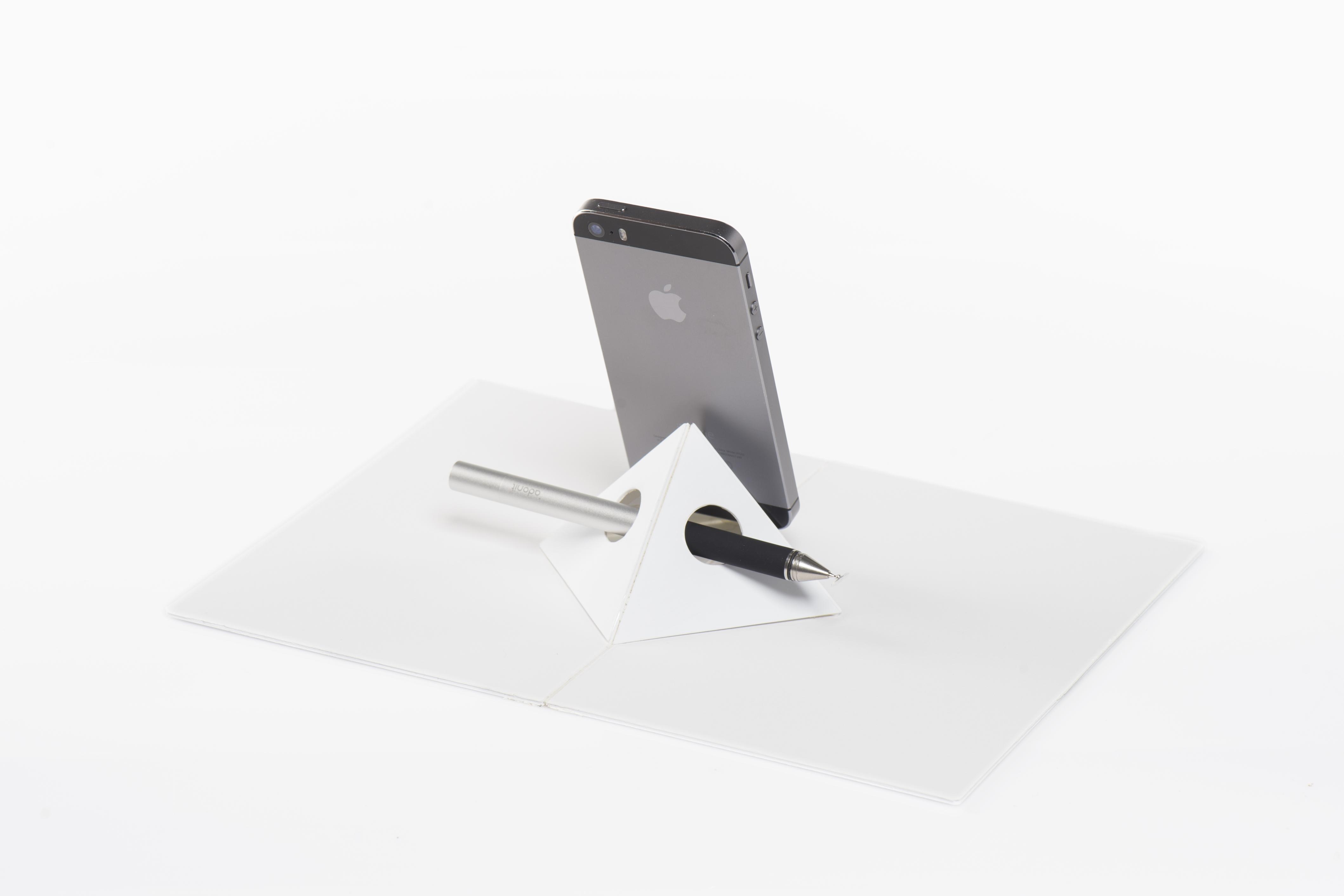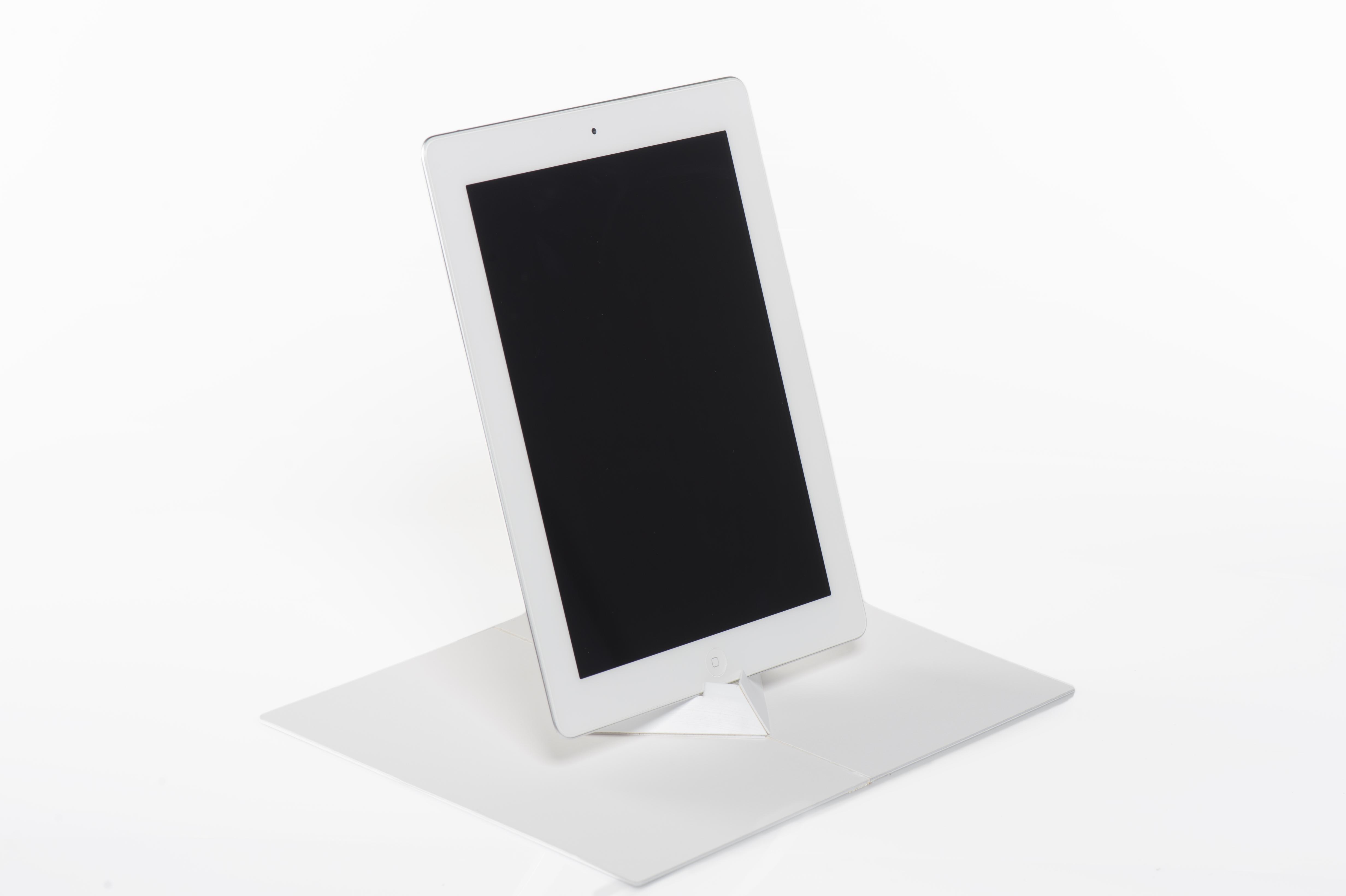 Daniel Moreno

Pop-up Tech Book



Storage Category: Desk



The Pop-up Tech Book is a cleaver organizational tool. It packs flatly and unfolds into a desktop organizer for electronics: a phone and tablet stand hybrid with pen holder. The shape of the pyramid is clean, simple, and attractive. The materials selected are strong to support phones and tablets.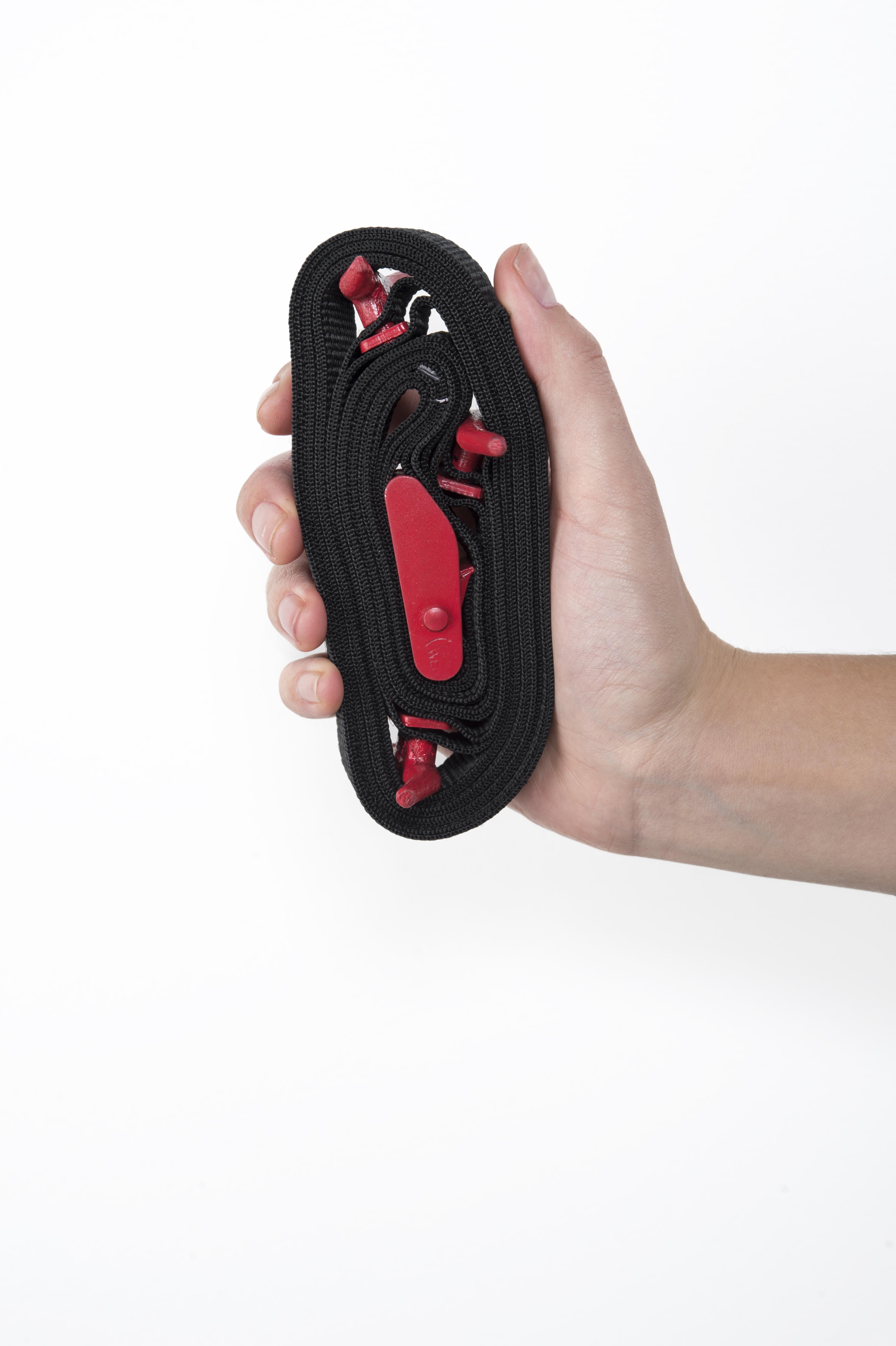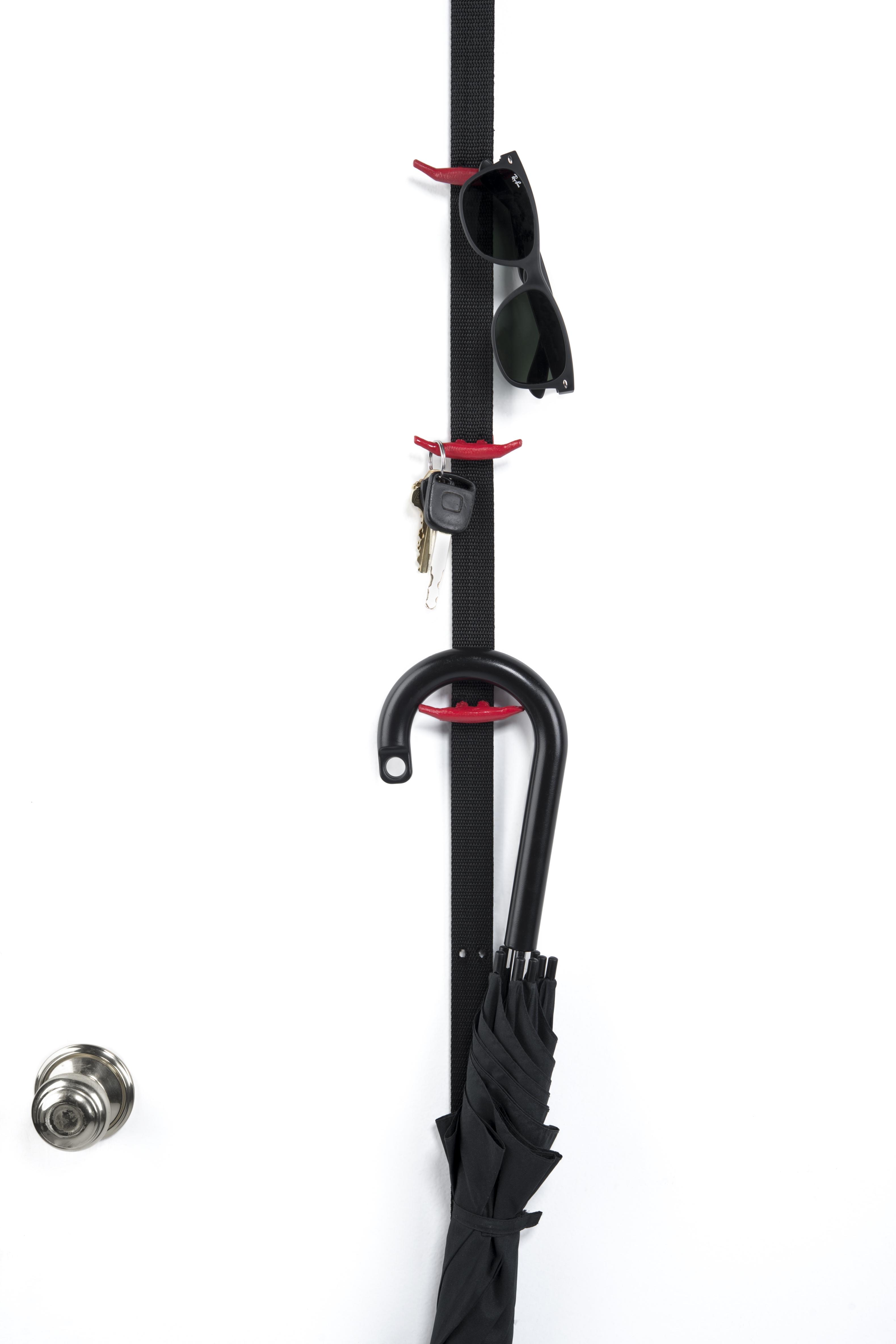 Holly Neel

Door Belt



Storage Category: Over the Door



This over-the-door concept eliminates the guess work and struggle of fitting a hook over the door ledge by taking the form of a single large band. The large hooks can interact with hangers, caribiners, key rings, towels, shoes, and anything else the user sees fit. Its soft material and easy assembly reduce the risk of damage and add a component of playfulness while permitting minimal footprint on retail shelves.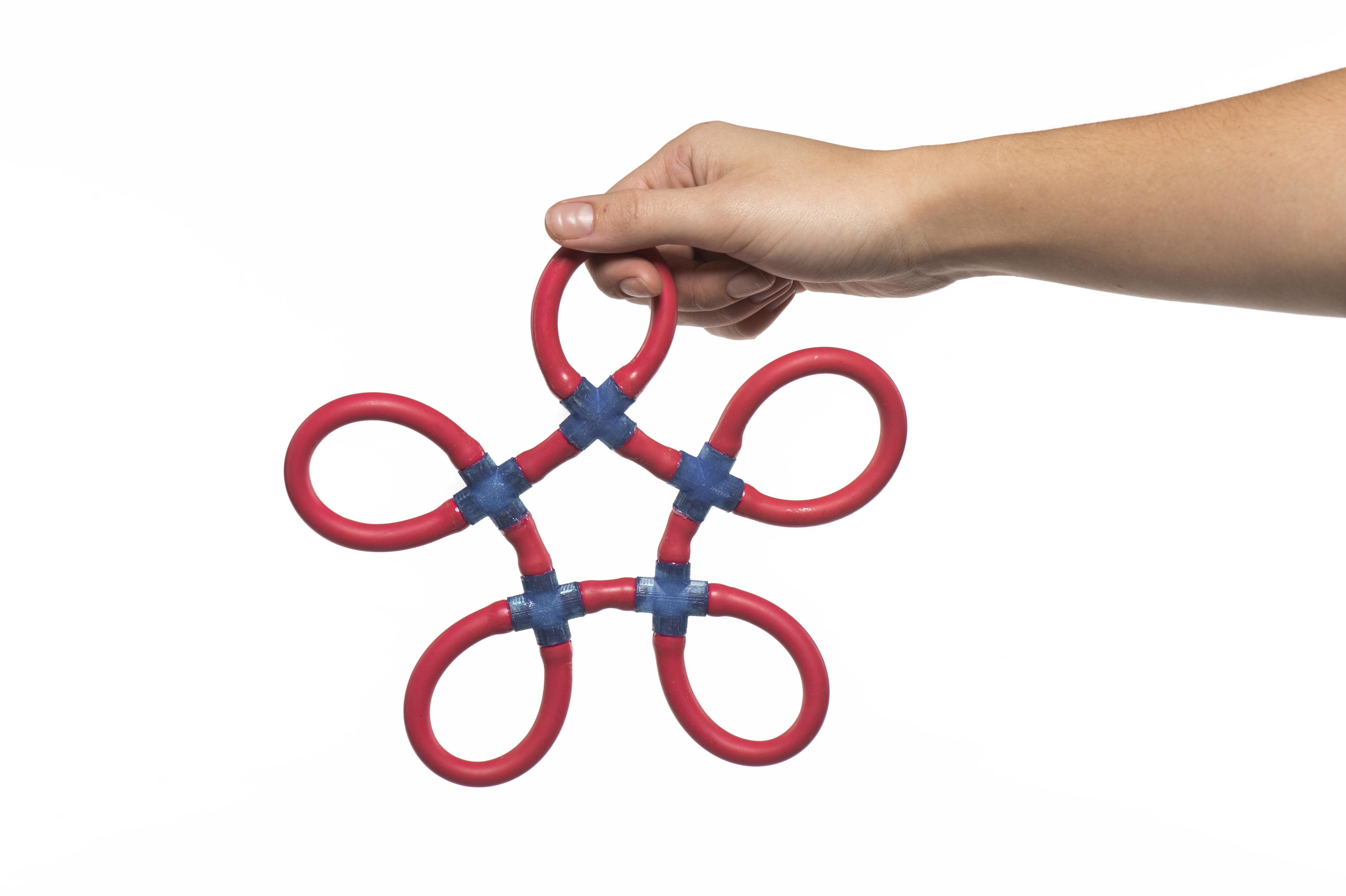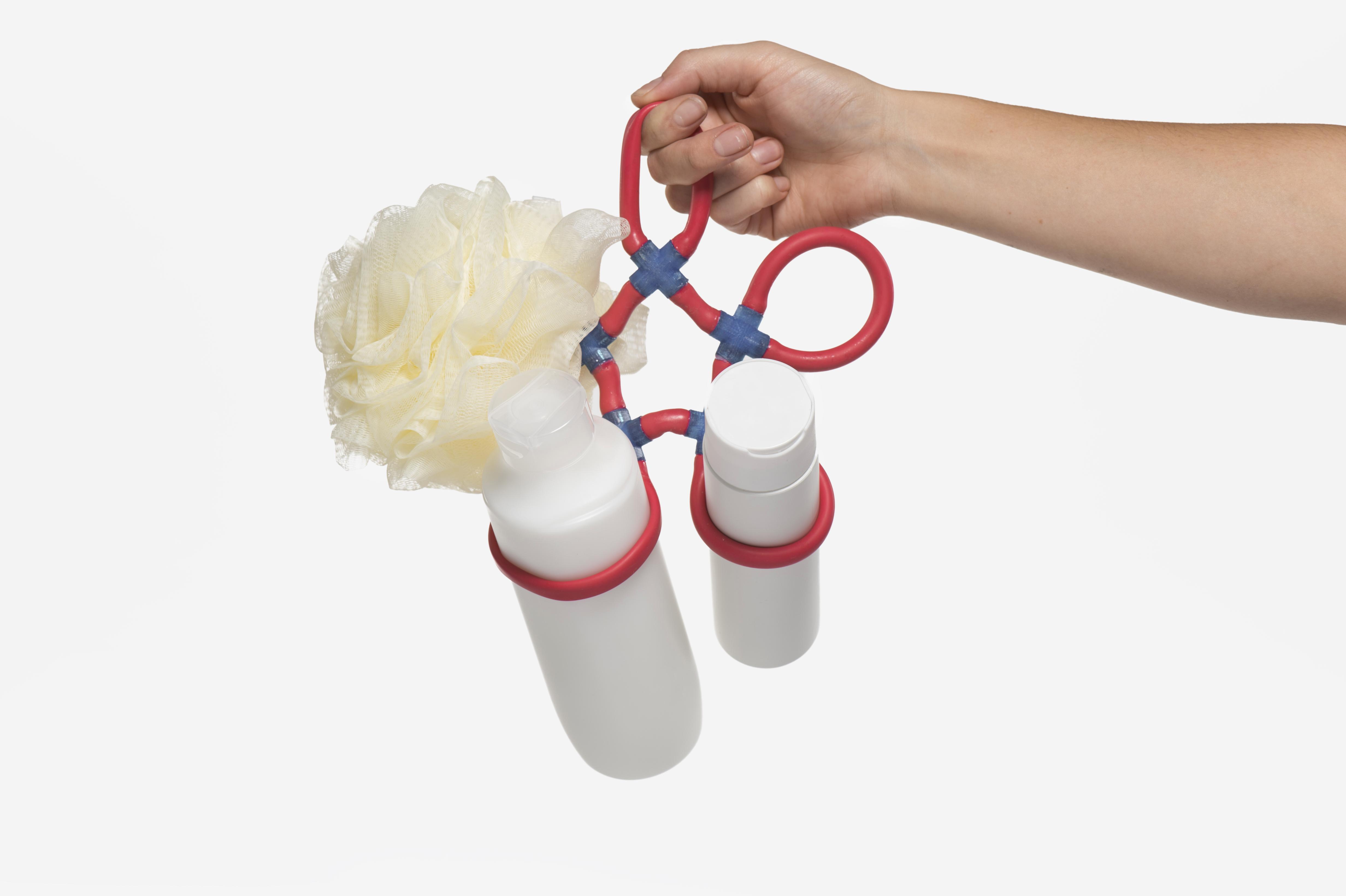 Holly Neel

Yoke Caddy



Storage Category: Closet



Sharing a bathroom at the gym, in the dorms, or during travel means that your shower supplies have to be self contained enough to facilitate frequent transitioning from wet to dry, and from stationary to moving while also staying accessible enough for use. This concept is designed to hang in the shower or closet, or clip directly onto a gym or travel bag. The form reference to traditional "six-pack rings" engages a sense of playfulness conducive to the Kikkerland product dialogue while its minimal surface contact with the shower product means less chance of mildew build-up.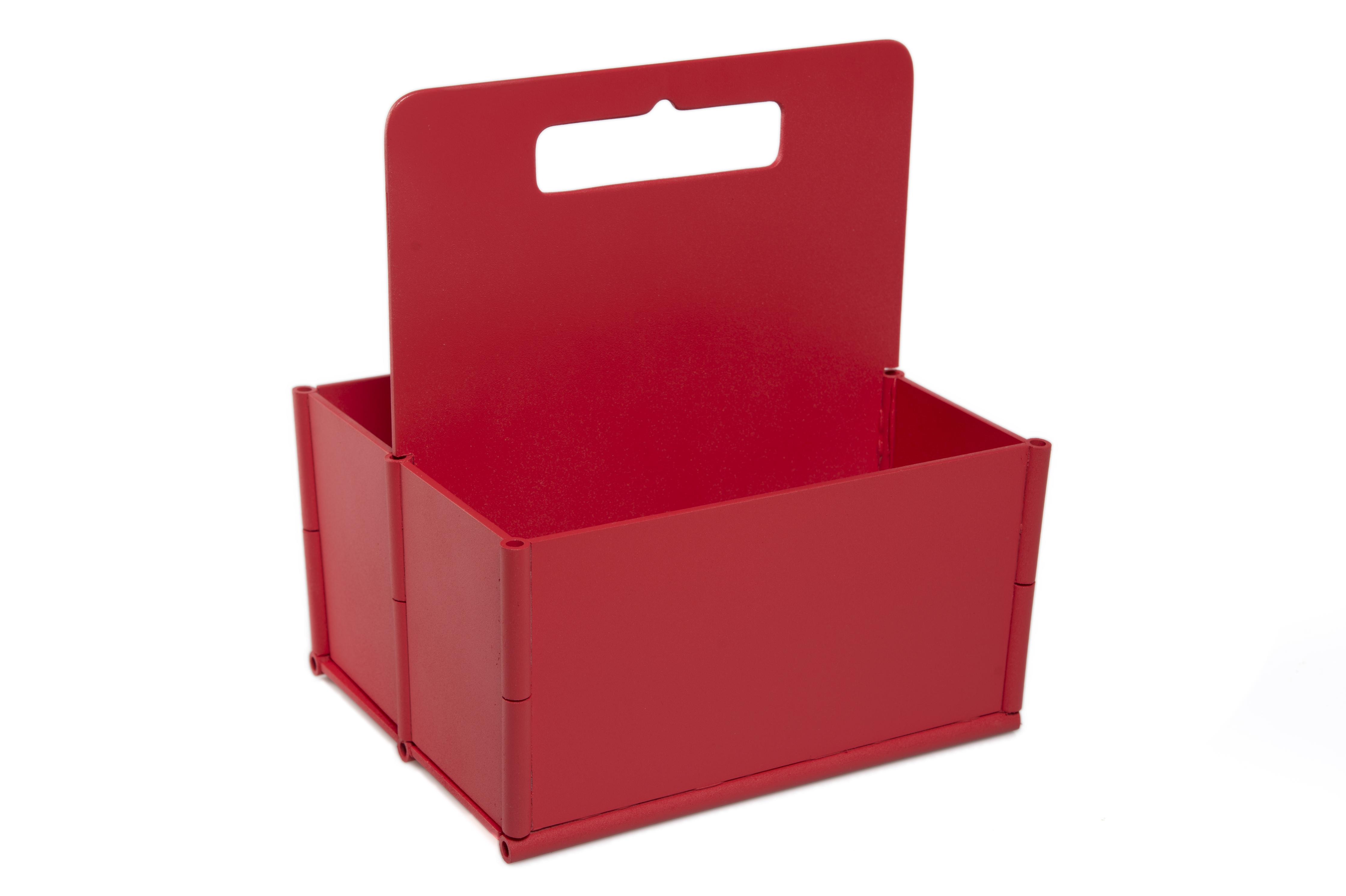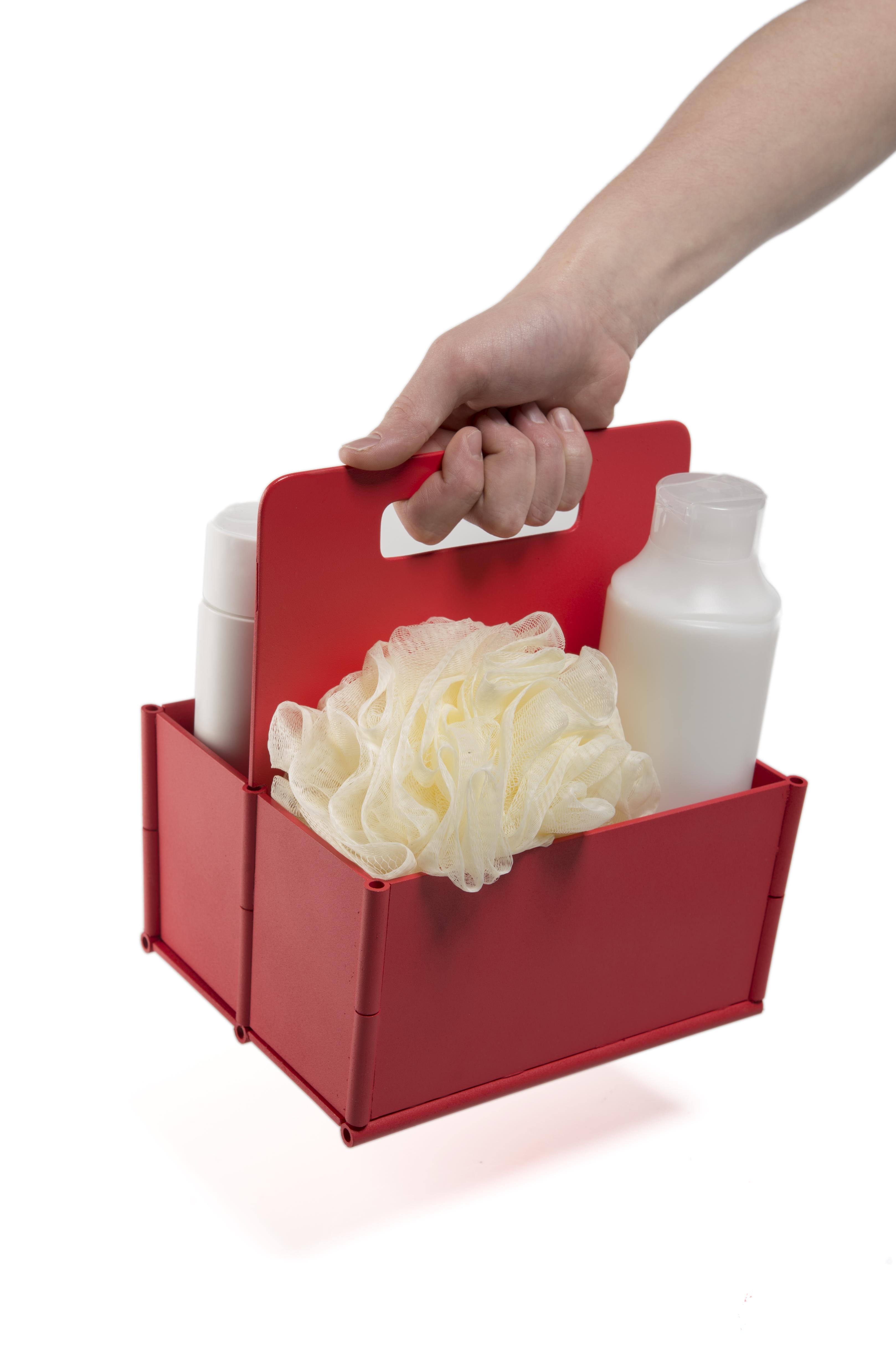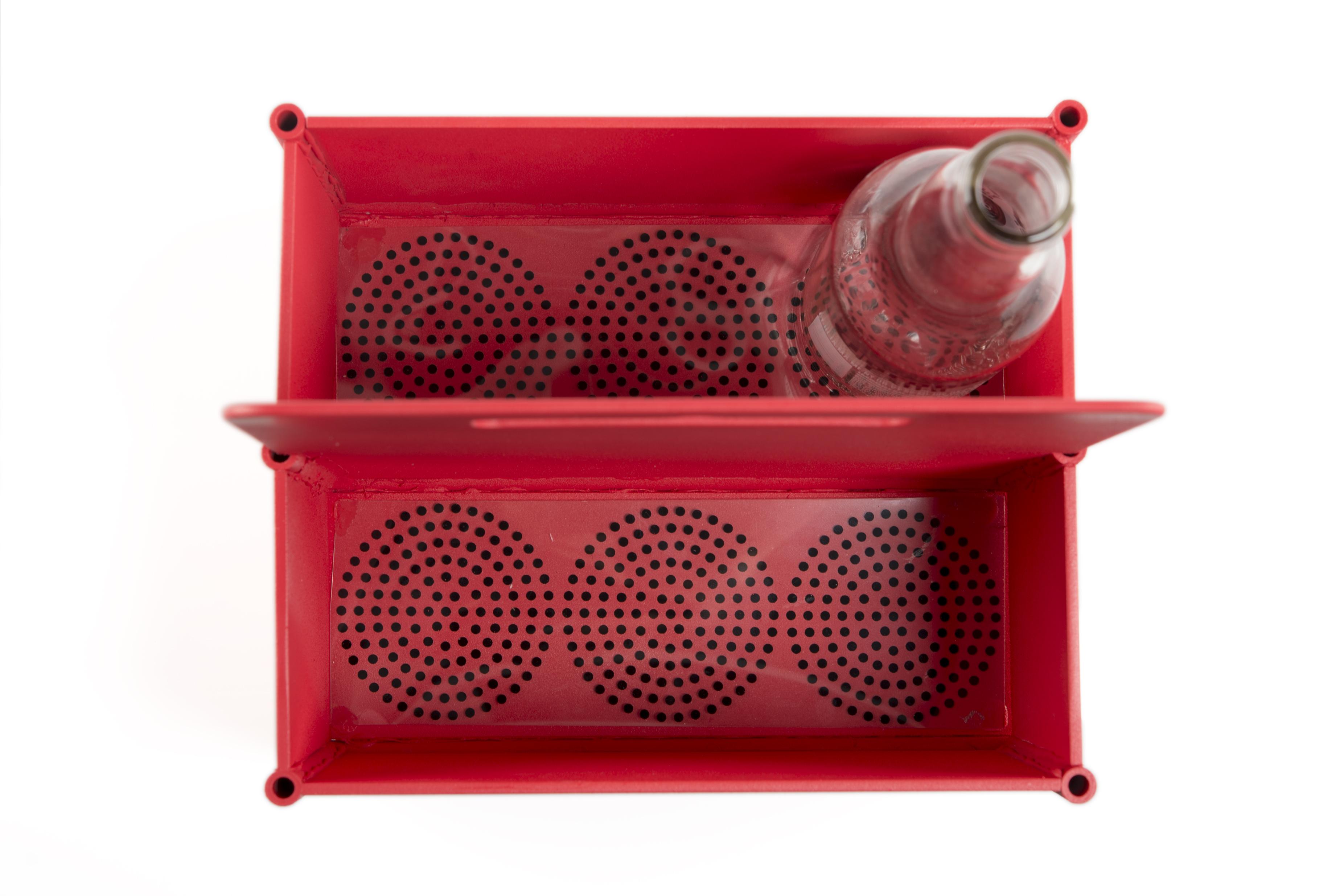 Stephen Petoniak

71 Oz Shower Caddie



Storage Category: Desk



The 71 Oz Shower Caddie envisions a minimalistic approach to shower storage. Its flat packed design allows easy storage while not in use, and the form of the six pack shines a playful lens on an otherwise drab object. A true American icon, this six pack encourages a fun way to help you stay clean and organized.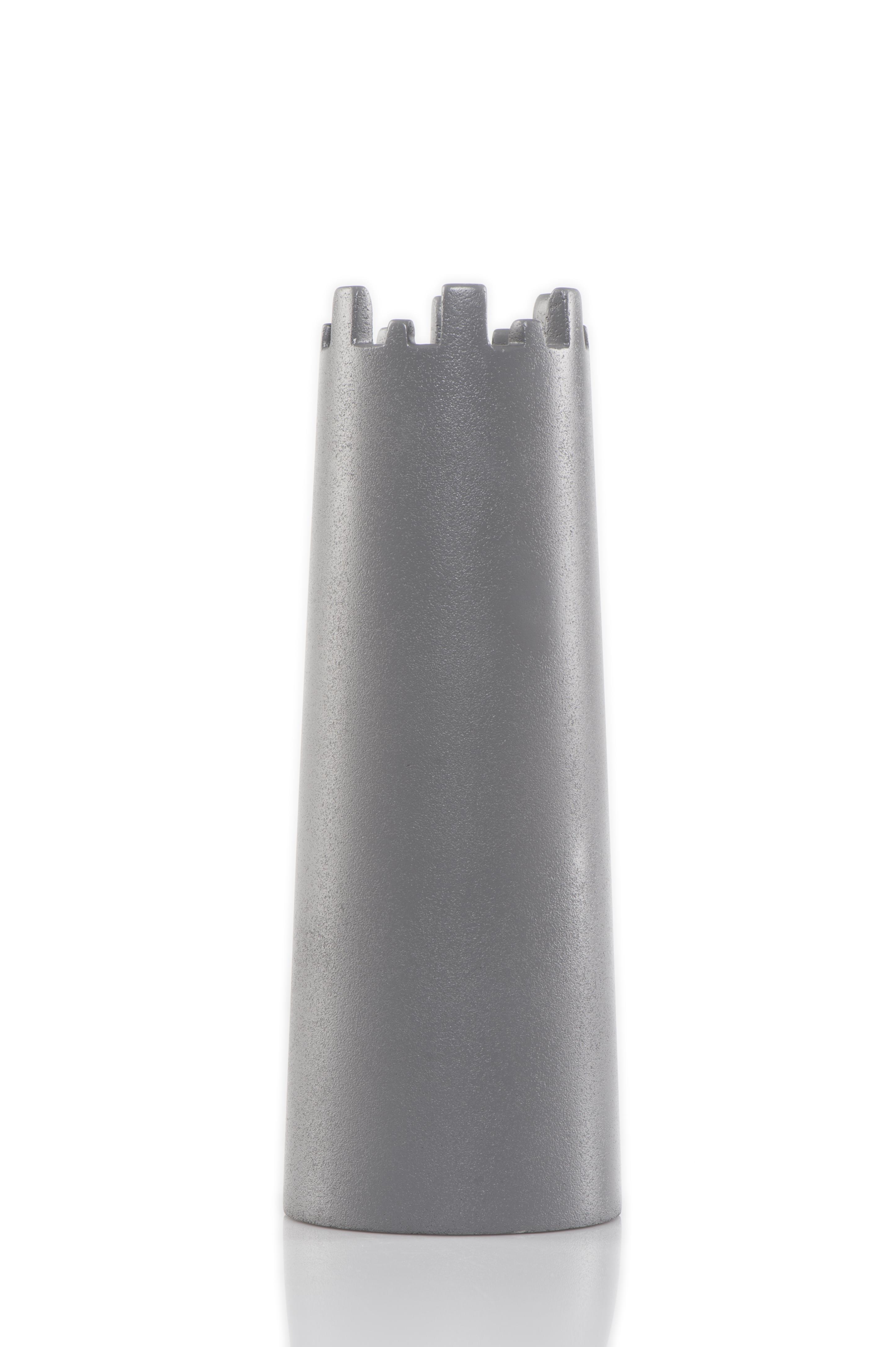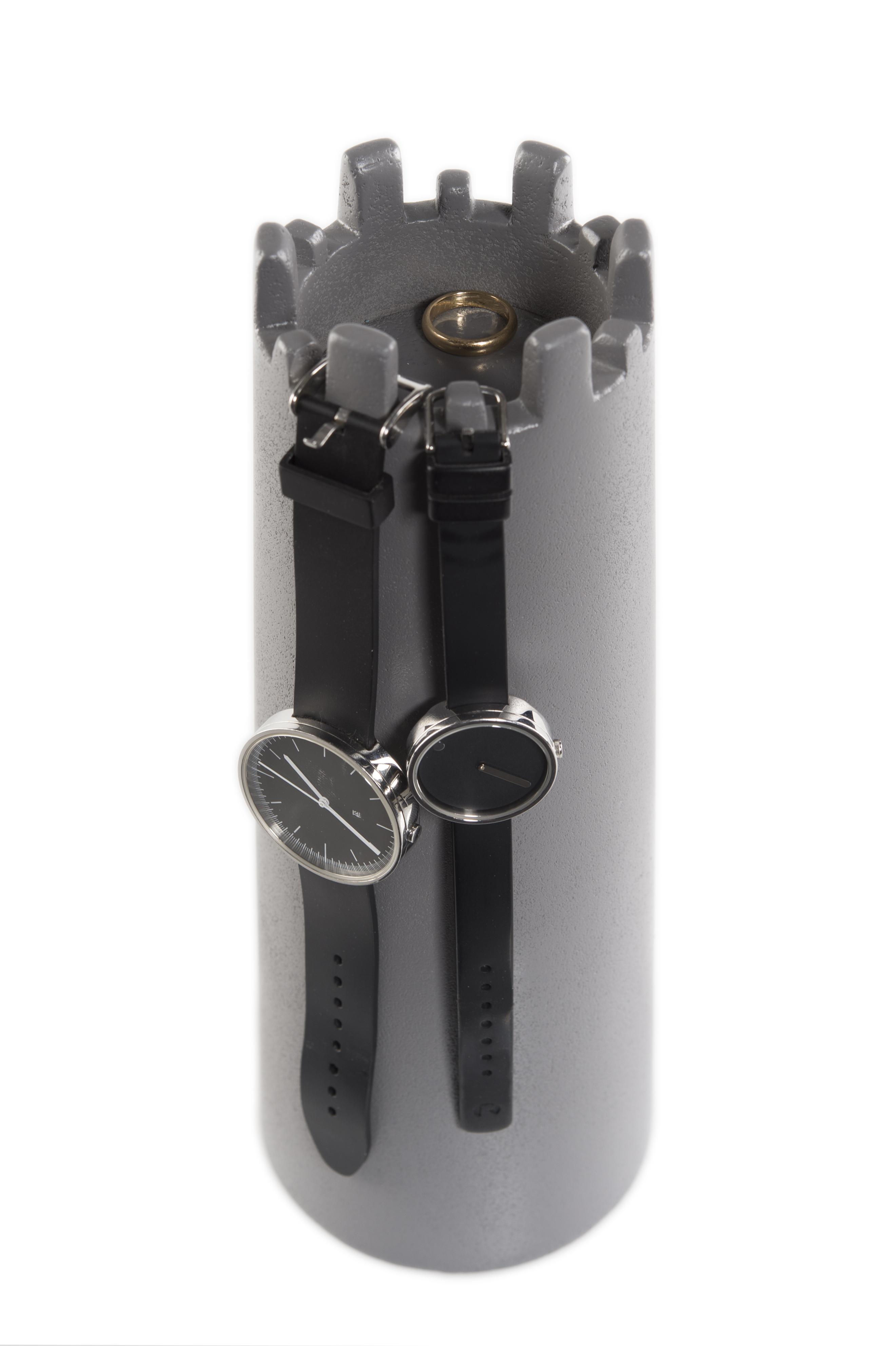 Alex Reding

Watch Tower



Storage Category: Jewelry



The Watch Tower is a castle like structure where watches can be hung by their buckles. It has a small cup in the top which allows for the storage of any small items. In production this would be a single hollow piece of injection molded 1/8th inch plastic. Also, it would come in a small variety of colors, making it appeal to more people.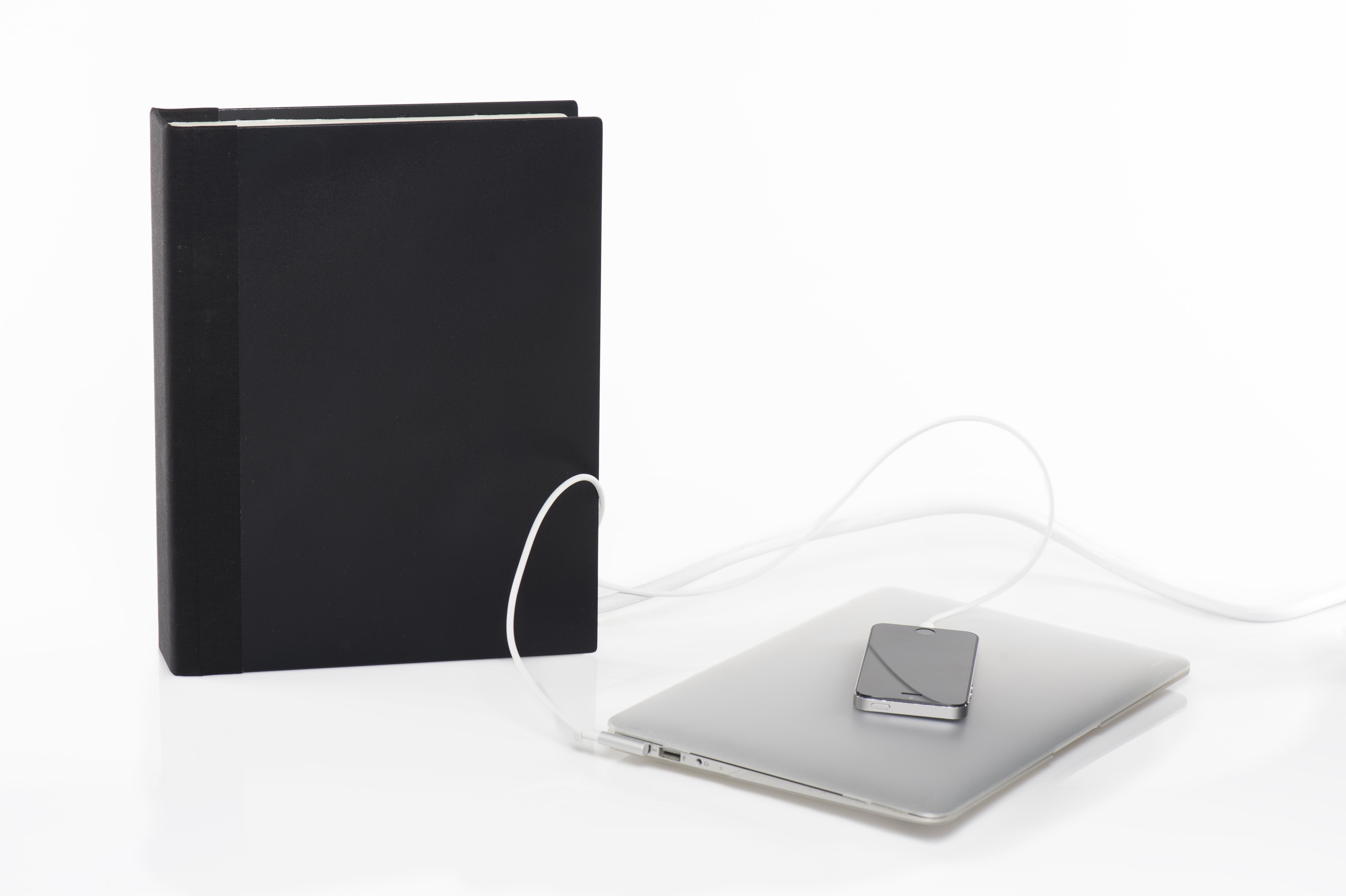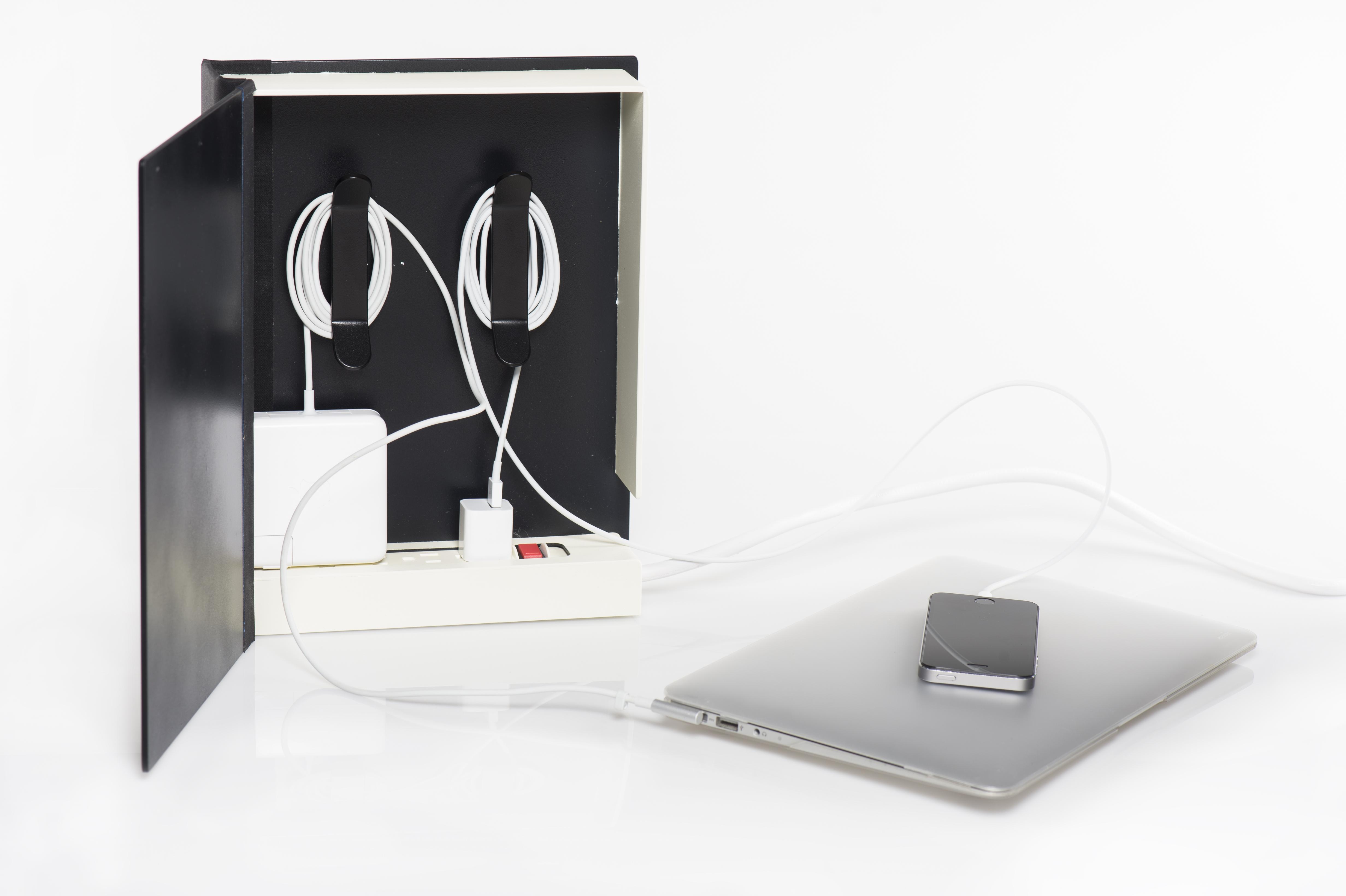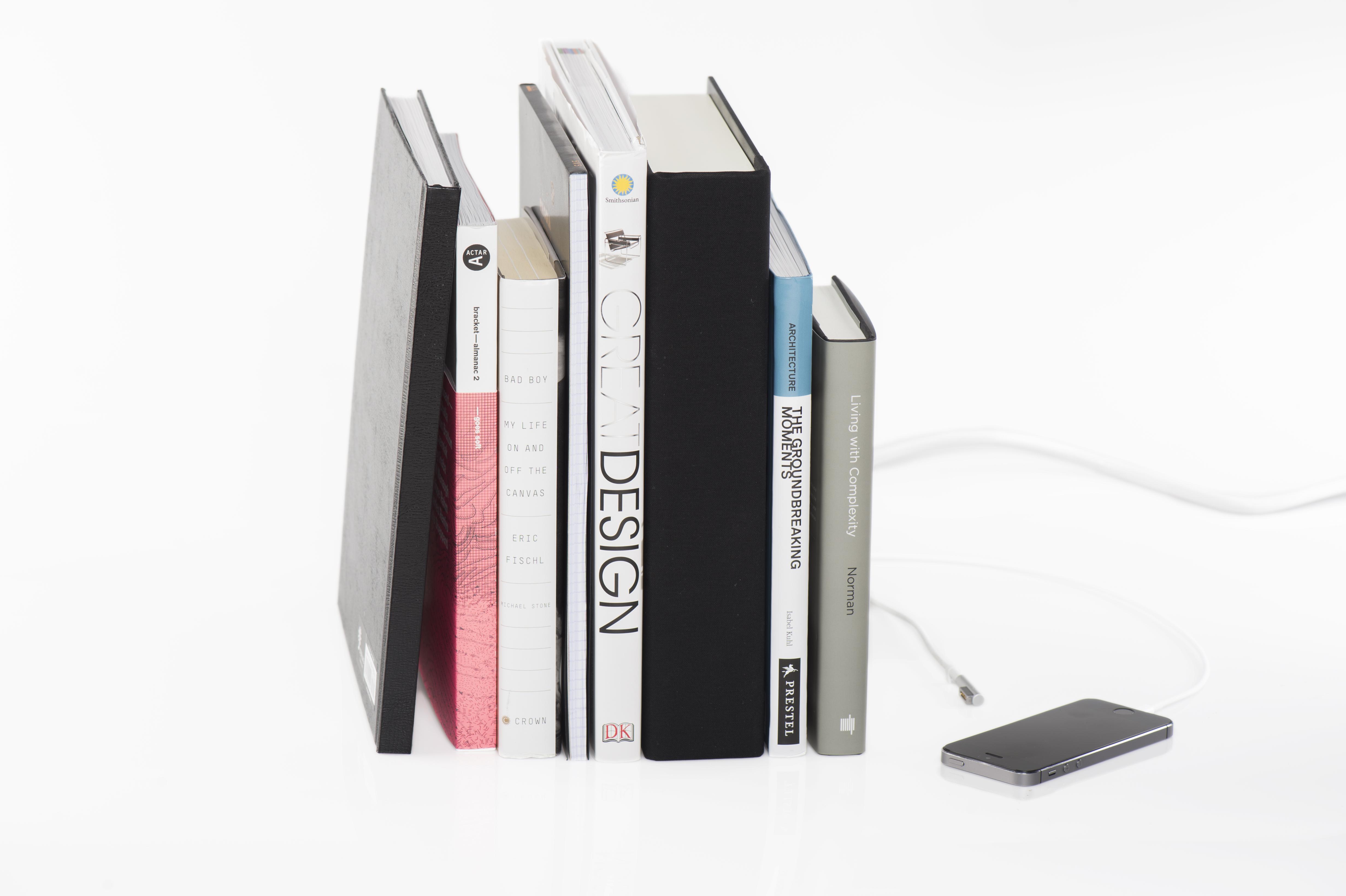 Jeff Sprague

Power Book



Storage Category: Desk



Power Book is a clever solution for organizing and storing cords. The book blends into the preexisting landscape of a desk while disguising a power strip within. Something old containing something new.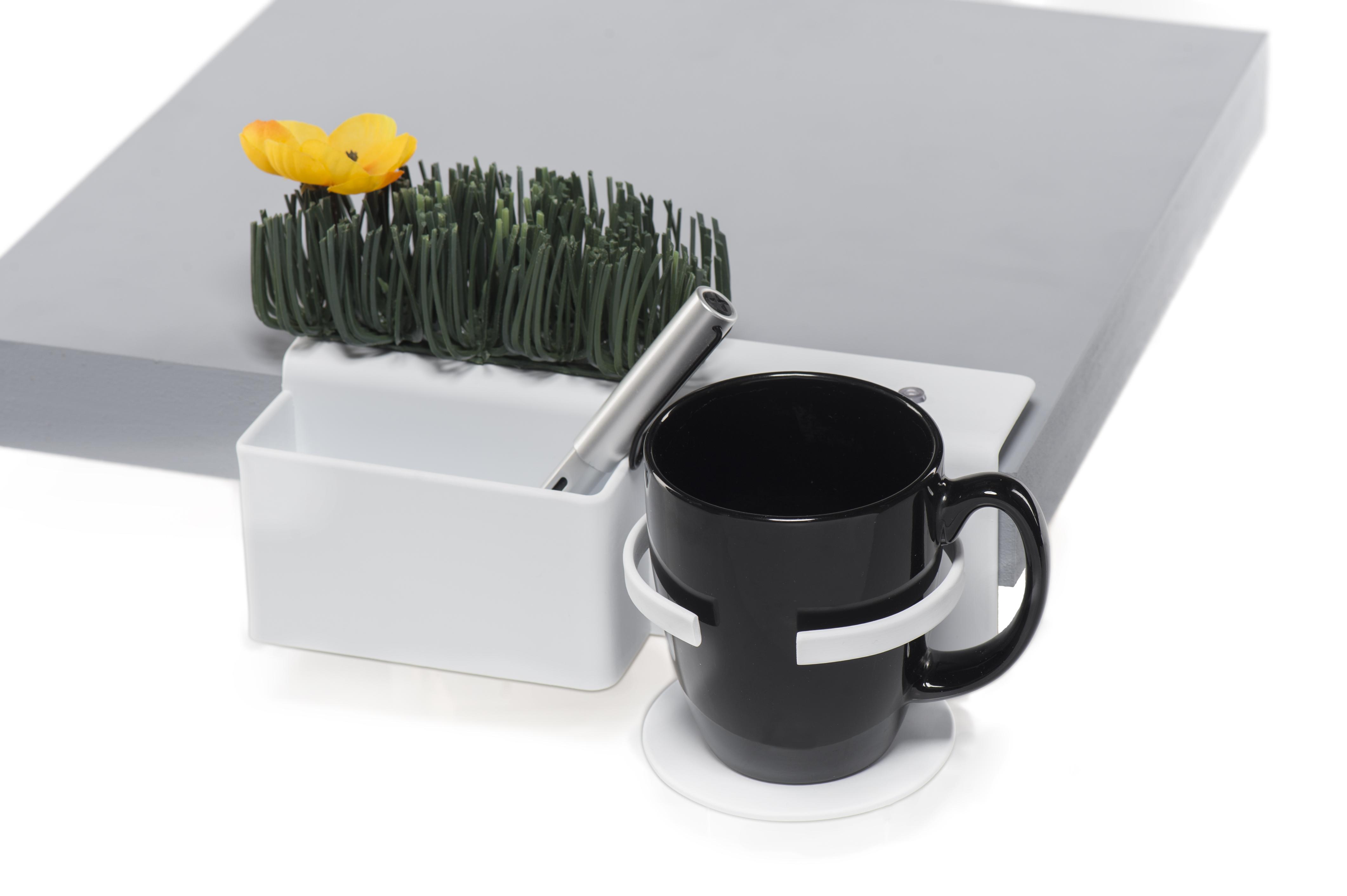 Michael Tsai

deskSide



Storage Category: Desk



Saving space is a way of creating a space. The deskSide is designed to organize and to store desktop objects. The slot can hold various things such as keys, stationary and mobile phone. The cup holder provides a safer space for drinks and greatly reduces the risk of spilling on important documents or electronic devices. The synthetic grass on top acts as a universal hook for audio cables and charger cords so they will never fall off the desk when unplugged. The flower makes you smile.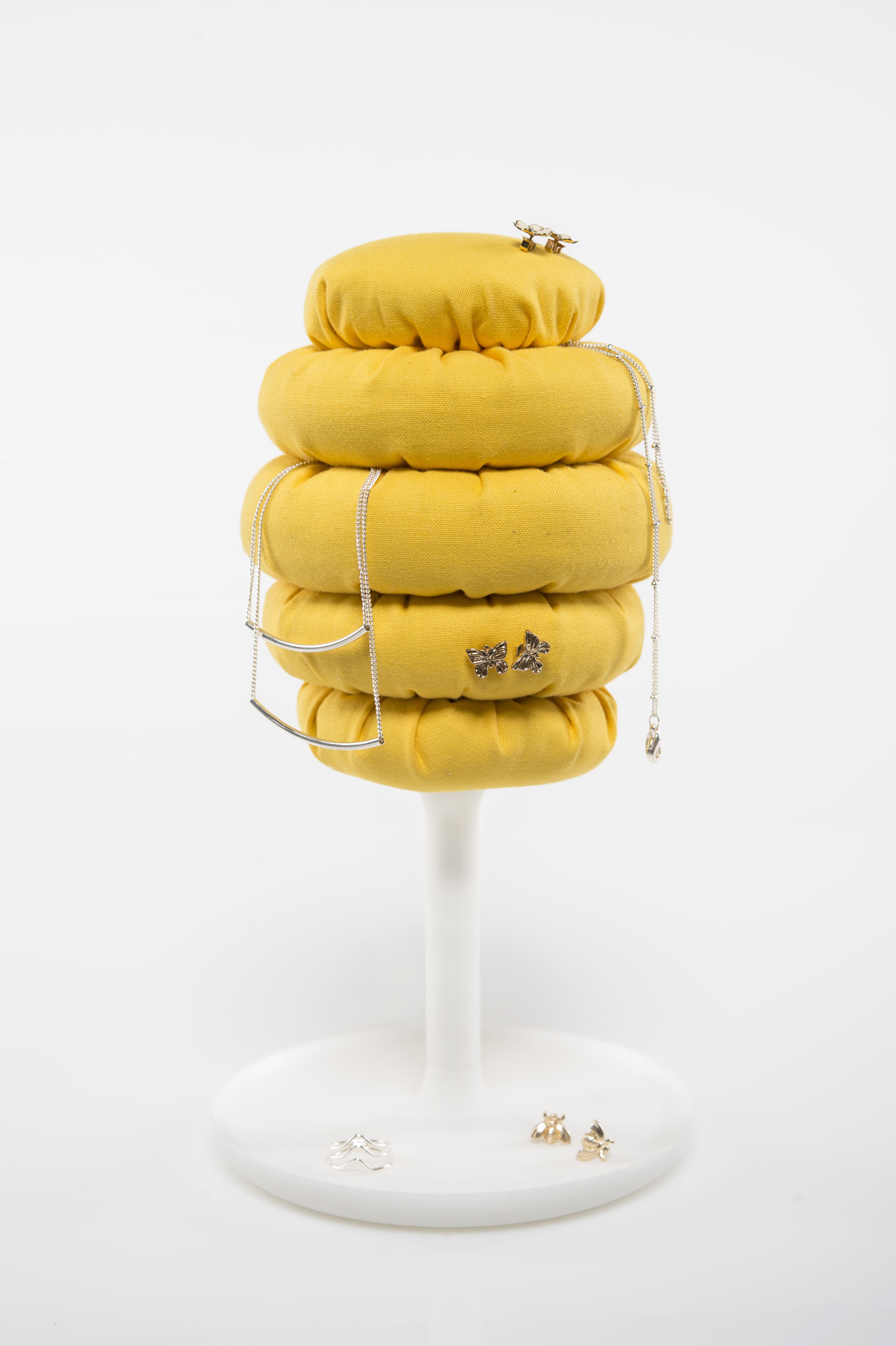 Lina Velandia

Jewelry Hive



Storage Category: Jewelry



Shaped like a beehive, this jewelry holder stores and exposes your most precious gems. The outer shell features cloth covered foam grooves to push jewelry in, while the base is a tray for oddly shaped jewelry. Place it on your desk or nightstand and add a little fun to your room.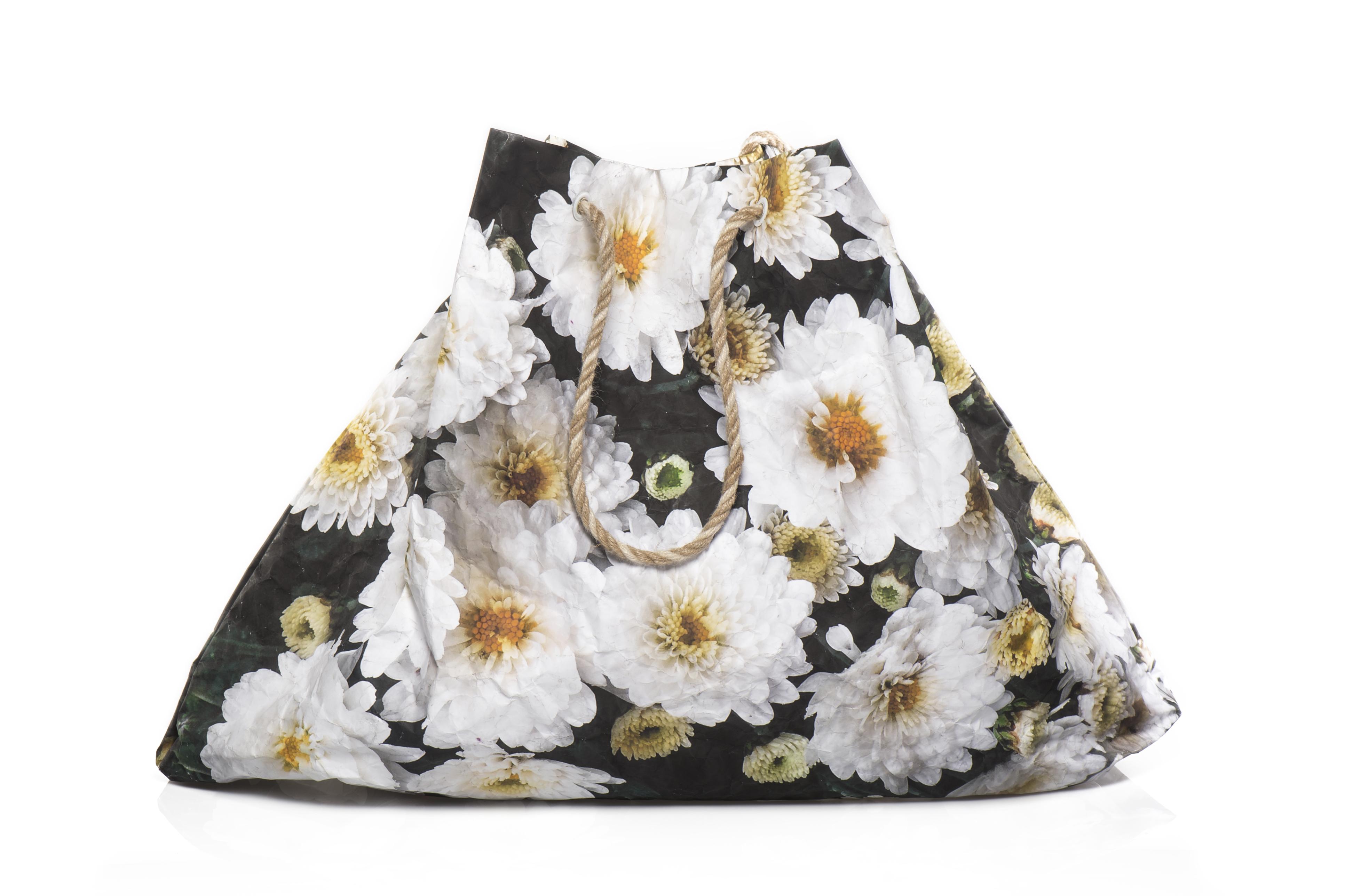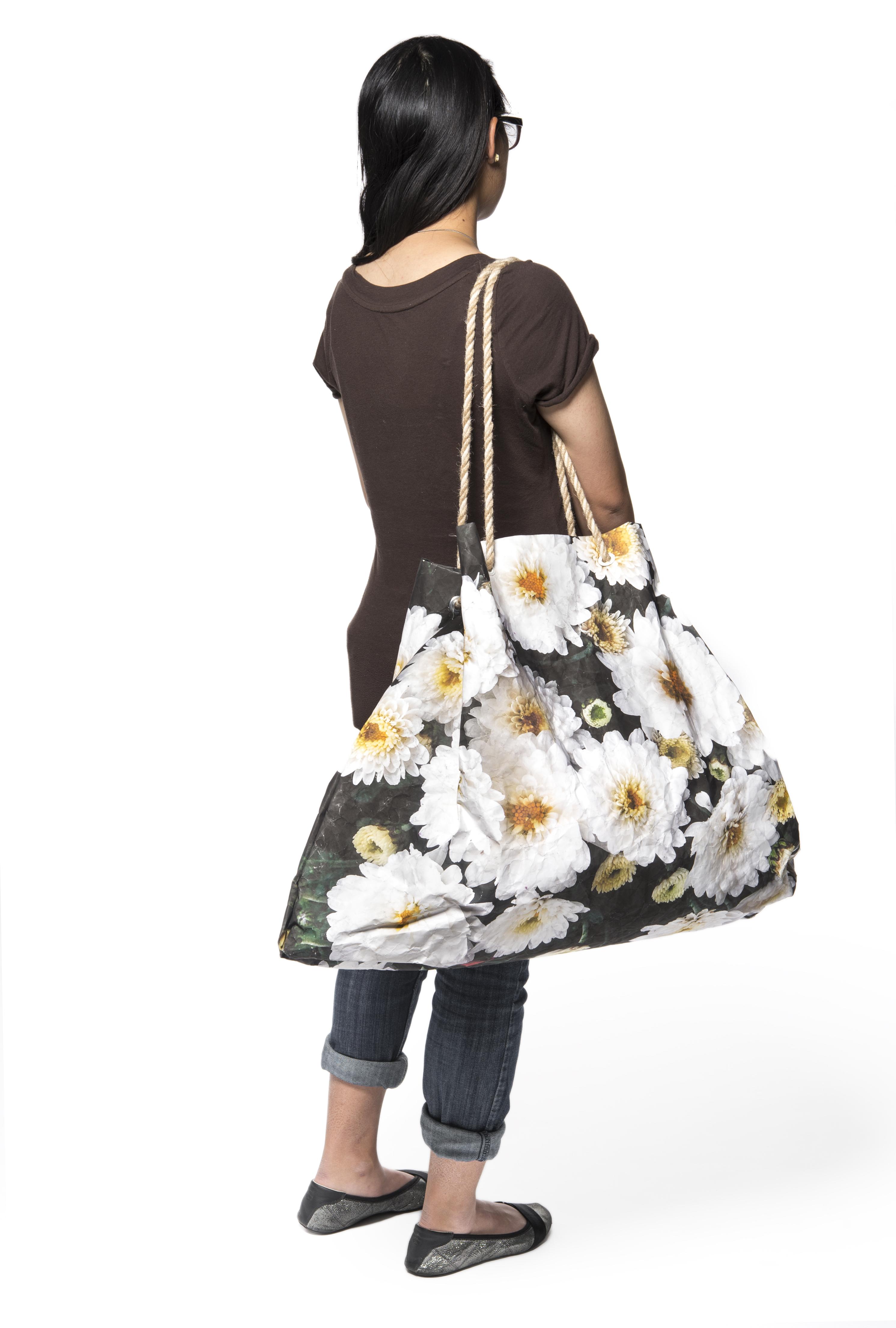 Diane Wang

Daisy Bag



Storage Category: Closet



Covered in huge vibrant blooms, the Daisy Bag is a simple, durable bag perfect for carrying laundry, storing pillows or hiding things from your roommate!
---