Alumnus honors longtime Saunders College staff member with endowed scholarship
Ondřej Frydrych establishes scholarship to honor legacy of Peggy Tirrell's support for RIT students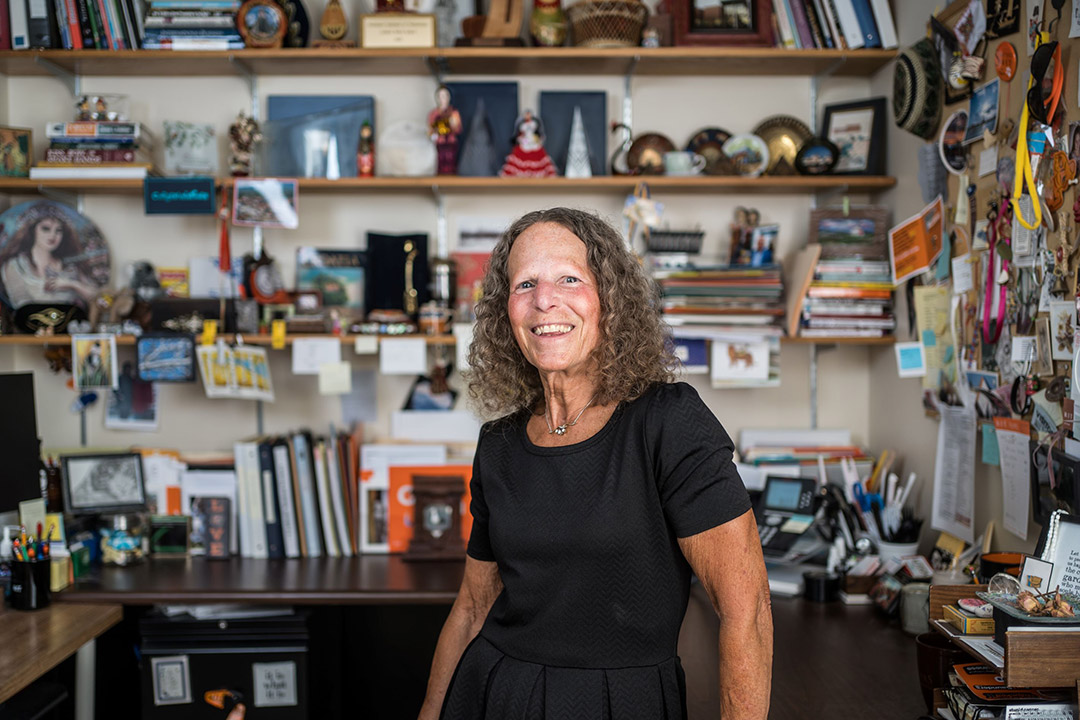 An indebted alumnus has endowed a scholarship in the name of a longtime Saunders College of Business staff member who made a significant impact on his life and countless other international students who came to call Rochester Institute of Technology their academic home.
Ondřej Frydrych '97 (MBA) this summer established the Peggy Tirrell Endowed Scholarship for International Students—named after Saunders College's popular senior associate director of graduate business programs and admissions "who was the voice on the phone from the U.S. who offered me to come and study at RIT."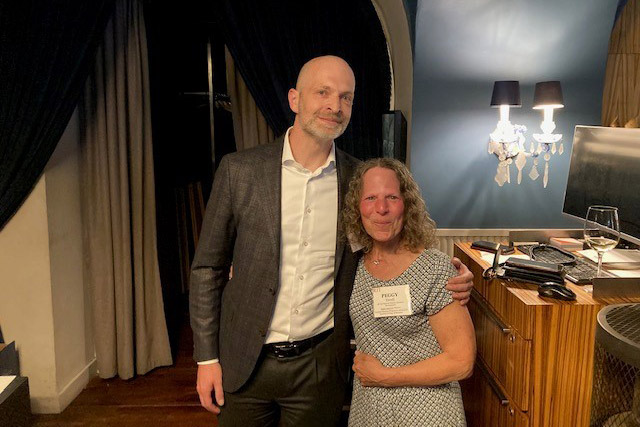 Provided photo
"It changed my life and helped me build the foundation for my career," recalled Frydrych, who was joined by college officials in making the announcement during a reception this summer in Prague attended by scores of RIT alumni and graduates of the university's former U.S. Business School Praha.
Tirrell admitted to being "at a loss for words" when she learned about the scholarship, which will support full-time undergraduate or graduate RIT students residing in Czech Republic or Central Europe.
"To be honored in this way is not something I ever imagined happening," said Tirrell, who's worked at RIT for 47 years. "One of my responsibilities within Saunders College is assisting with the selection of recipients for our endowed scholarships. To now be on the other side is something I am still trying to process."
Frydrych's technology focus led to roles with Eastman Kodak Co. and eProductivity.com in the United States before he returned to the Czech Republic in 2001. He held a number of key leadership positions within tech companies before becoming the current CEO of Home Credit China.
Before embarking on his successful career path, however, he recalled times of uncertainty as a young student. He said he still remembers the Thanksgiving celebration in Tirrell's home years ago, when she invited him to be part of her family's holiday celebration.
"Peggy never wanted anyone to feel alone," Frydrych recalled. "She was the essential connection to RIT. She helped many of us international students feel welcomed upon our arrival in Rochester. Through this scholarship, her caring legacy and hospitality will remain for the next generation of RIT students."
Tirrell said her hospitality and caring nature were merely paying forward what she experienced when she was newly married and living abroad.
"My husband and I spent five months living in the Netherlands," she recalled. "To this day, I remember the feeling of discomfort I had as we landed in Amsterdam, suddenly realizing that I did not know the language, the culture, the currency, or anything about the Netherlands."
"Yet through the kindness of the Dutch people I encountered," she added, "I was suddenly able to embrace my new home and feel part of a new community."
Upon returning to the U.S., Tirrell vowed to do everything she could to make international guests feel as comfortable as the Dutch had made her. "It took a few years until I found my way to RIT, and eventually the business school, where I could begin to make my promise become a reality," she said.
Saunders College Dean Jacqueline Mozrall, who traveled to Prague for the alumni gathering, has seen firsthand Tirrell's impact on RIT students.
"Ondřej's generous gift to establish this scholarship is a testament to Peggy's legacy of supporting our students, particularly our graduate and international students, in such a meaningful way," she said.
Tirrell received the Albert J. Simone Legacy Award winner in 2021. The award recognizes a staff member whose long-term body of work is exemplary and who has contributed significantly to RIT for 25 years or more. She also regularly volunteers as a Student Conduct advocate and a Title IX advocate, assisting students as they work through difficult experiences.
"I treasure the opportunity to get to know our students as each one has a story to tell, which adds a richness to my world view and life experience," she said. "I am grateful to each and every one of them for what they bring to my RIT experience."
For information on the scholarship, go to the fund's webpage.