January 31, 2022
by Luke Auburn
Community of innovators hits record numbers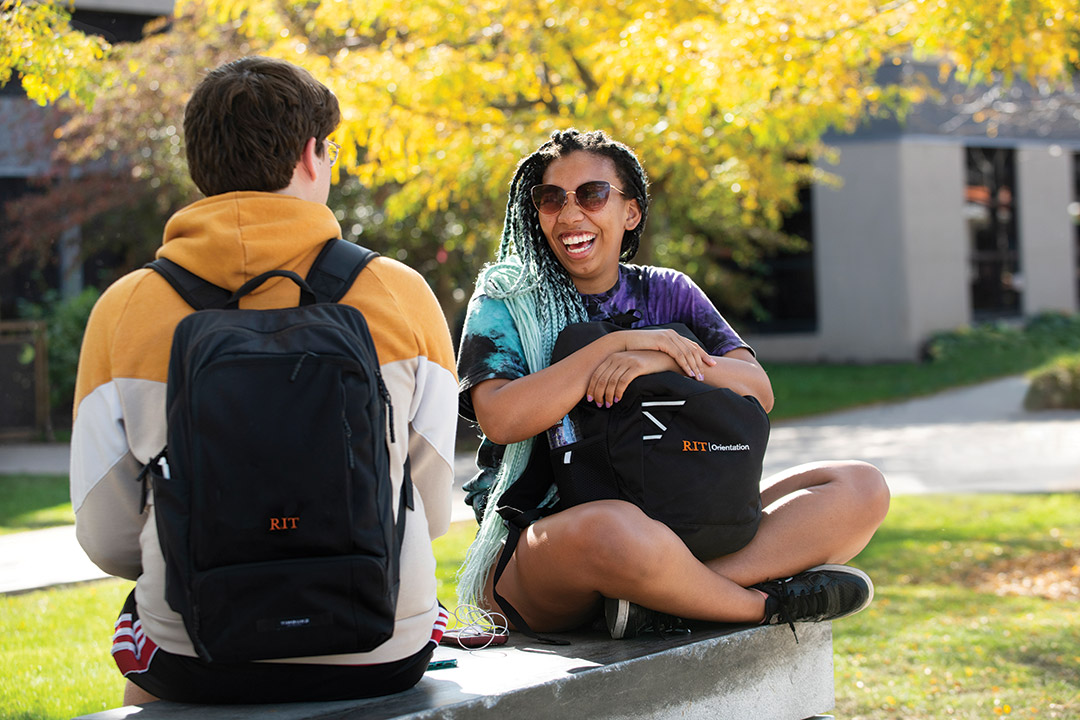 People are the foundation of everything RIT does. Students, faculty, and staff come to RIT because they are looking for something different in a university—a place where they can exercise their multiple talents, satisfy their thirst for learning, and experiment freely across borders.
RIT's community of students, faculty, staff, and alumni has grown larger than ever.
Enrollment jumped to a new record last fall with 19,718 students studying across all campuses, up 1,050 from fall 2020. On the main campus alone, enrollment jumped to 16,874 students, up 666 from the year before.
At a glance
4,594: RIT awarded 4,594 associate degrees, bachelor's degrees, master's degrees, Ph.D.s, certificates, and advanced certificates in the 2020-2021 academic year.
970: Last fall, RIT enrolled 970 deaf/hard-of- hearing students—441 at NTID and the rest spread out among RIT's other colleges and degree-granting institutes.
5,180: RIT's largest college, Golisano College of Computing and Information Sciences, enrolled 5,180 students.
1.73M: There have been 1,733,512 total RITx course enrollments on the massive open online course platform edX. RITx has awarded 1,488 MicroMasters program certificates.
Part of that enrollment leap is because for the second consecutive year, RIT welcomed a record number of first-year undergraduate students. About 3,360 students kicked off their academic careers last fall, up from 3,129 from fall 2020.
Much of RIT's growth has occurred in its New Economy Majors, programs that occupy a unique area, somewhere between classic majors and those traditionally described as specialized.
By combining dynamic areas of study, New Economy Majors—such as imaging science, packaging science, supply chain management, among others— break down traditional boundaries and open students to a whole new world of possibilities.
The newest class is the most academically prepared ever, boasting an average SAT score of 1326, an average ACT score of 30, and an average GPA of 93.2 percent. In addition, 42 new students had a perfect SAT math score, and 14 had a perfect SAT or ACT score. And 62 graduated first in their high school classes.
As RIT grows, the university is implementing new programs, services, and policies to ensure that it grows in diverse, equitable, and inclusive ways.
Last year, RIT unveiled the Action Plan for Race and Ethnicity, which will guide efforts over the next several years to help create equal access, opportunities, and respect for all.
The plan has three main pillars with several broad initiatives underneath each.
The pillars focus on leadership, culture, and communication; African American, Latino American, and Native American student enrollment and success; and faculty and staff recruitment, retention, and advancement.
"This plan was developed by the RIT community for the RIT community," said Vice President and Associate Provost for Diversity and Inclusion Keith Jenkins. "Achieving the initiatives laid out in this plan will help make this university a much more inclusive, welcoming, vibrant institution that benefits from the contributions of all of its participants at all levels."