RIT's Tiger Spirit hits campus with branded face coverings
Soon students, faculty, and staff can don Tiger facemasks to help stop spread of COVID-19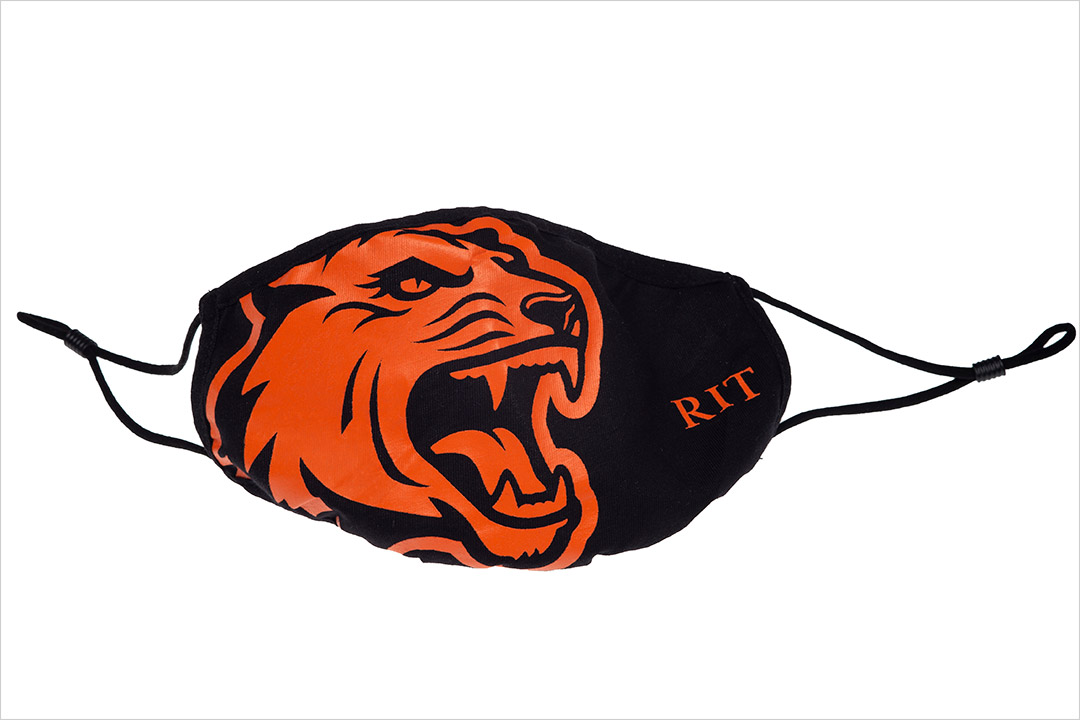 RIT's Tiger Spirit will soon be felt—and seen—on campus with the addition of a branded version of the year's most essential accessory.
About 25,000, three-ply cloth face coverings, emblazoned with the RIT logo and a roaring tiger image, will be delivered to all members of the RIT community starting the week of Feb. 1. Students, including those at RIT's international campuses, will find theirs in campus mailboxes. Face coverings for faculty, staff, trustees, alumni association and foundation board members, and the President's Roundtable, will be mailed to homes.
The branded face coverings were donated by RIT trustee and alumnus Andrew Jacobson '90 (hospitality and tourism management) '96 MS (service leadership and innovation), who noticeably missed seeing students wearing branded masks when they arrived last fall. Discussions between Jacobson and RIT Marketing and Communications, NTID's Office of Development, and RIT's University Advancement Office, resulted in a highly functional mask with a classy design.
"I thought the branded masks would be a great community builder and I am hoping that everyone will wear them proudly," said Jacobson, who was NTID's Distinguished Alumnus in 2014. "The mask is very comfortable with adjustable ear loops. I love it and I wear it every day. I hope everyone enjoys them."
Jacobson has made a habit of giving back to RIT. In addition to his service on the RIT board since 2016, he has served on the President's Roundtable, NTID's Foundation and NTID Alumni Association boards, and he is a staunch supporter of Sebastian and Lenore Rosica Hall, NTID's research and innovation hub, and the Saunders College of Business renovation and expansion project.
"RIT is fortunate to have alumni, trustees and friends, like Andrew Jacobson, who are passionate about our university and willing to make a difference on our campus," said Bryan Hensel, executive director, NTID Office of External Affairs. "The RIT spirit is alive and well on campus, even during a pandemic, and these face coverings are just another way to demonstrate our spirit and unity."
Topics