November 11, 2016
by Marcia Morphy
RIT names three new members to Board of Trustees
Respected leaders from diverse industries add their expertise to RIT's strategic mission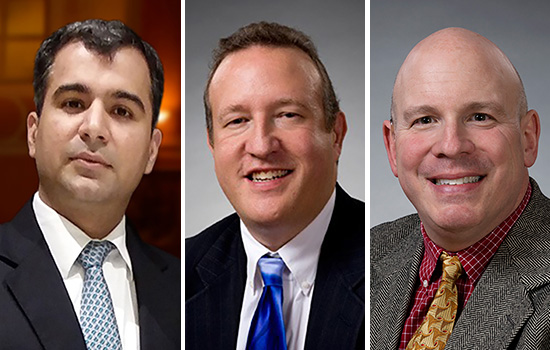 Rochester Institute of Technology appointed three new members to its Board of Trustees during a board meeting held on Nov. 10.
The new trustees are Darshan N. Hiranandani, managing director of Hiranandani Group of Companies; Andrew R. Jacobson, enrolled agent at Maverick Business Services (retired); and Christopher W. Lehfeldt, dentist at Elmwood Dental Group PC and Finger Lakes Community Health.
"I am delighted to welcome three exceptional new trustees who have invaluable experience and expertise to share in our board discussions," said RIT President Bill Destler. "It's a dynamic and transformational time for higher education and we look forward to their guidance and leadership as we continue to strengthen our unwavering commitment to excellence."
Hiranandani is a two-time alumnus of RIT's Saunders College of Business, earning a management information systems degree in 2002 and an MBA in 2003. He manages a family-owned real estate conglomerate in Mumbai, India, and currently leads the group's real estate business in Dubai, United Arab Emirates. He also is CEO and managing director of H-Energy, the company's energy subsidiary.
Hiranandani's noteworthy business successes include the construction of 23 Marina, a 90-story residential tower in Dubai that generated more than $250 million in revenue, and the establishment of the Dr. LH Hiranandani Hospital, which received the Ramakrishna Bajaj award as the best hospital in India. He was named one of Asia's best entrepreneurs under the age of 25 by BusinessWeek in 2006, and has served on the RIT Dubai board of directors for several years.
Jacobson spent much of his career working at Maverick Business Services, an accounting firm owned by his family and founded by his mother. His areas of expertise included individual income tax preparation, auditing and tax planning, and as an enrolled agent, was federally licensed to represent taxpayers before the Internal Revenue Service.
A proud alumnus of RIT's National Technical Institute for the Deaf, Jacobson earned a degree in hotel and resort management in 1990, and a graduate degree in service leadership and innovation in 1996. He has been a member of the RIT President's Roundtable since 2014, is a past member of the board of directors of the NTID Foundation and the NTID alumni association, and the 2014 recipient of the Distinguished Alumni Award for NTID.
He resides in New York City and enjoys theater, music and travel, and is a member of the Monticello Motor Club.
Lehfeldt is a Rochester-area dentist who works in private practice as a member of the Elmwood Dental Group, where his fluency in American Sign Language allows him to serve a large number of deaf and hard-of-hearing patients. He also is a staff dentist with Finger Lakes Community Health that provides dental treatment to migrant farmworkers and their families across Western New York.
The son of a Foreign Service Officer, Lehfeldt spent his childhood in five different countries before returning to the U.S. He earned a degree in chemistry from Georgetown University, attended the University of Maryland School of Dentistry and completed his residency at St. Elizabeth's Hospital in Washington, D.C.
Lehfeldt has served on several boards of directors for deaf advocacy including the Rochester School for the Deaf, the Monroe County Association for the Hearing Impaired and the Alexander Graham Bell Association for the Deaf and Hard of Hearing. At RIT, he has served on the NTID National Advisory Group, is a past member of the NTID Foundation board, and was a former university faculty member.
In his spare time, he enjoys hiking, camping and mountain climbing in the Adirondacks and Catskills.
The RIT Board of Trustees consists of 50 active trustees and 31 trustees of emeritus or honorary status.
Topics