Students get lesson in entrepreneurship during spring accelerator cohort
Four multidisciplinary student teams earn stipend through Simone Center to develop business ideas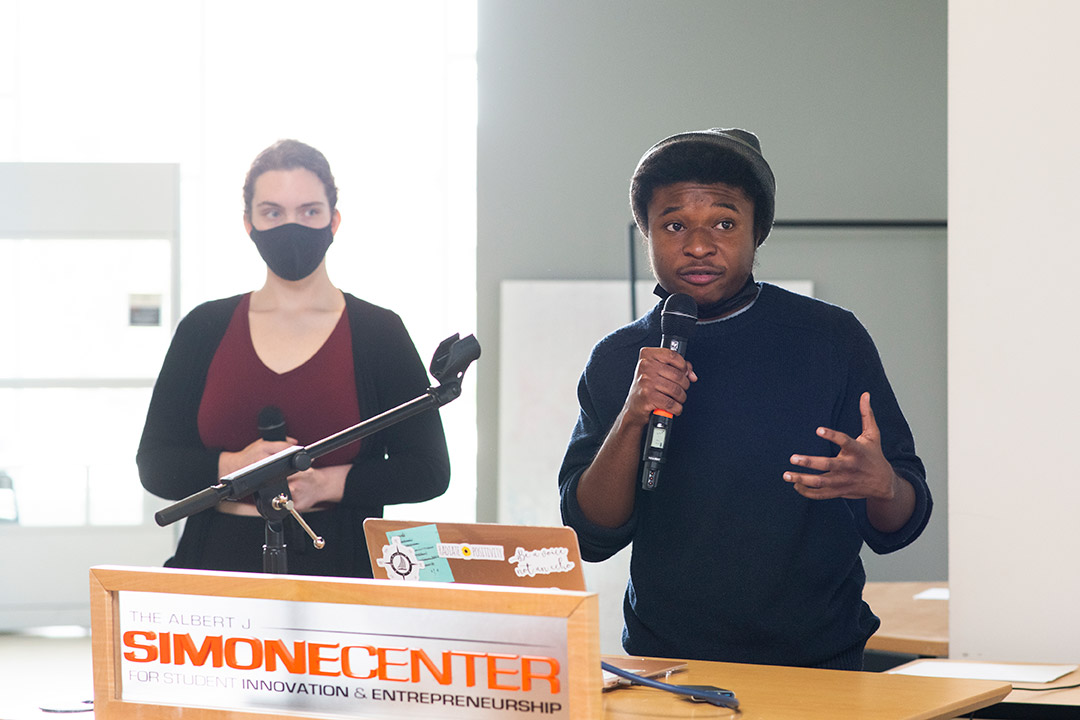 Enhancing the skills of the next generation of entrepreneurs helps set RIT apart from many other universities, with an increasing number of incoming students already having started their own businesses. RIT's Albert J. Simone Center for Innovation and Entrepreneurship, created to help students invent and problem solve through experiential learning, offers multidisciplinary student teams a stipend for the unique opportunity to examine their businesses and, for some, move them to the next level of development.
"The goal for our RIT Student Accelerator teams is to work diligently, full-time, with our expert coaches to reach the point where they can begin seeking angel investment," said Anthony Testa, director, Commercialization Training Programs, Simone Center. "Every year, we are amazed at the level of creativity and innovation that our students bring to the program. We're introducing them to a new level of rigor, design thinking, and customer development to ensure that the students are learning, growing, and pivoting to match the pace of the world of entrepreneurship."
The spring cohort of the RIT Student Accelerator is: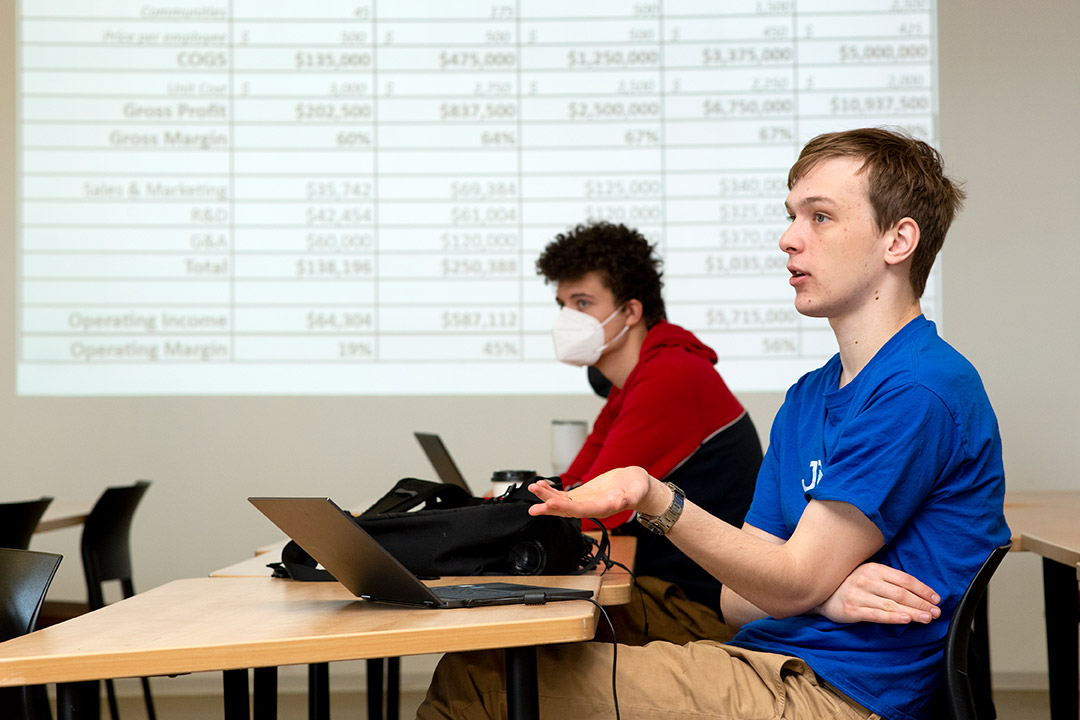 A. Sue Weisler
JDocs: For small law firms that need help handling and examining massive amounts of e-discovery documents, case management, and research, the JDocs software platform provides a less expensive, secure, and comprehensive solution for processing data. "Our platform, which is already in the hands of law offices around the country, efficiently changes the way attorneys handle volumes of file types," said Jake Downie, a second-year computer engineering student from Fairhaven, N.J., who enjoys the connection between technology and the law and is pleased to be able to work on his business full time. "And the beauty of our platform is that it is fully customizable to easily create a tailored solution to meet the needs of the law offices."
Other members of the JDocs team are Artie Goncharov, a second-year computer science student from Corning, N.Y.; and Isaac Prusky, a third-year human-centered computing student from Philadelphia. The team also employs two student workers.
Greenify: Greenify aims to make finance less daunting for amateur investors by providing a simplified dashboard of the sustainable impacts of individually held portfolios and stocks. Through an app, users can access educational modules and research tools, as well as develop a portfolio watch list for businesses. "Our business has really evolved, taken shape," said Alden Smith, a second-year finance student from Bridgeport, West Virginia. "We are constantly examining how our product looks and its functionality. We also hope to launch an ad campaign soon that will provide a complimentary education and training session for investors."
Other members of Greenify are Arianit Sylafeta, a fourth-year web and mobile computing and entrepreneurship student from Kosovo; Alric Amon, a second-year management information systems student from Nigeria; and Peter Hogya, a fifth-year computer science student from Bayville, N.Y.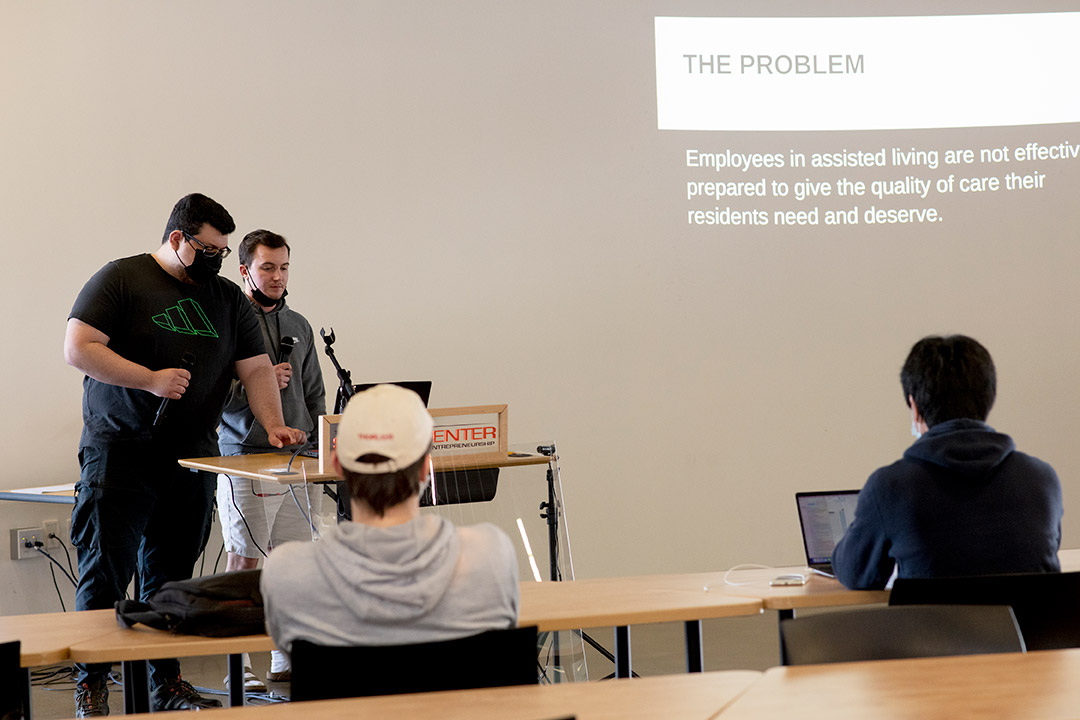 A. Sue Weisler
VR Impact: VR Impact is developing an empathy training software program using an interactive virtual reality environment. Healthcare associates will be able to virtually "experience" medical conditions such as macular degeneration, cataracts, floaters, tinnitus, and hand tremors, among other conditions, in order to improve care of patients and residents. "Using a VR headset, we closely simulate what patients with these conditions are experiencing," said Matt Lukowski, a third-year software engineering student from Buffalo, N.Y. "The resulting impact is enhanced quality of care, as well as a new level of empathy from caregivers."
According to Danilo Sosa Valerio, a fifth-year computer science student from Honduras, VR Impact is already partnering with nine healthcare facilities to "test drive" the product and will continually add simulations of other medical conditions to the program.
SWIPS: SWIPS is a monetary app that allows its users to easily split expenses with others. Through receipt scanning, users can immediately transfer the bill into the app and manually or automatically split the cost. "Our app is perfect when a server is unable to split the check among diners," said Christopher Schindelar, a third-year business management student from Hopatcong, N.J. "And, trust is hard. When one person pays the whole check and expects everyone else to pay them back using the honor system, it doesn't always work that way. Our app sends out an alert and immediately serves as a reminder to pay. We anticipate that this will alleviate many uncomfortable follow-up conversations about splitting the bill."
The SWIPS team also includes Joseph Ruggieri, a technology innovation management and entrepreneurship graduate student from Hopewell, N.J.; and WeiBin Yang, a third-year web and mobile computing student from China.
"We are always so proud of the transition of the student teams from where they started at the beginning of the program to where they finish at the end of the semester," added Testa. "It's a testament to their dedication and commitment and drive to succeed."
All four teams will present their business concepts and network with potential investors during Demo Night starting at 5 p.m. on April 20 and will exhibit at Imagine RIT: Creativity and Innovation Festival on April 23.
Topics