Salary and Career Info
Nutritional Sciences BS
A nutritional sciences degree that combines nutrition, biology, chemistry, and behavioral health to design and administer health, nutritional, and wellness programs in industries and settings as diverse as athletics, hospitality, education, and federal nutrition programs.
Program skills
The nutritional sciences program prepares students to apply nutrition principles, concepts, and practices to domains aligned with health and wellbeing as well as demonstrate the ability to integrate science-based nutrition information and research into practice. Students develop communication skills and professional behaviors for entry into professional practice and apply principles of management and systems to deliver nutrition programs and services. The program prepares students for successful application to graduate and professional schools or professional employment in health and nutrition careers. Students demonstrate knowledge and skills for customer service including the development and delivery of information, products, and services to individuals, groups, and populations.
Program facilities equipment
Students have access to fully equipped state-of-the-art kitchens and labs. They also obtain field experience including hospitals, long-term care facilities, food manufacturers, camps, colleges, and universities.
Program job titles
Health/Nutrition Educator; Wellness Coordinator; Nutritionist; Health Promotion Coordinator; Nutrition Research Associate; Public Health Nutritionist; Nutrition Project Coordinator; School Wellness Coordinator
Select program hiring partners
American Red Cross Greater New York Region, Aramark, Jamba Juice, Two Chefs are Better than One, University of Rochester, University of Rochester Medical Center, Wakefern Food Corporation, Wegmans Food Markets
100%
Outcome Rates
for Nutritional Sciences BS
Total percentage of graduates who have entered the workforce, enrolled in full-time graduate study, or are pursuing alternative plans (military service, volunteering, etc.).
100%
Knowledge Rate
Total percentage of graduates for whom RIT has verifiable data, compared to national average knowledge rate of 41% per NACE.
| Outcome | % of Students |
| --- | --- |
| Employed | 0% |
| Full-time Graduate Study | 100.00% |
| Alternative Plans | 0% |
---
Experiential Learning
Cooperative Education
The nutritional sciences program requires two 400-hour cooperative education experiences in an industry setting related to food and nutrition, or health discipline related to the student's future career goals. Co-op is paid, full-time employment in your field of study. Students do not pay tuition during co-op experiences and the majority of students complete their co-ops in the summer. For transfer students possessing at least an associate's degree, one co-op may be waived.
Students often complete co-ops with job titles such as diet clerk, health/nutrition educator, nutrition assistant, program assistant, cook, food service worker, prep cook/worker, and patient care technician, among others.
A sample of co-op employers in the Rochester area includes Wegmans, Rochester General Hospital, Strong Memorial Hospital, Highland Hospital, St. John's Home, RIT Dining Services, and Monroe Community Hospital. Students are allowed to complete co-ops in their hometown area as well as in other locations throughout the United States and while studying abroad.
Beyond the Classroom
Experiential learning: Nutritional sciences majors engage with a variety of Rochester-based organizations, allowing you to have opportunities to apply what you've learned in the classroom to real-world settings.
Simulation Lab: You will learn how to conduct nutrition-focused physical exams in RIT's state-of-the-art Simulation Lab.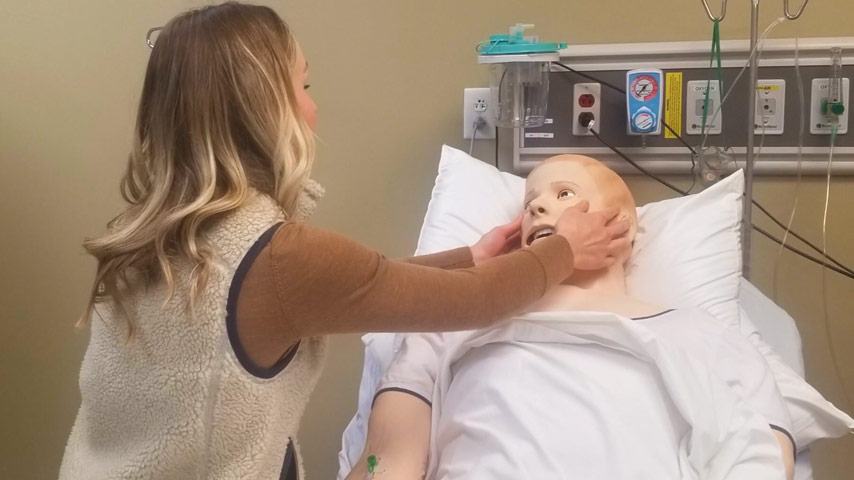 Study abroad: Success in today's global society requires experience and leadership that drives education beyond traditional boundaries. RIT is committed to expanding opportunities for global education, international connections, work experience and cultural exchanges. Study abroad can fulfill a co-op experience, supporting a student's desire to study abroad while satisfying graduation requirements. For information on study abroad opportunities, please visit RIT Global.
The nutritional sciences major offers faculty-led international experiences such as studying the Mediterranean diet in Croatia and travel to conduct a research project on childhood anemia in Ghana.