CAREER Awards advance promising research for future innovators and leaders
University adds two more faculty-researchers to growing list of awardees receiving national recognition for innovative work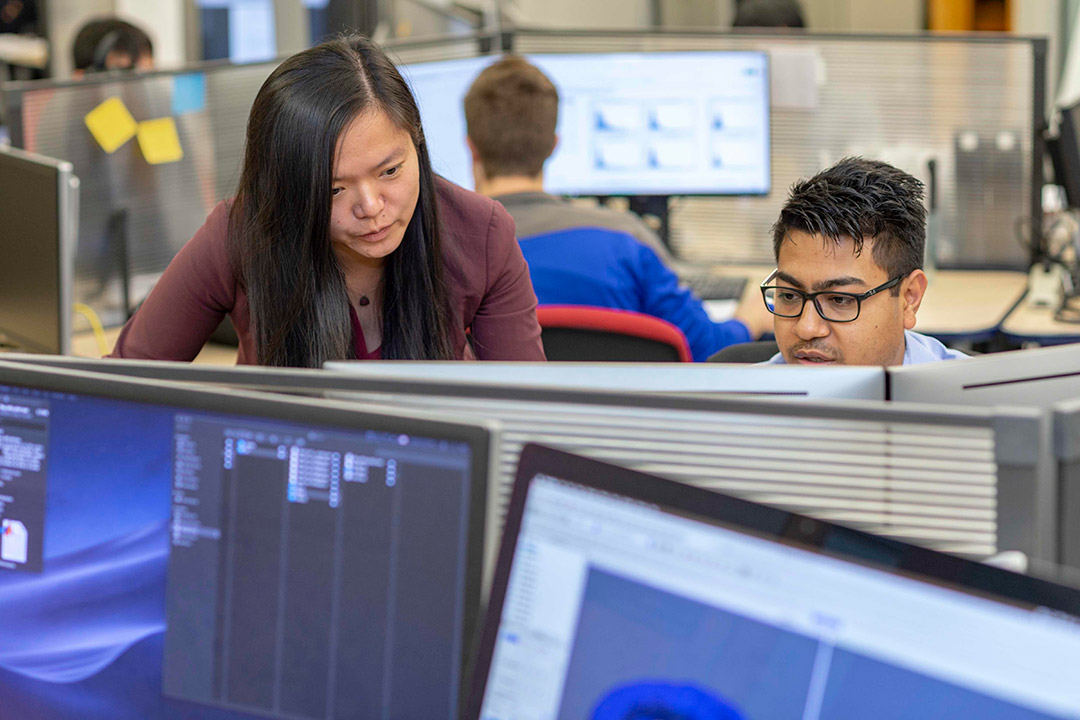 When assistant professors Pratik Dholabhai and Rui Li received National Science Foundation CAREER Awards this spring, it put them among an elite group of research faculty on campus and across the country.
Given to faculty who have the potential to serve as role models and mentors, and to integrate teaching and research into their careers in academia, a Faculty Early Career Development Program (CAREER) Award is one way of advancing a path in research.
"This is where your career starts," said Ryne Raffaelle, RIT's vice president for Research and associate provost. "If you are working in science or engineering, in any of the fields that the NSF funds, it is almost an expectation that new faculty will apply for a CAREER Award."
Dholabhai, part of the School of Physics and Astronomy, and Li, teaching in the Computing and Information Sciences Ph.D. Program, are among more than a dozen from RIT given the honor over the last few years. Of that dozen, all but one remain in their labs and in their classrooms on campus.
Funding is being used by these faculty members to further create augmented reality and clean energy solutions and to develop quantum computing and optoelectronic platforms. Dholabhai is studying materials in solid oxide fuel cells to advance energy conversion and storage technologies. Li's work is in the area of machine intelligence, specifically data integration and teaching computers to retain essential knowledge while effectively filtering out noise.
"The emphasis is on results and a faculty's educational plan, these are the differentiators," said Kate Clark, director of RIT's Sponsored Research Services, who oversees the staff managing the numerous grants and contracts from agencies, such as the NSF, as well as corporations and foundations, for faculty research. "It is foundational science that has a potential to grow. This is that fork in the road—if you decide to apply for this, you are defining your research career at that point."
Raffaelle agreed. "This isn't topical. It isn't 'we need somebody to solve this problem.' What they are looking for is broadly good science."
Linwei Wang's work in the area of non-invasive personalized healthcare for heart disease is an example of that good science—and career advancement.
Receiving a CAREER Award in 2014, the professor of computing in RIT's Golisano College of Computing and Information Sciences furthered her work in artificial intelligence and biomedical technologies with a diagnostic system to help solve cardiac rhythm disorders. Wang was also nominated for the Presidential Early Career Award, another of the NSF's development honors. The pool of eligible candidates are only those receiving CAREER Awards that year, an elite group of up to 20 researchers per year. In 2020, she became the director of RIT's Personalized Healthcare Technology initiative, one of RIT's signature research areas, leading a multi-disciplinary team integrating technology and medicine in ways to improve healthcare overall.
CAREER Awards are just one of several indicators of a university's growing research initiatives, funding sources, and faculty innovation. The NSF receives thousands of proposals yearly, and only 14-20 percent across all directorates of the U.S. agency are funded. It's mission is to support high risk, high pay-off ideas—projects that are leading edge but also well-integrated into academia as a way to train next-generation scientists and engineers.
Clark and the team in Sponsored Research Services provide oversight and management of the $82 million RIT received in 2020, for research proposals, with more than $15 million from the NSF. The group also provides mentoring and training for faculty to prepare grant applications. Since 2016, the university has increased its numbers of both principal investigators and proposals submitted—and awarded. With the steady increase, RIT was listed as a high research activity institution under the Carnegie Classification of Institutions of Higher Learning in 2019, putting it in a category among the top 6 percent of colleges and universities in the U.S.
RIT's CAREER Awardees can be found on the RIT Research website.
Topics