March 25, 2022
by Rich Kiley
Creative Industry Days a virtual success for RIT students, alumni, and talent seekers
Online event draws nearly 80 companies, 365 students, and results in 1,127 portfolio reviews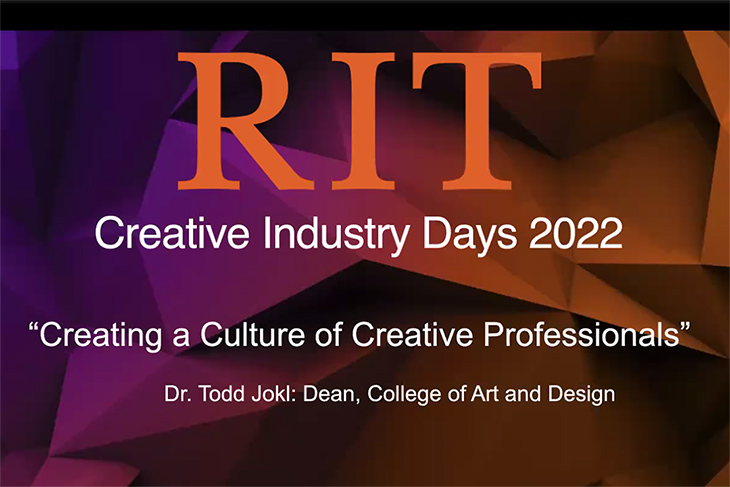 Organizers of RIT's Creative Industry Days saw an increased number of companies, students, and industry participants over last year, as the 17th annual event went virtual for the second consecutive year.
Nearly 80 companies—including first-timers like Enduring Games, Iron Galaxy Studios, and Philips—participated during the event, which concluded March 18. After kicking off on Feb. 28, Creative Industry Days featured a wide array of virtual career talks and panels along with 1,127 portfolio reviews for 365 students by creative industry professionals, including an ever-growing number of RIT alumni, according to Gretchen Burruto, associate director and College of Art and Design team lead in RIT's Office of Career Services and Cooperative Education
Rob Lee '94 (illustration), global creative director at Adidas, called the level of professionalism and quality of the students' work this year both "inspiring" and "excellent."
"I am based in Germany at our world headquarters, so it was great to connect with so many talents," Lee said. "At Adidas, we are always looking for the next talent that want to make a difference in the world of sports, so hopefully I see their finished portfolios come by inbox."
"Keep up the great work," he added. "Keep creating and pushing for a better world."
Held annually since 2006, the event draws College of Art and Design students and alumni in areas such as art, design, film, and photography along with select majors like game design and development and web and mobile computing from RIT's Golisano College of Computing and Information Sciences. Alumni Relations partners with the Office of Career Services and Co-op, the organizer of the event.
The event's goal is to offer career-related programming and the opportunity for RIT student talent to meet with creative industry professionals, get valuable feedback on their portfolios, discuss job opportunities, and make valuable connections that may benefit their career.
Topics