Pandemic creates opportunities for students to take unique classes at RIT
Non-RIT student joins the university for Games for Change course during fall semester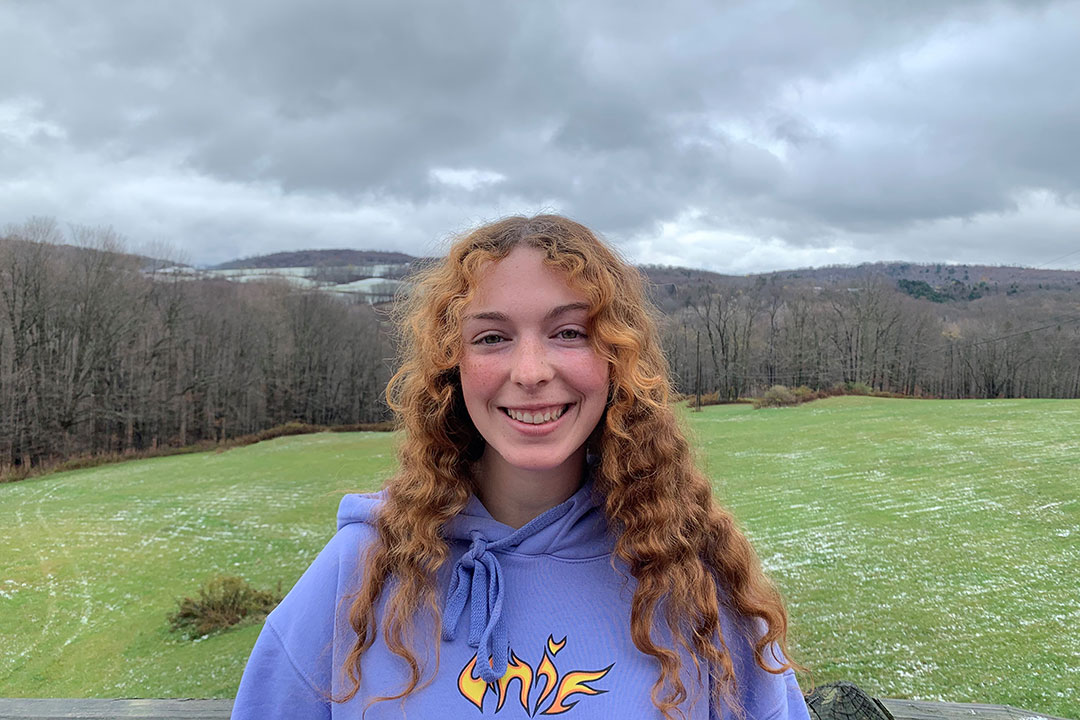 With the COVID-19 pandemic in full swing, Dartmouth College student Clara Pakman decided to take a "gap year" and focus on experiential learning. This fall, her COVID gap year led her to RIT, for a unique course that she had always wanted to take.
Pakman is a non-degree student at RIT, enrolled in the Games for Change course, offered through RIT's School of Interactive Games and Media. At RIT, people have the option to enroll as non-degree students in specific courses, if the necessary requirements are met.
"Last spring was really hard and I knew that I needed to find an activity and community that was inspiring to me," said Pakman. "Luckily, my schedule at Dartmouth allows me to take a term off. I didn't think the option to take just one class at another university would be available to me, and I'm glad that RIT was flexible and allowed me to join."
As a second-year cognitive science major at Dartmouth, Pakman enjoys studying psychology and programming but also has a passion for storytelling and art. She found that one of the best ways to combine all her interests was through game design.
"I've read studies about the huge psychological benefits of games and how they can be used as a tool for good, to change people's behaviors," said Pakman. "Games are a blank canvas that can be used to solve any problem, and that's the beauty of it."
While Dartmouth does not have a game design major, Pakman plans to work with faculty at the university who are experts in the area. She has also sought out opportunities to learn more about the field, including a career services event last fall where she met games for change and learning expert Owen Gottlieb, an associate professor of interactive games and media at RIT.
As an alumnus of the college, Gottlieb had been invited to give a talk at Dartmouth's 250th anniversary. Pakman and Gottlieb discussed the field of games and interactive media for learning and social impact. After the event, Pakman reached out, corresponding with Gottlieb via email about the field. When Gottlieb's Games for Change course at RIT went online due to COVID, he invited Pakman to take it.
"I knew that having a student from another university in my course would add a different flavor of intellectual inquiry and create a more diverse experience for the whole class," said Gottlieb. "I also knew that this would be a synchronous course taught remotely due to COVID, so it was a great opportunity to invite this promising student to RIT and add to her educational experience."
Gottlieb and Pakman worked with RIT's enrollment office to figure out how to make this happen. In order for non-degree students to take an RIT class, the student needs permission from the professor teaching the course. The class must have available spots and the student will need to meet prerequisites for the course they want to take. After working out the financials, Pakman was enrolled in the Game for Change course. 
"This example says something about RIT and our faculty who are personally committed to responding and helping students achieve their goals in these unusual times," said Diane Ellison, senior associate vice president in RIT's Office of Graduate and Part-Time Enrollment Services, who helped Pakman enroll in the course. "RIT is ready with alternate pathways for students. We also now have more online options to offer than ever before, and that allows us to serve students who don't live here in Rochester."
In the Games for Change course, Pakman has created a game for Jamming the Curve, an international game design and development competition to help fight the COVID-19 pandemic and flatten the curve.
Her team's game, called Flicker, touches on what the quarantine experience has been like for people in isolation. The game is free and playable on Itch.io. In the game, players struggle to keep their candle flame alive as they walk in isolation through the map.
"It was a wonderful experience to work with a team on design and creation of a game," said Pakman. "I've never completed a game and shipped it before. I wouldn't have been able to get that experience otherwise."
In the second half of the course, she is helping to design another game on gender and sexuality, to encourage equal representation in the games industry.
In addition to the class this fall, Pakman has been doing an internship with the non-profit organization Games for Change and researching the evolution of female characters in film with a professor at Dartmouth.
Non-degree students who are interested in taking a specific RIT course should reach out to the professor and RIT graduate or undergraduate admissions for options on how to proceed. They can also reach out to RIT's Office of the Registrar or the School of Individualized Study, which supports many of RIT's flexible education pathways.
Topics